Oh, to be a writer. Do writers conjure up images of ineffably cool Hemingway-types in the smoky piano bars of Paris's Left Bank, mingling with smouldering, chic Parisian women, confident of being able to strip away their dangling metaphors, whisper sweet analogies, and make passionate sense to them? Or do you have a romantic view of the struggling writer furiously tapping away on his keyboard with a Marlboro Red loosely perched in one corner of his mouth, hoping against hope that one publisher out there will give him a damn break – but at least he's pursuing his passion?
Do you believe that, deep down, you have "a book in you" but are too scared to even talk about it? Whatever your view, whatever your circumstance, if your heart is dead set on making a living as a writer (assuming you have writing ability), be aware of the downsides: writing for a living won't turn you into a millionaire (the median yearly income for writers in the UK is $15,550 according to one study); you'll face a heap of rejection and criticism from publishers /clients - you'll need to run the gauntlet.
Emerging as a bona fide writer will be a slow and often painful process – nobody becomes a good writer overnight; writing can be lonely. You'll never "just" be a writer: you'll also have to be at various times a marketer, editor, designer, finance analyst, troubleshooter, researcher …
The good news is that you're not alone. There's a community of writers out there who, like you, will also be squawking in the wind when they start their writing career. Yet these are the guys that will keep you hopeful and positive when you're tempted to give yourself over to a form of morose gloom that is known to afflict many a writer. And there are scores of outstanding websites that will help you emerge intact, unscathed, from the writing chrysalis.
Check them out here; put them in your favourites – you'll need them.
See Also: How to Stay Sane While Building a Freelance Writing Career
1. Grammarly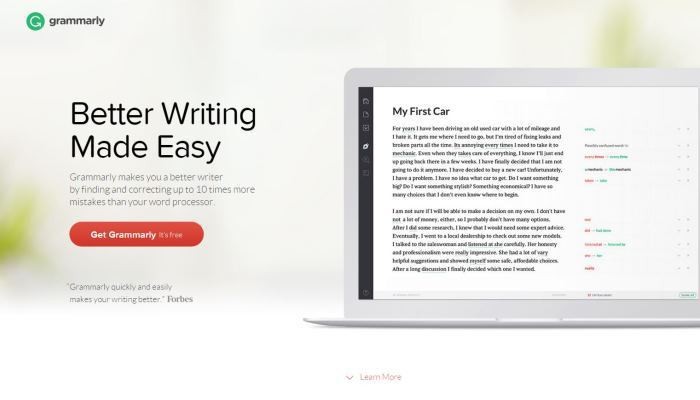 Weak grammar? Perhaps it's been a long time since you were tested on your grammar and punctuation. But you're about to put your head above the writing parapet and have your writing incised into by the armchair grammar military police and you're so not ready for the opprobrium that will be generated as a result of your dodgy semicolons. Writing is first a mechanical act: you must have mastered the art and practice of putting a sentence together without that sentence coming across as gobbledygook. Too many aspiring writers have the misguided belief that they can skip over "pedestrian" elements of writing – i.e.: grammar and punctuation – and stand on the same platform as Hemingway and Fitzgerald or Ogilvy and Burnett. This is not so: you can't be a Michelin-starred chef without understanding basic cooking techniques.
Grammarly is a great resource that will check your grammar for you (note: it's not perfect). Grammarly regularly features in "best overall grammar resources" lists (according to the official site, it's now used by over four million people), and offers all the features you would expect from a highly rated grammar software. Grammaly will pick up spelling errors, grammatical mistakes (its algorithms can detect over 250 different mistakes) and poor vocabulary and, according to the website, "outperforms" Microsoft Word's inbuilt grammar and spellchecker by some distance.
2. Fun with Words
The World Wide Web is a treasure trove of rich writing resources that will make your words dance off the page. Have a peek at Fun With Words, which is a wonderful, whimsical site that has a laugh with the "amusing quirks, peculiarities and oddities of the English language": you'll definitely maybe find some oxymora there.
3. Ginger Software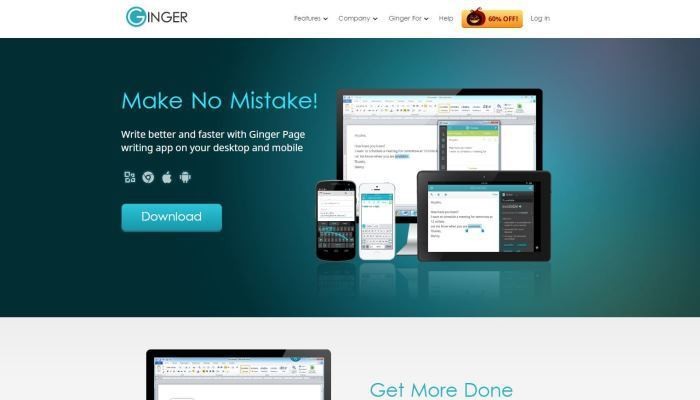 The second grammar software on this list is Ginger Software . "Make No Mistake!" is the promise from this helpful app, which features a sentence rephraser, a grammar checker, and a dictionary.
4. Everything2
Everything2 is a great site that welcomes writers at any stage of their career. Registration is free, and you'll find a sparkling collection of highly original writing here (probably the standout feature of the site) from every genre imaginable, including opinion, humour, personal experiences, and poetry. Sign up as a member of Everything2's diverse community and publish your work (good news: you retain all the rights to your work); you'll also receive feedback and help from members of the community. If you wish, you can participate in groups that share your interests, chat in real time with other member of the community, or send messages to other writers. Here's a good place to start.
5. Scribophile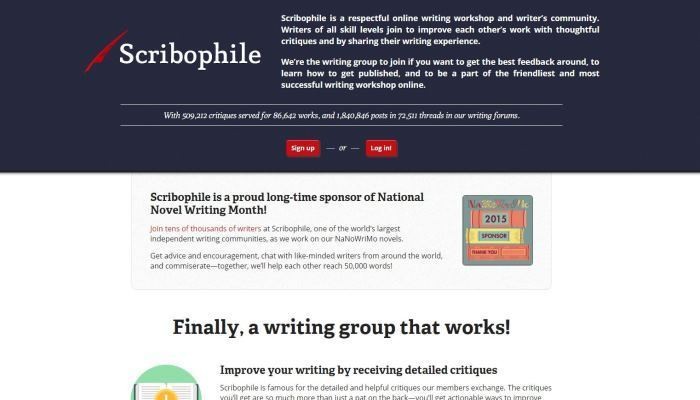 Scribophile is a free writing community that places a very high value on the quality of feedback ("critiques") offered to writers. Scribophile also offers tips on how to be published, and describes itself as "the friendliest and most successful writing workshop online". Particularly helpful is its excellent Writing Academy, which offers a plethora of tips and instructional articles on such fundamentals as the validity of the show vs. tell maxim (summarised beautifully in Anton Chekov's oft quoted line: "Don't tell me the moon is shining; show me the glint of light on the broken glass"), grammar, and forms of poetry.
6. WritersCafe
Yet another site with a fantastic community, WritersCafe  offers writing classes, tips on how to be published, access to publishers and literary agents, and opportunities to enter and win writing contests.
7. The Phrase Finder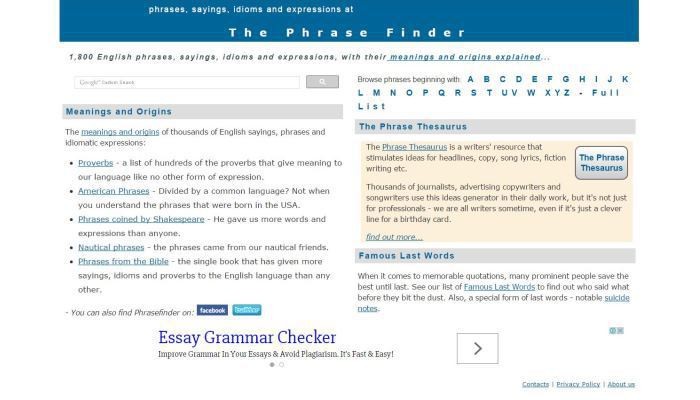 Use The Phrase Finder to help you find, yep, a phrase that best encapsulates your point. It's easy to get carried away and ram your writing with phrases and clichés, but avoid this temptation: best practice is to use them sparingly and judiciously.
8. Fiction University
For a great blog that will provide you with oodles of inspiration and writing support, check out Janice Hardy's Fiction University (disclosure: I'm a huge fan) where you'll find a toolbox of writing tips and techniques, and much more besides, such as a bookstore, a myriad of excellent online resources, and even writer events.
9. Dr Mardy's Dictionary of Metaphorical Quotations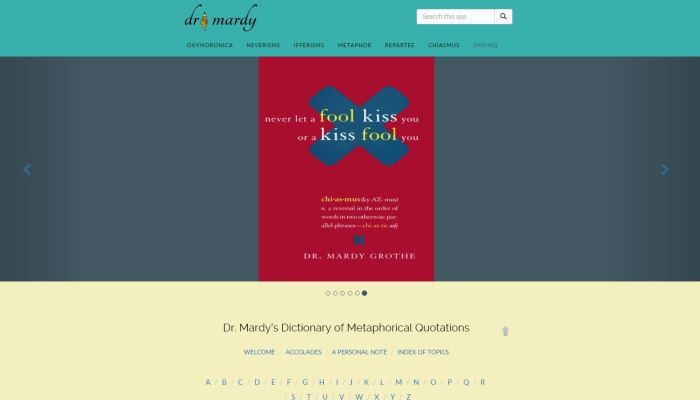 A great place to find inspiration is at Dr. Mardy, which combs through the best examples from literature of the triumvirate of heavy hitters of figurative language: similes, analogies, and metaphors. It's a brilliant writers' resource that will turn your writing into a kaleidoscope of imagery, a dazzling display of sparkling prose.
10. A.Word.A.Day
If your vocabulary range is as awful as, like, whatever, Wordsmith's free A.Word.A.Day will sort you out. Their daily emails will not only improve your vocabulary but will also educate you on the etymology of each word.
11. Urban Dictionary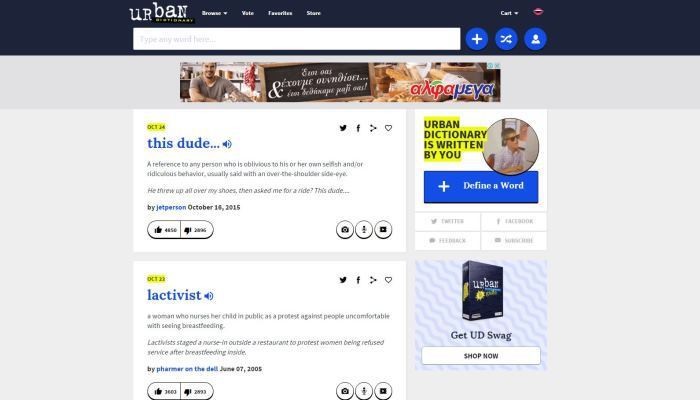 However sparkling your writing, make sure you're always rooted to the present – Urban Dictionary will help you keep it real, dude.
12. Brewer's Dictionary of Phrase and Fable
When you want to illustrate a concept by referring to figures from the past or find the origin of common words, look no further than Brewer's Dictionary of Phrase and Fable which will do the heavy lifting for you.
13. The Economist's Style Guide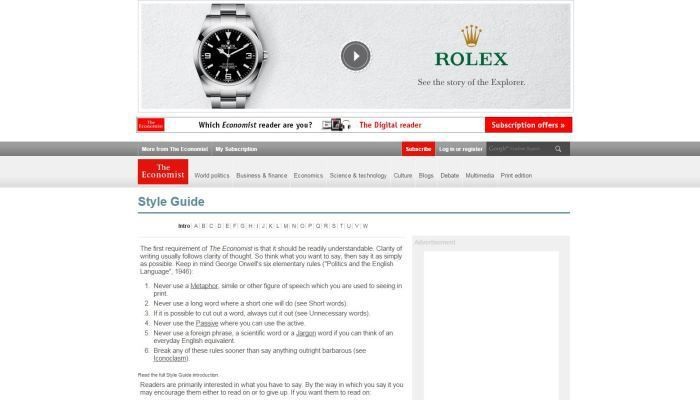 To ensure your writing is elegant and engaging, use a style guide. A good one is The Economist's, which you can find here. The Economist's style guide exhorts writers to communicate as clearly and as lucidly as possible, "setting aside all pedantic and oratorical flourishes".
14. Cliché Finder
For those moments when only a cliché will do, turn to Cliché Finder, a site brimming with all manner of clichés.
See Also: The 7 Deadly Sins of Writers
It is but a small minority of writers who can get by on talent alone. For the rest of us, it's a potent cocktail of blood, sweat, tears, and passion that will get us to writing nirvana. We have to keep learning, to keep growing as writers. But as you've now read, there is much support to be had in the process. Use it, and it won't be long before your raw diamond starts to look pretty polished.
Which are your go-to writing resources? Please share them with the CareerAddict community!