A freelancer's work is never done. And that's part of the problem. There are always new and time-consuming tasks we have to consider each time we switch on the computer. Thankfully, there are a number of apps available to help us avoid wasting too much time on the more mundane tasks. Let's view some of the most useful.
Wave Accounting
If we look at Wave Accounting, we will discover a complete accounting solution for small businesses that don't want to pay for expensive software. Invoice by Wave lets you create professional invoice from your phone. You don't need the whole accounting tool to benefit from the invoicing option. This comes separately as a free option.
It's extremely simple to use and doesn't have many of the complexities that tend to come with its bigger counterparts. This is a smashing way to get paid without going through too much hassle.
Timely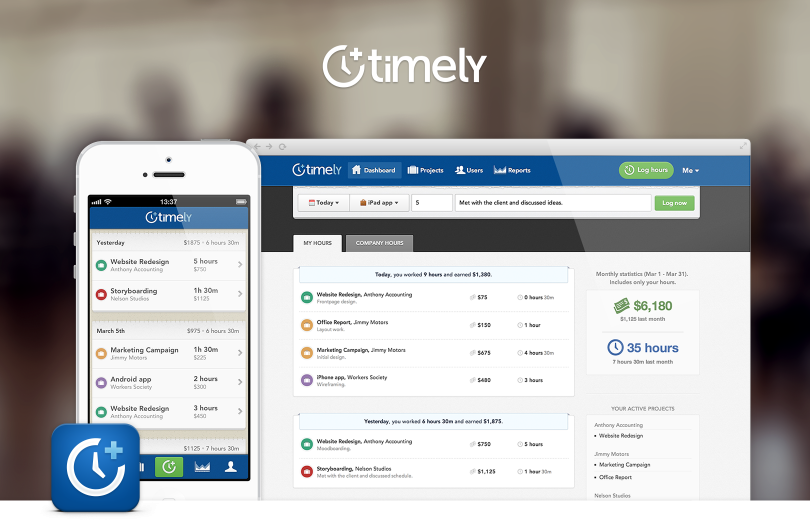 If you need a way to track your time better, look at the Timely app. This app is available both online and through all iOS devices. With it you can schedule your hours and log them as and when you complete each task. You can also track your activities in real-time. It integrates with your existing calendar, so you won't have to worry about transferring your current schedule over either.
The fact you can colour code your tasks only adds to the usability of this app. You can use it to track three projects at once for free, but anything else will require you buy the paid version at $14 a month.
Toggl
Freelancers who work at an hourly rate need to beware of what they're spending their time on. It sounds like a simple task, but it's actually one of the most complex parts of your professional life. This is why you need Toggl. This app works both on the web and from any Android/iOS device. You can create projects and track them with a few clicks.
It uses a minimalist interface and removes much of the clutter you can expect to find with a lot of similar apps. Whenever you stop working, click the clearly marked 'Stop' button and you've successfully logged your time. Just make sure you don't forget or it will continue to run.
It's completely free for basic time tracking, but the paid version costs $5 and lets you export time sheets straight to Excel.
Shake
If you need a legal agreement that looks and sounds professional, let Shake do it for you. All you have to do is answer a few straight questions and it will fill the details in for you. All you have to do is provide clear answers and you'll have a legally binding agreement that both parties can sign.
You can create contracts for anything from freelance work to renting, lending, and loaning money. It's a completely free app, and this can mean savings of hundreds of dollars on professional legal advice.
Shoeboxed
If you receive receipts and need a place to put them, use Shoeboxed instead. This app lets you snap photos of them and send them through to your smartphone. It's an easy way to organise your files. For a freelancer, this app makes it simple to track mileage, report expenses, and organise all your receipts. Whether you do your own accounting or not, you'll be thankful for it come tax time.
It also offers a Gmail scanning feature. If you send your receipts to your Gmail account, it will automatically find and store them.
Packages start at $9.95 per month. It's more expensive than a lot of apps, but you'll soon see it's money well-spent.