Perks are a brilliant way to boost employees' motivation. And they do not always have to be financial. More often, people will appreciate a simple gesture of appreciation and an opportunity to celebrate each other, and what better way to achieve this than a party. But while the mention of a party ought to send excitement to everyone involved, organizing one can be a daunting task. In addition to the budget, logistics, and schedule, getting the theme right can make all the difference. You get it right, and your employees will not forget it in a long while. The age group of the attendees, the intention of the party, time, and venue, among other things, are just some of the factors that should dictate your theme.
See Also: 6 Signs You Might Be the Office Mean Girl
1. 007 Bond Party
Hand everyone a printed license to party, complete with the signature of the boss. The idea is to have the guests energized and soaking in a bad boy and girl mood before the actual party. You are bound to pull off this theme if everyone dresses formally in black and white. The black 007 bow tie should be a must. Whether it is giant golden guns or a silhouette panel, spy props will set the mood for a secret agent party. Other ideas for deco include black glitter and cards props, a giant bow tie, and a giant golden martini glass. Be sure to have a life-size Bond character at the photo booth so that interested attendees can take a selfie with James Bond.
Casino tables are paramount to pull off a Bond party. Set up games and prizes to go with them. This will have guests busy trying to get as many chips as possible. Make the party sleek, wild and classy. Create an atmosphere that leaves guests feeling like Bond himself was at the party.
2. Old School Party
Make people feel young again and the party will roll down by itself. If you have a combination of a wild and energetic mood in one room, by the end of the event hats will be tipping off to overnight partying legends. Consider getting a Godfather costume complete with an exquisite swag if you are the Don of the party. Be sure to inform everyone what the dress code is in advance. For example, you can have attendees rock the 70s or 80s wear. The idea is to have everyone let their hair down and marinate in the memories of good old days. The men can get self-adhesive mustaches, and the women can get wigs to boost the oldie mood.
An old-school party would be incomplete without good old music. Organize and bring real bands and take your employees to days when the world had not discovered lip-synching. Play around with the foods and drinks to evoke as much "old" as possible. For example, you can have attendees have to show their identification cards each time they order for an alcoholic drink. In the 70s, the minimum drinking age was painted all over, literally. And why people of a certain age can fight and die for their country but aren't allowed to crack a beer, would be a good debate for your employees to have.
3. Red Party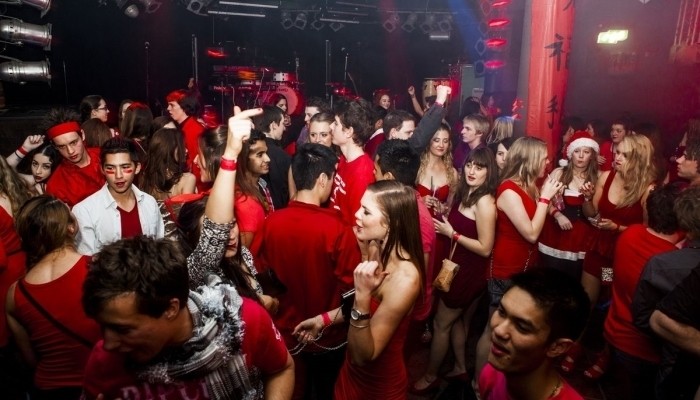 Red is a color of energy, speed, romance, danger, class and adrenaline. Just the right type of moods you want in a party. Red will also give your party a fantastic and memorable pop and accent. The costumes, accessories and set up for this party are obviously red. Red costumes include Little Red Riding Hood, femme fatales, racing drivers and royalty. If it is a Christmas party, Santa Claus is a must character. Have everyone dress and wear accessories in red.
Everyone wants something to show for attending a good party, having your guests leave with red lips would be a great idea. Combine red jelly, red apples, cherries, pomegranates, and many other healthy options for your food table. Serve grape juice, red wine, blood orange juice and other red drinks to complete your cuisine. The aim is to have everyone screaming red at the end.
4. Supermodel Party
Sixty or sixteen, everyone dreams of a moment of recognition, especially one that comes with glitz and glamour. Celebrate the fashionistas and their fans in the office by throwing a supermodel party. Obviously it is not a supermodel party without a runway to boot, so make arrangements for one. And remember good photography and video, are to models what milk is to white chocolate.  
Set up a makeover booth where your guests can get pimped up on their way in. And ensure the girls have a chance to show off for the camera after their makeover. A red carpet would be a good idea. Go the whole way and have contestants make their outfits from creative material in your industry. For example, if you are an IT company, let them make beach wear from cables and wires.
5. Lord of the Rings Party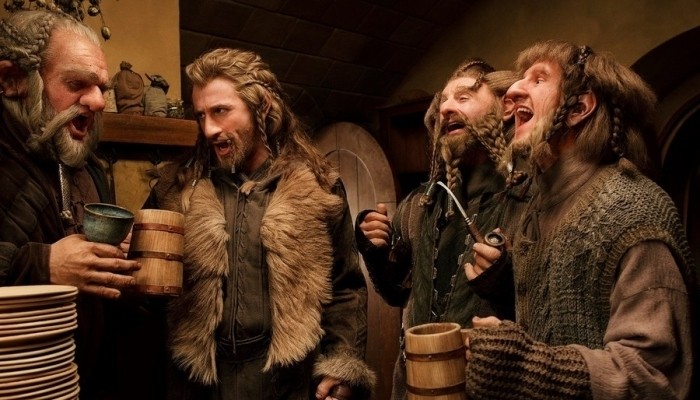 The first thing that comes to mind when thinking about the Lord of the Rings movie is a hobbit. It would be a brilliant idea to have every attendee look like a hobbit, but they cannot slash their height, so have them dress like hobbits anyway. If you hope to capture the true spirit of a hobbit party, start with a hobbit door invitation and an unexpected journey, handmade card. Welcome your guests with hand-drawn signs with a quote from the Lord of the Rings movie such as "Speak friend and enter." Complete the Hobbit mood setup with a bilbo's house inspired décor. Ideas include having the tables set with old and rugged books, candlesticks and maps with rings.
Hobbits are portrayed as good hosts with a big appetite. A hearty stew, hobbits vegetables, lemba bread and Beorn's honey bread will give you a hobbit menu. Shire, ring or bilbo's seed cake will do for dessert. Hobbits also enjoyed tea and coffee, and it is a good excuse to avoid consuming excessive alcohol. Throw in some Hobbit board games at the end and have fun watching tipsy and drunken adults, getting super excited to win at board games.
See Also: 6 Signs You're a Blabbermouth at the Office
Despite the overwhelming evidence that a party gone wrong can do a company more harm than good, you can limit the potential fallout and make something refreshing and memorable. First expect to have a few horrible incidents that arise any time you put alcohol and humans in the same room. Do not be shy to remind your employees about the company's policy on harassment, bullying and fighting. Limit alcohol consumption to adults, make attendance voluntary and limit the time for the party.
Introduce a few formal activities such as awarding prizes to the best employees and team-building games. The idea is to remind employees that this is still work-related. Otherwise, if it was all about individual fun, you would have simply sent champagne to each of their address. It will also help tame the lawless mood that easily manifests in parties. To ensure no one ends up in a police cell or ditch, arrange for cabs or a party bus to take people home. Be sure to warn people against defaming rumors and gossip after the party. Do not hang mistletoe as part of décor. You do not want random people smooching all over.