Whether we want to accept it or not, oftentimes, we are our very own killers with regards to writing a resume.  Writing an outstanding resume can be complicated and tricky; you have to make sure you haven't missed anything important and make sure every word is perfected to effectively illustrate your experience and passion for what you want to do.
The purpose of your resume is to persuade the recruiter straight away that you are the right fit for the job you are applying for. If you are worried that your resume cuts no ice with the person reading it, make sure you familiarise yourself with those 5 things that immediately turn off recruiters before they start reading a resume:
Your Subject Line does not scream professionalism
Image source: Redbus2us
Since email is usually the first point of contact for job seekers and candidates, using an eye-catching subject line that motivates the reader to read your resume is key to standing out. The first rule to follow is to keep it short and concise, placing the most important words at the beginning. Given that a staggering 50% of emails are now read on smart phones, and the limited space on mobile phone screens (showing just 25-30 characters of an e-mail's subject line) it is vital to use only the most relevant words. Also, make it easy for the recruiter to trace your email by using logical keywords for search and filtering (Example: Job Application: Michael Griffiths for Account Manager).
For standard job applications, include the position title, the job's ID (if there's any) followed by your name (Example: Data analyst – DA720 – Joe Bunton).  
Remember, do not capitalise words as this may grab someone's attention negatively. Use dashes and semicolons to separate your thoughts and avoid characters such as exclamation marks or smileys.
Also, if you're sending out lots of emails make sure you use the right name, the right company and the right address.
Your file name is not good
Image source: About Careers
This is one of the first things the recruiter will come across before opening the file to screen your resume. Don't name your file anything along the lines of "Best resume", "Sample resume", "Resume_Maria88"  as this might see your file being deleted even before the double click. Technically, there's nothing wrong with this, but if for example the recruiter has 20 resumes in the pile, and two of them have the same file name, then how is the recruiter supposed to who know which is which? The best approach is to include your full name with spacing in between.
Your resume format is not accessible
Image source: Recruiterbox
Electronic resumes have become pervasive nowadays, however you have to make sure that your resume is saved in a format that is widely accessible. Save your resume and/or cover letter as a Word document (.doc or .docx.). Do not experiment with other file formats because some companies' applicant tracking systems may not support certain file formats. Text formats such as .txt are easily compatible but are not attractive for the reader.  PDFs on the other hand are deemed unsuitable because re not compatible by all resume databases. Don't give the employer extra work to do. Make it easy for him to access your resume and learn about your credentials by using a straightforward file format
Your Job application email message is tragic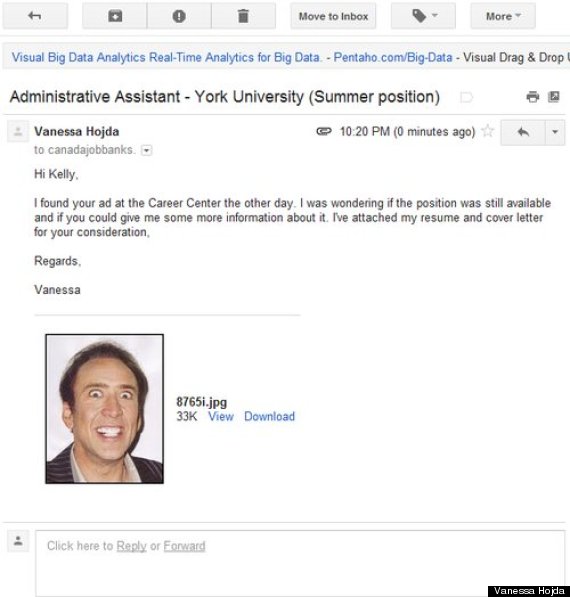 Image source: Huffington Post
Considering the fact that recruiters spend just six seconds reviewing a resume, imagine how much time they spend on reading your email message when sending your resume via email. This is why you should write a brief message that is clear and specific. Don't address the recruiter with a "hello" or use unnecessary words that will make your message fluffy. Get right to the point, state which job you are applying for and let the recruiter know whether your resume and/or cover letter are attached and that you look forward to hearing from him soon.
Last but not least, adding an email signature with your contact information will give you extra points and will communicate professionalism on your end. Here is how to set up an email signature.  
You idiot forgot to attach your resume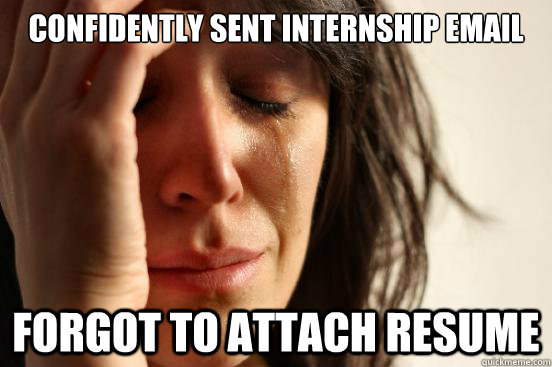 Image source: QuickMeme 
Despite the fact that you have included the classic "Please find my resume and cover letter attached" in your email, you have totally forgotten to actually attached the documents! Consequently, you are wasting recruiter's valuable time, who then has to get back to you (if he's kind enough!) and remind you to attach your files.
All in all, making a good impression as a candidate starts even before the recruiter opens your resume. Pay close attention to detail especially when you are using email to apply for jobs because a single mistake could cost you the interview. 
Image source: Complex