Your job may be demanding and require a lot of your time and energy, but this doesn't mean you can't have a personal life too. Depending on the nature of your assignments, even when you arrive on time in the mornings, getting out the door on time in the evenings is nothing short of a miracle. Of course, a little overtime pay never hurts, and you might be okay with the occasional late evenings. But if you've gotten into a routine of leaving work late, it might be time to break the cycle.
Leaving work late can cut into your family and personal time, and it can feel as if you're always in work mode. Fortunately, you don't have to live this way. There are several ways to balance your schedule and leave work on time.
See Also: 7 Tricks for Getting to Work on Time
1. Start Time-Sensitive Assignments Early
You might have a hard time leaving work on time because you have a massive to-do list of time-sensitive assignments. Your boss may require that you complete certain tasks before the end of the day. And if you wait until the last-minute to start these assignments, you have no choice but to stay late.
Understandably, you're not always able to control your workflow. But if you can, aim to complete time-sensitive work early in the day, preferably in the mornings as soon as you arrive. Finish these items early, and then spend the rest of the day completing non-urgent assignments. This way, it'll be easier to stop your day at 5 PM and pick up the next day.
2. Schedule Commitments After Work
If your boss constantly asks you to stay late and help with the workflow, it can be hard to say no. Although you're ready to get out the office and enjoy your personal life, you don't want to appear like a slacker or have your boss think you're not a team player.
At the end of the day, you have no control over what your boss thinks. However, if your boss is aware of your after-work commitments, and if you make it clear that you can't stay late because of these plans, he may be more understanding of your situation. Of course, this strategy won't work for everyone.
If you've been thinking about taking a class after work—whether it's a workout class or a course at a community college—now might be a good time to enroll. Or rather than your spouse pick up the kids from daycare or run the kids around to their different activities, maybe you can do this. When you have commitments after work, you have no choice but to leave on time.
3. Start Wrapping Up 20 Minutes Early
One of the best ways to leave the office on time is to start wrapping up your work about 20 minutes before you're ready to leave. This doesn't mean immediately stopping what you're working on and doing nothing for the next 20 minutes—this won't fly with your employer. Rather, start looking for a stopping point, so you can easily pick up where you left off the next day. Also, don't start any new assignments. In all likelihood you will not finish in time and you'll be stuck in the office an additional 15 or 30 minutes.
4. Scale Back Your Lunch Break
Sometimes, there's just too much work to fit into a single workday. If your boss hands out time-sensitive, lengthy assignments that have to be completed before you leave, you may have to sacrifice some of your breaks throughout the day.
First, have a talk with your boss and let him know that you're overwhelmed. Maybe he can assign some of the tasks to other employees. If no one can help, come to work 15 minutes early and start your day sooner. Additionally, cut your lunch break by 15 or 20 minutes. If you're not paid for your lunch hour, it might feel as if you're giving the company a freebie. But while this might be true, this simple adjustment can add 30 to 35 minutes to your workday, which might be just enough to complete all of your assignments and leave work on time.
5. Don't Answer Phone Calls in the Last Hour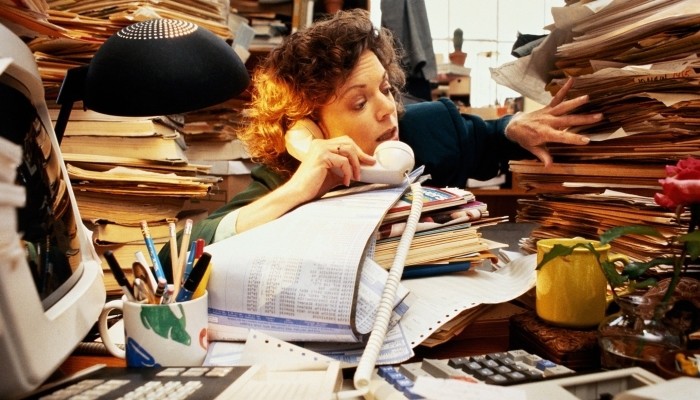 If your job description involves telephone customer service or functioning as a receptionist for a company, you can't stop answering the phone calls. But if you have the freedom to send callers to voicemail and return these calls at a later time, take advantage of this freedom.
If you have a lot of work to finish up in the last hour, the last thing you need is a phone call taking up your precious time and delaying the completion of your day's assignments. If your employer allows this, send callers to voicemail and then screen to determine whether you need to follow up immediately. If the issue isn't an emergency, you can return the phone call the next day. You might even include a voicemail greeting notifying callers that messages left after a certain time will be addressed the next day.
6. Don't Over-Promise
If you're a responsible worker, chances are that your employer and your coworkers might ask for your assistance on assignments outside your job description. The fact that people come to you for help is a good sign and shows that you're someone who can be trusted. But if you over-promise, you could end up with a stack of work on your desk and not enough time to complete everything. Saying yes and accepting any assignment given to you can leave a good impression with your boss, and your willingness can help you advance the corporate ladder faster. But unfortunately, this can also lead to burnout, and you might find yourself working longer and longer hours just to keep up.
7. Don't Schedule Meetings in the Last Hour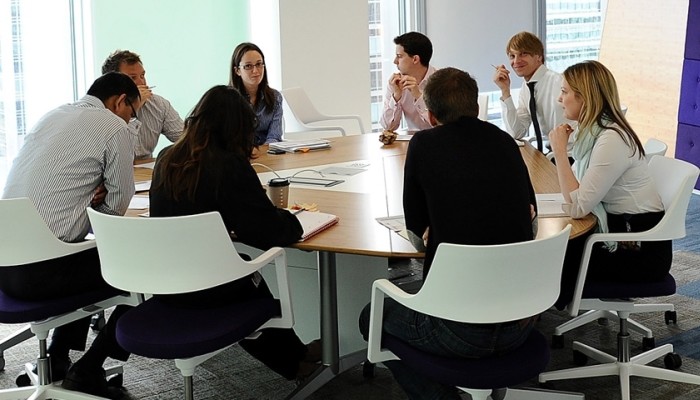 Not only should you hold off answering phone calls in the last hour, see if you can plan your meetings earlier in the day. There's always a chance that a late meeting will go over, which can push everything behind schedule. If you go into a meeting at 4 PM, and this meeting doesn't end until 4:50 PM, it may be impossible to leave for the day in the next 10 minutes. This is especially true if you have assignments that need to be finished before the end of the day. If you have a little flexibility, schedule meetings earlier in the day or no later than 3 PM.
See Also: Is Overtime Worth It?
If you have a busy schedule and you're always behind, you might feel it's impossible to leave your job at a reasonable time every day. But sometimes, you have to put your foot down and politely let your employer know that you have a life outside the office. This doesn't mean you can't occasionally stay back and help, especially when there's a deadline and everyone's behind schedule. Working late once in a while is different from working late every single day or several times a week. If you can adjust your workflow or routine to ensure you're able to finish everything, it'll be much easier to leave the office at a decent time