Creating a personal brand is difficult, but what if I told you that a lot of the rules you have heard are not true! Fear not we are here to guide you!
Are you trying to create a personal brand that could attract more recruiters' attention to your resume? But, what if I say that you don't have to create it because you already have it no matter your age and job experience. Before you find some refutations, here's what you should know about any successful brand. It requires an understanding of your brand's target audience and its unique identity. And that is it! Your identity and audience, people, who surround you, establish the core values of your brand.

The problem is that we are never taught how to use our innate personal branding skills. We either borrow someone's brand as a tested model of success or make up a story that we try to believe. But, this is a short-term strategy. And if you are a graduate and want to do everything right from the start, you need to ignore the myths that have nothing to do with a career development.
Myth #1
It Is Only about a Set of Professional Skills in Your Resume
We usually become familiar with the term 'personal branding' when we craft our first resume or CV. And here's the main mistake we make. We limit ourselves to professional skills and college or university degrees thinking it will be enough to make a good impression. However, the Jobvite's 2015 Survey shows that 92% of recruiters use social media to find more information about candidates. Obviously, you should enhance not only your resume and portfolio but also all social media profiles to stand out from other competitors. A hiring manager wants to know the real you, and according to a 2014 Social Recruiting Survey, 26% of all recruiters use Facebook to hire candidates through this channel.
Of course, a portfolio of your accomplishments can considerably boost feedback on your resume. But, it won't save you from a rejection if you have provoking social media content. I mean if you still regard your Facebook profile as 'I could care less', you are holding yourself back from getting desired job offers.

You may not take it seriously, but even spelling and grammar mistakes in a candidate's social profile can stop a recruiter from another job interview invitation. Moreover, the same year the Jobvite's Survey revealed 66% of recruiters reconsidered some candidates because of spelling/grammar issues.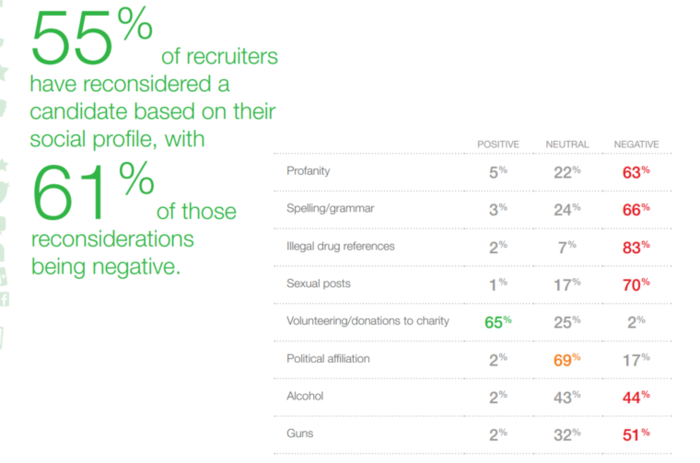 Myth #2
Your Personal Image is Key

The term 'personal image' is usually confused with 'personal brand'. But, when we talk about personal image we only mean 'visual representation' says a Brand Your Image founder, Diana Jennings, while 'personal branding is the communication of your unique strengths, skills, values and passions...'

You can create a personal image using designer clothes, shoes, accessories and hairstyle but it won't change your brand. Because it needs authentic qualities that involve not only your style and job experience but also your vision, attitude, demeanour and goals.

You should also mind how other people perceive you and interpret your both visual representation and personal branding qualities. Remember, people, who surround you, can recommend you to a potential employer relying on their interactions with you. You can't neglect their attitudes because according to a 2015 Jobvite's study referrals are more important of other recruiting sources.
Myth #3
It' Important when You Graduated

When do you actually start thinking about personal branding? I'm sure it happens when you need either new or the first job in your life. However, you might not even notice how you've been developing your brand since you went to school, communicated with parents at home, hung out with friends at parties or even went travelling. I mean every event in your life adds a new quality to you profile 'The Brand Called You'.

This famous phrase belongs to Tom Peters who suggests that any person is already a brand and not just an employee or a worker. You are more than just a job title. That's why if you're a graduate who doubts whether he's right to compete with more experienced applicants for a position, dig into the essence of your own personal brand.

There are dozens of guidelines and even practical lessons for jobseekers how to do that. You've been building this brand since you were born. And what's left is to make a full picture of your strengths and weaknesses which you can always turn into your assets because they taught you valuable skills.
Myth #4
It's Better to Be Impressive than Authentic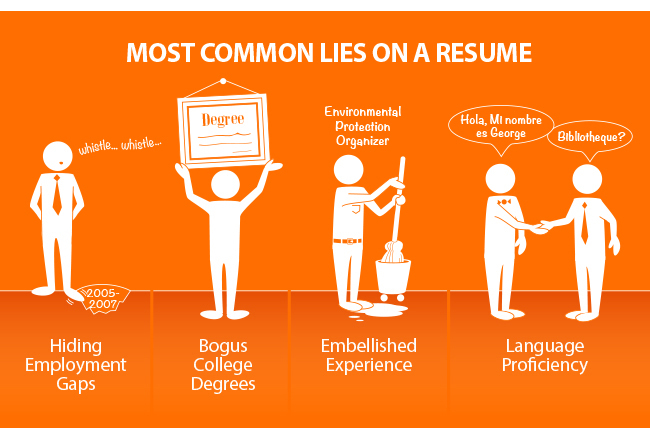 No matter how hard you want a job don't make up a story which is not about you. It is simply uncomfortable to adjust a mask all the time which is even not your size. Of course, any jobseeker strives to stand out from other applicants and thinks that little white lies can encourage career growth. But they are easily uncovered by a professional hiring manager or a project manager who asks a few questions about the processes you have never tackled.

For instance, an online nationwide survey conducted by a CareerBuilder found that 57% of applicants lie about their professional skills whereas 42% of candidates make up fibs about their employment dates.

Furthermore, there are even claims such as 'I am an Olympic medallist' or 'I've been a babysitter for Tom Cruise's children'. Who could believe this kind of experience if you have no actual records or testimonials? Which is why it's important not to tell a lie but focus on those authentic qualities you already obtain.
Myth #5
Your Social Media Accounts Determine Your Future
I've already explained how important social media is for personal branding. A common jobseekers' mistake is creating a significantly different brand from their real identity. But this is a case of self-deception when a jobseeker with a virtual profile more fascinating than his true life prefers to live an invented life and goals.

Fortunately, the real world requires certain actions to gain experience and achieve the results you can so easily describe in your LinkedIn profile. I have a lot of friends who start activities like jogging or learning a second language, make two albums of selfies showing their involvement and that's all. I guess it is the lack of motivation or interest which stops them halfway.

If you want to have a strong and sound personal brand, support it with real-time activities. You must not only show what you can do but actually fulfil it daily notwithstanding excuses and obstacles. The best advice I can give in such a case is to talk about your activities in social networks after 2 months forming a strong habit and achieving good results.
If you would like a brief summary of everything we talked about above, take a look at the bullet points below.
If you strive to create an authentic and powerful personal brand, include all your strengths and skills (not only professional) in your profile.
Don't confuse a personal image with a brand since the last is more complex.
Begin working on your branding long before you graduate.
Don't deceive an employer with a fictional set of skills and accomplishments. You will be caught anyway.
Build your brand on the real-time activities that can become a strong habit in future.
How many of these myths have you fallen prey to? Let us know in the comments section below...