A team of experts have uncovered the most bizarre roles in Britain, many of which have existed for hundreds of years, as part of a study commissioned by Britain's leading factual channel Yesterday. The research looked into the weird and wonderful nature of modern employment in Britain and used a sample of 2,000 men and women.
According to the survey:
-          Only 16% of British people agreed they would describe their job as unusual
-          Four in ten participants wish they had a more unusual career (the top 3 popular roles are: Intelligence Officer for MI5, Crown jeweler and Raven Master)
-          Over a third wish they pursued a career at Her Majesty's Secret Service.
The top 10 most unusual jobs according to British adults were the following:
1.Raven Master - 47.8%
2.London Dungeons Actor - 36.1%
3.Swan Marker - 28.7%
4.Professional Wing Walker - 26.9%
5.Queens Piper - 21.3%
6.Professional Tea Taster - 20.8%
7.Crown Jeweller - 20.3%
8.Window Cleaner for the Gherkin - 18.8%
9.Beefeater - 18.7%
10.Intelligence Officer for MI5 - 16.4%
The top 10 unusual jobs British adults wish they could pursue:
1. Intelligence Officer for MI5 - 17%
2. Crown Jeweller - 12.7%
3. Raven Master - 12.5%
4. Lock-keeper for the British waterways - 11%
5. Selfridges Window Dresser - 9.2%
6. Buyer for Harrods - 9.1%
7. Tower Bridge Operator - 8%
8. Swan Marker - 7.7%
9. Bartender at the House of Commons - 7.2%
10. London Dungeons Actor - 6%
The Top Five of Britains' Most Unusual Jobs in a Nutshell
1. Raven Master – (48%)
Chris Skaife serves as the Raven Master at the Tower of London and his main duty involves caring for the eight resident ravens. Legend says that 'the kingdom and the Tower will fall if the ravens ever leave the fortress', so it is an extremely critical position.
Work-life balance: Work starts as early as 7am for breakfast; the birds eat about 170g of raw meat a day. Work finishes after dark, with a secret whistle calling the birds to bed.
Pros: Taking care of the ravens can be a really rewarding job. Interestingly, Merlin is known to be the friendliest of the ravens.
Cons: A Raven Master has to face the following challenge: Despite the ravens having one wing trimmed, some still escape and others have had to be sacked from the position at the Tower.
2. London Dungeons Actor - (36%)
Lucy Garson and Mike Swain are among the 50 actors who work at the London Dungeon. They can entertain up to 4,000 people a day and their purpose is to make sure each performance is a memorable experience for every audience.  Providing 'scary fun' is a major part of their job. Most members of the London Dungeons cast are trained actors, and everyone has to attend an audition.
Work-life balance: Actors often have to work weekends and long hours, starting at 9:30am and can have to work up to 8pm.
Pros: The positive reactions, good feedback and sometimes applause from audiences.
Cons: The job requires a lot of stamina to and the energy for every performance throughout the day.
3. The Queen's Swan Marker - (29%)
David Barber was appointed the Swan Marker in 1993 and is responsible for all of the swans throughout the UK, where the Queen exercises her prerogative right. His main duty involves the organisation of the annual event of Swan Upping on the River Thames. Other duties include educating young people and working with other organisations to monitor the health of the swan population.
Work-life balance: This is not a full-time position, however planning for Swan Upping in July starts in March.
Pros: Teaching and getting young people excited about swans and having the opportunity to meet the Queen and other dignitaries.
Cons: Seeing swans injured or nests destroyed, normally caused by fishing tackle or dog attacks.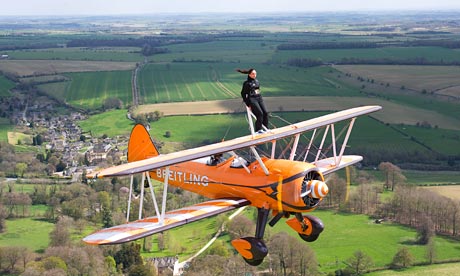 4. Professional Wing Walker - (27%)
Richard Pickin is a professional Wing Walker at Aerobatic Tactics. This company  is the only one in the UK with permission from the Civil Aviation Authority to legally offer wing walking experience flights to people. Wing walking involves moving on the wings of an airplane during flight and has been seen in air shows and barnstorming since the 1920s.
Work-life balance: Richard flies every weekend and some evenings between April and October, weather permitting.
Pros: This job provides someone with the extraordinary opportunity to teach and take members of the public on a thrilling ride.
Cons: This is not an ideal career for those who fear flying or heights.
5. Queens Piper - (21%)
Being a queens piper involves playing the bagpipes for 15 minutes at 9 am under the Queen's window when she is in residence at Buckingham Palace, Windsor Castle, the Palace of Holyroodhouse or Balmoral Castle.The piper is also responsible for the co-ordination of the twelve Army pipers who play around the table after State Banquets.
Work-life balance: This is definitely not a full-time job, but it requires working on specific dates and times.
Pros: You have the exclusive opportunity to meet and network with high officials, socialite and learn top secrets.
Cons: You have to be presentable and patient enough when escorting The Queen to the various audiences that she has throughout the day.
Do you have a bizarre job worth mentioning? Which of the unusual jobs mentioned above would you pursue and why? Give us some hints in the comment section below…