You might automatically associate stress with work. Between your boss piling more work on your desk and your coworkers driving you crazy, going to work every day can take a little bit of your soul and sanity. Fortunately, work doesn't have to cause excessive stress or burnout.
See Also: How to De-stress on Your Lunch Break
This might seem like a joke, depending on the nature of your job. Just about everyone deals with some stress at work. There may be a project with a tight deadline, or you might get behind schedule for other reasons. Both scenarios can cause stress. But this doesn't mean every day of your work life should be stressful.
There's always light at the end of the tunnel. If you're trying to keep your mind as calm as possible, here's a guide on how to de-stress at work.
1. Take a 10-Minute Break to Plan Ahead
Between new assignments piling on your desk, phone calls and emails, you might be overwhelmed and ready to throw in the towel. This situation might be the story of your life and cause a lot of stress. But if you take a few minutes to plan ahead and develop a game plan, you can reduce your stress level.
You probably already know this, but a chaotic environment and schedule can increase stress. It can feel like you're running in circles and getting nowhere. If you get to the root of the problem and come up with a solution, your situation may seem less stressful.
2. Eat a Snack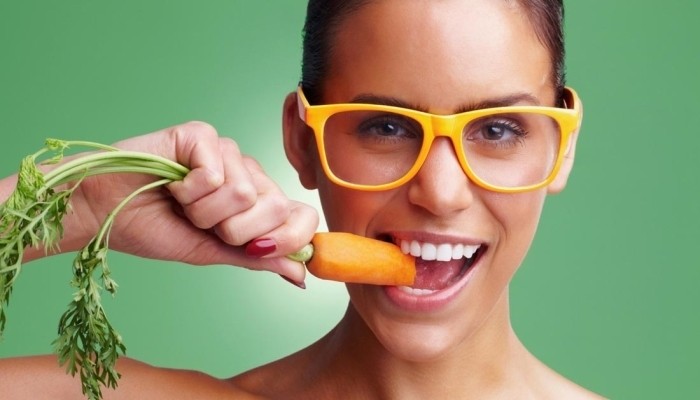 If you're overwhelmed and running around, you might forget to eat. Going without food for too long can cause your blood sugar to drop. As a result, you can become easily irritated and annoyed. If you feel your stress level escalating, take a moment to have a healthy snack. Toss some raw veggies or fruit in your lunch bag, or pack nuts or trail mix to snack on throughout the day.
3. Think About Your Personal Life
If you feel like punching your boss and your coworkers, take a timeout and think about your personal life. Your job might be stressful and driving you nuts. If you have pictures of your family, pets or friends around your desk, or if you take a few minutes to think about your fun weekend plans, this might put a smile on your face and improve your mood. Maybe you have pictures from your last vacation on your computer. Flip through these photos and remember these happy times, or think ahead to an upcoming vacation.
4. Escape the Office - Alone
Getting out of the office for a bit can also help you de-stress. But rather than go to lunch with your coworkers – who might be the root of your stress – take a lunch break alone. Go to a local restaurant and spend 30 or 40 minutes eating and gathering your thoughts, or sit in your car and close your eyes. This can help you calm down and relax, so that you're better prepared to get through the rest of the day.
5. Fight Distractions
Some people downplay the danger of too many distractions in their office. The more distractions you have, the less productive you might be. As a result, you may wait until the last minute and find yourself scrambling to finish an assignment by deadline. This is self-induced stress.
Learn how to recognize factors that decrease productivity and eliminate these distractions. Some people can handle background music as they work, but others find that music slows them down. Additionally, one person might be able to take a three-minute break to check his social media accounts, whereas another person isn't disciplined enough and a three-minute break turn into 15 minutes.
6. Delegate or Ask for Assistance
If you're stressed at work, the problem could be too much on your plate. If you take pride in giving your employer 110% and you don't want to seem like a slacker, you might hold off asking for a little assistance. Just know that by keeping your mouth shut, every day of your work life might be stressful. If you don't tell your boss about your limitations, he might think you're able to handle everything with no problem.
If you have an assistant, give this person one or two extra assignments to lighten your load, or maybe you can have a heart-to-heart talk with your boss to let him know that your daily assignments make it difficult for you to meet deadlines and stay productive. He might be completely unaware of your struggle and gladly re-assign some of your work to someone else.
7. Get a Head Start
If you know that a particular day or week will be stressful, get an early start. Coming to work an extra 20 or 30 minutes early, or cutting your lunch break can possibly provide enough time to finish all your work before the end of the day. If you don't have to rush, you'll feel less stressed. Also, you might be able to get out of the office on time and avoid working late.
8. Stretch and Move Around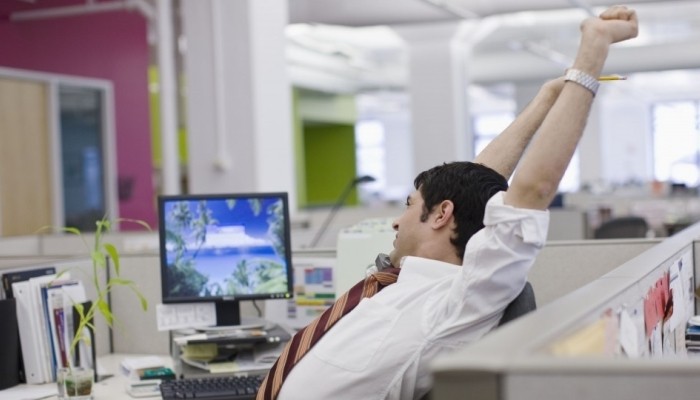 If you sit at a desk all day long, this can trigger muscle tension and a variety of other problems like eyestrain and carpal tunnel. If you don't feel your best physically, this can increase your stress level. Once an hour, rise from your desk and take a five-minute stretch break. Walk to the water cooler or go to the copy machine. Moving your muscles can increase blood flow and help release tension.
9. Listen to Soothing Music
If you're feeling stressed, search for classical sounds online for background music. If you can't find a classical selection, look for soundscapes (sounds of crickets, rain or a waterfall). These soothing sounds can calm your mind and help release stress. If there's a lot of background noise in your office, which contributes to a high stress level, keep an extra pair of headphones in your desk so you can listen to your music in peace.
10. Lay Off the Caffeine
In moderation, caffeine can increase your energy level, boost concentration and reduce stress. But if you get into a habit of drinking caffeine throughout the entire day, it can have the opposite effect. Too much caffeine can leave you jittery, irritable and increase your stress level. Everyone's body responds different to caffeine, so you'll need to find a balance that works for you- perhaps only one or two cups a day.
11. Organize Your Desk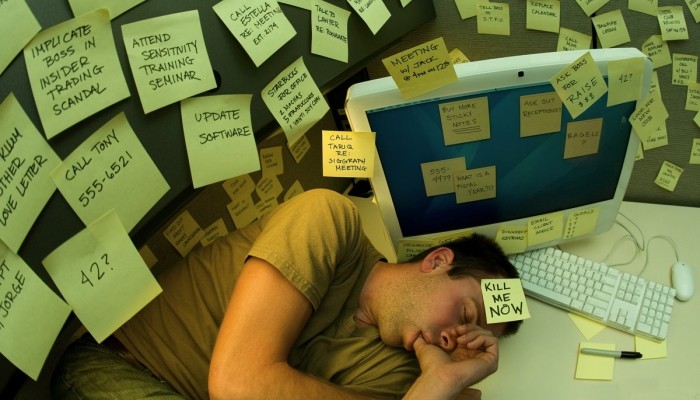 If your workstation or desk is chaotic and messy, it'll be difficult to keep a clear mind and a low stress level. Do yourself a favor and come into work a little early to organize your workstation. If everything is in place, it'll be easier to find assignments you're working on. A cluttered desk can be a sign of a cluttered mind. Getting organized can help your day go smoother.
See Also: How to Lower the Pressure and Stress That Comes With Management
There's nothing you can do to avoid stress altogether, but you can control how you deal with these situations. A tense, stressful day at work can kill your mood and zap your energy, but there are ways to improve your outlook.
How do you cope with stress at work?