We know the current situation with the UK job market is bleak, we know that many businesses are cutting staff numbers left, right and centre; leaving many in jobs they can't stand, but what we failed to realise, is just how deep rooted the widespread dissatisfaction across the career world was.
A staggering 40% feel their career choice was a 'mistake'…
A study - conducted by AAT (Association of Accounting Technicians) – which surveyed 2,000 adults across Britain, discovered the real extent to which people hate their jobs. According to the study, one in three British workers are in jobs that were not their first career choice.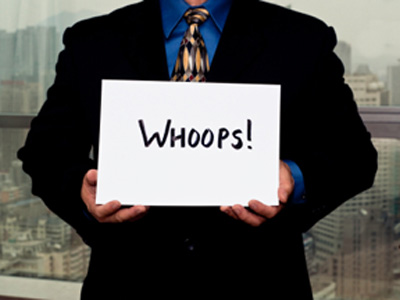 With 57% admitting that they put little effort into planning their 'dream career' from an early age, it is evident that those who did make mistakes in their approach to work now regret how their careers have turned out. Nevertheless, it is sad to hear that so many (almost half of those polled) feel they are in the wrong job.
With the job market so unforgiving right now, it is understandable why many unhappy professionals are not taking a risk and changing career paths. A quarter of respondents revealed that it is the daily grind of real life that is preventing them from chasing their dream career.
A worrying 60% think they have wasted their potential to do well in a career, believing they could actually do better in life if they were in a better job. Approximately 40% also stated that they believed they were completely in the wrong job!
For most people, happiness, success, wealth, family life and achievements are all inter-related with the type of job you have. If you are in a job that doesn't satisfy your needs, or if you are in a job that is completely different to the job you always longed to have, then it is more than likely that this negativity will breed into your personal life.
Many respondents stated that they feel dread when thinking about their careers and that in many cases, their careers were 'going nowhere'. Respondents condemned the lack of opportunity and rare chances of career progression in their area of expertise. Once again, the bleak 'post' recession job market can be blamed. The stagnant jobs market is a sign that we are not out of the woods yet, and with so many feeling dejected; it is only going to get worse.
Chief Executive of AAT, Jane Scott Paul, stated:
''The results are distressing. We spend most of our lives in the work environment so to know that many adults are feeling unchallenged with no motivation or career progression is a major problem for people's wellbeing as well as having a detrimental effect on our economy now and in the future."
''It has been proven that people succeed if they are in jobs that they find stimulating, challenging and offer real career progression."
''We also need to offer better independent career advice from a younger age so that young people understand how education and jobs are intertwined so they can make the right choices when it matters most.''
A confidence knock out
Job security is something of a novelty now, so is it any wonder why so many professionals lack confidence in the workplace and in going out to pursue their dream job? A worrying 22% described themselves 'good at their job' – surely this figure is low enough for employers and government authorities to realise that there is a real issue with individuals in stale jobs that do not motivate or satisfy them.
Stress, working long hours, a lack of appreciation from the boss and a lack of opportunity for career progression, are among the top reasons why confidence is at a serious low and job satisfaction is something of a novelty.
The survey results show:
Four in ten admit they simply 'fell' into their current role
Over 20% said they are in their current job as it was the only job available at the time
40% believe they are 'too clever' for their current job
Over 50% of polled professionals said they felt 'stuck in a rut'
TOP 10 MOST COMMON FACTORS OF WORK UNHAPPINESS
1. It is very stressful
2. I don't get paid enough
3. There are no perks
4. I'm not stretched in my current role
5. There are no opportunities to progress
6. The boss never says thank you
7. I work long hours
8. The work environment isn't very nice
9. I was destined for better things
10. I'm in completely the wrong profession
The premise that 'a job is a job' and 'we should be grateful of any work these days' is fuelling a society that believes setting out for their dream job is not feasible in today's market. It is this notion that has resulted in so many realising they are in completely the wrong job. Don't be one of the 40% that believe their career choice was a mistake: take advantage of career advisory services and be sure to constantly work towards your desired career goals.
For a full list of the top 20 most common factors of work unhappiness click here.