It's the end of November, everyone's dashing about Christmas shopping, finding the perfect tree, decorating the house and wrapping presents. So when that party invitation gets delivered for the "works do", it can be a mixture of anticipation, fear and excitement all rolled into one, maybe even an unnecessary problem to your already packed schedule.
"Christmas party? I've not got time to think about that!" Most of the time, you end up feeling so stressed and overwhelmed about everything else going on, you forget about what you're going to wear, rock up extremely late and then make an idiot of yourself by relaxing with one or two bottles of wine. Yes it is a party, yes it's supposed to be fun, but these are your colleagues. The last thing you need is to go into work on Monday with everyone hiding muffled laughter at your expense because you made a pass at the manager, threw up on the dance floor or decided to dance on the bar, not realizing you were showing the world everything in that ridiculously short dress you ended up wearing.
How about for a change being the girl that everyone turns heads for when you walk in, behave professionally, yet still have a good time. I can tell you exactly how to achieve this.
When it comes to the attire, you want to go for something that shows off your figure, covers up to an extent and shows that your fun. Keep it simple with a dress... easy and effortless. The obvious is a little black dress, which is great... if you want to blend in. You wear black all week for work, why wear it out on a works do as well? Stay away from bright garish colours though, acid red or canary yellow for example. This season burgundy, dark green and dusky pink are the colour palettes that are favoured and are all perfect. Obviously pick a shade that suits your skin tone.
The cut and style of the dress is very important. Short and low cut are bad choices, but turtleneck and floor length isn't exactly better either. The trends at the moment are midi length dress, meaning the hem cuts of mid-calf, whether it slim fitted or A line style. This is perfect for an office party and if your concerned about your bums and tums, go for a loose fitting midi instead of figure hugging. The neckline is totally up to you, whether you want a little bit of embellishment, laser cut detailing or backless. Try and go for something classic and statement at the same time, such as a high neckline but a backless finish which looks sexy, yet conservative. Long sleeved with laser cut paneling around the neckline also works well. It's choosing what to give and what to take away, to keep it edgy and seductive, while still keeping class.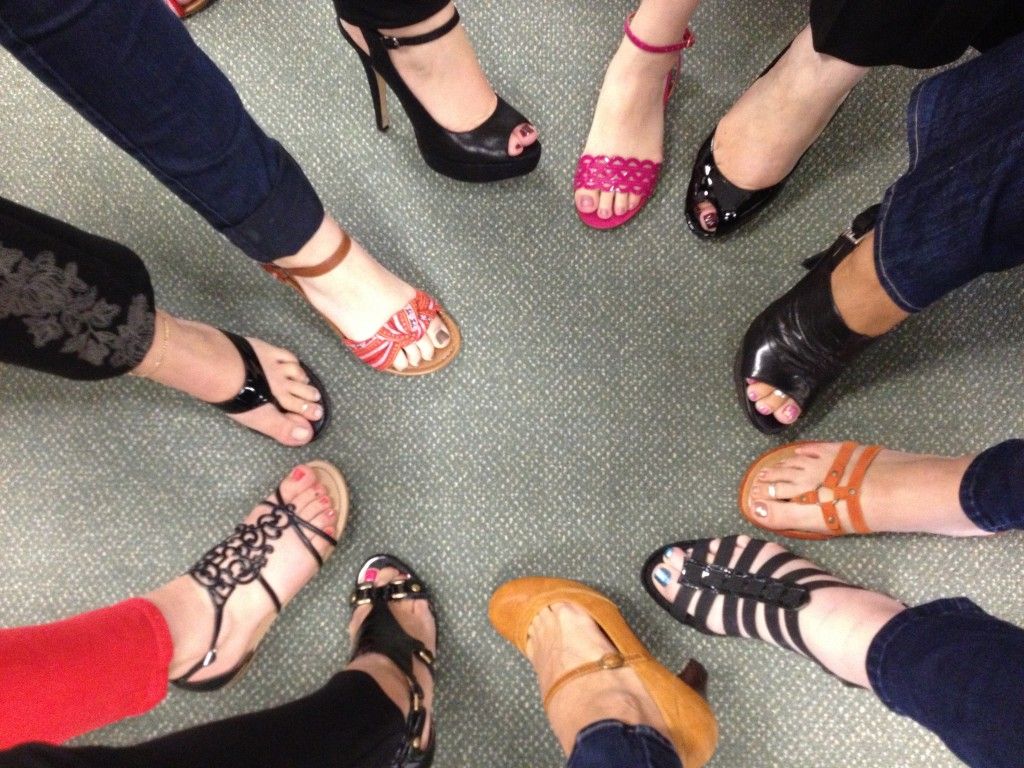 When it comes to the shoes, number 1 rule, you must be able to walk in them after a few glasses and not stumble about. Try going for a wedged or platform style heel. They have more stability than a stiletto and give you more height without more pain. If you are a pro heel walker, wear a stiletto. Strappy stilettos and winklepickers are the favoured heels this season, classic and sexy.
Keep the arm candy simple too. A rectangle clutch bag will do the trick, simple and won't detract from the dress. Accessories are key to passing or failing, don't go mad by layering on all your jewels and gems, it will look tacky or pretentious. Opt for a chunky bangle and a detailed ring. Your dress may not need a necklace if there is a great deal of detailing or decoration. If it doesn't go for a small pair of drop earrings, nothing to oversized or heavy. If it does need a necklace, chunky jewelled collars are the best way to jazz up the dress this season, but give the earrings a miss if this is the case.
When it comes to your makeup don't overdo it, go for a smoky eye with nude lips, or golden tones on your eyes and a deep lipstick, dark cherry is favourable this year. If you're not comfortable wearing a deep lippy, go for a clear thick gloss. It's totally up to you what to with your hair, if you wear your up for work, maybe try wearing it in soft curls, but if your dress is backless, wear your hair up to show off the full potential of the dress. Whatever the hair do, wack on a load of hairspray, so that your hair doesn't drop or fall throughout the night. Last but not least, don't forget a coat, not your normal work coat, go for something with a bit more demure. A trench or mackintosh is perfect for the occasion. 
The party starts at 8pm, but don't arrive at 8. No one likes an eager beaver, keep it cool and turn up at 8.30, just as the atmosphere gets going. If you turn up early and it's awkward, you will end up drinking because your nervous, meaning carried out at 10pm because your paralytic. It's not called fashionably late for nothing. 
Alcohol, it can be your best friend or your enemy. We've all had that glass too many and embarrassed ourselves, maybe even lost our dignity, but this is the one party you don't want to lose it at. The best way to stop this from happening is to eat. Throughout the day, have a large dinner, with plenty of carbs. I know you want to look slim in your dress, so the trick is eat the carbs earlier in the day, then have soup or a chicken salad for tea. Drink lots of fluid throughout the day and a glass of milk before you start drinking, just to line your stomach. When you arrive at the party, opt for a drink you know you can handle and like, whether it a small glass of white or a vodka and coke. Keep it classy though, no
pints. If you do want a beer or cider, go for halves, it looks much more lady like. Don't be the ladette at the party. Pace yourself throughout the night, maybe even having a soft drink in between. Juices are also better for you than fizzy pops, as they won't bloat you and have less sugar in them, whereas the sugar in coke increases the rate that alcohol gets into the blood. At the end of the day, you're at a party, if everyone's having a shot, join in, but just pace yourself!
Networking is key at the party, circulate and talk to different departments and make an effort to talk to your boss, even if it is just pleasantries. The best way is to go to the bar together or dance next to them, to start off as an ice breaker. Also when on the dance floor, keep your dance moves classy, you're not with your mates now... no slut dropping. 
We spend so long getting ready for the big party, but when we're there, we forget all about our lippy and our volumous . While you're at the works do, don't forget to pop to the ladies room and touch up, whether powdering your nose, redoing your eye liner or lipstick and re spraying your hair with lacquer. 
If you remember these little tips, the office party will be an absolute success! Have fun!