Crafting. The word (used to) conjures up images of lonely men and women making weird little trinkets, knickknacks, doohickeys, doilies, and tea cozies. Crafting involves the skillful creation by hand of mainly decorative - but increasingly practical - items. Liberal use of pipe cleaners, felt, pom poms, glue, paint, googly eyes, and wood may or may not be part of the equation. You've probably done some crafting at some point: in school, at camp, at church, or in your spare time.

Arts and crafts are a big umbrella, with many activities and products falling within its shade. Making a macaroni Jesus at Sunday School? That's crafting. Creating people out of empty toilet paper rolls, yarn, construction paper, and googly eyes? That's crafting, too.

But it can get a lot more skilled and useful. Knitting, quilting, basket making, pottery, jewelry and clothes. They're all considered members of the Crafting Brigade. And that's where a hobby can become a business. The trick is finding something that people are willing to pay money for...and there's a market for nearly everything.

To paraphrase the classic 1989 film Field of Dreams: If you make it, they will (maybe) buy.

Crafting can be and often is big business. Very popular, too. It has its own reality TV program - Craft Wars [302 from http://www.tlc.com/tv-shows/craft-wars/] - where people compete for a $10,000 prize. Riveting television? Hmm...no comment. But its popularity and increased exposure is undeniable.

Are you crafty? Do you have that creative spark and see treasure where others see trash? Can you turn a few scraps of material, some glitter, and a gemstone gun into something beautiful? Here, then, are a few job options for the craft aficionados among us.
See Also: How to Turn Your Crafting Hobby into a Business
1. Etsy Vendor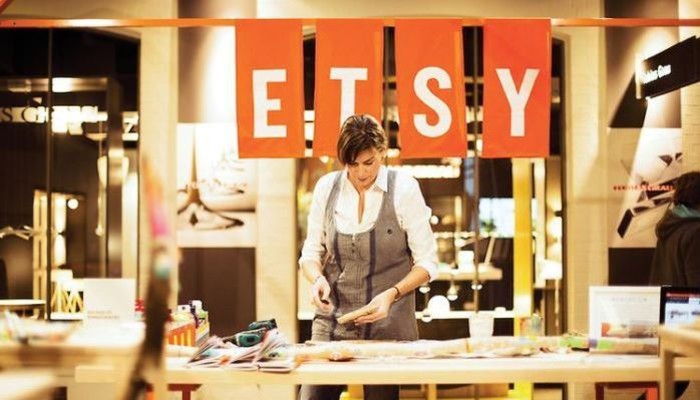 Etsy is to crafters what Ebay is to Star Wars action figure collectors: it's the place to be to find and share. It's an online marketplace for people to make, find and sell original craft products (as well as vintage - at least 20 years old - items). Since its inception in 2005, Etsy has grown to include 54 million users, 29 million listed items, and a GMS (gross merchandise sales) of $1.93 billion USD in 2014. It is serious, big business. Serious, big crafting business.

You can setup your own free virtual storefront on the platform, and hawk your wares to the world. Etsy takes a 3.5% cut from each transaction and charges a flat rate of 20 cents per listing (the item will be listed on your page for 4 months or until it is sold, whichever comes first). Not bad, right? If it doesn't sell, you're only out a couple of dimes. Low risk.

Just what can you sell on Etsy? Craft supplies and tools, jewelry, clothing and accessories, dolls, glass art, hair accessories, bags and purses, paintings, sculptures, photography, and prints, to name just a few.
2. Crafting Class Teacher
Are you an expert at one particular craft or skill? Maybe you're the knitting equivalent of Chuck Norris or the Ansel Adams of Nova Scotia. If you're comfortable and confident, you could offer a crafting class.

You could check out your local learning annex, community centre, or adult education institute, create a few posters or flyers, and start registering students. Paying students. As in, they give you money to sit in front of you and learn from your years of experience and wisdom. You may have to share your profits with the host, or they might pay you a flat fee as the instructor. Either way, you'd be making money doing something you love. Winning!

Alternatively, if you have the space, you could hold the class at your own home, and keep 100% of the take. Of course, you'd be in charge of all marketing and associated responsibilities.

Finally, you might consider launching an online program if the skill lends itself to that medium.
3. Stall at a Farmer's Market or Craft Fair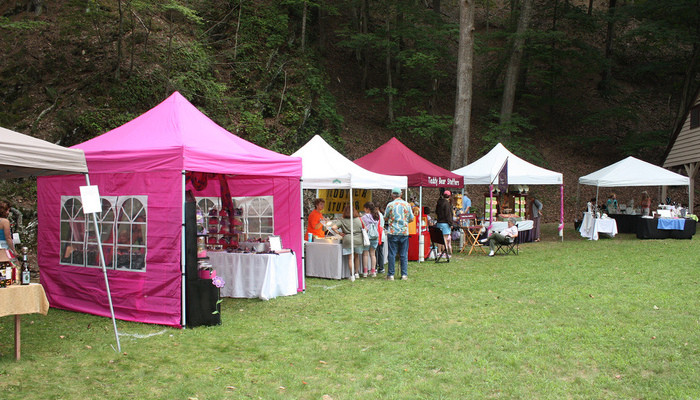 In the dark ages before the internet, we had farmer's markets and craft fairs. We still do. It's the real-life counterpart to a cyberstore like Etsy. Create your product(s), sign up and pay for a stall at the event, and spend the day sitting outside and meeting people while (hopefully) making a bit of cash at the same time.

A farmer's market is traditionally only active during the warm months, but many are increasingly moving indoors and continuing throughout the winter, too. That's a big bonus for the enterprising crafter. And there are thousands across Canada, the USA, the UK, and elsewhere. You'll fit right in...farmer's markets have evolved from offering just fresh produce to include arts, crafts, and other artisanal products.  

Craft fairs are obviously a bit more niche, catering specifically to crafters and craft fans. But they are numerous, popular, and a captive audience. Buzzfeed has a good list of 35 Indie Craft Fairs Every Creative Person Needs to Visit, and Entrepreneur offers advice on How to Sell at Craft Fairs and Shows.

There's a lot more time and money commitment to this route (especially if you have to travel to the fair or market), but it just might be worth it.
4. Open Your Own Online Business
Not interested in teaching, spending your days haunting various fairs, or using a third-party service like Etsy, but still want to reach a wide audience? Then maybe - just maybe - you're the type to launch out on your own. Create your own website and retail portal. Register a domain name (such as harriettscatsweaters.com), sign up for a hosting service like Bluehost, and get your website up and running. Creating something with Wordpress, for example, should be possible for even the technological confused among us (seek out tutorials and how-tos online if you're struggling).

Once it's up and running, you need to bring in some traffic (site visitors). A few easy suggestions include commenting on established crafting websites and linking back to your own, guest blogging (with a link to your website in your bio), blogging on your own site with helpful advice and informative articles that you share on social media, or creating some how-to videos on YouTube...and linking back to your website (see the pattern?), or offer a weekly/monthly crafting newsletter that people can sign up for.  

Setting up your online store isn't too difficult (which is, admittedly, a subjective claim). There are Wordpress plugins, and services like Selz, that can help. Build a website, build your audience, and then start selling.
5. Crafting Supplies Store Clerk
If you're looking for something a bit easier, look to your nearest craft store. They may be looking for part-time (or full-time if that's more what you're after) help. Sure, you're not creating and selling your own original products, but you're still making money in the crafting world. These stores ideally want to hire employees that a) are passionate about crafting, and b) know something about it so they can answer questions and point customers in the right direction. If you're looking for something laid back and casual, this is your best route. Part-time hours give you plenty of opportunities to keep crafting on your days off, and might even include a decent employee discount on supplies. Win-win.
See Also: How to Run a Successful Craft Business: Five Top Tips
Whatever your crafting passion, go after it. Keep at it. There are undoubtedly people out there with the same passion, and they might just be willing to part with their hard-earned cash for what you're selling (product, wisdom, skill).
Check out the Craft & Hobby Association or Craftster to go even deeper into the rabbit hole.  
Any other ideas? Have you successfully turned your crafting into a paid endeavour? How'd you do it? Leave your answers in the comments below...