Some people are born natural leaders. Others have to learn how to lead. Both types of people can benefit from the wisdom and mistakes that others have made in the past. The best way to do this is by reading directly from the horse's mouth, as it were. Other books may seem to be completely unrelated to business, but can open your eyes to an entire new way of thinking. Here is a list of some books worth checking out.
Wooden on Leadership: How to Create a Winning Organization – John Wooden and Steve Jamison
This is easily one of the most influential books in my life. You will learn more about success than just about anything else. Through that success, you will learn how to lead others, regardless of where you fall on the totem pole. You don't need to have the title of a leader to show that you are a leader, and this book will teach you new ways of thinking. Once you start showing your ability to lead, and your productivity sky rockets from what you have learned, those that have the power to help you in your career will notice.
Delivering Happiness: A Path to Profits, Passion, and Purpose – Tony Hsieh
If you haven't heard of Zappos, you are likely missing out on one of the most successful stories of business leadership in the retail world. While this book may seem to be targeted more towards those that are running businesses, you will learn a great deal about making every interaction meaningful. Tony Hsieh is the CEO of Zappos and has built a business on something few business are able to do successfully; worry more about the customers need and hiring the perfect people to serve their base. This results in a happy work environment that is noticed by customers. You may not run a huge company, but every person you come into contact with will benefit from you putting these lessons into place.
Onward: How Starbucks Fought for Its Life without Losing Its Soul – Howard Schultz
Starbucks in no mystery company. You know that when you enter a store you are going to be greeted by friendly baristas and be surrounded by an environment of peace. What you may not know is that Starbucks has consistently been ranked as one of the best places to work in the world. It also almost fell apart during the economic downturn, recession, or whatever you wish to call it. Howard Schultz returned as the CEO of the coffee company at that time and not only saved the company, but improved its reputation and profitability in very little time at all. In Onward he shares those lessons. Study this, because even if you are working a part-time retail job right now, the lessons will apply to you on a daily basis. You will also be ready to implement what you learned once you reach that career you have been working so hard to reach.
The 7 Habits of Highly Effective People: Powerful Lessons in Personal Change – Stephen R. Covey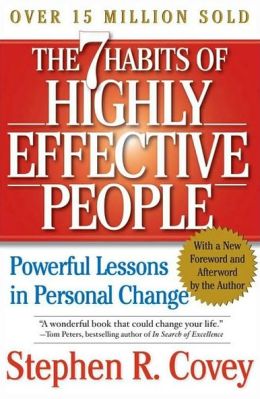 For some, this may be no surprise at all. In print for more than 25 years now, the lessons taught in this book make a significant difference in your everyday life. You must actually use what is taught in the book to see a difference. Many readers go through the book and try to understand everything at once. My advice is to learn the habits one at a time, put them into practice, then move to the next. By the time you are done with your education and well into the starting points of your career you will be adept and reaping the benefits of the time you spent with the book.
Cat's Cradle: A Novel – Kurt Vonnegut
This is likely a book you would not expect on this list. Here's the thing about this classic, though; it will make you think in such a way that you will be sitting so far outside of the box that something new could happen. I only include this because of personal experience. After reading this book, I couldn't stop thinking about it for days. I poured over every single word as I read it and how wild of a story it was. In the end, I changed how I did things at work because my thought process was in a whole different world than it had been before. The book is humorous, satirical, terrifying and deeply thought provoking at the same time. I wouldn't say this is the book that you need to read first, but when you need to get something that is less tied to business and leadership, but still want to learn, Cat's Cradle is a great option.
Image 2