The world of art offers many high-paying jobs for those with the right education, and those who want to be artists – painters, cartoonists, illustrators, designers, etc. – will find jobs that they are passionate about. But before you can get a good job, you'll need the education first!
If you are wondering which universities in the US to attend, here are 2015's top universities for the liberal arts:
1. Williams College
Located in Williamstown, Massachusetts, this college is ranked #1 in the country for the liberal arts. It's also one of the most affordable liberal arts colleges in the country, with the average price of attendance hovering around $17,000 per year! The student to teacher ratio of 7:1 is excellent, and it has a 91% graduation rate. The university offers both studio art and art history courses.
2. Amherst College
With an 86% graduation rate, Amherst College is known to be one of the best liberal arts universities in the country. It's pricier than many of the other schools (nearly $50,000 per year!), but that's often due to the on-campus living (98% of students are housed on the campus). Courses offered at Amherst include topics like photography, sculpture, contemporary art, painting, printmaking, and art in architecture.
3. Swarthmore College
Located just a few miles away from Philadelphia, Swarthmore College is one of the top-rated liberal arts universities in the country. There are just eight students per teacher, and roughly 94% of students graduate every year – going on to earn decent-paying jobs with a starting salary of around $51,000 per year.
Art classes at Swarthmore include art history on topics like Greek Art, Roman Art, Modern art in the U.S., Western art, Digital art, and more!
4. Pomona College
Not only is this university one of the best-rated in terms of liberal arts, but it's one of the most popular, best-loved, and student-oriented colleges in the country. Just a few miles away from downtown Los Angeles, it's one of the most accessible liberal arts colleges thanks to its excellent financial aid.
Pomona offers courses in:
Photography
Digital art
Painting
Drawing
Sculpture
5. Harvey Mudd College
Students who attend Harvey Mudd College often walk out the door with an excellent job, earning an average of $73,300 per year after graduation. Graduation rates are 85%, and the college is home to excellent science, mathematics, and engineering programs in addition to their liberal arts majors.
6. Middlebury College
This central Vermont college is renowned for its unique school calendar, as well as its high standard of excellence in the liberal arts. 41% of undergraduate students receive financial aid every year, and the college has a high academic reputation score!
Both studio art and art history are taught here, as well as graphic art and design.
7. Colgate University
Not only is Colgate one of the best liberal arts colleges in the country, it's also one of the best for undergraduates who want to study the arts abroad. Roughly two-thirds of undergrad students at Colgate study art abroad. Best of all, the school is known for its commitment to providing financial aid for students unable to afford an Ivy League education. Colgate is home to the Clifford Gallery, one of the best places to study art history.
8. Vassar College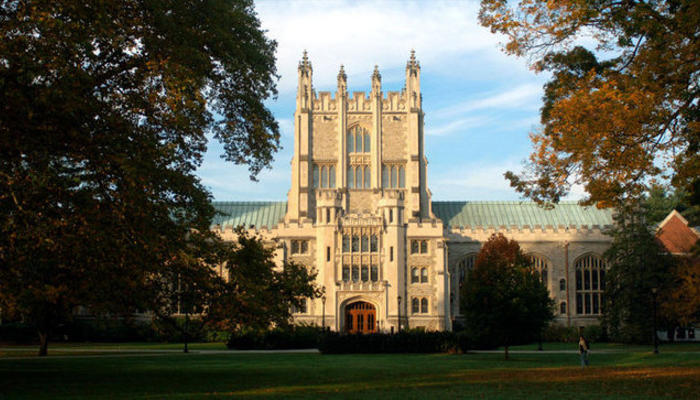 As the sibling institution to Yale University, Vassar is known for offering top-ranked education yet their tuition fees are surprisingly low – just $18,000 per year! It has an average class size of 17 students with a student to teacher ratio of 8:1. Art history classes here span art from the early Aegean period all the way to modern art. Studio art is also offered.
9. Washington and Lee University
Located in Lexington, Virginia, this is one of the top-ranked liberal arts colleges in the entire world. Not only are the prices low, but there is an available scholarship that covers room, board, and even full tuition. It's one of the oldest universities in the entire country! WLU has Wilson Hall specially reserved for studio and art history classes.
10. Wellesley College
Founded as a women's college in 1870, Wellesley has become one of the premier liberal arts colleges in the United States. It has an excellent reputation score and a very high graduation rate! Best of all, the tuition fees are less than $20,000 per year! Art majors at Wellesley include not just studio art and art history, but also architecture, media arts, and cinema.
See Also: Top 10 US Universities for Geography 2015
If you want to study the liberal arts, these are the universities to attend!
Have you studied at or currently attend one of these universities? Share your experiences with us in the comments section below!