Arms, legs or waist feeling a little squishy or heavy when at work recently? There are in fact 10 little things you can do in the office to help. Let's take a look at the best ways to work out... at work, in secret!
Remember just a little 5 minute workout over time can have significant benefits in the long run. 
#1 Blade Circles
To perform this exercise technique simply keep your back straight and point and stretch your fingertips out as far as possible, in line with your arms direction, rotate both hands in sequence in a clockwise fashion - technique is everything here. Your goal is to directly exercise your forearm and triceps muscles.  
#2 Parallel
Standing behind the chair with your knees slightly bent while lifting both heels, ensure you squeeze both thighs together making sure to engage your abs at all times. Focus on your hip movement and leg muscle usage. 
#3 Straight-Arm Squeeze
Keeping your back straight again, move forward to the edge of your seat and use your triceps to push your body upwards, lifting your body off the seat if possible, repeat as long as necessary. 
#4 Leg Curl and Press
Keeping your calf in line with the chair, bend your left knee supporting your body weight on one leg. Raise your height and sink lower in relation repetitively, then change legs.
#5 Standing Pretzel
On one leg simply stand and present all of your body weight on one supporting foot. While doing so use this opportunity to stretch your other leg backwards and the same arm/shoulder stretch matching the side of your body which leg is raised. And repeat for the other side.
#6 Back Crunch
For this to be done correctly move your seat away from your desk, and arch your back rolling in your neck as you rest your elbows just before each knee. Apply pressure to the level of your back arch in a soothing position. 
#7 Neck Stretch
Using your left hand bend your neck to the left and position your fingers flat on your right ear. Repeat by using right hand bending head to the right, and covering your left ear.
#8 Finger Elongating
Bending your fingers back can help against arthritis in a simple gesture either standing or sitting, simply extend both arms and with one hand push backwards against the knuckles until you feel a comfortable strain.
#9 Meditation
Meditation can be done on any solid surface, desk or seat. Simply assume the desired positions and take a few moments each day to distress your system. This small gesture done on a daily basis can help alleviate tension throughout your entire physical arrangement.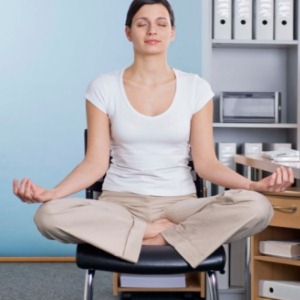 #10 Energy Focus
Similar to meditation this can be done discreetly while at your desk. Assume the desired position and concentrate on your relaxation energy levels. Soothe your inner energy and enjoy a sound piece of mind and body. 
Which just goes to show, doesn't matter where you are if there's at least a seat and surface, with the desire to keep fit - these small simple exercises can make a big difference to your physic if done frequently or in moderation.