The 21 century has ushered in a new set of jobs in the technology sector. The current job situation is changing and some jobs have gone on the endangered species list. With the ushering in of new technology jobs, positions in other industries have faltered. The number one endangered job in 2014 which has been impacted by technology is the mail carrier. According to the U.S. Bureau of Labor Statistics, Career Cast recently published a report for projected growth outlook and the expected decline of these top ten jobs. This article will list the top ten most endangered jobs of 2014.
Maria Bartiromo is an author, magazine columnist and host of "Sunday Morning Futures" on the Fox Business Network. On a recent news feature with Shepard Smith, she discussed this recent jobs report and mentioned that "paper and technology" have changed the job field because we utilize email more than faxing and sending letters. (Source: Media Bistro) In response to this jobs report, Ms. Bartiromo mentioned that the following three jobs are not on the endangered species list:
1. Mathematician – Federal Government and engineering firms need such employees
2. Statistician – so much data transferred these days that needs to be analyzed
3. Health Care Administration – more positions opening because of the new health care system
Top Ten Most Endangered Jobs of 2014
The following details the top ten jobs that are on the endangered species jobs list of 2014. Under each heading, the Bureau of Labor Statistics (BLS) median salary is listed. The hiring outlook, by 2022, percentages are also listed.
# 1: Mail Carrier  
BLS Annual Median Salary: $53,100
Hiring Outlook by 2022: -28%
The US Postal Service has been greatly impacted by the explosion of online communication and how immediate accessibility to everyone is always available. People are sending more emails these days than hand written letters. Automatic bill pay and online banking are utilized more often so people don't have to purchase stamps to mail bills. Easier access to Internet connectivity has negatively impacted the need for postal jobs.
# 2: Farmer
BLS Annual Median Salary: $69,300
Hiring Outlook by 2022: -19%
Technological advances have negatively impacted the farming industry. Farmers can utilize equipment that is technologically advanced to help with tasks. In turn, that means more work can get done with fewer resources, especially workers. Also, many family farms are not able to survive in these hard economic times and have to go out of business.
# 3: Meter Reader
BLS Annual Medi7am Salary: $36,410
Hiring Outlook by 2022: -19%
Remote viewable readers have been implemented so that utility companies can gather customer usage data without having to send any meter readers out to the various sites. Not every utility company in the US is utilizing these remote readers. However, as these units grow in popularity, that means less and less meter readers will be needed in the future.
# 4: Newspaper Reporter
BLS Annual Median Salary: $37,090
Hiring Outlook by 2022: -13%
Newspaper subscriptions have declined in recent years. Advertising sales have not been as good as in past years, which have caused less employee hiring. The online newspaper outlets have continued to replace traditional newspapers. This reflects a probable negative outlook for prospective reporters in the future.
# 5: Travel Agent
BLS Annual Median Salary: $34,600
Hiring Outlook by 2022: -12%
The Internet has had a negative impact on travel agent jobs. These days many travelers are opting to make travel arrangements themselves, utilizing online companies and booking flight directly with the airlines.
# 6: Lumberjack
BLS Annual Median Salary: $24,340
Hiring Outlook by 2022: -9%
Fewer lumberjacks are needed in the logging industry due to technological advances. Paper-based products require wood pulp. This lower need for wood pulp has also negatively impacted the lumber industry.
# 7: Flight Attendant
BLS Annual Median Salary: $37,240
Hiring Outlook by 2022: -7%
In recent years, the airline industry has seen its share of mergers as well as cutbacks in the number of flights. According to the BLS, long-term hiring estimates do not point to any possible increases in the next ten years.  
# 8: Drill-Press Operator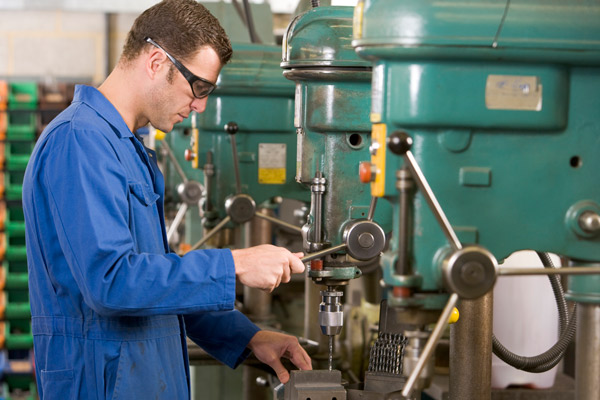 BLS Annual Median Salary: $32,950
Hiring Outlook by 2022: -6%
Hiring in the manufacturing field has been gridlocked in recent years. This issue has especially impacted employment positions for drill-press operators. Also, various advances in technology mean that fewer drill-press operators are needed.
# 9: Printing Worker
BLS Annual Median Salary: $34,100
Hiring Outlook by 2022: -5%
It's no secret that we live in a digital world. That means that paperless is the way to go for most companies and individuals. This change to digital means that fewer workers are needed in the printing field for hard copy print jobs.
#10: Tax Examiner & Collector
BLS Annual Median Salary: $50,440
Hiring Outlook by 2022: -4%
Many government agencies hire tax examiners and tax collectors. However, according to the BLS, in recent years budget cuts have resulted in decreased hiring of such workers. Another reason for less hiring in this field is that much of their work can be completed online.
Advances in technology have completely remolded the job landscape these days. Three jobs that have been projected to increase in hires are mathematicians, statisticians and health care administrators. This article also discussed the top ten most endangered jobs in 2014 with dim hiring projections by 2022. For new college graduates and those seeking employment in the current job market, it is best to seek out jobs in the fields of technology and others that have projected growth in the future.