Depending on how you feel about standing in front of a crowd, your ability to make people laugh, and potentially completely embarrassing yourself, being a comedian either sounds like something you might want to try or the equivalent to going naked to school. Have you ever thought why public speaking makes you so emotional? Even if you look down on comedians and think making people laugh isn't the best of career choices, there's one thing you can't deny: they know how to work a crowd.
See Also: 5 Ways To Keep Your Audience From Tuning Out
And whether your crowd is a crowd of one - your boss when you want a raise or promotion - or a crowd of many at a business conference, you're reading this article because you would like a bit of their wisdom. If you think about it, even court jesters did so much more than just being silly; they knew that keeping a particularly evil king or queen amused was the way to stay alive, and they worked out how to do just that.
You might not think there are many similarities between a stand up routine and a board meeting, but here are just some of the ways thinking like a comedian can help you out:
1. Be Confident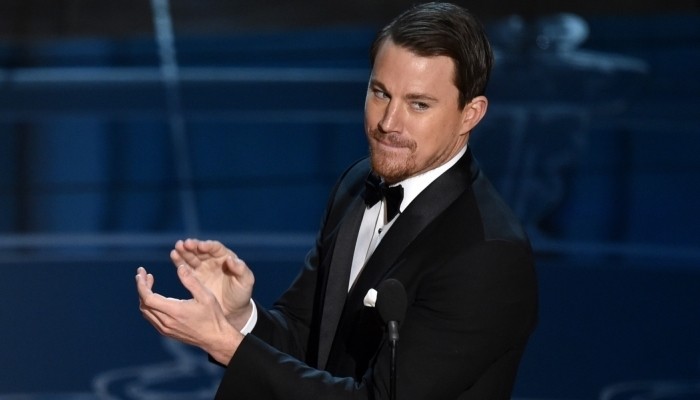 The most confident comedian is the one who is able to be himself, and an audience responds to a regular person that they can relate to; a person who tells everyday stories in such a way that it's funny just because they never thought about it that way. With enough confidence the audience won't even notice if the material isn't that great, because they've warmed to this person - but even the best material can fail if it's delivered in a terrible way.
Have you ever had the uncomfortable experience of watching a presentation where the presenter has fumbled, or told jokes that have been met with tumbleweed? The mood was instantly ruined because everyone then felt sorry for the presenter. Unless you love black comedy, you don't laugh at people who are suffering.
How this applies to you: you should always seem confident. If you start telling your boss you deserve a promotion, even if you know it isn't entirely true, the difference between success and failure will be in the delivery. If you sound 150% confident, then it should work, however, if you let them know that there's uncertainty, they might just take advantage of it and ignore you.
2. Know Your Audience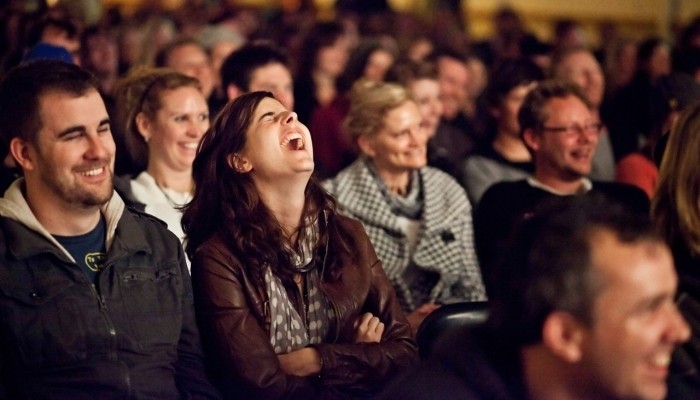 In this case, you should be grateful you aren't a comedian; at least you're likely to know if you're talking to your boss, other superiors or fellow business people. Comedians have to read their audience, potentially just minutes before getting on the stage, and adjust their routine depending on the age range, the mood and the nature of the event. They get up there to appeal to as many people as possible and have a conversation, even if it is one sided and the questions are usually rhetorical.
The same way a comedian looks to make people laugh, you should look to get your audience involved too: tell your boss how your promotion would help them and the company and not just you, tell your business conference audience how your company has contributed to the industry instead of just listing its achievements. Think about the presentations you've sat through in the past: did you prefer the ones that kept you engaged, or the ones where you were just talked at?
A comedian's audience wants to laugh, and your boss wants to help you out, but they still need you to put in the effort to make the connection and make the magic happen.
3. Make it Seem Effortless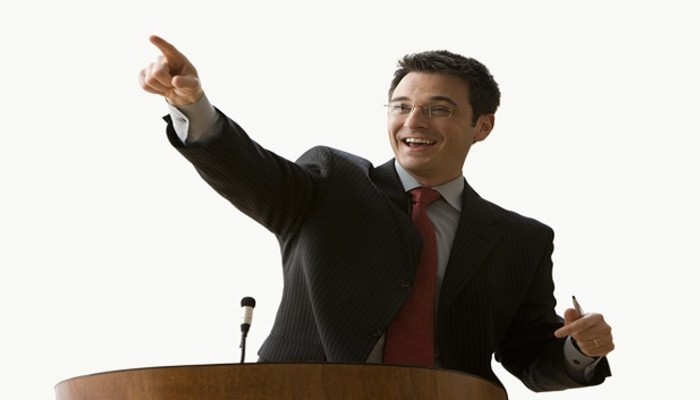 The best comedians are the ones who burst onto the stage and get straight on with the one liners that start their show- setting up the mood as quickly as possible. They put hours of preparation into those few seconds of laughter, and spend just as much time testing it out and moulding it into a show to present to you; what they don't do is wing it, and neither should you.
When giving a speech, the person who maintains eye contact with their audience is more likely to make a successful joke than the person who still needs to read their note cards. This is related to confidence; that note-card reader is obviously struggling, and you're too busy hoping that they won't mess up to think to laugh.
The more you can make it look like you're up there having fun, the more everyone else will have fun with you. Be a comedian: prepare, rehearse, then prepare for the unexpected, like a previous speaker who you can comment on, before you get started. Know your material backwards and forwards and it will flow more naturally.
4. Have Stage Presence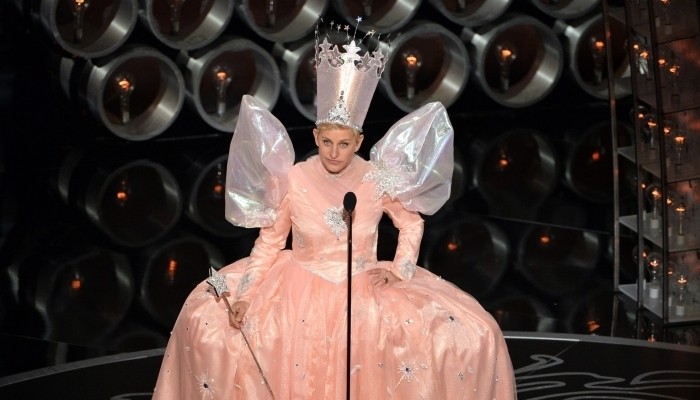 What kind of concert is better: one with props and dancing, or one with the singer standing there as if they need the microphone to hold them up? Comedians don't usually dance, but they do move around, even if it's just to walk up and down. While you might sympathize with someone glued to the spot, someone bouncing up and down and skipping across the stage is immediately amusing and someone who you want to spend the next hour with. At least, as long as they don't overdo it and make you feel dizzy.
It might not be appropriate or even possible for you to move around too much, but that doesn't mean you can't still have your unique thing that makes you memorable. Maybe you gesture too much, "accidentally" drop papers or have a (work-appropriate) costume. Comedians' material might change - and your audience might - but there are certain things you always know to expect when you buy a ticket for their latest gig. Make yourself the person who gives seminars that everyone wants to attend.
5. My Favourite Audience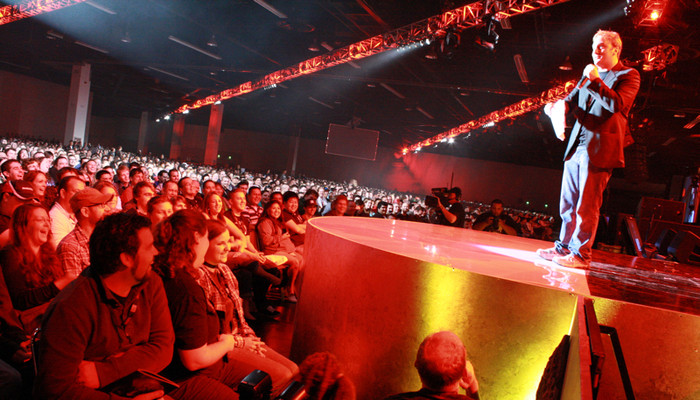 Of course every comedian doesn't think that at every gig. They do say it to themselves, though, and continue to think like that at least until they've won over their audience and the laughter really does generate genuine love. A comedian who obviously hates being on the stage, either because they're nervous or they hate people, is going to have a hard time getting an audience to like them - unless of course being grumpy is a part of their routine.
The more you seem like you want to be up there giving your speech, the easier it will be to build rapport with your audience. Think of your arch enemy (and don't pretend you don't have one): seeing them doesn't make you laugh, and listening to a presentation by them doesn't cheer you up even if everyone else thinks they're hilarious. Comedians try to be your friend, and win you over- you should do the same thing when you are presenting for your audience.
See Also: Why You Need To Be Able To Read Your Audience
Hopefully this article was helpful enough and it's given you a newfound appreciation for your favourite comedian and how they can actually help you with your career; they're not here just to get you out of a bad mood and make you laugh. Who are your favourite comedians? Have you ever tried any of their jokes out at work, or attempted to mimic their stage presence? Let us know in the comments section below.