Tennis is the ultimate merit-based sport. While many athletes can sign lucrative deals that guarantee a high salary even if they're injured or taken out of the starting line-up, professional tennis players only earn big money when they win.
Once they start winning, however, the salaries can escalate to incredible levels, as you'll see from this list. Players who excel and who can cultivate a large fanbase also benefit from the perks of sponsorship from a wide range of corporations. Women considering a pro sports career should especially take note that the superstars of tennis hold a staggering 12 of 15 spots on this year's list of highest-paid female athletes.
Let's take a look now at the highest-paid tennis players on both tours, and how they got here.
10. Sloane Stephens

jctabb / Depositphotos.com
Nationality: American
Age: 26
Total earnings: $9.6 million
Sloane Stephens first made a splash as a teenager, reaching her first Slam semi-final by knocking Serena Williams out of the Australian Open in 2013. It took a few years to live up to such a sterling debut, but in 2017 she brought home her fifth career title and a 3.7-million-dollar payday from the US Open. Asked if she found victory at a major event inspiring, the American famously responded: 'Of course, girl, did you see that check that that lady handed me? Man, if that doesn't make you want to play tennis, I don't know what will!'
Stephens' refreshingly real reaction earned her a swarm of new fans, and the Slam win netted her an impressive sponsorship deal with Nike. Other companies who bank on the tennis player's charm and results, which got her to a career-high of No 3 last year, include Head, Mercedes-Benz, Target and Colgate. You've likely also seen Stephens fronting a campaign for the milk industry, touting chocolate milk as a recovery drink.
9. Simona Halep

WTA Tennis
Nationality: Romanian
Age: 28
Total earnings: $10.2 million
Tennis is an international sport, and how much money a player can make through sponsorships can often depend on how popular tennis is in their home country. Simona Halep, who has accumulated an impressive number of weeks at No 1 in the last three years, is well-loved in Romania. She's gotten deals with Vodafone Romania, Coca-Cola Romania and Romanian home improvement chain Dedeman.
A French Open win in 2018 and Wimbledon victory in 2019 elevated Halep's status as a champion tennis player, as well as nicely boosted her career prize money earnings. She's earned fans globally with her feisty, never-say-die playing style, and those fans include sponsors Wilson, Mercedes-Benz and Hublot. Nike also outbid Halep's former clothing sponsor Adidas, offering her a cool $2 million a year.
8. Angelique Kerber

The National
Nationality: German
Age: 31
Total earnings: $11.3 million
Though a solid Top 10 player for years, Angelique Kerber was a bit of a late bloomer as far as big results are concerned. She earned her first Slam win less than two weeks after turning 28 at the 2016 Australian Open. It was no fluke win, though. She went on to earn two more, at the 2016 US Open and 2018 Wimbledon.
A stoic presence on the court, Kerber has an engaging personality off of it. Tennis fans are used to seeing her frequently in advertising for sponsors Adidas and Rolex, but the German player has an impressively long list of deals that includes Yonex, Porsche, Lavazza, SAP, Generali, NetJets and Proctor & Gamble's Head & Shoulders brand.
7. Alexander Zverev

renaschild / Depositphotos.com
Nationality: German
Age: 22
Total earnings: $11.8 million
The stranglehold the Top 3 men in tennis have had on titles and rankings effectively blocked an entire generation of players from achieving big results. Then along came Alexander Zverev, leader of the ATP's promoted and hashtagged 'NextGen' pack, who beat Novak Djokovic on clay and Roger Federer on hard courts to nab two Masters titles in 2017.
With another Masters win in 2018, followed by a $2.5 million victory at the 2018 ATP Finals, Zverev's prize money haul has been impressive. He doubled it with his sponsorship earnings from Adidas, Head, Peugeot, Zegna and luxury watch brand Richard Mille.
6. Naomi Osaka

Zhukovsky / Depositphotos.com
Nationality: Japanese
Age: 22
Total earnings: $24.3 million
As a young player who frequently shared her offbeat humour and musings on social media, Naomi Osaka already had a strong fanbase when she reached the final of the US Open in 2018. Keeping her cool during a drama-filled match against Serena Williams and a volatile New York crowd earned her even more admirers. The victory also netted her $3.8 million in prize money, which she followed up with nearly $3 million at the 2019 Australian Open.
Until recently, Osaka held dual American and Japanese citizenship, but she has played for Japan from an early age and will represent that country in the 2020 Olympics. Contrary to the US, where tennis players are often overshadowed by athletes in other sports, Japan has offered avid support for Osaka. She's struck deals with several Japanese companies including Yonex, Shiseido, Nissan, Nissin Group, broadcaster Wowow and airline ANA.
Nike, who likes to recruit young players with promise, swooped in with a reported $10 million a year deal. The ever-growing list of sponsors also includes Citizen, Hyperice, BodyArmor and Muzik.
5. Serena Williams

zhukovsky / Depositphotos.com
Nationality: American
Age: 38
Total earnings: $29.2 million
Time away from the sport can really damage the earnings of your average tennis player, but life is very different at the top. After the birth of her daughter Olympia in 2017, Williams only played a total of 15 tournaments over the next 2 years. Her continuing presence in Slam finals would just give her the edge in prize money over Sloane Stephens on this year's list, but the sponsorships keep Williams in the rarefied air of the Top 5.
Considered an icon of many talents by her horde of fans that reaches well outside the world of tennis, new mother Williams was able to ink deals with Pampers, General Mills and Axa Financial. These, along with contracts with Nike, Wilson, Gatorade, Bumble, Audemars Piguet, Beats by Dre, Berlei, Lincoln Motors and JPMorgan Chase, helped the champion player score the rather noticeable honour of being the only woman on Forbes's annual ranking of the highest-paid athletes in 2019.
4. Rafael Nadal

Maxisports / Depositphotos.com
Nationality: Spanish
Age: 33
Total earnings: $35 million
As one-half of two epic rivalries in modern tennis, with a record-shattering 12 French Open titles and a return to No 1 this year at an age that once was considered well past retirement, Rafael Nadal might seem to be a bit undervalued as far as sponsorships go. His 15 million followers on Twitter would probably agree.
Still, $26 million, in addition to his prize money, isn't too shabby. Most of his endorsement earnings come from Nike, Babolat, Kia Motors, Richard Mille and the Spanish companies Telefonica and Mapfre. He also signed with Cantabria Labs in 2019 to promote their Heliocare line of sun protection products.
3. Kei Nishikori

renaschild / Depositphotos.com
Nationality: Japanese
Age: 29
Total earnings: $37.3 million
Despite a solid career, Kei Nishikori is actually part of that lost generation that never managed to get through to a Slam win. In this year's list, he earned less than half of what Nadal nabbed in prize money, yet still managed to steal the third spot from one of the 'Big 3' of men's tennis. Like Naomi Osaka, Nishikori enjoys an impressive level of fame and fortune in Japan.
Back in 2011, Nishikori made huge waves in the tennis community and his home country when he became the first Japanese player to be ranked higher than number 45, a record previously held by Shuzo Matsuoka. As a pioneer in the sport who has spent years in the Top 10, it's no surprise that, in addition to a lifetime deal with Wilson, Nishikori is rewarded well by Japanese sponsors Nissin, Uniqlo, Lixil, Jaguar Japan, Asahi, NTT Group, Wowow and Japan Airlines.
2. Novak Djokovic

Stringer_Image / Depositphotos.com
Nationality: Serbian
Age: 32
Total earnings: $50.6 million
Aside from excelling equally at nearly every technical aspect of tennis, Novak Djokovic has always been known as something of an escape artist. The poster child for snatching victory from the jaws of defeat, the champion Serbian tennis player again wriggled free of two match points held by long-time nemesis Roger Federer, this time in the final at Wimbledon 2019.
A ruthless competitor on the court, Djokovic continues to rack up Masters wins, having secured half the Slams in both 2018 and 2019. An engaging personality off the court, Djokovic is very familiar to sports fans through his ongoing series of humorous commercials for Head racquets. He also has substantial sponsorship deals with Lacoste, Asics and Seiko.
1. Roger Federer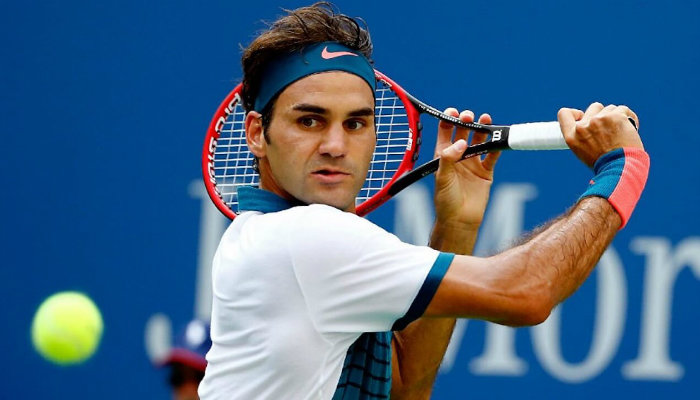 Le Courrier Australien
Nationality: Swiss
Age: 38
Total earnings: $93.4 million
Predictions of Roger Federer's imminent retirement have been written and rewritten for over a decade, and still the champion Swiss tennis player persists, with a Slam win in 2018, four more titles in 2019 and a record payday for the sport yet again. In fact, his endorsement earnings are greater than any other athlete's, including Cristiano Ronaldo and his whopping $47.8 million from paid Instagram posts.
His achievements and longevity, as well as the goodwill he's built up around the globe as the ultimate gentleman in a gentleman's sport, have allowed Federer to build up an astounding portfolio of lucrative sponsorship deals. In addition to established partners Wilson, Credit Suisse, Rolex, Moet & Chandon and Mercedes-Benz, Federer recently signed up with Barilla and luggage brand Rimowa. Uniqlo significantly outbid Nike with a 10-year, $300 million deal that continues whether he's still on the pro tour or not. It's quite likely the man known fondly as 'The Maestro' will be out-earning players on this list long after the day he finally does retire.
While there's always a certain amount of luck involved in earning big salaries like these, these players have made this list with a lot of hard work. It's not just the gruelling physical demands of the sport itself, either. Tennis players must also be savvy at networking and building relationships in order to achieve these lucrative sponsorships.
Established players like Federer and Williams, as well as younger champions like Osaka, also have carefully cultivated personal brands. They must excel in communication through their interviews, public appearances, and social media.
Several tennis players also add to their earnings by taking risks as entrepreneurs. Both Serena and her sister Venus Williams have clothing lines. Federer is part-owner of a player agency, Djokovic launched a restaurant, and Nadal started his own tennis academy. These players are looking to find careers that will sustain them after their retirement from tennis.
While their prize money looks extravagant to the average earner, tennis players do typically earn less than athletes in other sports. The men and women on this list are the ultimate proponents of multiple streams of income. Their endorsements and other business pursuits off-court provide them endless opportunities to achieve staggering increases in their yearly income.
Have you been inspired by tennis players and other athletes to achieve greater rewards in your career? Let us know in the comments section below!
Sources