Have you ever thought of becoming a Real Estate Agent? It has a lot of benefits and is an easy profession to enter! This career guide can help you out!
Choosing a career is always a big decision and one that will forever impact your life. If you've decided on a career in real estate, then you probably need a little guidance on what you have to do to make it happen – what are the education requirements? How do you get licensed? What happens after you get licensed? All those questions – and many more – are answered here as we guide you to a successful and lucrative career.
What Do Real Estate Agents Do?
As a real estate agent, you'll help clients buy, sell, and rent properties. But, the job entails a non-exhaustive list of administrative duties like organizing appointments, meetings, and open houses; drawing up and submitting legal documents, agreements, and lease records; developing marketing plans for listings; responding to e-mails and phone calls, and updating websites and social media profiles.

To succeed in the field, you need clients – after all, without clients, there will be no transactions; and without transactions, there'll be no commissions. Lead generation is, therefore, imperative; you'll be able to build contacts by focusing on the people you already know: family, friends, neighbors, etc. As such, you'll need to be prepared to work directly with clients, either buyers or sellers, or both, on a daily basis, and you'll need to be comfortable constantly promoting yourself to potential clients.
Why You Should Become a Real Estate Agent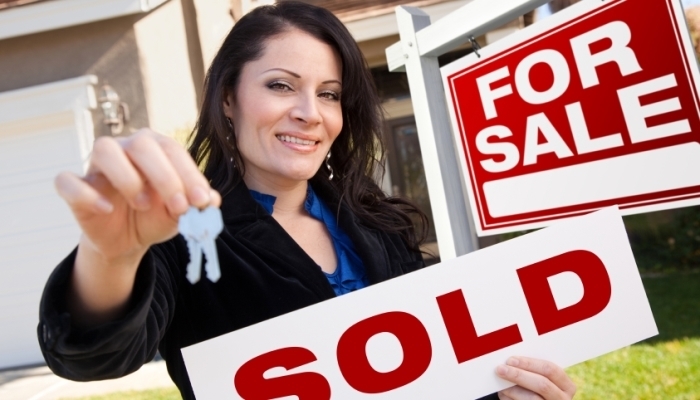 Shutterstock
If you're toying with the idea of pursuing a career in real estate, it really might not be a bad idea. After all, real estate agents are the happiest employees in America, according to a 2013 CareerBliss survey, with an index score of 4.26 (Senior QA Engineers and Senior Sales Representatives complete the Top 3 with 4.23 and 4.19, respectively). So, why are real estate agents so happy?
One reason might be the money you can potentially make. The average annual salary in 2015, according to the Bureau of Labor Statistics, was $43,370, $9,410 more than the national average for all workers. The lowest 10%, meanwhile, earned less than $21,780, while the highest 10% at the other end of the spectrum were earning more than $110,560 – over three times the national average!
But, as a real estate agent, you're essentially your own boss. That means that you're able to work a flexible work schedule and make your own decisions. You don't work a mundane 9-to-5 job, and a great deal of your job is dedicated to socializing, meeting people, and building relationships with clients.

Another reason that makes real estate a great career choice is the fact that it's relatively easy to get started in the industry. Depending on the state and local regulations, you can complete all the necessary training and become a licensed real estate agent in just a matter of a few months – and, sometimes, even weeks.

But, as with everything else, there's always a downside. For one, the industry is a very competitive one – while 10,900 new jobs are expected become available between 2014 and 2024, real estate agent jobs have a slower-than-average growth rate at 3%. This means that jobs in the industry will be hard to come by, and the competition will be great.
And although you do have the potential to make a lot of money, the money you make largely depends on the time and effort you invest. And even then there's no guarantee you'll be making big bucks.

It's also a very stressful profession and, as mentioned early, you'll be required to invest a lot of your time to the job. That means you have to be flexible to meet clients' needs; you'll be working seven days a week and all hours of the day.

You need to carefully consider the many advantages and disadvantages involved in a career in real estate. Though it is an easy career to enter, you should seriously think about whether it's the right one for you.
How to Become a Real Estate Agent
Shutterstock
Now that you've carefully weighed up all the pros and cons of becoming a real estate agent, you've probably come to the decision that it's indeed the career path you want to follow. But what's the next step you need to take? What exactly do you have to do to become one?
#1 Get Educated
The first step to a successful career in real estate is gaining the appropriate education. Although most individuals pursuing a career in the field must take state-accredited pre-licensing courses to become licensed, this requirement is sometimes waived if you've taken college-level courses in real estate, which is generally preferred by employers. But, requirements vary from state to state (in Idaho, for example, two courses totaling 90 hours are required, whereas California requires three college-level courses), so it's a good idea to contact your state's real estate commission and find out what's expected of you. You'll also need to take into account any special requirements any real estate agencies might have while you need to be at least 18 or 19 years old (depending on the state) and a legal resident of the US.
#2 Choose a Brokerage
Unless you become a broker yourself – which requires one to three of real estate agent experience – working with a brokerage is a must to start practicing as a real estate agent. This requirement has its benefits: working under a broker, you'll be able to learn all the ins and outs of the job as well as how to effectively list, sell, and rent property.
Before graduating from your training course, you should start looking into brokerages to jump-start your career and learn as much as you can about them. How big are they? What is their reputation like? Do they offer any additional training? You can also learn about a particular brokerage's reputation by asking family and friends' experiences, reading online comments on company review sites like Glassdoor, and getting advice from your instructor.
As a new agent, you'll typically work closely with more senior agents, and some larger companies offer new agents formal training as a way to gain knowledge and experience while others may provide training to employees working towards their licensing exam.
#3 Get Licensed
The next step you need to follow is getting licensed. This entails taking (and passing) state and national exams. Most states require a criminal background check – complete with fingerprints – to apply for a license. Once your application has been approved, you'll be able to schedule your examination – in Florida, you must pass the test with a grade of at least 75% and, if you fail, you must wait 24 hours before you're able to schedule a reexamination.

Upon passing the test, and finding employment with a licensed broker, your broker will be able to activate your license online, and you can start working as a real estate agent under their sponsorship. Though prices vary from state to state, you can expect to pay at least $200 for courses, exams, and license fees.
How to Jump-Start Your Career
Now that you've completed the necessary education, training, and licensing, you can finally begin your journey to a truly successful career in real estate, and a perfectly crafted résumé will help you get there. Tailoring your résumé to the specific job you're applying for and effectively showcasing your many skills as a real estate agent will help get your application to the top of the pile, and these résumé tips will help you accomplish that.
#1 Ditch the Career Objective
When it comes to reviewing résumés, hiring managers simply don't care about your career objective. They don't want to know about your professional goals; what they want to know is how much value you will bring to the business as an employee. You need to highlight what exactly you bring to the table and, to do that, you first must ditch the boring, generic, and unhelpful career objective that's wasting valuable real estate on your résumé. You should instead opt for a professional profile which focuses on four – and no more than five – key points in 500 characters or less in the form of either a paragraph or bullet list.
The first point you should cover is the number of years of experience you have as a real estate agent. A good example of this would be:
Licensed real estate agent with over 10 years' experience in residential rentals.
If you're just starting out, however, and have no professional experience to your name, something like this would work better for you:
A recent graduate of Boston University with an in-depth knowledge of real estate and property valuation.
The second point in your professional profile should highlight a particular specialty of yours within the industry. For example:
An expert at performing Broker Price Opinions.
Your third point should showcase the skills that you'll be able to contribute to the job:
Possess comprehensive knowledge of real estate trading, and strong oral communication in English, French, and Spanish.
Finally, you should close your professional profile by stressing your career achievements:
Increased sales revenue for the 2015-2016 financial year.
#2 Use Action Verbs
Using powerful action verbs on your résumé help you describe key skills and accomplishments because they help you get noticed by potential employers. This is especially important, considering the fact that most job seekers use the same tired, old words that hiring managers have heard over and over (and over) again. Check out the following list of action verbs and make sure to add them to your résumé wherever and whenever possible (but remember not to overdo it):
Advise
Close
Evaluate
Generate
Introduce
Maintain
Negotiate
Prepare
Promote
Schedule
Sell
#3 Quantify Your Experience
Being a real estate agent also means being a salesperson, and a good one at that. Your résumé provides you with an excellent opportunity to prove your sales acumen to prospective employers, which will no doubt make you their favourite applicant.
Closing a deal means making money, and making money is exactly what your company wants to do, so you need to show what you're capable of by using numbers and statistics, and generally quantifying your experience and accomplishments. Something like, "Closed an average 100 deals every month," for example, will no doubt blow employers' socks off as will "Conduct quarterly seminars and training sessions for sales agents to improve sales techniques". Your résumé is a marketing tool, and the product you're trying to sell is you – so make sure you do an excellent job of it.
#4 Mention What Skills You Bring to the Table
To stand out to recruiters as a perfect fit for the job you're applying for, you'll need to showcase all the relevant skills you possess to do a job. While pointing out that you're a licensed real estate agent and have all the necessary education and training behind you, mentioning things as simple as computer skills will go a long way. Other important skills and traits you should add include:
Negotiation skills
Advanced math skills
Interpersonal communication skills
Flexible and resourceful
Knowledgeable in all local and federal real estate laws
Trustworthiness
Meanwhile, don't forget to check out our list of important CV Tips.
Becoming a real estate agent can be an extremely financially rewarding career and is a relatively easy profession to enter, but do you have what it takes to succeed in the industry?

Are you an experienced real estate agent? Do you have any wisdom you'd like to impart with those currently in the process of pursuing this career path? Tell us in the comments section below, and don't forget to share this article with friends and family.