Your resume should not just describe what you can do, but also who you are. Personal branding is what's going to make you stand out from the crowd, as it adds value and credibility to your resume.
Branding your resume will help employers create an image around your name. Essentially, it works by proving the value of the product, one that states this product is the best in the market, which, in this case, is you.
So how can you communicate your personal brand on your resume? Check the following tips on how you can do just that:
Create your brand statement
With only 20 seconds available to make a strong first impression, your resume should include short and memorable pieces of information that helps you stand out from the crowd. When writing your resume, ensure that you add a few words that describe your personal brand. This should be your "personal branding statement" that tells immediately what you can bring to an employer. Use the following questions as a guide to what you should include in your branding statement:
What are your job-specific skills and knowledge that can be matched to the job?
What value can you provide?
What's your passion?
What makes you different?
What are the market/industry needs?
Choosing the right wording at this stage is important because a good brand statement is what's going to get the employers attention and encourage them to look at the rest of your resume. Professional brand statements that start with action verbs such as "Dedicated to", "Positioned to", "Bringing", "Providing", "Equipped to" are very powerful and effective. Also, use words that can match your personal brand with the position you are applying as much as possible.
Customise your resume's layout
Your resume should be able to impress employers due to its distinctive appearance. Imagine having a pile of resumes on your desk and every single one of them is using the same template. Then you will be faced with the challenge of which one to choose since none of those say "pick me" at first glance.  In order to make your resume unique, match it with your branded look, colours of your brand/logo, your social media and blog's content if you have one.
Check the following examples for inspiration:
 Image Source: shadowness
 Add your logo
Why not add put a small logo to colour the white background of your resume a bit and make it look more professional? Adding your logo on your resume can work as a great advantage especially if you are a freelancer. If you don't have one, don't worry; you can visit DesignMantic, LogoYes, LogoGarden or GraphicSprings to create a logo that suits your needs and preferences.  
If you are not sure what your logo should represent, you can use your full name, initials or the name of your business, if you have one. An effective logo should represent your personal brand so that wherever employer sees it he or she immediately associates it with you.
These two examples give you an idea on how you could use logos on resumes: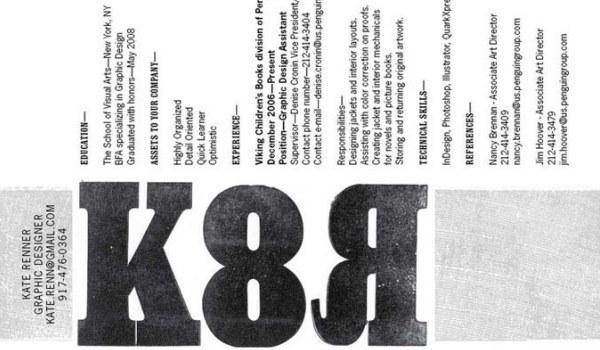 So, what are you waiting for? Start "selling" yourself and invest in your personal branding! Construct your own brand statement, customise a unique resume layout that stands out and add your logo to get a more professional look on your resume!  
 Main Image: thenextweb