Many jobseekers find writing cover letters to be a real challenge - even harder than writing their resumes. That's because they find it difficult to talk about themselves and come up with the right words to express their interest in the job. So it's not bad enough they have to create a unique and customised resume for each position they apply to, they also need to write an accompanying letter as well. Sounds like a nightmare!

But, no matter how much you hate it, you still have to do it. A jobseeker has to do what a jobseeker has to do, even if that means writing and rewriting it until you get it right.
If you hate writing cover letters, then you are going to love this. Here are some clever ideas that should make writing a cover letter a lot easier. We have used several sources, to help you get a sense of how many different ways your cover letter can be written.
#1 Works Every time
This is the typical cover letter that you can use for just about any job. It's a formal way to approach employers, and it is how the majority of them want to be approached. Hear it from Monster:
If you have been applying for jobs, you are probably familiar with this type of cover letter. It's short, it's formal, and it can get you invited in for an interview.
#2 For Creative People
This cover letter can be useful if you are applying for a creative position. The Guardian suggests this style of cover letter to those who want to give a different twist to their initial contact with hiring managers.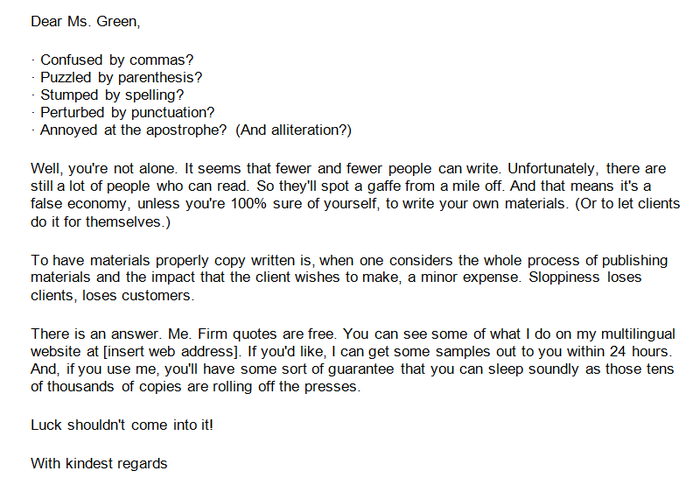 As you can see this is very different to the conservative cover letter. It is humorous and shows employers that you can be witty and funny. It's also a nice way to stand out from other applicants who choose the conservative cover letter.
#3 Only Five Sentences
If you don't have much time on your hands, then you might want to try this quick, but effective approach. This five-sentence cover letter from David Silverman, at the Harvard Business Review, covers all the essential points without the risk of appearing boring.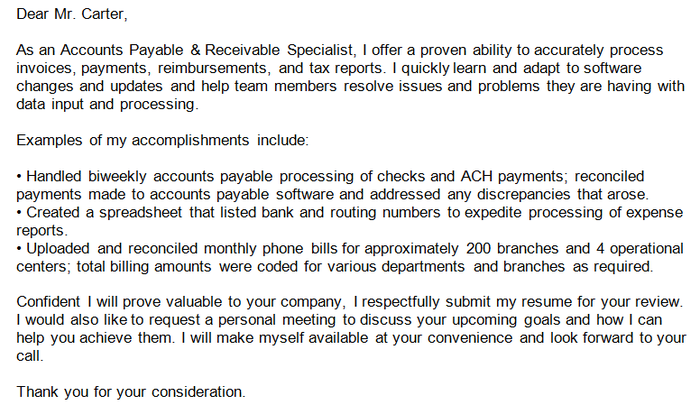 This is a less formal approach to introducing yourself and letting employers know you want the job, nevertheless, it can still be effective. It tells employers you want the job, and you are a good fit for the position as far as it concerns your skills.
#4 For Professionals
Depending on your level of expertise you will be expected to approach employers accordingly – and in a different way than you would normally do as a newcomer to the job market. Check out this example from Big Interview.
This cover letter goes into great depth to convince employers to consider the candidate for the job. Since the candidate is an experienced professional – and probably specialised in a particular field, it is an effective way to show off his skills and knowledge.
#5 Catelyn Stark on the Job-Hunt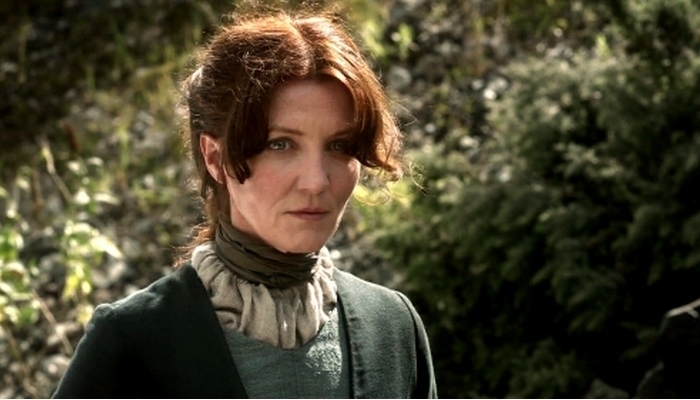 A powerful cover letter can be the deciding factor in whether or not you get hired. This is an interesting example of a cover letter from AskaManager where Catelyn Stark, one of the main characters in Game of Thrones, seems to be looking for a job...  
Apart from the jokes, this is an excellent example of a cover letter as it is not too long or too short, which is exactly what employers are looking for. It's concise enough so that they would want to read it and it's long enough to cover the main points. It refers to where she found the job advert, talks about her experience and skills and, at the end, encourages the employer to take action.
Writing the perfect cover letter can be difficult, but not when you have these 5 cover letter templates to give you inspiration. While each cover letter is different, they serve the same purpose and can help you land a job. For your convenience, I suggest you bookmark these in your browser so you have easy access to them whenever you need them.

Do you find it particularly difficult to write cover letters? Do you think these examples will help you? Let me know in the comments section below…