Robert Samuel, a 38-year old Chelsea resident is a great example of an entrepreneur who turns a gap in the market into an innovative and highly rewarding venture. Samuel is a "professional line sitter". He stands in queues on behalf of lazy New Yorkers desperate to buy the latest iPhone or Saturday Night Live tickets but who are too reluctant to wait.
Everything started when Robert lost his full-time job at AT&T as a sales representative and needed to make some extra cash. Luckily, when the new iPhone 5 was released, he posted an advertisement on Craiglist offering to wait in line for $100. By 8 a.m. the next day, after 19 hours of waiting, Samuel had made $325 from selling his spot  as well as selling milk crates for $5 a piece to people who were tired of standing.
Once he recognised how successful this job was, he decided to turn it into a business. He launched his company called SOLD inc (or Same Ole Line Dudes) which specialises in line sitting and line management. The company's services extent beyond waiting, including purchase and delivery of event tickets or products.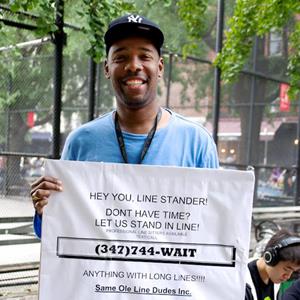 Here are a few tips derived from Robert's business experience, for those aspiring to pursue a similar venture:
1. Diversify your 'line sitting' services
The core objective of this gig is to provide line sitting and management solutions to customers who treat things such as waiting in queues like the end of the world. Understand that consumers have a big range of wants in different situations. Like SOLD inc, offer consumers line sitting services at
Sample sales
Broadway /TKTS booth
Standing room only concerts
NIKE Sneaker Releases
Apple Product Launches
H&M designer sales
Night clubs/ Bars
Free Park Concert Events
Daytime Talk Shows
Late Night Talk Shows
Early Morning Audience Lines
Celebrity Meet & Greets
Greyhound, Bolt, Megabus Passengers
Autograph Signings
Courts
Federal, State, City Agencies i.e. Social Security/HRA/Immigration
When it comes to businesses, you can offer event line management solutions like:
Inventory Updates to Crowd
Contests
Karaoke
Social Media Solicitation
Purchase Qualification
Pre-Sales
LINE STARTS/ENDS HERE signage
VIP Services for Select Customers
2. Decide on your pricing
The next step involves preparing your pricelist for general waiting and delivery. There should be clear pricing for general waiting at events, stores, ticket sales etc. Robert's company charges $25 for the first hour plus $10 for each additional 30 minutes. As far as delivery is concerned, you should have a standard fee for deliveries within your borough of operation and extra charges for outer borough deliveries. There should also be an extra fee for severe weather conditions (rain, snow etc).
3. Team up with friends
You cannot do the job efficiently just on your own. Robert's friends were interested in joining his company and "whenever he gains a new customer, Robert sends out a mass text to about a dozen friends to see who wants the job". Make sure your friends are dedicated enough to do the job and are willing to spend a great amount of their daily time outside shops or concert venues. One line waiter of his, was standing in line for a whopping 43 hours for a Shark Tank audition in Denver, earning the company $800. Try to communicate to your team that this could be a tiresome but high-paying gig.
4. Promote your service effectively
You don't have to employ an entire ad campaign to promote your service to people. Robert believes there is no such thing as over-promotion. Even if he isn't hired to wait in line for a big event, he will still go, to approach people and hand out business cards. When doing so, he uses a really grassroots approach underscoring his problem-solving skills. When he interacts with people, he asks them, "Are you hot, tired? Don't want to do this again? I'll do it for you."
5. Use social media
As with every business, social media do wonders for brand awareness and loyalty. Robert says "I always tell whoever is working an assignment to send us pictures of where you are". "We post them to reinforce people's trust in our company and brand, and we also send the photo to the customer to show what they avoided by hiring us".  He also writes the name of his company in chalk on New York sidewalks, especially in SoHo near the Cronut bakery, sample sale locations, the Apple store, and subway entrances.
All in all, working as a professional line waiter could be a fascinating side job through which you could make a significant profit. Watch this video to find out more secrets about Robert's unusual gig that currently grows at an amazingly rapid pace. 
Image sources: www.complex.com / www.money.msn.com