It's 6 p.m. and you're still at your desk, furiously typing away. The work day may be technically over but there's no end in sight when it comes to the piles of work next to you. Though you shouldn't stop living for work, staying late at the office is sometimes a fact of life and it's inescapable when we're all so busy and have so many job responsibilities. But if your typical fuel for the evening hours is a chocolate bar and a Starbucks vanilla latte, or if you usually make your way through a giant bag of potato chips that just leaves you feeling tired, it doesn't have to be that way. Check out these 7 snack ideas so you can survive working late and even have some energy to spare.
See Also: Top 10 Gluten-Free Snack Ideas
1. Enjoy Some Healthy Brownies
There's nothing better in this world than biting into a chewy, fudgy brownie, whether homemade or storebought, because even the worst packaged brownie from your local supermarket still tastes pretty good since chocolate is involved. But you can upgrade your brownies and get your chocolate fix with these super healthful sweet potato brownies from London-based food blogger Ella Woodward of Deliciously Ella. These sweets are made with cacao powder, a more health-conscious version of the more traditional cocoa powder. These brownies even contain a hit of caffeine but not anywhere near as much as a cup of drip coffee would, so you don't have to worry about not being able to sleep when you do finally get out of the office later on tonight.
Cacao powder also has tons of antioxidants and magnesium. Most of us don't eat enough foods that have magnesium so these brownies are an easy, chocolate-filled way to get that nutrient. Cacao is also thought to make us feel happier and more awake, so it's a great choice when burning the midnight oil at your desk.
2. Whip up a Coffee Smoothie
If you're into eating as healthfully as possible and living a healthy lifestyle in general, you've probably got a smoothie addiction, like many of us. It might be how you start your day or a good afternoon snack. So why not make a coffee smoothie when you're working late and need a boost of energy?
Think of it like a more health-conscious, less sweet version of an iced drink you would get at Starbucks or from a fancy coffee shop. Blend together a scoop of instant coffee, almond milk, and a banana (preferably frozen if you can, so it makes everything super creamy). You will feel soothed by the texture which will be similar to ice cream and the coffee flavor will make you feel more awake than you were before. Now you can finish your work happily.
3. Get Some Protein in
It's impossible to remain focused and alert if we're not eating enough protein at every meal and snack, so make sure you eat something that has protein in it. You could pick up a grilled chicken burger or sandwich from a nearby fast food place if it's super late and that's all that's open. Skip the bread if you want and enjoy the protein-rich chicken with a side salad.
You can also keep some hummus and baby carrots in your work fridge so you have a protein-filled snack whenever hunger hits, no matter how late you're working. Other smart sources are a handful of any kind of nut and a spoonful of almond butter. While you won't be getting as much as, say, a piece of chicken or meat, if you don't even have time to the leave the office for a fast food run, then enjoy whatever protein snacks you have on hand.
4. Make Your Own Trail Mix
This delicious combo of nuts, dried fruit and sometimes even chocolate chips doesn't have to be reserved for Sunday afternoon hikes. Whip up a batch one evening and bring it to keep at your desk all week long so when you have to stay late, you're already prepared. Or take 10 minutes and run to a convenience store or grocery store near your office and buy the ingredients to prepare it at your desk. You can add any ingredients that you think would be a good idea. You can even add some apple and banana slices and blueberries if you want – just add them right before you eat the trail mix so the fruit stays fresh and doesn't go bad. Apples are a particularly smart choice since they ensure that your blood sugar levels stay normal, which is useful when you're already tired and working super late. This fruit also has fiber which will keep you full and ensure that you're not dreaming of diving into a bacon cheeseburger and fries.
5. Eat Some Nostalgic Snacks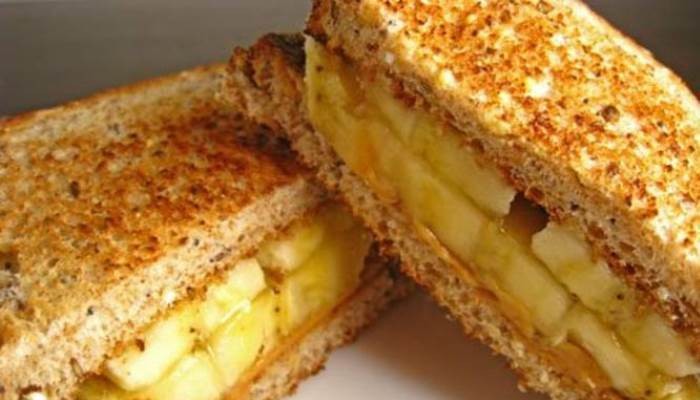 Remember when you were a kid and you came home from school every day to your mom laying out a spread of fun, yummy snacks for you? Even though you're all grown up now and working, you can indulge your childhood memories and make a few of your favorite snacks. What's great about kid snacks is they are so easy to prepare. For a more sophisticated take on ants-on-a log, grab some celery sticks and spread some almond butter rather than the typical peanut butter, and add some cherries instead of raisons since they're in season these days. You'll be getting more antioxidants from cherries and since they have melatonin you will feel calm.
Another great kid snack? A banana and peanut butter sandwich. Grab some whole grain bread and some almond butter and you're good to go.
6. Try a Combo of Snacks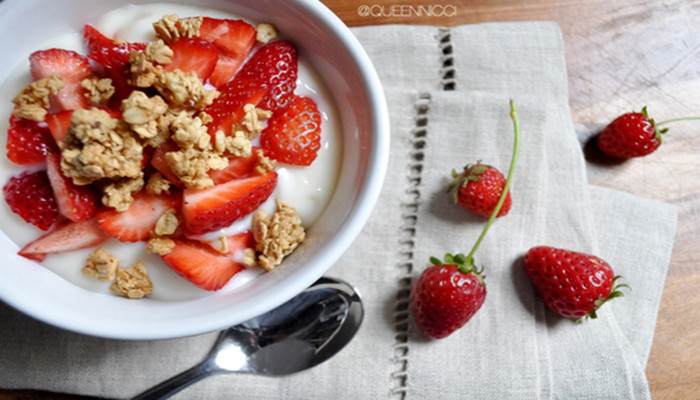 Since you're working way past 5 p.m. you probably haven't even thought about dinner. Why not eat a few different snacks as your dinner instead? Think about what you typically enjoy for a burst of energy before noon or at 4 p.m. If you're a fruit person, then try an apple with a handful of nuts, and then add a second snack to fill you up more, such as a portion of Greek yogurt with a bit of honey. You will be getting a good amount of carbs, healthy fats and protein, which are the components of a healthful dinner.
You can also try an open-faced sandwich with a piece of whole-wheat bread, some cream cheese and some cherries or blueberries. Round everything out with a handful of almonds.
7. Enjoy a Small Piece of Pizza
As much as we try, we can't always ignore our cravings. If you're having a particularly difficult time concentrating and it's late at night, and you won't be going home anytime soon, then treat yourself to a small piece of pizza. It will give you the fat and salt you're craving and as long as you don't eat an entire pie, you won't be doing any damage to your healthy diet. Enjoy some veggies or salad along with it to get a dose of vitamins and nutrients. One slice of pizza isn't the worst snack idea since you're getting protein from the cheese. Just make sure the rest of your meals that day were as healthy as possible.
See Also: 7 Instant Mood Boosters for a Hard Day at Work
Tired of working late without anything to eat – or worse, calling a greasy bag of chips dinner? With these 7 snack ideas, those days are long gone. You will have tons of options so you don't have to go hungry, and you'll be able to focus and be so productive, you won't even mind working late.