Working in a trade such as plumbing is a popular career choice, with opportunities to work for a company or independently, steady work, and a day-to-day varied and physical job. Construction jobs in the trades have provided steady employment for decades and it's not likely to end given the need for more housing, commercial properties and maintenance as buildings age.
Plumbers don't need a university degree, but they do need to be properly qualified, and highly skilled, with a good level of experience. It is not possible to practice as a plumber in most states without a license and to obtain a license takes years of practice.
This article will outline what a plumber does, the job market and expected salary, as well as a run down of how to start your career as a professional plumber, including the qualifications, skills and experience required.
What plumbers do
A plumber's work is varied and involves fitting, repairing and maintaining gas and water systems, including all pipework, fixtures and fittings. A plumber's workload may include installing heating systems, such as boilers and radiators, water cooling systems, draining systems, connecting ovens, washing machines, sinks and toilets or other equipment to the gas and water mains. They also diagnose any problems with existing systems, troubleshoot and repair, as well as providing ongoing maintenance for larger systems which require looking after.
Some plumbers focus on gas or water, but most are able to handle jobs across the board and may work in residential homes or in commercial premises.
Typical duties for a plumber include:
Assessing plumbing needs of customers in a residential or commercial setting
Responding to any plumbing related emergencies
Providing quotes for the work to be carried out
Diagnosing the best cause of action based on the needs of the customer and system in question
Following building plans and blueprints
Installing pipes, fixtures and fittings
Installing gas or water systems, such as boilers and radiators
Repairing any plumbing-related equipment, systems or appliances
Assessing whether equipment or systems meet safety requirements and regulations
Keeping records of time spent and equipment used
What the job is like
The work of a plumber can be varied, depending on where they work, the type of plumbing they do and whether they are self employed. Work environment and work hours are favorable and salaries are above average for people working in the trade. CareerAddict have the role of a plumber in their top jobs for the future, so it's definitely worth pursuing if you're interested in plumbing.
Work environment
The work environment of a plumber is hands on, with expected physical labor when it comes to assessing equipment and repairing and installing systems. Generally, a plumber will travel to varying locations where they are needed. This could be someone's house or a series of commercial premises.
Plumbers generally work alone, but they may be part of a team of trades people, such as carpenters, builders and plasterers, working on site for large projects requiring input from all the trades.
Working with gas can be dangerous, so being up to date on safety standards and procedures is important.
Work hours
Plumbers typically work full time and hours can include evenings and weekends, as those that respond to emergencies will be on call. Self-employed plumbers can set their own hours and typically work 9–5.
Job satisfaction
Plumbing comes with a certain amount of risk of injury, such as burns from hot pipes and cuts from tools, but despite this, job satisfaction is high, with US News ranking plumbing as the 4th best construction job, with a good work-life balance, below average stress and with people staying in the profession for the long term.
Job market
Career outlook for plumbers is slightly below average with a predicted increase of 5% growth between 2020 and 2030. However, this is still 51,000 expected job openings in the US per year. The COVID-19 pandemic has caused disruption to the industry, so it's recovery could see changes to this prediction. With building work slow (but picking up) and living costs rising, it's difficult to predict how the work of a plumber will be affected, with some plumbing work being considered a luxury (for example, fitting a hot tub), and other areas being essential (like repairing a leaking toilet).
Salary
The average salary for a plumber in the US is $63,350, with master plumbers earning as high as $99,920. Entry-level plumbers earn an average of $36,700, with a plumbing apprentice expected to earn around $14.77 per hour with up to a year's experience. There is quite a large difference between the lowest level pay and the highest level pay, so there is plenty of room for progression, but it's important to evaluate whether you are happy with the lowest level as a starting point.
Salaries vary across states and industries, with building contractors offering the highest level of employment. The best paid positions are in non-residential building work.
The highest paying states for plumbers are Oregon with an annual average salary of $81,470, New Jersey with an annual salary of $82,740, Massachusetts with $84,090, Alaska with $85,300, and the highest paying being Illinois, where the average annual salary is $86,200.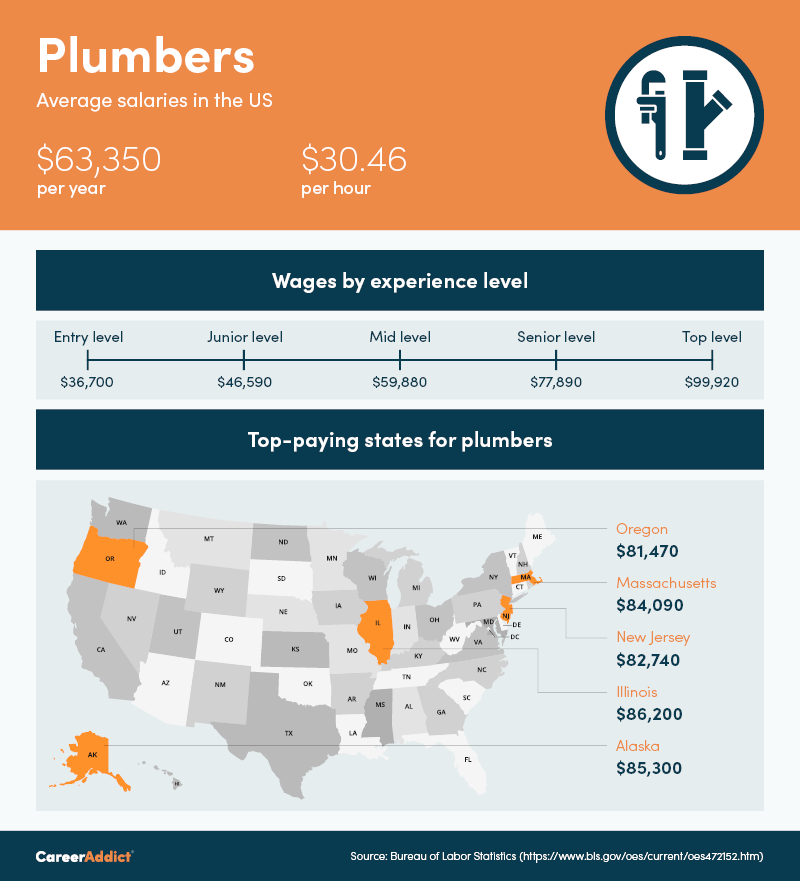 Essential skills and qualities
Plumbing is a skilled profession, which requires a mix of transferable soft skills and hard skills that are learnt through training and experience. Being such a hands-on job, with potential for injury and reliance on safety regulations and industry procedures, there are some essential skills and qualities that must be demonstrated.
Skills and qualities that a plumber must possess include:
Manual dexterity to work with pipes and small fixtures and fittings
Physical strength for lifting heaving materials
Basic maths for performing calculations for plumbing installations
Good mechanical knowledge to understand water pressure and plumbing systems
Problem-solving skills to identify problems and deduce the best solution
Business skills for quoting for jobs, understanding material costs and promoting business
Teamwork skills to collaborate with other trades people on site
Customer service and interpersonal skills for working directly with customers
Understanding regulatory compliance
Flexibility, as weekend work and emergency call outs may be part of the role.
Steps to become a plumber
We've established what it means to be a plumber, the tasks you will be expected to undertake, the skills you need and the benefits of the field. If you still think plumbing is for you, let's take a detailed look at how to begin your career.
Step 1: Determine if it's the right job for you
Take a good look at all that becoming a plumber entails. It's important to establish whether the role aligns with your values, interests and skills. Even though most skills can be developed through training, there are certain natural abilities that lend themselves well to the profession, such as accuracy, physical ability and an understanding of mechanisms.
The role can include some weekend and on-call work, as well as the majority of time working alone. It's important to determine if this suits you before starting the process of becoming a plumber.
To make certain you are well suited to the position, you may want to check out CareerHunter, which is a quick and easy online career assessment to help you find a career that is highly suited to you.
Step 2: Get your high school diploma
You don't need a university degree to train as a plumber. The emphasis is focused more on skills and training than formal education, so you can begin your career once you have achieved your high school diploma.
If you have not received a high school diploma, you can work towards getting a GED. Subjects such as maths, physics, technology, and IT are of high importance, and you will do well to be able to demonstrate this knowledge.
Step 3: Complete formal training
Following a basic level of education, you need to consider some more formal, focused training in plumbing. Options are available across community colleges, technical colleges and trade schools, allowing you to receive relevant, hands-on training and theory to understand plumbing. These courses are certified, often by bodies such as the Associate of Science in Plumbing and Heating Technology and will allow you to specialize in a certain area or learn general skills. Classes may include safety procedures, reading blueprints, maths and physics, fabrication, sewage disposal and piping.
Step 4: Find an apprenticeship
An apprenticeship is an essential step to becoming a plumber. Usually a certain amount of classroom hours will be required, which is why some formal vocational training is important. An apprenticeship takes 4–5 years to complete and is a good mix of on-the-job experience with a company and classroom learning.
The fact that you work with a company and an experienced plumber means you get real-world experience that cannot be gained from the classroom alone, a mentor to guide you, and you are paid a salary for the hours you put in.
Step 5: Become a licensed plumber
Once you have completed an apprenticeship in plumbing, you are reading to become a licensed plumber. License requirements vary from state to state, but in general, you must have 2–5 years of experience (which you will have gained through your apprenticeship) and you'll need to pass a licensing exam. Once you have reached this point, you can practice independently.
Some states require additional licences for working on gas lines, so it's important that you check out the requirements in the area you will be working in.
If you are particularly experienced as a plumber, you may advance to become a master plumber or a project supervisor.
Final thoughts
A career as a plumber can be exciting, varied and stable, with a clear career path and support along the way. An apprenticeship is a great way to gain on-the-job knowledge, in addition to classroom learning, while also receiving a wage. As qualifying to be a plumber is heavily based in experience and training, educational attainment is not placed so highly, and plumbing is a profession that can be entered regardless of your academic abilities.
There are essential skill requirements that can be developed through training, as well as soft skills that are important, largely relating to teamwork, customer service and the ability to communicate well with customers and colleagues.
Job satisfaction is good, with a salary that is above the average trade earnings, with opportunity of advancement. Following an apprenticeship, experienced plumbers can go on to qualify as master plumbers, project supervisors and site managers.
Accomplished plumbers may wish to join industry associations such as the American Society of Plumbing Engineers, or Plumbing Contractors of America. Being part of a membership builds trust and credibility with customers who know the reputation of the association. It also provides excellent networking opportunities and educational advancement through various training offered.
Even without further advancement or membership to an association, plumbing is an excellent career option, providing a valuable service to the public and businesses.
Are you considering becoming a plumber? What makes it a career that you're interested in? Let us know in the comments!
Originally published on August 17, 2017.