The world of business has changed drastically over the past few years – perhaps for the better. Indeed, as the adverse effects of plastic pollution, greenhouse gases and environmental catastrophes have become common knowledge, an increasing number of businesses and corporations are taking proactive steps to eliminate their environmental footprint.
Unfortunately, this phenomenon has also led to another concerning trend: corporate greenwashing. So, while many companies are taking the world by storm with green initiatives and impressive company cultures, some are talking the talk without walking the walk. However, others are leading by example, taking the right steps towards more eco-friendly operations and processes and to becoming more environmentally responsible.
From global mega-companies to small start-ups, these are the most environmentally friendly companies in the world.
1. Patagonia

Clothing company Patagonia is a shiny example of an environmentally conscious business. Starting from its production line, Patagonia is set on fighting the adverse effects of fast fashion by producing durable products and offering its customers a repair and reuse programme, Worn Wear.
Their sustainably sourced materials are often made from recycled fabrics such as nylon and polyester. As a blue-sign-certified brand, it also pays close attention to the treatments and processes of its products in order to eliminate the use of toxic chemicals for its textiles. The brand's next objective is to make their supply chain fully carbon-neutral by 2025.
2. tentree
tentree's mission is simple: for every purchase made, they plant 10 trees on your behalf. Since its launch, the company has planted nearly 40 million trees in over 8 countries and aims to ramp up these numbers to 1 billion by 2030.
tentree's bid for environmental protection, however, doesn't end there. Its products are made from sustainable materials such as lyocell and hemp, with no virgin plastic or leather to be found in its production lines. The brand also endorses complete transparency, offering insight into its ethical manufacturing and disclosing the environmental footprint for every product they make.
3. IKEA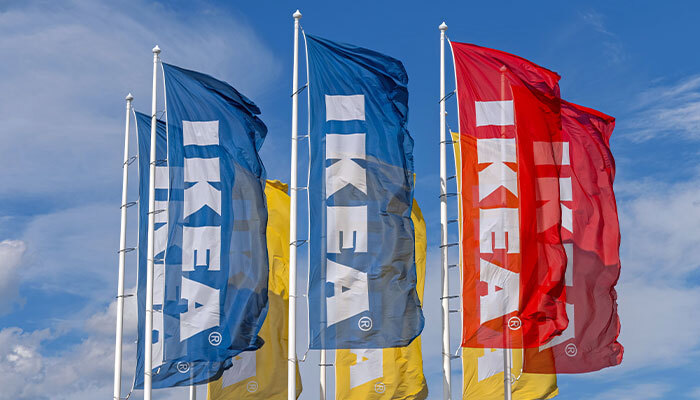 Despite being one of the world's biggest furniture retailers, IKEA has not lost sight of its sustainability goals. In fact, at the end of 2019, the retail giant announced that it plans to invest $220 million in green energy, reforestation and forest protection projects.
In its impressive bid to become as climate-positive as possible, IKEA is committed to using sustainable cotton and wool, phasing out single-use plastic from its stores, and has already switched its entire lighting range to energy-efficient LEDs. The Swedish company also emphasizes on sourcing its edible products from suppliers that follow sustainable farming practices, among other initiatives.
4. Eco-Products
Eco-Products have become a one-stop shop for sustainable disposables. In a bid to battle single-use plastic and encourage a zero-waste lifestyle, the Colorado-based company created innovative foodservice products that can be easily composted, recycled or biodegraded, using solely post-consumer recycled or renewable material.
As a Certified B Corporation, Eco-Products is dedicated to acting as a source of good by helping foodservice operators to achieve zero waste status by using sustainable disposables. Of course, Eco-Products are also set on reducing the environmental impact of its own processes; to achieve this, it powers its operations with net-zero electricity and solar energy.
5. Too Good To Go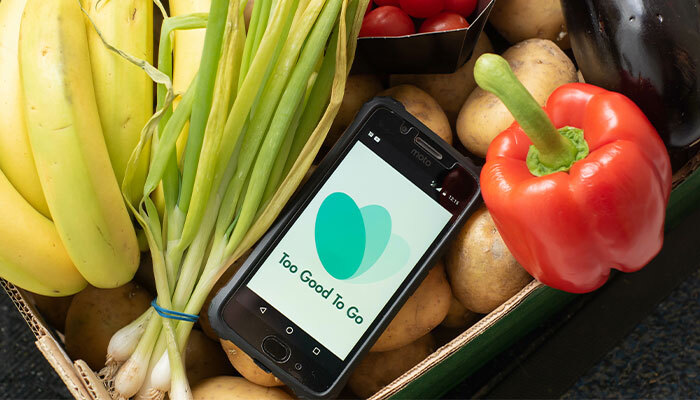 The start-up company behind the Too Good To Go app has made it its mission to win the fight against food waste. With one-third of all food produced ending up in landfills, it set out to create a product that could address this problem: an app that connects local businesses with surplus food with users who can collect it at the end of the day and save it from being wasted.
As of 2020, the company also became a Certified B Corporation, committing it to a corporate philosophy that requires the business to use its profits and growth to positively impact its employees, the environment and local communities.
6. Lush
Since its humble beginnings, Lush has followed an ecological approach towards retailing. The beauty brand is a loud advocate against animal testing, with 100% of its products being vegetarian, while 89% of its line-up also being vegan. Its unwavering focus on ethical buying has also refined its identity as a business, as Lush uses only raw, natural and fair trade ingredients.
Meanwhile, the packaging of their products, or lack of, is another important element in the brand's sustainability scheme. Lush's infamous naked products, including solid shampoos and conditioners, come without plastic packaging, while their plastic bottles are made of 100% post-consumer recycled material.
7. IBM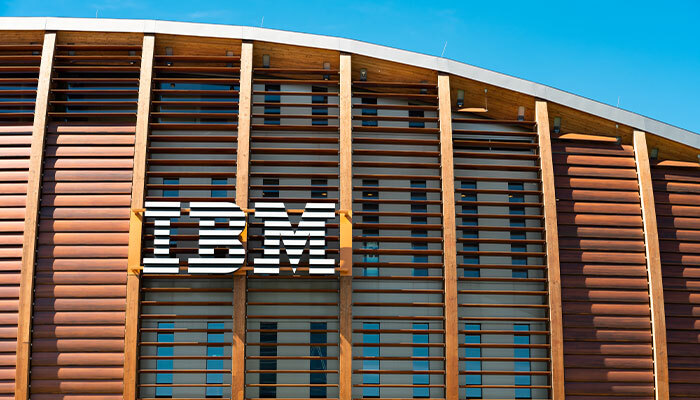 Named one of the world's most ethical companies in 2019 by the Ethisphere Institute, IBM is committed to its sustainable business practices. The multinational IT company has a 5-part strategy to reduce greenhouse gas emissions related to its operations and aims to procure 55% of its energy from renewable resources by 2025. This is a commendable goal for a company with over 350,000 employees.
At its core, however, IBM is dedicated to environmental sustainability through its research and cutting-edge innovations, including the VolCat recycling process and the AgroPad, an innovative AI device for chemical analysis of soil and water.
8. Ecosia
The search engine company was founded on a simple vision: making the world a greener place, one search at a time. As a non-profit company, Ecosia generates its income through search ads featured on its website, and the profits are then used to plant trees all around the world. Currently, Ecosia has planted over 81 million trees in 9,000 planting sites.
Their work, however, goes beyond tree-planting projects. In fact, Ecosia is focused on building communities across the world by supporting local farmers, protecting wildlife and restoring biodiversity. In order to power its operations, Ecosia also built its very own solar energy plant and runs on 100% renewable energy.
9. Google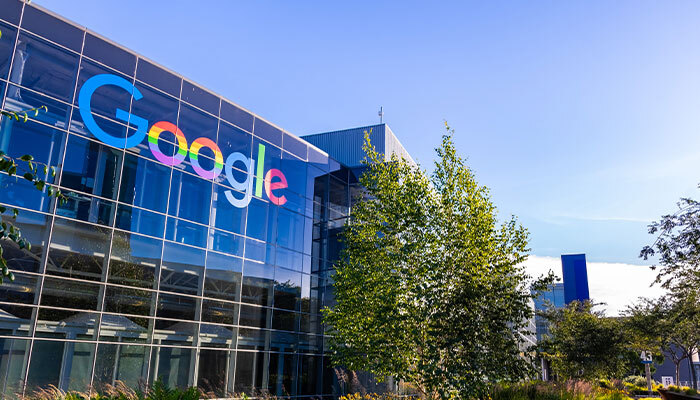 As anyone would expect, the tech giant has an impressive sustainability portfolio. Indeed, Google has been a carbon-neutral company for over a decade through the use of renewable energy sources and carbon offset schemes. The company is also committed to making its shipments carbon neutral by 2020 and to using recycled materials in all its products by 2022.
Google is also dedicated to making all its campuses as environmentally friendly as possible by offering shuttle services for its employees in a bid to reduce their carbon footprint on their daily commute. Among other impressive environmental initiatives, Google has also cultivated its own bee colonies, grown food on office premises and saved over 1 million pounds of imperfect produce from waste.
10. Biogen
Biogen is leading the biotechnology industry in more than one way. Indeed, Biogen ranked as the first biotech company on the Dow Jones Sustainability World Index in 2019 for the fourth consecutive year. The company's climate strategy highlights its commitment to science-based greenhouse gas reduction while it also achieved carbon-neutral status back in 2015 after investing in several environmental projects to offset its emissions.
Biogen is also an advocate for green chemistry, placing emphasis on making their processes more sustainable and safer for the environment. This is also supported by minimizing waste through the packaging of its products and reducing the carbon impact of their supply chain.
11. Adidas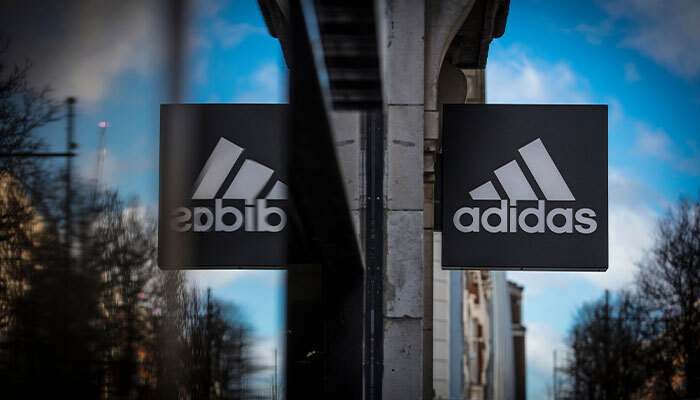 Adidas has set a commendable example for major market leaders around the world. Its Adidas x Parley footwear, made from upcycled ocean plastic, was a major success, and the company has continued to look for new ways to innovate its products in an eco-conscious way.
Through its use of waterless dyeing, Adidas has halved its energy usage and reduced chemical components by 50%. The brand has also launched a series of innovative products, including a recyclable hoodie made from repurposed old cotton and NuCycl, and a biodegradable tennis dress. Meanwhile, its 100% recyclable shoe model is expected to hit the market in 2021.
12. United by Blue
United by Blue is dedicated to producing sustainable fashion using renewable resources and natural material. In a pursuit to encourage people to consume less, the retail company places focus on producing products that will last longer and create less waste. Its next goal, however, is to eliminate single-use plastics from all its operations, including swift tags, packaging and even binder sleeves!
A Certified B company, United by Blue has made it its mission to remove plastic waste from the oceans. With that promise, the company removes 1 pound of oceanic trash with every product purchased, totaling over 2 million pounds of trash removed to this day!
13. Seventh Generation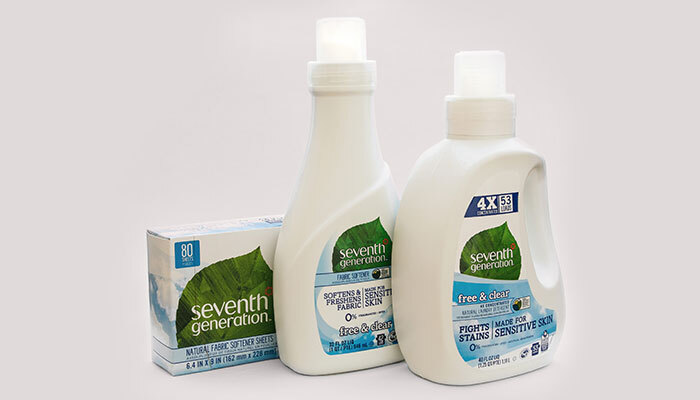 Seventh Generation is no ordinary brand. Its cleaning products use plant-based ingredients sourced from renewable sources and contain no synthetic fragrances or dyes that can harm water quality and biodiversity. On top of that, their products' packaging is both recyclable and made from recycled products — a win-win.
The company is dedicated to creating innovative products like its concentrated laundry detergent that requires 50% less water and 60% less plastic. As for its next green leap, Seventh Generation plans to make all its products and packaging using bio-based or post-consumer recycled content.
14. Adobe
As an energy-intensive business, Adobe has gone over and beyond to reduce its environmental footprint. Its strategic data center environmental management allows it to consolidate its server rooms and adopt new technology for better efficiency within its operations. The next step is to run all its operations and digital product delivery on 100% renewable energy by 2035.
Its sustainable manufacturing practices extend to their entire supply chain, including scrap recycling and the reduction of shipping materials. At its San Jose campus, the company also has an active recycling and composting programme that has managed to divert an impressive amount of solid waste from landfills, while similar initiatives are also implemented in its global offices.
15. Nike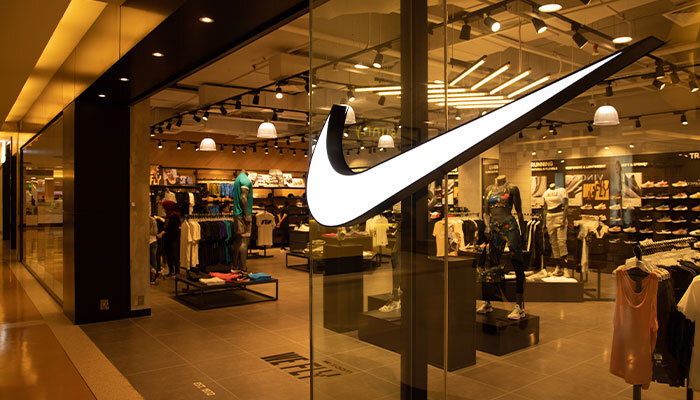 In recent years, Nike has become increasingly conscious of its environmental impact. In 2019, the company revealed its Move to Zero campaign, a complete sustainability plan for the brand, proving that its "Just Do It" motto goes far beyond athletic gear. Nike's new green policies will include the complete transition to renewable energy by 2025 and operating on net-zero carbon emissions.
As for its infamous products, Nike has adopted a circular design that aims to eliminate waste and reduce carbon emissions significantly. Several of its products combine sustainable blends of material such as organic cotton, recycled polyester and recycled leather fiber, creating innovative solutions that can meet product demand.
16. Agood Company
Frustrated with the inadequate measures taken against climate change, founder Anders Ankarlid was motivated to create one of the very few climate-positive e-commerce companies in the world.
With a mission to "transform mindless consumption into conscious decisions," Agood Company maintains a fully transparent relationship with their customers. Every decision they make about their eco-friendly products, from conception to creation, is communicated with what they call "radical openness."
Their phone cases, stationery and personal care products are made with natural and reused raw materials like wheat straw, cork, and recycled nylon. Agood Company also invites other e-commerce businesses to use their stone paper sustainable packaging at no extra charge beyond the manufacturing cost.
17. Allbirds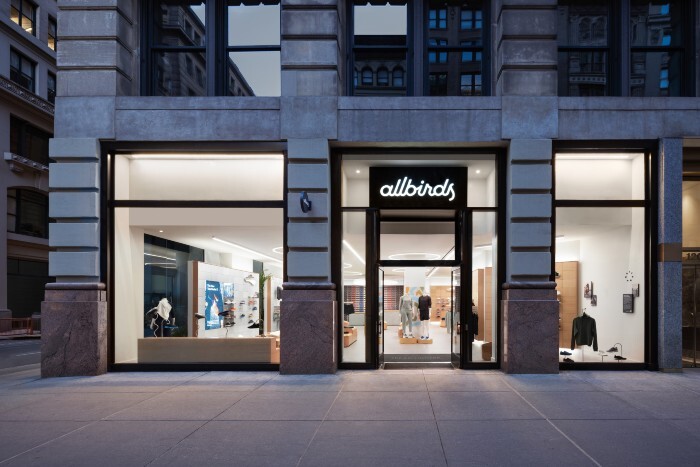 Eric Petschek, CC BY-NC-ND 4.0 via Wikimedia Commons
Allbirds are a footwear and apparel company committed to funding projects that neutralize its carbon footprint. The B Corp funds projects across the land, air, and energy sectors, inviting their customers to vote on an area they'd like to see Allbirds invest in.
Sourcing strictly from carefully selected suppliers, Allbirds ensure that workers are treated with dignity and fairness, and that their health and safety are always prioritized.
The company is committed to choosing regenerative sources and responsible energy as much as possible, both for the manufacturing process and shipping. They also provide low-impact care instructions for their shoes and apparel to help their customers make low-carbon choices once the products are in their hands.
18. Aspiration
Founded in 2013, Aspiration is a personal finance firm and sustainability-as-a-service company, meaning its focus is shifted more towards environmental profits than economic profits. What's unique about it is that, while traditional banks charge up to $25 for service fees each month, Aspiration's "Pay What is Fair" approach allows clients to decide on an optional monthly fee ranging from $0-20. Once the customer decides on what to pay, the company then donates 10% to charity.
In addition, customers using Aspiration for their purchases can round up their transactions to the nearest dollar, with the company investing the difference toward planting trees. In just a year, between April 2020 and 2021, Aspiration planted a total of over 10 million trees.
19. New Belgium Brewing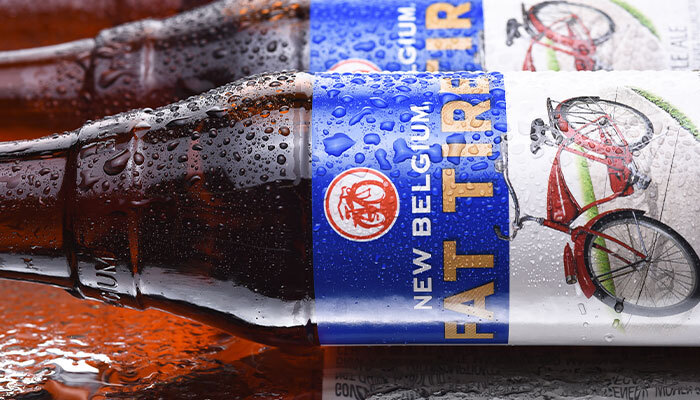 New Belgium Brewing CEO Steve Fechheimer is a great supporter of the human-powered business model. He believes that when companies put their workers and community first, promoting individual empowerment, fairness, and transparency, they perform better in the long run. The fact that New Belgium is among the fastest-growing craft breweries in America stands as a testimony to that.
Aside from their dedication to being people-centric, New Belgium cares about operating in an environmentally friendly way and combating climate change. They are the first wind-powered brewery in the United States and their Fat Tire beer became the first certified carbon-neutral beer in North America.
20. West Paw
In their own play on words, West Paw is committed to decreasing their environmental "pawprint" as much as possible. How do they do this? By carefully choosing responsible domestic and international partners and materials, including ocean-bound recycled plastics.
The family-owned company has developed a highly durable, infinitely recyclable material called Zogoflex. This means that once a toy has been sufficiently thrown, retrieved, chewed on, and buried, dog owners can send it back for sanitization and recycling, resulting in brand-new Zogoflex toys.
Like the toys, West Paw's plushies and dog beds are also environmentally friendly and free from toxins.
Final thoughts
The bottom line is that green initiatives look different within every company. From carbon offset schemes to sustainable material to water and energy preservation, there are many ways to rethink the corporate structure of a business, as well as its company culture, and make them friendlier towards the environment.
While some companies are doing more than their fair share to reduce waste and eliminate their environmental footprint, others are slowly starting to follow the lead. So, undoubtedly, the increasing demand for more environmentally conscious and sustainable products and services is gradually changing the way businesses are run — most definitely for the better.
Can you think of any other environmentally friendly companies? Share your thoughts with us in the comments section below!
Originally posted on 15 February 2020. Updated by Electra Michaelidou.