Though most of us know that there are thousands of planes in the sky at any given moment, not many of us consider what that translates to in terms of passenger numbers. According to the National Air Traffic Controllers Association, air traffic controllers in the US alone keep two million passengers safe each day. This adds up to roughly one billion air travelers each year.
With these figures in mind, it's easy to understand why air traffic controllers have one of the most important jobs in aviation — and one of the most stressful jobs in the world.
If this sounds more exciting than intimidating to you and you're considering a career in this field, you can find out all about it in this article — from the qualifications you'll need to what you'll be earning, and all the in-betweens.
What air traffic controllers do
The primary concern of an air traffic controller is to keep pilots, crew members, and passengers safe. By monitoring planes in their assigned airspace and conveying important information to flight crew, air traffic controllers also help minimize delays.
To ensure that planes remain safely on track, air traffic controllers use various technologies and systems at the air traffic control facilities they work in. These include radars, meteorological displays, and navigation and communication systems.
In a little more detail, their duties include:
Monitoring and directing the movement of aircraft in flight
Controlling ground traffic on runways and taxiways
Sharing crucial information regarding weather conditions, flight paths, and runway closures
Issuing landing and takeoff instructions
Accepting control of incoming flights and transferring control of outbound flights to other control centers
Alerting response teams in emergencies
What the job is like
As travel writer and former air traffic controller Michele Robson writes in an article, "[air traffic control] has been described by some as a giant video game or playing 3D chess." That's an apt description if you consider that air traffic controllers are responsible for directing tens of thousands of flights to their destinations each day. Like maestros of the skies!
But aside from the multitasking and swift decision making, what does a day in the life of an air traffic control specialist look like? Let's get into it.
Work environment
Air traffic control specialists work in:
Control towers, coordinating ground traffic, takeoffs, and landings, as well as planes flying within 5 miles of the airport.
Approach control facilities, where they use radars and communication systems to provide control services to arriving and departing
En route centers, positioned away from airports in multiple locations, giving instructions and advice to flight crew cruising thousands of feet above.
As their job involves high concentration and the monitoring of aircraft on radar screens, the majority of air traffic controllers work in quiet, semi-dark rooms. Low lighting ensures a clearer view of the radars, eliminating reflections and glares which would make handling the equipment impossible.
In terms of workplace equity, air traffic controllers working for the FAA can expect very high standards. Though this profession falls under the category of United States citizen-specific jobs (meaning it requires American citizenship), the FAA is an equal opportunity employer. As stated on their website, at the heart of their human resources management lies a commitment to "[embracing] diverse perspectives".
Work hours
Typically, an air traffic controller works full time, with mandatory 30-minute breaks every couple of hours. As air traffic control services are required around the clock every single day of the year, control specialists work morning, afternoon, or night shifts that also cover weekends and holidays.
In the US, air traffic controllers are not allowed to work for more than ten hours at a time and must rest for a minimum of nine hours between shifts. Additionally, to minimize operational errors further, the Federal Aviation Administration (FAA) requires these professionals to retire by the age of 56.
Occupational hazards
Air traffic control is an extremely high-stress job, with workers being able to demonstrate unbreakable focus, multitasking, being able to adapt quickly to new circumstances, and remain level-headed under pressure. High levels of occupational stress have been linked with an increased risk of heart disease, anxiety disorders, depression, and substance abuse.
As air traffic controllers also spend long hours sitting down, their risk of physical and mental disorders goes up even more. According to the World Health Organization, leading a sedentary lifestyle is "one of the more serious yet insufficiently addressed public health problems of our time."
Add shift work to the mix, which can also lead to various health problems by disrupting your circadian rhythm, and you have a job that can be just as taxing on the body as it is on the mind.
Job satisfaction
Though the job comes with exceptionally high levels of pressure, it also comes with great pay, benefits, and perks. According to the FAA website, all FAA employees get to enjoy benefits like dental and vision insurance, life insurance, childcare subsidy, and a retirement savings and investment plan, to name a few.
According to the Best Places to Work in the Federal Government rankings, the FAA has an "engagement and satisfaction" score of 66.9%. The numbers are supported by Glassdoor data that indicates that "75% have a positive outlook for the business."
Job market
The Bureau of Labor Statistics (BLS) expects around 2,400 yearly job openings over the next decade for air traffic controllers. If the number strikes you as quite low considering that air traffic continues to grow globally, you're not wrong. However, there's a good explanation for it.
The future workplace of air traffic controllers is looking up, as the FAA has a multibillion-dollar initiative underway, which is gradually modernizing the US National Airspace System. Known as "NextGen", the new infrastructure aims to enhance the safety, capacity, and efficiency of American aviation. By moving on from a radar-based system with radio communication to a satellite-based one, individual air traffic controllers will be able to handle larger amounts of traffic. As a result, the rate of new hires will remain fairly low, with new employees coming in to replace retiring ones in most situations.
Salary
Though new job openings for the role are expected to remain limited over the next decade, air traffic controllers hired by the FAA will earn annual wages of around $129,750. That's more than twice the annual mean wage for all occupations, according to the BLS.
As with most professions, the more experience you rack up, the more training you undergo, and the more complex the tasks you undertake, the more you earn. In this case, the top-level roles in air traffic control hired by the FAA earn over $185,000 a year.
Air traffic control specialists working in Virginia earn the highest salaries compared to their colleagues across the US, with reported yearly earnings of $152,450. This is followed by the states of New Hampshire ($150,490), Illinois ($145,470), Georgia ($144,840), and California ($141,200).
A very small percentage of air traffic controllers not hired by the federal government works in support activities for air transportation. The median annual wages for these aviation professionals are around $80,000.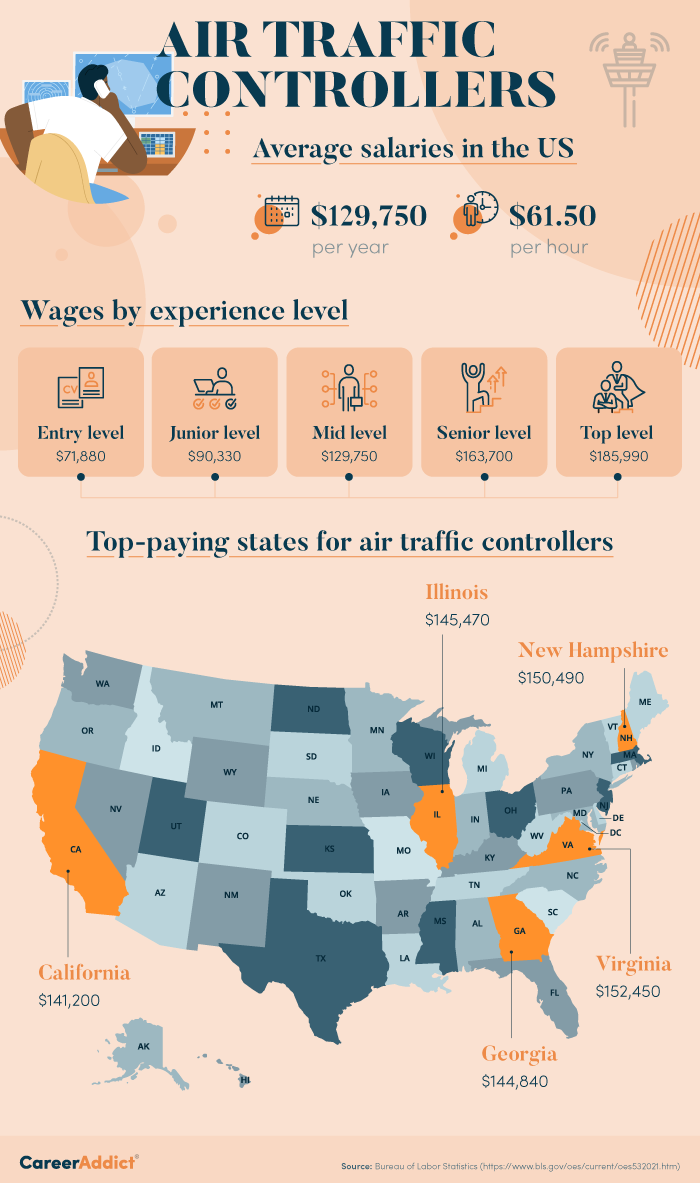 Essential skills and qualities
Since this job provides a total mental workout every time you set foot in the office, several hard and soft skills are essential to the role. Air traffic controllers need to be confident problem-solvers, quick-witted communicators, and consistent in performing at a high standard.
The following are the top must-have skills for anyone looking to work in air traffic control:  
Communication skills: Air traffic controllers spend a lot of their time communicating with aircrew. Having the ability to listen carefully and issue clear, concise instructions is vital. Operational proficiency

in English is therefore also required at the minimum.
Spatial awareness: Spatial orientation is necessary when having to direct aircraft just by looking at little symbols on a screen. Being able to quickly identify the location of planes and clearly visualize their flight paths needs to come fairly naturally.
Attention to detail: Not only do air traffic controllers need to communicate with multiple planes at once, they also need to do so in a room full of other controllers speaking with even more planes. The ability to block out all distractions is essential.
Mathematical skills: Air traffic controllers should be able to calculate speeds and distances quickly. After all, coming up with recommendations for altitude or heading changes is an integral part of the job.
Problem-solving skills: Much like here on the ground, things can also change abruptly in the sky. For example, weather conditions might dictate a diversion. In this case, traffic controllers must swiftly review information and advise appropriate solutions.
Multitasking: Reading instruments, receiving and transmitting information, communicating with several aircraft at once… A lot is involved in keeping planes, aircrew, and passengers safe, and air traffic controllers should be able to juggle it all at once.
Steps to become an air traffic controller
So, now you know what air traffic controllers do, what they earn, and what their work environment and work conditions are like. Considering how big their share of responsibility is in keeping thousands of people safe, you won't be surprised to hear that their training is rigorous, to say the least.
Let's look at all the steps to becoming an air traffic controller.
Step 1: Determine if it's the right career for you
Though we understand how appealing it is to go after a high-paying job that doesn't require a four-year degree, it's vital to ensure that this is the right career for you first. Training to become an air traffic controller is challenging and, not to mention, quite the commitment.
If you need some helpful insights in determining what career you would thrive in the most, check out CareerHunter. That's our science-backed career test comprising six assessments that can match you against all types of career paths (250 in total). You can take the first test for free to get a flavor of how the real thing works.
Step 2: Ensure you meet all FAA criteria
The FAA has the following criteria for aspiring air traffic controllers. These individuals must:
Be able to speak English clearly
Pass a medical evaluation, drug screening, and background check
Complete an FAA Academy training course before the age of 31
Pass the FAA pre-employment test
Be willing to relocate to an FAA facility
Have worked for three years in a progressively responsible role, or hold a bachelor's degree, or demonstrate a combination of post-secondary education and work experience, or have completed an FAA Air Traffic Collegiate Training Initiative (AT-CTI) program
Step 3: Pass the Air Traffic Selection and Training exam
AT-CTI students and graduates can sit the Air Traffic Selection and Training exam upon receiving a letter of recommendation from their school. When they pass this exam, as well as a fitness and personality test, they're then able to apply for air traffic controller jobs.
Candidates outside of the AT-CTI program can also apply, although priority is typically given to aviation students and industry professionals.
Step 4: Complete your training at the FAA Academy
Are you prepared to say goodbye to your neighborhood, family, and friends for a while? Because if you're not based in Oklahoma, you'll have to. The FAA Academy in Oklahoma City will be your new home for a few months while you train.
Step 5: Gain experience
Upon graduating from the FAA Academy, you'll start working in one of twenty-two air traffic control facilities across the US. You will begin under the job title of "developmental controller", which entails providing pilots with basic data and information. Over time, your tasks will increase in complexity.
Step 6: Become a certified air traffic controller
After two to four years of training and passing an exam, you'll be able to earn your air traffic controller certification. Certification is required for all air traffic controllers working in the US.
Final thoughts
Becoming an air traffic control specialist is rewarding, high-paying, and offers career development prospects. Going to work each day, whether in an airport radar facility or en route center, you know your efforts make a real impact in keeping people safe and helping the aviation industry run its operations smoothly.
To summarize, if you want to conquer one of the most ambitious career goals out there, you'll need to:
Begin your air traffic controller training by the age of 31.
Sharpen up a combination of soft and hard skills, like communication skills, mathematical skills, and attention to detail.
Find healthy ways to cope with high levels of pressure, as this is often one of those jobs that lead to burnout in the long term.
Be prepared to pass a series of physical and job performance exams, even after you're hired.
Do you have what it takes to join the FAA's traffic control team of 14,000 air traffic control specialists? Let us know your thoughts in the comments section.