Making mistakes is part of human nature, but some mistakes in the workplace can be detrimental to your reputation and, indeed, your job.
Instead of trying to cover your tracks and brush your mistakes under the carpet, or spend too much time dwelling on your slip-ups, you should always take the honest path by first admitting and then apologising for your error of judgement.
If you're not sure how to fess up, simply follow this step-by-step guide on how to apologise for making a mistake at work - we've even included sample letters you can follow to make everything right again!
Steps to follow
Whether you're planning a verbal explanation or a written apology, you should follow the steps listed below to ensure you're taking the correct measures.
1. Acknowledge your mistake
The first thing you need to do is take ownership for your mistake and admit that you were in the wrong.
2. Apologise
Once you've admitted that you were in the wrong, you need to apologise for your mistake, but be honest when you're apologising! Don't just say 'sorry' because it's the right thing to do!
3. Accept responsibility
Now that you've apologised, you should accept responsibility for your wrongdoings. This is where you will explain what happened and identify the wrong actions that you took which led to your mistake.
4. Offer an explanation
You can offer an explanation and insight into your thought process, but make sure that it isn't just a pile of lame excuses. Reflect on the situation and explain where you think it went wrong and how you could have reacted differently.
5. Take action
Now that you've accepted your mistakes, explain how you will take action to ensure that you won't repeat them. For example, if you shouted at a colleague, say that you've started practising mindfulness to help you be calmer.
6. Express your regret
Once again, express how sorry you are and ask for forgiveness. This shows that you take your position seriously and that you want to do all you can to improve and grow as a professional.
7. Promise it won't happen again
At the end of your letter, promise that you won't make the same mistake again. Apologising for a mistake is one thing but demonstrating that you intend to learn from it makes it easier for a manager to rebuild their trust in you.
How to structure an apology letter
As with any formal letter in the workplace, you need to follow basic formatting conventions to ensure your letter.
Below is an overview of the structure your letter should follow.
Sender's address: If you're writing a formal apology letter, you should start with your address listed in the top right-hand corner of the page.
Date: The date should be written underneath the address of the letterhead, but if you're writing an email, skip this step.
Subject: You don't need to go into too much detail here; something as simple as 'Apology Letter' can do the trick.
On-arrival notice (optional): If you want to ensure the letter doesn't fall into the wrong hands, you can include a notation that the letter is personal. If you do, ensure that it's written in uppercase like so: 'PERSONAL' or 'CONFIDENTIAL'.
Salutation: As this is a formal letter, you need to address the reader properly. So, even if you are on a first-name basis with your colleague or HR manager, it's proper etiquette to open your letter with 'Dear Becky' or 'Dear Ms Bennett'.
Opening paragraph: Start your letter by apologising for your mistake.
Body: In the body, give a debrief of the events and acknowledge where you went wrong, and advise on what you could have done differently. For example, if you got angry with a customer and said something that you shouldn't have, here is the place to mention it.
Final paragraph: Explain what you're doing to rectify your mistake and ensure you don't do it again. For example, you could say that you've read over the company's employee handbook and enrolled in a customer service course to learn how to deal with difficult situations.
Closing: Offer a second apology before signing off and ask for any assistance you may need.
Your name and signature: As with any formal letter or email, sign off with your name, handwritten signature (for written letters) and contact information.
Sample letters
Check out the following letter examples for inspiration when writing your own.
Sample letter from employee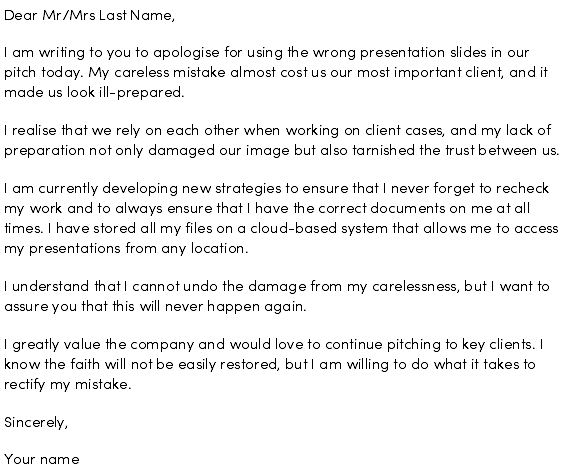 Sample letter from manager

Sample letter to client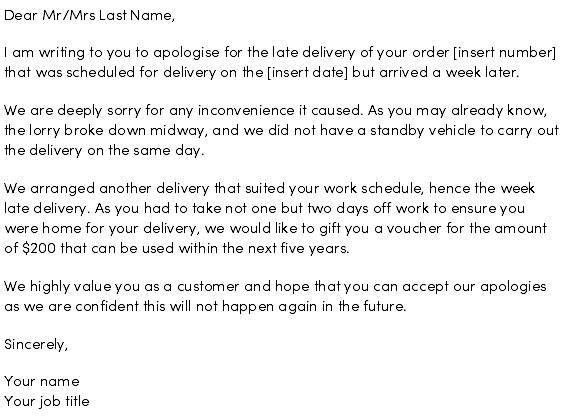 Things to remember
When writing your letter, make sure to keep the following points in mind.
1. Be sincere
There's no point apologising if you don't mean it. In fact, it's even more disrespectful to give a false apology. If you're not honest and genuine in your delivery, you may end up in a worse place than you were to begin with.
2. Be empathetic
Although you may feel that you're not entirely to blame, you must be empathetic to other people's feelings. Put yourself in your colleague or manager's shoes and try to see how your actions have affected them on both a professional and a personal level. This will help you form a genuine apology and make sure that you won't slip up again in the future.
3. Don't make excuses
It's easy to dodge the blame and come up with excuses for our actions, but excuses don't justify our actions. For example, instead of saying your dog ate your homework, offer a truthful reason like 'I didn't do my homework because I didn't understand it'.
While it certainly doesn't validate the mistake, it is helpful when explaining your answer. That said, there's a fine line between justification and excuses, so if you're not sure, it's probably better to not give a reason at all.
4. Learn from it and move on
We all mess up at some point; it's part of the learning process. But instead of dwelling on what you did and letting it knock your confidence, you just need to learn from it and move on. Naturally, you'll be more aware and mindful of your actions and the impact that they can have.
[Prodcut #69]
After you turn your letter in, all that there is left to do is wait until your boss decides how to handle the situation. You have taken all the right steps to let them know exactly how much your job means to you, and they will take your explanation into consideration as they determine what to do next.
Have you ever written a letter to apologise for a mistake you made at work? How did you handle it? Let us know in the comments section below.
This article is an updated version of an earlier article originally published on 31 August 2015.