If you're working towards becoming an actor, or applying for acting school, you may be wondering how to best structure your résumé. Acting is a niche role within performing arts, so you might be considering how you can tackle this in a way that is professional but relevant for this industry. Let us help you. Below you'll find reviews of 6 résumé examples for actors and actresses, so you can get a good idea of how best to present your experience, skills and aspirations.
1. Actor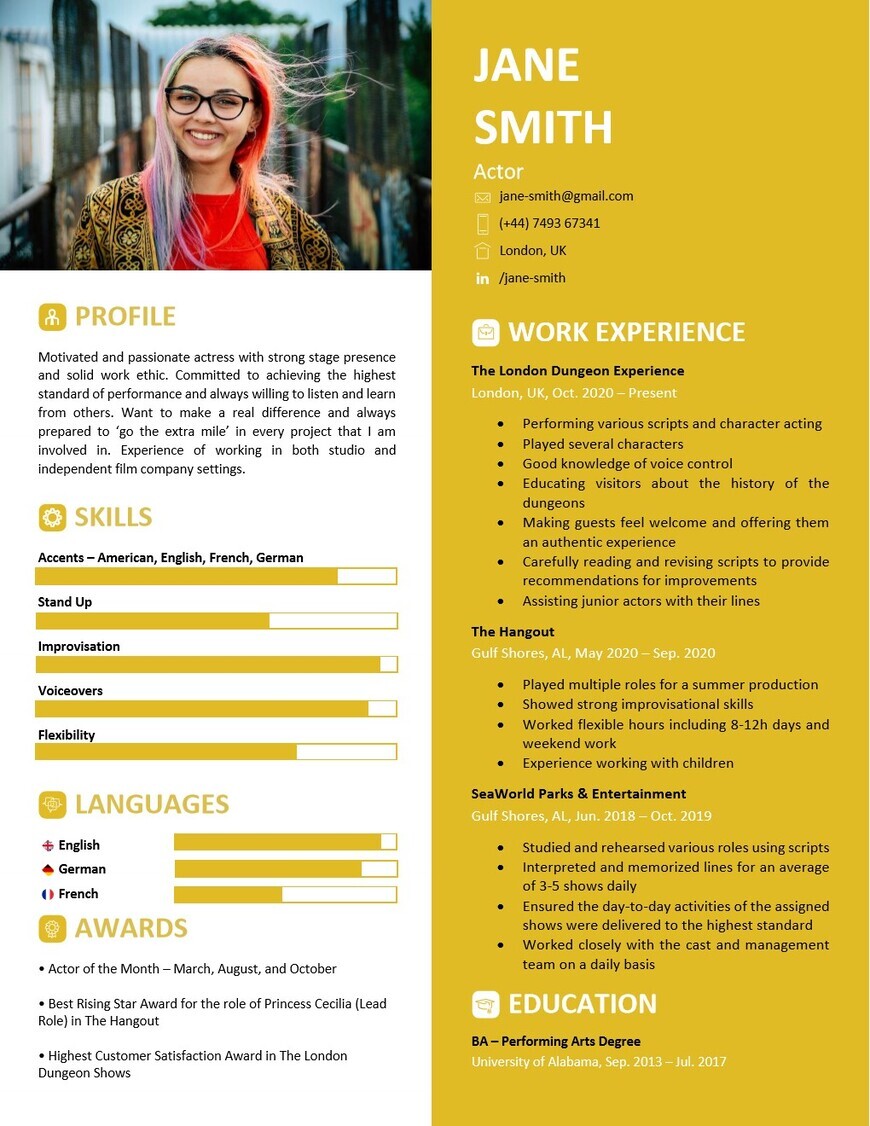 This is a playful-looking actor résumé example which still has a professional edge. All the important sections are included with prominent contact details and space for a photo. The color yellow symbolizes energy and positivity, which are great qualities for an actor. The photo used here really emphasizes that further, as it's casual and fun, and adds lots of personality, whilst remaining appropriate for a résumé and playing into the color scheme.
The employment history section is well written to include transferable skills as well as previous acting parts, and other important sections, like the education section, are clear. The skills section is highly tailored and relevant, showcasing skills that will be looked for in an acting role, such as accents and improvisation.
2. Film actor

This résumé also comes with personality. The blue is vibrant and exciting, whilst also being soft and welcoming. The symbols and font changes make the whole thing very visually appealing in a way that is easy to read and follow.
The award section at the bottom of the page is clever, as it stands out with a quick scroll through, but it waits until the reader has been drawn in by the experience, skills and profile, which is highly effective and adds weight.
The profile here is excellent, because it states the length of experience, depth of experience and preferences in the film industry when it comes to job roles. It also mentions mentoring and support with production as an additional element to make her stand apart from other candidates.
This person has a good level of experience, and it is displayed clearly and concisely, showing a logical progression and covering the main duties and achievements.
3. TV actor

Again, this great résumé example is very visual, which works well for this industry. The symbols and pops of color are effective, and the résumé is still very easy to read. The experience section shows a logical progression from TV extra, to commercials, to TV actor, which is very clear. There is also some measurable data in there which is good for highlighting achievements, such as raising product sales by 15%.
The skills section is eye-catching and the hiring manager won't have to read lengthy text — it is clear what this person can do and excels in. The additional language section follows the same pattern and adds an extra element to this person's skill level.
The education section is detailed because it includes specific acting courses and activities, which is a great way of complementing an education listing and getting the edge over candidates who have studied similar qualifications but don't have these additions.
4. Commercial actor

This is an unconventional design, with three columns, but it works very well to define different — but equally important — areas. The middle column is devoted entirely to experience, which makes that very clear, as it is highlighted in a different color to the side columns. Everything else is well positioned, so it's well-structured and easy to read. If sections overran, this would be a very confusing résumé, but laid out like this, it is extremely easy to skim at a glance and does well to highlight everything that needs to be seen.
A section titled 'Big Commercials' lists some big-name companies that this person has represented. The difference in font and the images really accentuates this section and draws the eye. If you chose to use a template like this, you can change the section to something else if you have a different achievement to showcase.
The colors and fonts still give it a very professional feel, but it has a little something different about it, which is ideal for a commercial actor résumé in the performing arts industry.
5. Theater actor

This black and white résumé example is very classy and suits a theater actor very well. The design stands out — even though there is no color — in a way that is creative but understated. The profile is written in the first person, which isn't always advised, but for an acting résumé, this works well, because it gives an overall feeling of the person, creating a sense of connection with the applicant, whilst stating everything important very professionally.
The professional experience section has the shows spelled out in bold and capital letters, which draws your eye and immediately shows this actress' credibility, even though she is relatively new to the profession. This is important, because if she is up against more experienced candidates, she needs to find a way to distinguish herself from them.
6. Voice actor

Here we have another visually pleasing résumé with lots of color. The two columns make everything clear, as they nicely separate contact details and expertise from experience and education. The colors are fun but not overbearing.
The skills section is comprehensive with all the relevant hard skills a voice actor or actress will need, showing that this person has really thought about tailoring her résumé for the position in voice acting that she is interested in.
Her profile is strong, showing her years of experience and areas she has worked in. Her passion comes across when she writes about bringing characters to life, and this is further backed up by mentioning her top skills and qualities.
Having an appearances category at the bottom, rather than tying it in with the experience section, really makes them stand out as solid achievements. This section could also be used for awards or anything else that sets the candidate apart.
Final thoughts
There is no right way to write your résumé, but it's important to make sure it's tailored to the acting role you're applying for. Your profile/summary should outline what it is you can offer and where you're headed. This should be written according to what the recruiter is looking for, expressing your best credentials. Your experience section needs to be achievement based. Even without experience, you need to include tasks and responsibilities that are relevant to the role you're seeking and clearly highlight your transferable skills.
A skills section is a fantastic way to tailor a résumé. Use the job description to find everything that is required, whether that's a certain look or acting capability, and make sure these are covered in your skills section. Including sections such as 'awards' or 'features' is a great way to show off your acting talent that other candidates may not have.
In the end, acting is a creative industry, so let loose and be daring with your résumé, and the call backs will start rolling in. If you're really struggling, look into résumé writing services to help you shine in all the right places.
If you take inspiration from these actor résumés, who knows, you could end up being the next George Clooney or Rebel Wilson! Good luck!
Are you an actor or actress looking for a new role? Did you find these helpful? Make sure to share this with your friends to help them out too!