For most people, writing about their education on their résumé is a pretty straightforward endeavour. After all, it's just listing the qualifications you earned, the schools you attended, and your dates of attendance. But it's not always that simple.
What about grades? Should you include them?
Should you include your graduation date if you're an older student?
Which qualification should you list first? Your most recent or your oldest?
And where do you put all this information, anyway?
All these questions — and more — are answered in this handy guide to help you write a great résumé and get you one step closer to job search success.
What employers look for in your education section
Each component of your résumé tells a more complete story about you, and your education section in particular helps the hiring managers determine whether you're qualified to do the job you're applying for.
For example, if you're applying for a position as a doctor, they want to make sure you have a medical degree and the appropriate training. Likewise, if they're seeking a business manager, for example, they might be looking for an MBA.
Some recruiters, meanwhile, don't just look at your credentials. They also look at the schools you attended — especially if their company only hires Ivy League graduates or, if in the UK, Russell Group graduates.
Where to place your education section
Where the education section goes in your résumé depends on where you are on your career journey.
If you've got at least three years of professional experience, for example, then it goes at the end of the document, right before the skills section and any other sections besides the essentials. If you're an entry-level candidate and have limited work experience, though, your education should be placed towards the top of the document, immediately after the profile section.
These two situations apply to the chronological résumé format.
Now, if your résumé follows the skills-based format, then your education goes after your skills and before your work history. If, however, you're using the combination format, then you'll place this section after both your skills and work history (this is much like the chronological format, though placement of the skills and work history sections would be reversed).
What to include in your education section
At the very least, each entry of your education section should include:
The type of qualification you earned or you are working towards
The full name of your school
The location of your school
Your graduation date (if applicable)
If you're a current student or a recent graduate, you can also include a short description for each entry to make up for your limited work experience. This description can include details about:
Your coursework
Your grades
Any awards you won
Any activities you took part in and clubs you were a member of
How to format education section entries
Here, we'll show you how individual entries in your education section should be formatted.
Type of qualification
On the very first line of the entry, you should put the type of qualification you earned or are currently working towards, whether it's a high school diploma or an academic degree. For example:
            BSc in Computer Science
This should be formatted in bold or otherwise stand out from the rest of the information you will add later.
School name
Next up is the name of the school you attended, which should be added on a separate line, like so:
            King's College London
Always write out the school's official name in full. Don't use abbreviations, acronyms or, worse, nicknames.
School location
On the same line you've written the name of your school, write its location. For example:
            London, UK
It's a good idea to separate the school location from the name with a symbol, like a dash or a vertical line.
Graduation date
The graduation date goes on the same line as your school's name and location. Just add the year, not the full date. For example:
            2020
You can use a dash or vertical line again to separate the date from everything else on this line or, better yet, use a tab stop to align it to the right end of the line.
If you're still in school or university, meanwhile, simply write your expected graduation date here.
Description
Adding a description of your coursework, grades, awards, activities and club memberships is generally only recommended for entry-level professionals with little to no work experience. Use a bulleted list to organise this information into easily digestible pieces, like so:
Coursework: Computer systems, Software engineering, App development, Data science, Computer networks
Grade: A (1st Class)
Awards: President's Education Award
Activities: Peer tutoring, Member of Video Gaming and eSports Society
Keep the description as concise as possible, typically limiting bullet points to two lines at most.
Meanwhile, only list grades if they're above average. For A-levels in the UK, for example, this would be grade C and above; for GPA grades in the US, this would be 3.5 and above.
Here's what bringing all this together looks like:

Tips for writing your education section
When writing about your educational background on your résumé, there are some important things to keep in mind. Here are our top tips:
1. List your highest education first
When recording your educational experiences on your résumé, always do so in reverse-chronological order — that is to say: start with your most recent experience first and then go backwards through time from there.
2. Use keywords
Every section of your résumé should be tailored to the position you're applying for, and your education section is no exception.
You can do this by naturally incorporating relevant keywords and phrases from the job ad, such as specific degree programmes and subjects. This will, ultimately, help you get your résumé past the robots (aka applicant tracking systems) and into the hands of a human reader.
3. Don't embellish or falsify things
Though you might be tempted to embellish or downright lie about your educational background (or anything else) on your résumé, particularly if you feel it will boost your chances of getting an interview, you really shouldn't.
The truth always has a funny way of coming out in the end, and being caught in a lie will only tarnish your professional image — dishonesty, after all, is not a quality that employers look for in candidates. It's also a fireable offense (if the truth comes out after you're hired), and you could get into trouble with the law.
4. Be strategic with dates
For the most part, you should always include your graduation date.
There is, however, one exception: if you completed your education 15 or more years ago and you're an older jobseeker. In this case, it's a good idea to remove your graduation date altogether. This encourages the hiring manager to focus on your experience and achievements rather than how long ago you graduated and, consequently, your age.
5. Add the right education
Be selective about what education you include in your résumé.
For example, if you've finished university, you should only list qualifications from your bachelor's degree onwards. You shouldn't list your high school education. (The only time you should include details about your high school experience is if you're still in high school or you've just started your postsecondary education.)
Meanwhile, your preschool and primary education really have no place on your résumé.
Résumé examples
Want to see the education section in action? Check out the following résumé examples for some inspiration when writing about your educational background.
When you've completed your education
Here's an example of what a résumé should like if you've finished university, based on our Luminous template.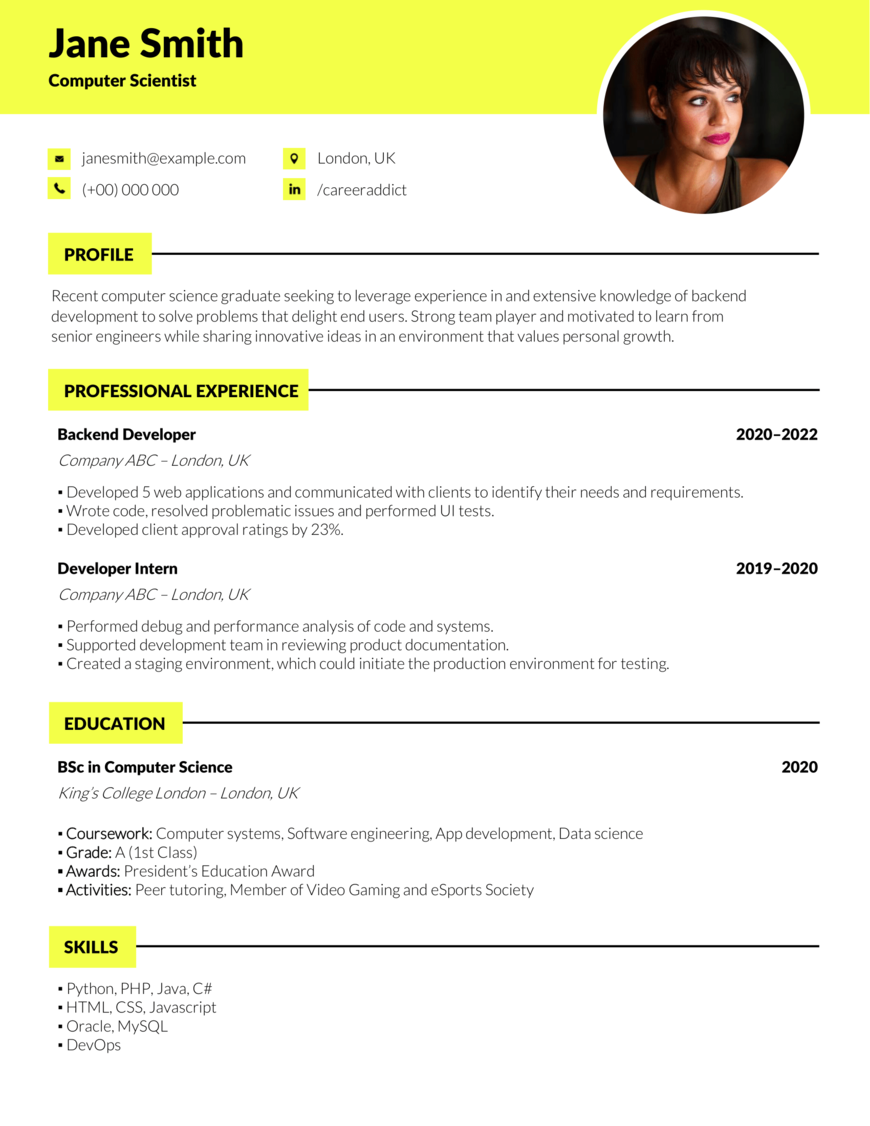 When your education is incomplete or in progress
This example is based on our Geometric template and illustrates how to best format your education section when your education is ongoing or incomplete.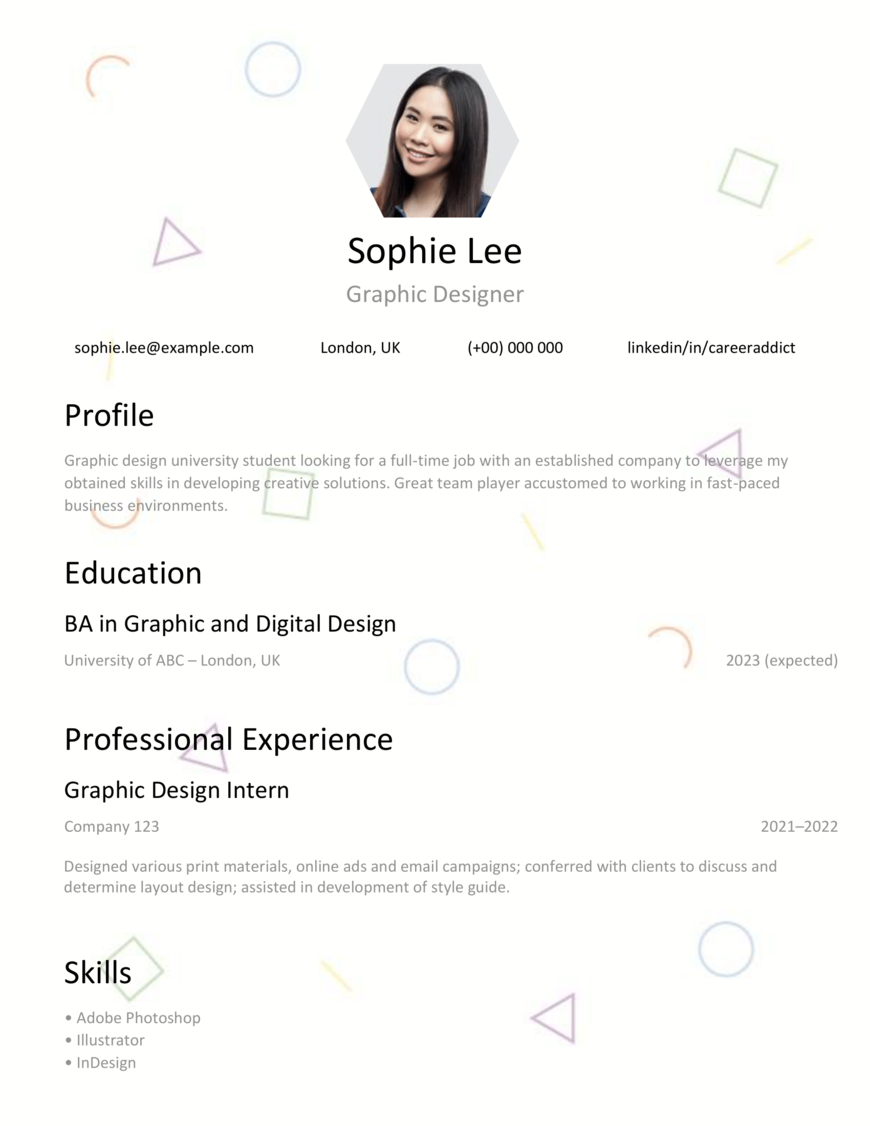 Key takeaways
Let's wrap up everything we learned in this article:
The education section generally goes towards the end of your résumé, unless you have fewer than three years' work experience.
Each entry should include the type of qualification you earned, along with the school's name and location, and your graduation date.
You can also, optionally, add information about coursework, grades, awards, activities and memberships, particularly if you have limited work experience.
Only include grades if they're above average.
List your educational experiences in reverse-chronological order.
Omit graduation dates if you graduated over 15 years ago and you're an older jobseeker.
Be honest about your education.
Got a question? Not sure if you should place your education before or after your work history, or how to provide details about your degree when space is limited? We're here to help — just drop us a comment below!
This article is an update of an earlier version published on 12 June 2018.