A chronological résumé is commonly used to showcase candidate experience and achievements when applying for employment opportunities. Since its emphasis is on employment history, without it, it can be particularly challenging to highlight your experience in an orderly manner. 
So, if you have defined your career objectives, and you want to make a lasting impression on a potential employer and boost your chances of securing an interview, a good résumé will do just that. The way you choose to highlight your skills and experience could make all the difference! So how do you structure your résumé in the right way? In many cases, a chronological format might be the best choice.
Here we have compiled a complete guide, together with some key résumé tips, to help you get started and, hopefully, land your dream job!
What is a chronological résumé?  
The chronological approach is a frequently used résumé format and one that you are likely to be familiar with. This type of résumé lists your employment details and working experience in reverse chronological order, with your recent experience presented first, and usually on the first page. 
This configuration offers a straightforward and simple approach to introduce data clearly and concisely by prioritising relevant professional experience and achievements.
A chronological résumé is generally the preferred format of recruiters and hiring managers since it allows them to see what job roles you have held and for how long. It also enables them to access information on your most recent undertakings quickly. 
Who should use a chronological résumé?
Since chronologically structured résumés are perfect for spotlighting your career history, it works for just about any jobseeker in any industry. However, this is a particularly good option for you if you have substantial working experience. It is also the preferred format of students and graduates as it offers a simple way to organise and highlight limited work experience.
Although the chronological layout can be used to apply for jobs in a range of industries, it is particularly useful if you are seeking employment in your current industry or a role that is similar to your current position. In these cases, recruiters can see that you have experience in your field and that you possess the skills and expertise they are seeking. 
You might also want to use a chronological résumé if you're going to draw attention to your career progression; The format allows potential employers to understand how you have gradually worked your way up the ladder and moved to roles with greater responsibility.
However, if you wish to change careers, have several gaps in your employment history or limited working experience, you might want to consider using an alternative format, such as the functional or combination résumé. 
What should you include in a chronological résumé? 
So, how should you structure your résumé? Since the format focuses primarily on working experience, it is crucial to include a detailed career summary. However, several other key aspects should also be covered, such as: 
1. Header 
Just like all other résumé formats, a chronological structure should list your details at the very top. That way, recruiters can access your contact information at a glance. You should start with your name, location, email address and telephone number. There is no need to include the word 'Résumé' on the document since this is redundant. 
2. Personal profile
When writing your résumé, there are several ways to outline your critical skills and experience. With a chronological résumé, it is crucial to start with a compelling profile that can grab recruiters' attention. Your personal profile should summarise your objective across three to six lines, and include things like experience, qualifications, skills, industry knowledge, and familiarity with relevant tools and software.  
3. Skills section 
When writing in a chronological format, it's crucial to emphasise the skills that you can bring to the table. This is where the skills section comes in. Generally, this should be in the form of short bullet points below your personal profile. To make an immediate impact, it is best to keep each point under three words. It is also advisable to avoid using soft skills like organisation, and multitasking since these are often a cliché and therefore, a waste of valuable space on your résumé.  
4. Work experience 
It's always good practice to include your working experience near the top of your résumé. Employers are particularly interested in what you are currently doing, and this enables them to view your career summary at a glance. We recommend using bullet point format as this improves the readability of the résumé, making it easier for hiring managers to locate relevant information. This could increase your chances of getting shortlisted for a role. 
5. Key achievements 
Recruiters today see scores of résumés on a daily basis, so what better way to stand out from the crowd than by highlighting your key achievements? Not only will you distinguish yourself as an achiever, but this will emphasise the impact of your work and show employers what you could do for them.
For example, if you are a sales superstar that increased annual revenue by 45%, list this as a key achievement! Maybe you are a marketing guru that has increased website traffic by 5000 visitors per month, again, be sure to mention this as it will impress your next potential employer.  
6. Education and qualifications 
When writing a chronological résumé, it is vital to accentuate your education and training towards the end. Not only will your credentials demonstrate that you are a perfect fit for the job, but they will also show your commitment to professional development and your willingness to learn and progress in your career. 
What does a chronological résumé look like?
By now, you should have a good idea of what to include in a chronological layout, but what should it look like? This type of résumé should be professional in appearance and presented in a way that will attract reader interest. Here's an example of a chronological résumé for some inspiration, based on one of our professional résumé templates.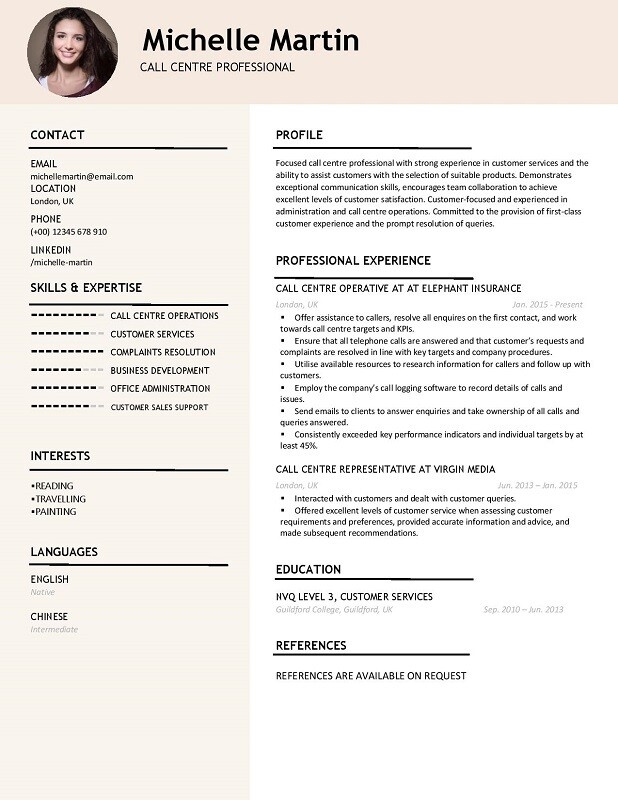 In the above sample, the work experience is listed near the top since this is the primary focus, with the employment details listed in reverse chronological order. 
You will also see that the sample starts with a personal profile, which, as stated previously, is crucial to grab the reader's attention from the get-go. This is paired with the skills section, which offers hard skills such as 'complaints resolution' and 'business development' as these are more substantial terms than 'teamwork' and 'communication'. 
Other details, such as education, are at the bottom as they are of lesser importance for an experienced candidate with notable expertise and achievements. 
Putting together a chronological résumé may not be extremely challenging, but it can be somewhat time-consuming. However, if you want to promote yourself to employers and land your dream job, it will certainly be time well-spent. 
Would you use a chronological format? Share your thoughts in the comments section below!
---
This article is an updated version of an earlier article originally published in 12 May 2017.