Writing a standout résumé isn't just about including the right information. It's also about how you present that information.
Unfortunately, though, this is where many jobseekers slip up.
A lot of people just aren't aware that there are different résumé formats that apply to different career situations. As a result, they often end up using the wrong format entirely or, worse, randomly throwing bits of information together without following a clear, logical layout.
And in a highly competitive job market, this can seriously hinder their chances of landing an interview — never mind a job!
That's where this helpful guide comes in.
Here we'll explore the best structures and formats around — from the traditional to the unconventional. We'll show you when you should use one format (and when you shouldn't), and we'll provide you with real-life examples for inspiration.
Hopefully, by the end of this article, we'll have helped you choose the right format that best suits your experience, industry and career path.
Traditional formats
There are three standard — or traditional, if you prefer — résumé formats: the chronological, the skills-based, and the combination format. Although similar to one another in terms of formatting (they all use basic text and a simple design to showcase a candidate's professional background), they each serve a very different purpose.
Let's take a closer look at them.
1. Chronological résumé
First up is the chronological résumé.
Also — and perhaps more appropriately — known as the reverse-chronological résumé, it provides potential employers with a detailed history of your work experience, organized sequentially, starting with the most recent position you held and working backwards.
It typically consists of the following résumé sections in this order:
The chronological résumé is the most common format of them all — and for good reason, too. Out of the three main traditional styles, it is the only one that can be easily adapted to virtually any profession, industry or career situation.
That said, because the format is so commonly used, it can be all the more difficult to attract the reader's attention — as such, you'll need to make an extra effort to make your make your résumé stand out from the crowd.
Here's a great example of a chronological résumé (based on one of our many professionally designed résumé templates):

2. Skills-based résumé
Whereas a chronological résumé showcases your experience and qualifications, a skills-based résumé (or functional résumé) showcases your professional skills, especially those which are most transferable to the job you're applying for.
Of course, you'll still include your employment history, but you'll move this towards the bottom, and you don't really have to expand on each individual position other than listing job titles, employment dates and company names. The focus should, instead, be placed on three to five of your most relevant skills, providing tangible evidence of each skill with a few bullet points.
Sections in a skills-based document should typically follow this order:
Header
Profile
Skills summary
Employment history
Education
Additional skills
Optional additional sections
Unlike their chronological cousins, skills-based résumés aren't for everyone. They are, however, a particularly good format choice if you have large gaps in your employment history, you're in the middle of a career change, or you're looking to promote a specific skillset.
Here's a skills-based résumé in action: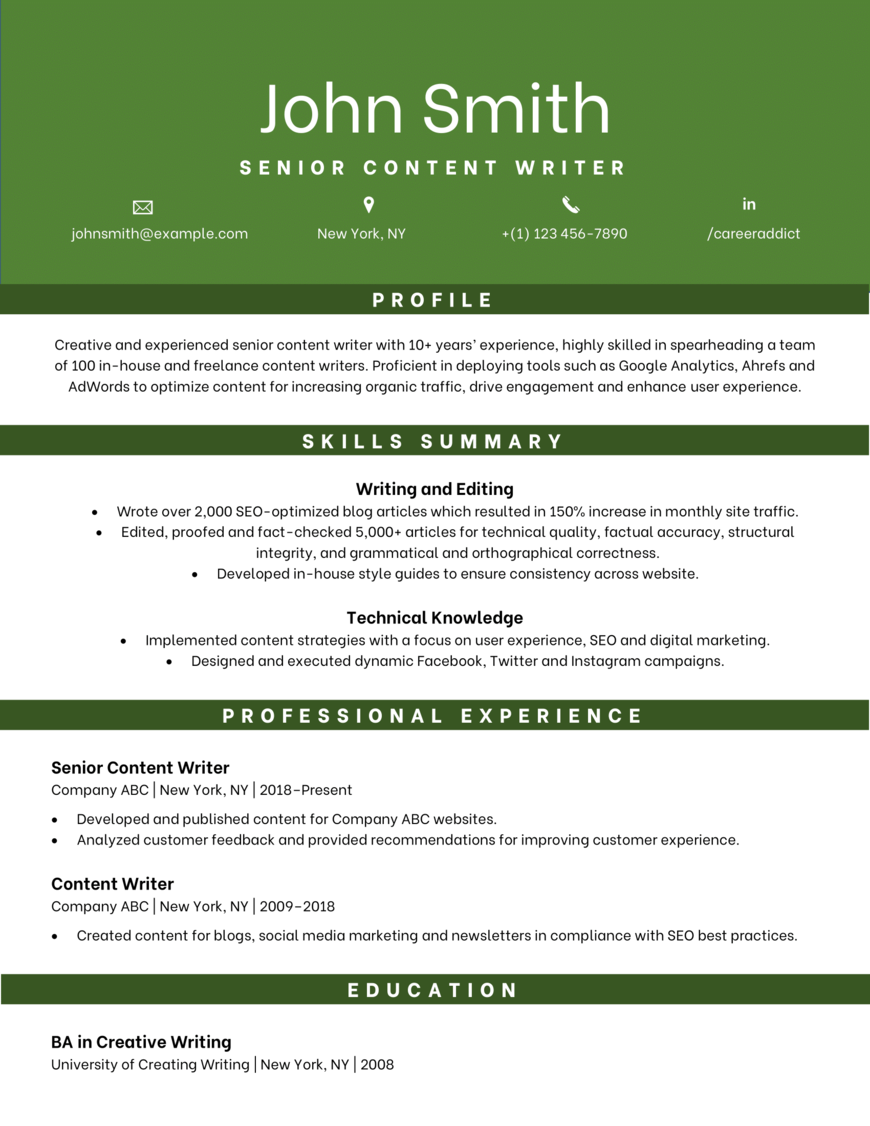 3. Combination résumé
The combination résumé is a hybrid of the chronological and the skills-based résumés, in that it gives equal weight to both your experience and your skills.
Structurally, it should follow this order:
Header
Core competencies / Achievements / Skills summary
Employment history
Educational history
Additional skills
Optional additional sections
Combination résumés are ideal for jobseekers applying for jobs that require a technical skillset or who are looking to change industries.
Let's take a look at an example: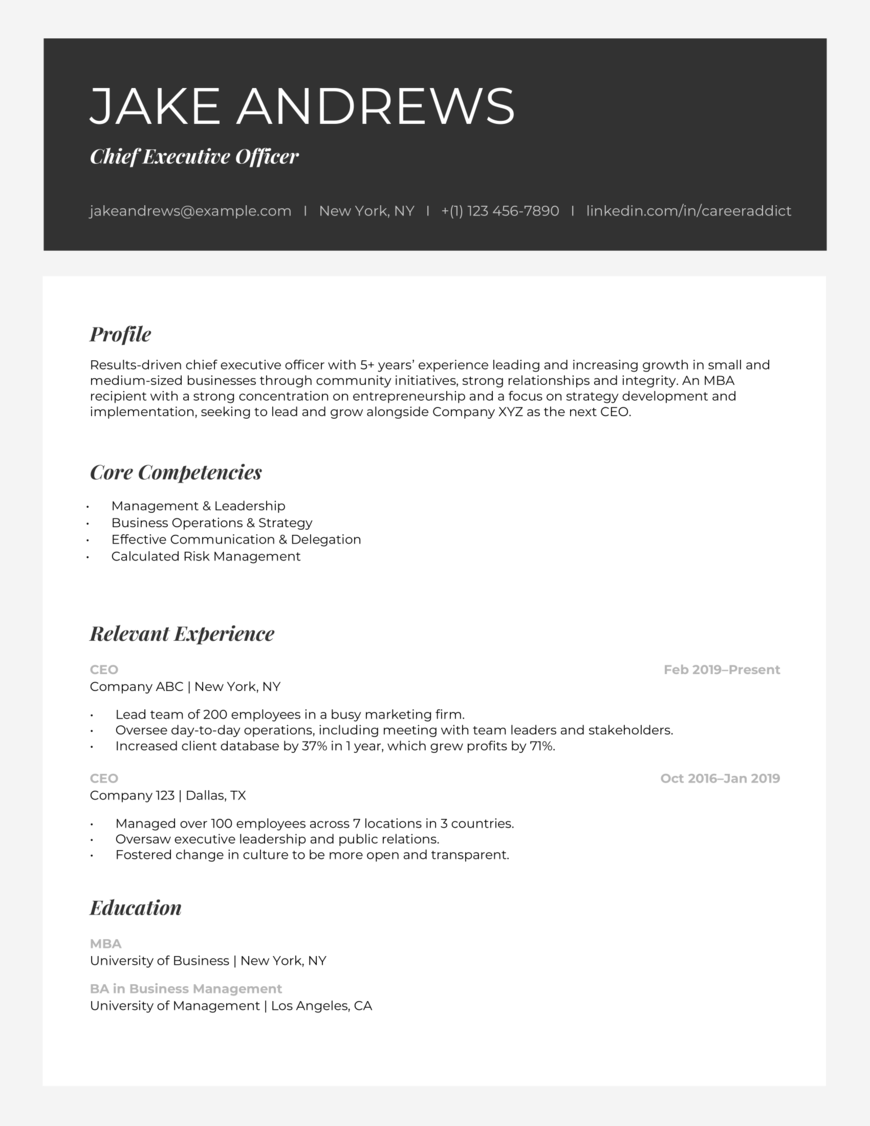 Non-traditional formats
As the global job market is becoming an increasingly competitive place, many jobseekers are ditching the traditional curriculum vitae and instead employing non-traditional, more modern methods to communicate their skills and qualifications to prospective employers.
We'll explore some of the most common non-traditional résumé formats below.
4. Infographic résumé
Infographic résumés are closely related to the three traditional formats we examined above.
Indeed, they present the same information you'll normally find in, say, a chronological résumé. But unlike a chronological résumé or any of its cousins, which all use plain old text to highlight a candidate's educational and professional background, an infographic format résumé relies on design elements like graphics, charts, icons, colors and nice fonts to convey that information.
Meanwhile, there is no one-size-fits-all structure for infographic résumés. This is what makes them so popular among designers, especially, as they're afforded a unique level of creative freedom to showcase their design skills.
In theory, anyone can use an infographic format, but if you're applying for a more conservative job —in banking, for example — then you should stick to a more traditional format if you want to be taken seriously. We should also point out here that, unless you're an experienced designer or at least willing to purchase a uniquely designed résumé template, you should stay clear of this option.
The template below, designed by ResumUP, is a wonderful example of an infographic résumé. Note how very little text it uses — in comparison, a traditional résumé would use a lot more text (usually in paragraph, bulleted list and note form).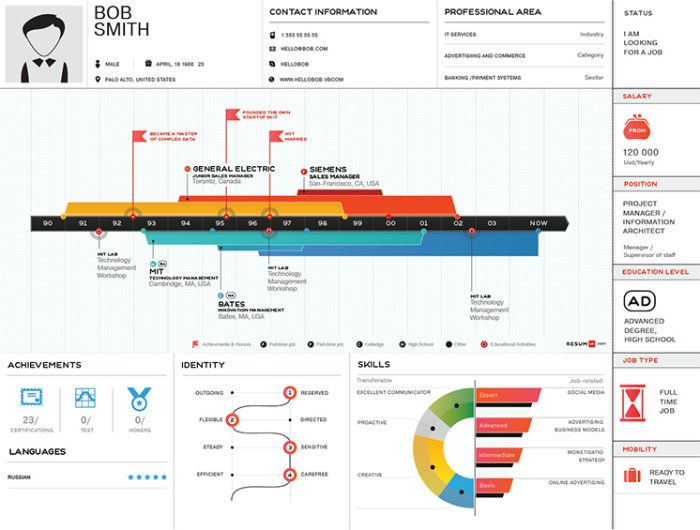 ResumUP
5. Mini résumé
A mini-résumé is exactly what it sounds like: a highly condensed version of the full thing, both in terms of size and length. It typically takes the form of a business card, listing your name, job title and contact details on one side and a snapshot of your biggest selling points and prominent achievements on the other.
Mini résumés are great for when attending networking events, industry conferences or career fairs, as you're able to leave potential employers with something less bulky than a comprehensive two-page résumé but something more valuable than your average business card.
Its compact size (typically 3.5 x 2 inches, just like a business card) also makes it easy to carry — perfect for handing out to new contacts you meet unexpectedly!
Here's a mini résumé sample we put together: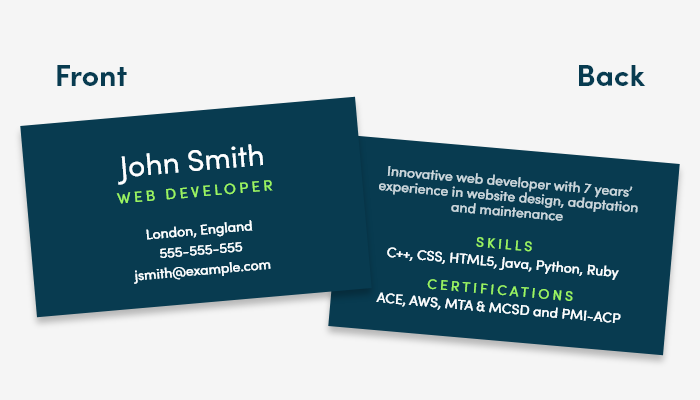 6. Video résumé
Also known as a visumé (a portmanteau of the words "video" and "résumé"), a video résumé is essentially an on-camera job application. It's a filmed presentation of your candidacy, designed to showcase not only your skills and experience but also your personality — something a traditional résumé isn't quite capable of.
Take Mark Leruste's take on a video résumé, for example, which combines humor, creativity and professionalism to demonstrate why a company should take a chance on him (spoiler: the Movember Foundation offered him a job two weeks after he uploaded his video résumé onto YouTube):
Meanwhile, you don't necessarily need to appear in the video itself – which is good news if you're camera-shy! Indeed, you could create your own animated video résumé, like Maria Rodriguez did:
Although virtually anyone can create a video résumé, they tend to be a lot more fun and vibrant in nature and, as such, shouldn't be used for applications to more conservative employers. Also, and perhaps more importantly, if you have little to no filmmaking experience, then we strongly advise against creating in video format – unless, of course, you're happy to hire the services of a professional to help you.
7. Résumé Website
A résumé website is essentially the online version of your résumé but affords you with a lot more flexibility in terms of structure, content and length.
Whether it's a one-page or a multi-page one, your website should cover the basics, including who you are, what you do and how visitors can contact you. If you're a creative professional, meanwhile, you should also include a portfolio section showcasing your best work. You can even demonstrate your industry expertise to potential employers and clients alike with a regularly updated — and SEO-driven — blog.
One of the great things about résumé websites is that you don't have to be a design superstar to create one. Indeed, there are many website builders out there (both free and paid-for) that offer ready-built customizable templates. Take this gorgeous Wix.com website template, for example: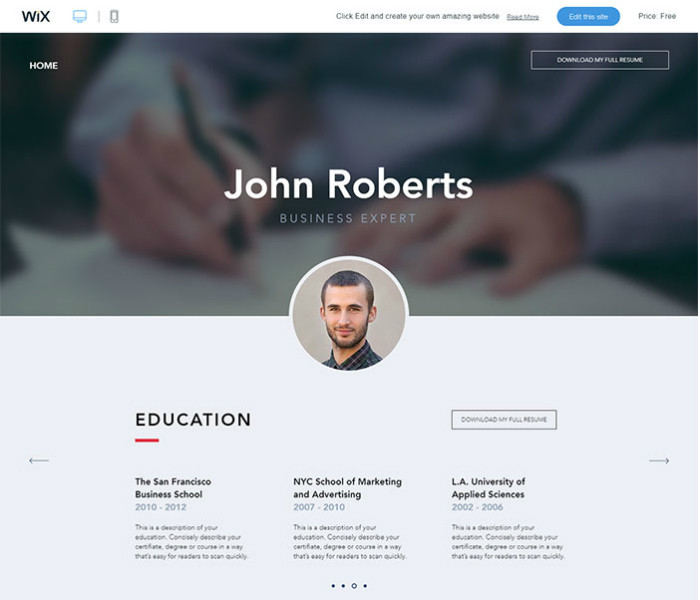 Wix.com
If you are an expert, though, it's probably best that you create a website from scratch, as this will effectively vouch for your skills. Consider Verena Michelitsch's website below: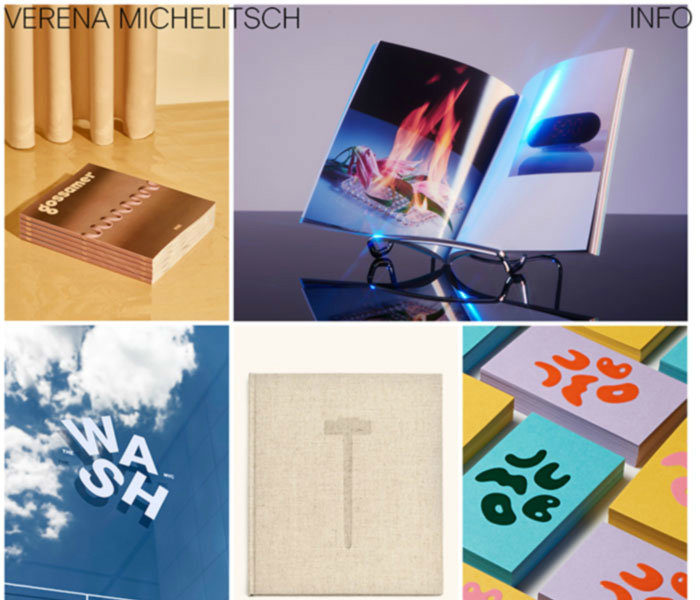 Verena Michelitsch
8. LinkedIn Profile
Although technically not a résumé, a well-written LinkedIn profile is the next best thing. And considering how big of a role LinkedIn plays in today's digital job search, you simply can't afford to not have one of your own.
Your LinkedIn profile will feature the same sections as your résumé (including a professional summary, your employment history, education and skills), but you're not limited to a two-page résumé to convey all the important information. In fact, career experts recommend adding as many (relevant) details as possible to your profile, including links, videos, presentations and publications. Of course, your LinkedIn profile shouldn't replace your résumé, and neither should it replicate it.
One of the great things about LinkedIn profiles is that anyone can create one — whatever their experience, qualifications, profession or industry. And you don't have to adopt the same formal tone you'll normally use on a more traditional résumé. Consider Katrina Ortiz's profile, which is both personable and conversational and which uses storytelling to captivate readers:

Katrina Ortiz via LinkedIn
Final thoughts
When choosing which résumé format to use, you need to consider your specific career situation. Indeed, what might work for someone else — even in the same profession and industry as you — doesn't necessarily mean it will work for you too.
To help you decide which format is the best for you, ask yourself some simple questions:
What will I be using my résumé for (networking, job applications, etc)?
Am I looking to change careers or industries?
Am I looking for work in a creative field?
Do I have any employment gaps?
Do I have the right skills needed for the job I'm applying for?
If, after answering these questions, you're still having trouble choosing the right format, or if you find résumé writing too consuming and stressful, know that our professional résumé writers are just a click away!
Do you have anything you'd like to add? Are you worried you're using the wrong résumé format? Leave a comment below!
---
This article is an updated version of an earlier article originally published on 25 July 2017.