Throughout my more than 30 years of writing CVs and résumés for clients, one question I'm often asked is: 'Should I include a career objective?'. And the answer I give is: 'It depends'.
There's no one-size-fits-all answer for using a career objective – or any other component of a résumé, for that matter.
The exact content and structure of your career objective, as well as the question of whether or not it should even be included in your CV or résumé, will vary depending on your specific employment situation.
A career objective for a high school graduate, for example, won't – and shouldn't – be the same as that of a CEO. Likewise, an objective for someone changing careers won't be the same as that of someone applying for a position in a field they've worked in their entire career.
With all of that in mind, let's take a closer look at career objectives – and how to write one that grabs the hiring manager's attention.
What is a career objective?
A career objective – also known as an objective statement or résumé objective – is a brief statement that clearly presents two things to a potential employer: your professional goals, and what skills, training and experience you bring to the table.
It should be the first thing on your résumé, right after your name and contact information. Think of it as the opening line of an article, the topic of which is your professional background. Given such placement, it's an extremely important component of your résumé, as it can – and should – set the tone for the rest of the document.
For example, if your career objective states that you're an accountant seeking to advance to a supervisory level position, then the person reading your résumé will be looking for relevant accounting experience, skills and training, as well as something in your background that indicates you have what it takes to be given supervisory responsibility.
Should I include a career objective on my résumé?
In most instances, a résumé should, indeed, include a career objective.
I've gotten feedback from several employers who have told me they're put off by résumés without an objective statement and they're surprised how many candidates leave it off.
That said, there are circumstances in which it may be unnecessary or superfluous. For example, if you've held the same position your entire career and you're applying for that same position again, there's really no need to include an objective. Your experience speaks for itself.
Many résumé and career experts will tell you that a professional summary is preferable to a career objective, but the two sections are by no means mutually exclusive. If properly written, the career objective should lead the reader into the professional summary.
Tips for writing a career objective
Now that you've decided to include a career objective, how do you go about writing it?
Here are some quick tips to help you compose your objective:
1. Tailor the objective to the position
Many people make the mistake of using a generically worded objective, when it should be tailored to the specific position they're applying to.
For example, 'Seeking a challenging position as an HTML website designer' is much more targeted and, therefore, effective than, say, 'Seeking a challenging position in the IT field'. Indeed, it adds value to your résumé and effectively sets you apart from other applicants.
2. Focus on your strengths
As mentioned earlier, the career objective should briefly inform the employer what you have to offer. However, in order to do so, you must determine what your skills and strengths are for a particular position and focus on these in your objective.
For example, if you're applying for a bookkeeper position, your objective could state 'Seeking a bookkeeping position where my analytical skills and experience with Intuit QuickBooks may be utilised'.
3. Give yourself a title
If you have a professional credential or designation, use it in your objective. Rather than starting your objective with 'Seeking a challenging position', you could instead start with 'Certified Pharmacy Technician seeking a challenging position'.
If you don't have a formal credential but have a substantial combination of experience, training and skills in a given field, you could always use a designator like 'Professional' in your objective, like so: 'Professional travel writer seeking a challenging staff assignment'.
4. Keep it brief
Over the years, I've noticed that many people make the mistake of writing a lengthy, overly detailed objective. The length of your career objective should be one sentence only; it should never be longer.
In fact, if the spacing on your résumé is tight, the objective could even be a phrase, such as 'A challenging management-level position within the field of transportation logistics'.
5. Don't combine it with the professional summary
A career objective and a professional summary are two separate sections of your résumé, as previously highlighted. They differ in length and structure, and they serve two very different purposes. Therefore, it's a mistake to combine them.
6. When in doubt, leave it out
If you're not sure about including something in your career objective, then don't. It's better to leave something out which might come back to haunt you down the line.
For example, you may state in your objective that you're looking for part-time employment, even though you might consider a full-time position if the opportunity is right. Nevertheless, because you stated 'part-time' in your objective, employers won't be considering you for full-time employment.
As mentioned previously, it's a good idea to have more than one version of your career objective; in this case, one version would include the term 'part-time' and the other would not.
7. Always tell the truth
As with every other part of your résumé, you should always be honest. When clients ask me to lie on their résumé, I steadfastly refuse. Even if the lie helps you land the job, it usually comes back to haunt you.
If your objective states 'Seeking a challenging position where extensive experience in Excel may be fully utilised' but you've never used this software, what happens when the boss asks you to create a spreadsheet?
Eventually, your lie will be discovered, damaging your reputation and probably leading to dismissal, no matter how well-established you may have become.
Examples of résumé career objectives
As previously mentioned, career objectives can vary a great deal, depending on the individual's career situation. With that in mind, let's take a look at some sample objectives covering various employment scenarios.
Example 1: Candidates with no work experience
'Seeking a position in which I can gain valuable professional experience and use this to contribute to the organisation's overall goals.'
Example 2: High school students
'Responsible high school student seeking a part-time position where I can gain valuable professional experience.'
Example 3: College/university students
'College student seeking a position in the field of finance to complement the skills I am learning in this field of study.'
Example 4: College/university graduates
'Recent college graduate seeking a position in which I may fully utilise the skills I have learned in the field of marketing while allowing for growth.'
Example 5: Candidates seeking an internship
'Seeking a challenging internship within the field of sports medicine where I can gain practical experience by applying the relevant skills learned through my formal education.'
Example 6: Candidates seeking career advancement
'Retail management professional seeking a challenging position where my extensive experience, training and commitment to excellence may be fully utilised while offering ample opportunity for career advancement.'
Example 7: Career changers
'Seeking a challenging position in which I can transfer the valuable experience, skills and training I have gained in accounting to the field of commercial real estate.'
Example 8: Candidates looking to relocate
'Seeking to relocate to the Orlando area and secure a position where my extensive and successful experience in the field of pharmaceutical sales may be profitably utilised while allowing for growth.'
Putting it all together
Now that you've taken the time to draft a well-thought-out career objective, how do you write and structure the rest of your résumé in the most professional manner?
Here's an example of a well-crafted résumé, complete with a career objective, for inspiration.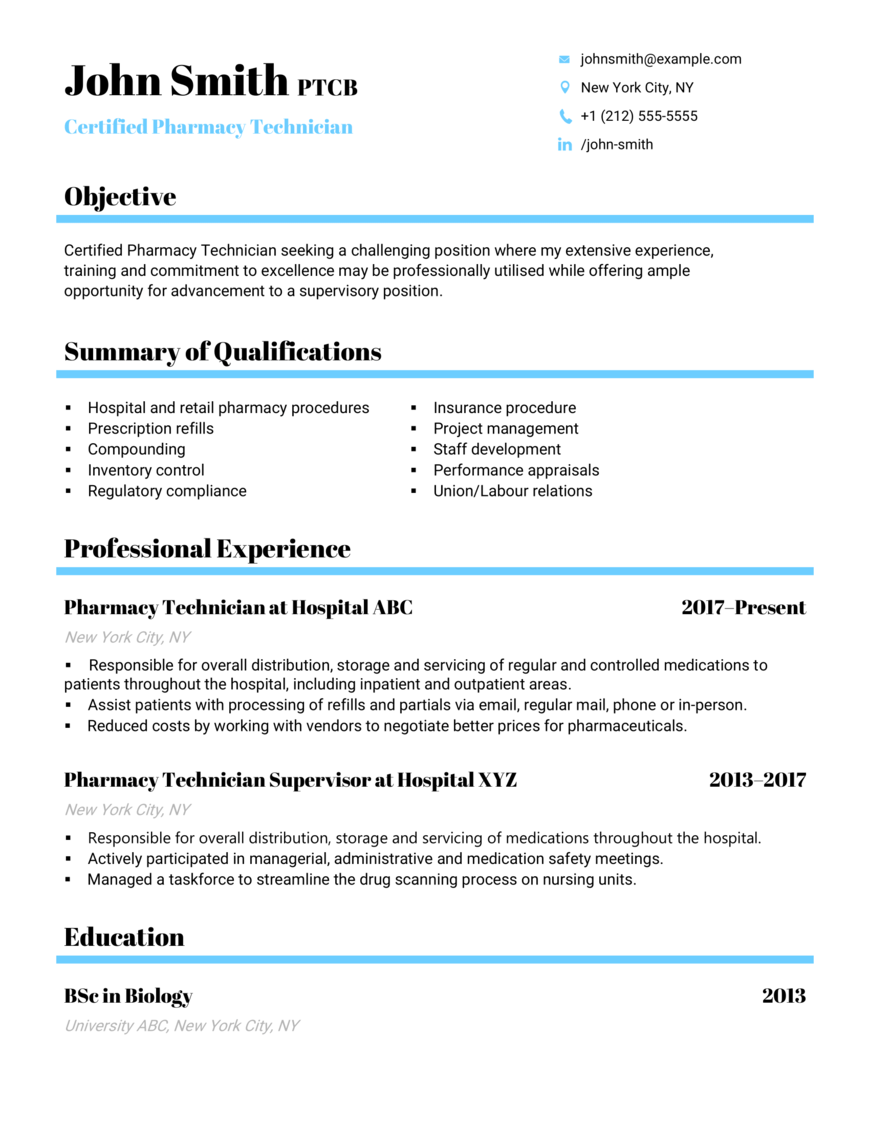 Like the above example? Download the template
Don't forget to check out our complete collection of professionally designed, fully customizable and ATS-friendly résumé templates!
Final thoughts
If you can come up with a concise, informative and engaging career objective for your résumé, you'll most certainly be able to get the attention of a potential employer – and get yourself one step closer to your dream job!
It's all about highlighting your career direction and tailoring it to the job you're applying for. Just remember to focus on your strengths, tell the truth and never combine it with a career summary.
Do you always include a career objective in your CV/résumé? If so, what kind of feedback did you receive from employers? Let us know in the comments section below!
This article is an updated version of an earlier article originally published on 8 August 2017.