Have you ever wondered why Europeans apply for a job with a CV and Americans use a résumé? You probably thought it was just a play on words, that they're both the same thing, right?
I get it: differentiating between a CV and résumé can be confusing. But that's why we're here!
In this article, we'll show you the main differences between a CV and résumé, explain when each should be used and even give you a couple of résumé samples to get a better idea on how to write each.
But first, let's start with the basics…
What is a CV?
A CV, or curriculum vitae, is an in-depth document that typically spans across two or more pages (depending on your experience) and contains a high level of detail about your work experience, education, skills and achievements.
A CV is generally formatted in chronological order, though, depending on your particular industry and experience, can take the form of a skills-based CV or a combination CV.
When should you use a CV?
In the US, CVs are generally used when applying for academic positions or other specialist professions in science or medicine. They are highly detailed and usually run over four (or more) pages, covering personal achievements, awards, publications, honors, affiliations and memberships.
On the other hand, in the UK, Ireland, Europe and New Zealand, CVs are used more broadly by people at any stage of their careers, whether they're applying for an entry-level position or higher position. CVs are typically one to two pages long and tailored to the specific job you're applying for, ensuring that your experience and skills match the requirements outlined in the job description.
What does a CV look like?
Below is an example of a mid-career CV: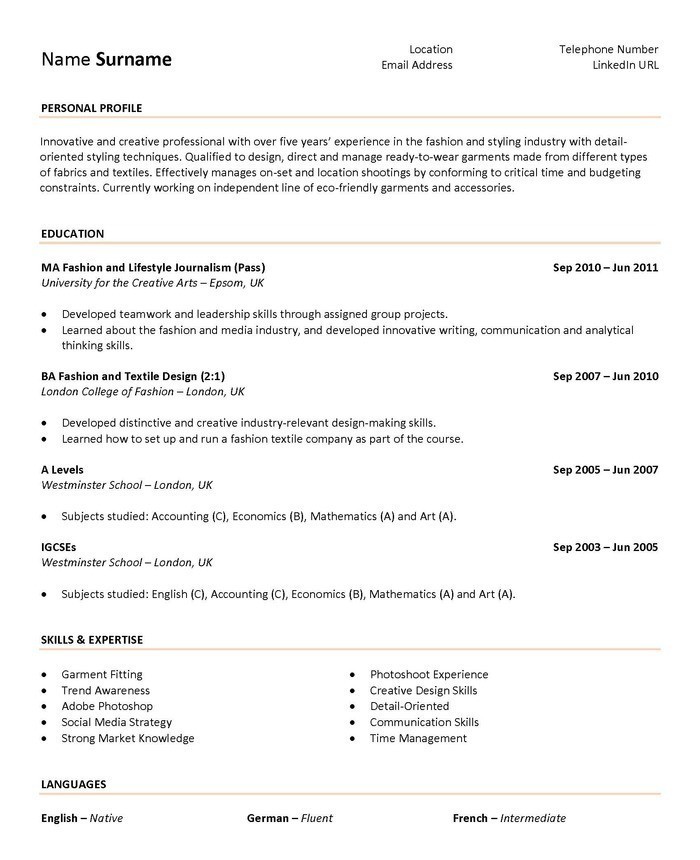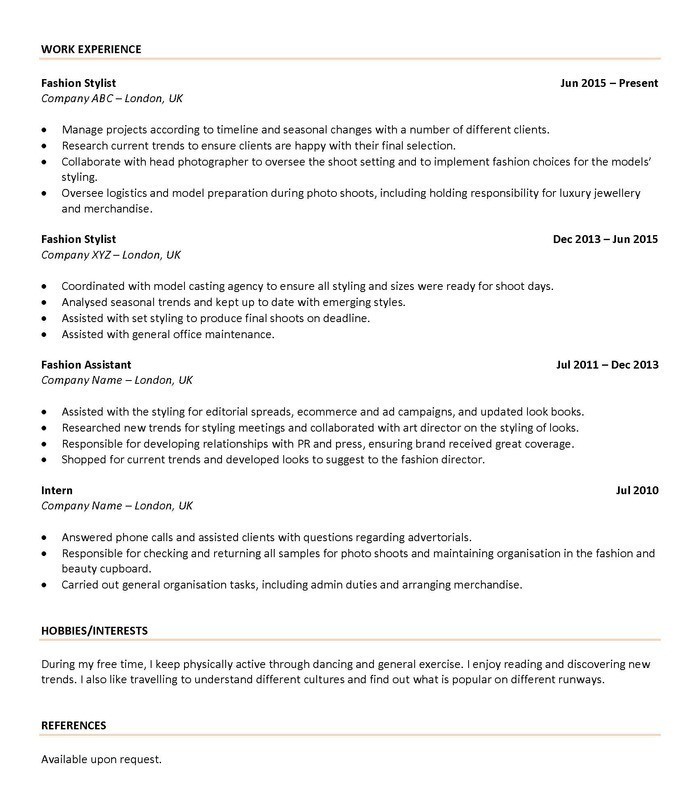 What is a résumé?
A résumé is similar to a CV, though it's typically shorter (no longer than one page) and is generally used for job applications across North America.
As hiring managers only spend six seconds reviewing applications, résumés are intended to help jobseekers stand out from the crowd in just as little amount of time.
Like CVs, résumés should be tailored to the specific job you're applying for. Unlike CVs, however, they don't need to be in chronological order or cover your entire career history and educational background.
When should you use a résumé?
Résumés are primarily used in the US and Canada and, to a lesser extent, Australia. That said, if you're based in the US but applying for a job in England, for example, it would best advised to write a CV and take note of the résume differences around the world.
What does a résumé look like?
Here's a sample of a mid-career résumé that could accompany a cover letter: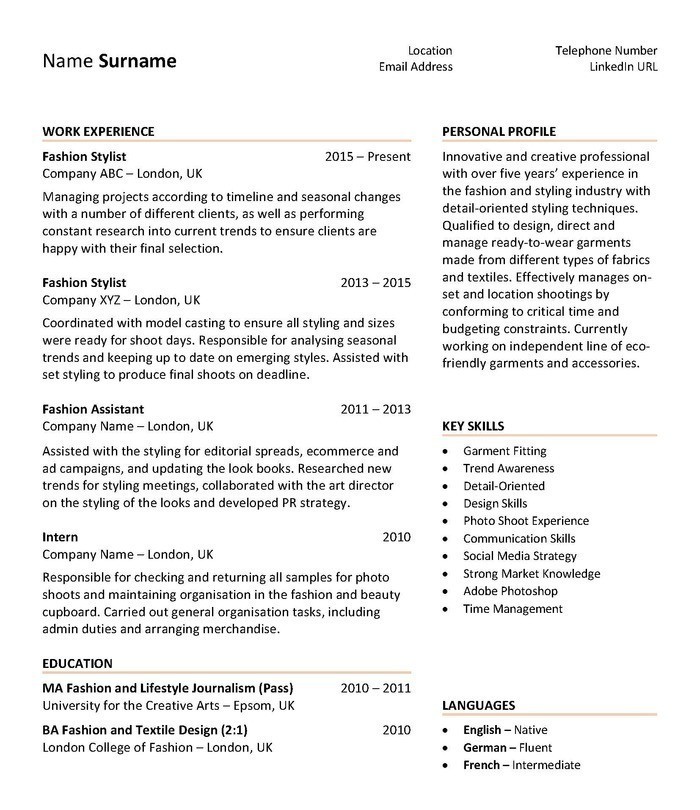 What are the key differences between a CV and a résumé?
If you're still a bit perplexed, let's go through the main differences between a CV and résumé.
In summary, here are a few of the key differences between the two: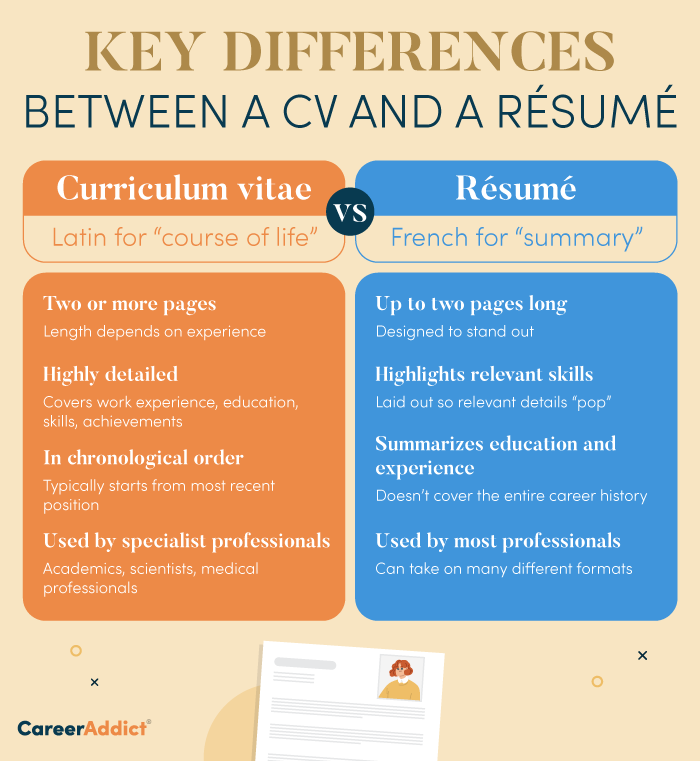 How does a CV in the US differ from one in the EU?
Here's where things can get a little confusing. Aside from CVs being different from résumés, CVs can also differ from other CVs, depending on where you are based. To shed some light on the situation, we've created a list of five points that highlight the differences between a CV used in the US versus one used in the EU.
What else do you need to know?
Whether you choose to write a résumé or CV, here are some general writing tips we've compiled to help you stand apart from the competition:
Key takeaways
And there you have it: everything you need to know about the differences between a CV and a résumé.
If you keep in mind what curriculum vitae and résumé stand for ("course of life" and "summary" respectively), it's easy to remember that one is a much more in-depth document than the other. To summarize:
Which style is the best for you? A CV or résumé? Let us know in the comments!
Originally published 22 May 2018. Updated by Electra Michaelidou.