No matter where you are applying for jobs, you will use a specific document to do just that: one that is intended to highlight your experience and qualifications, market your top skills and achievements, and — ultimately — land you a job interview.
This document is called a résumé, or a CV. (Which just happens to be the bane of every jobseeker's existence, but I digress.)
But here's the thing: a résumé in one country, say the United States, won't exactly work in China or the United Arab Emirates, for example. Depending on the country in which you'll be using your résumé to apply for jobs or internships, you'll need to cater it to that specific job market as well as its local résumé conventions.
Because, yes, while they serve the same purpose, résumés differ from country to country.
How exactly? Well, this guide will walk you through the aspects in which résumés differ around the world, and will also explore in-depth these differences in 10 countries.
How do résumés differ by country?
Before we dig into country-specific conventions, let's first look at the main aspects that résumés vary from country to country.
Name
The geographical differences of a résumé begin with its name. Some countries call it a "résumé", including the United States, Canada and France. Others, like the United Kingdom and Italy, call it a "CV" (short for "curriculum vitae"). Others, still, like Australia and New Zealand, use the terms interchangeably. But they're all the same thing.
The term "CV", meanwhile, is also used in the USA, but it specifically refers to résumés used for academic and more technical positions — these are known as academic CVs.
Personal information
Although the general norm is to never include personal information in a résumé, as it potentially opens you up to all kinds of discrimination, it is standard practice in some countries, particularly within Asia and Europe.
Depending on the country you're applying for jobs in, you may be required — or at least expected — to list things like your date of birth, marital status, ID number and ethnicity.
Photo
Like your personal information, you should generally avoid including a picture of yourself in your résumé — again, due to potential discrimination, intentional or otherwise. That said, résumé photos are common for certain (mostly creative) professions, like actors and models, or customer-facing roles.
Then there are specific countries requiring a headshot on your résumé, regardless your profession or industry, primarily in Europe and Asia.
Structure
Structurally, résumés typically follow one of three standard formats (chronological, skills-based and combination), depending on your level of experience and specific career situation. In certain countries, like Japan, however, you're expected to use a specific template when crafting your résumé, or follow a precise layout like in Russia.
Length
For the most part, résumés are between one and two pages long, with the USA, for example, preferring one-page résumés. This, of course, will likely increase to two pages if you have sufficient relevant experience. In other countries, like Spain and Greece, meanwhile, five-page résumés are acceptable.
Academic CVs, meanwhile, are typically much more comprehensive in nature (as they feature a jobseeker's entire work history, publications and patents) and can go up to 10 pages — that said, 30- and 40-page CVs are by no means uncommon.
Paper size
The standard paper size for résumés (and all other professional documents, for that matter) globally is A4 (8.3 x 11.7 inches). However, a handful of countries instead use the Letter size (8.5 x 11 inches): the USA, Canada, Mexico, most of Mesoamerica, Chile and the Philippines.
Language
Generally speaking, you should only translate your CV or résumé into the local language if you're fluent in that language. Indeed, if a friend helps you translate your résumé into French, for example, when the only French you know is "Je m'appelle Claude" and "C'est un stylo", hiring managers will assume you're a fluent speaker — and that could come back to haunt you down the line.
English-speaking countries are little more straightforward, but it's important to remember that there are some nuanced grammar, spelling and vocabulary differences between varieties of English. For example, it's spelled "recognize" in American English but "recognise" in British English.
References
For the most part, you should never include a list of references (or the dreaded "References available upon request" line) on your résumé. These will typically be requested of you after you've received a job offer.
The only time you should ever include references (either on the final page of your résumé or as a separate document) is if the job description specifically requests that you provide these in your application. That said, in some countries like South Africa, you're expected to list your references in your résumé, anyway.
Résumés around the world
Now that we've covered the aspects in which résumés vary by country, let's take a short trip around the world and get into the nitty gritty of those geographical differences.
United States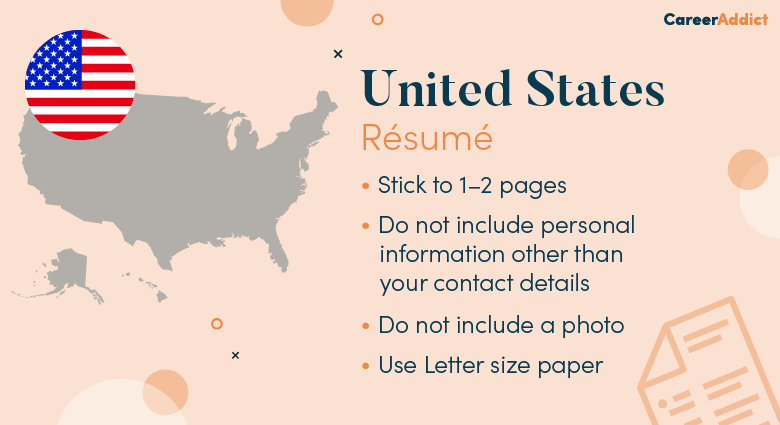 Let's begin right at home. Writing a résumé for the American job market is very straightforward, and begins with listing your contact details — and never any personal information.
This is followed by a summary, and then your work history and education (which you can swap around if you're a recent graduate or you otherwise have limited work experience), and finally your job-related skills and any additional information that will help further your application.
American résumés tend to focus on results and achievements rather than duties and responsibilities, while employers generally value conciseness and brevity: this means that lengthy résumés and fluff content are a no-go. Aim to keep your résumé to one page, but feel free to go over to two pages (at most) if you really need to. Finally, make sure that you use Letter size paper for your electronic or printed résumé.
All these rules and conventions are followed to a T in all US territories, including Puerto Rico, as well as further up north in Canada.
United Kingdom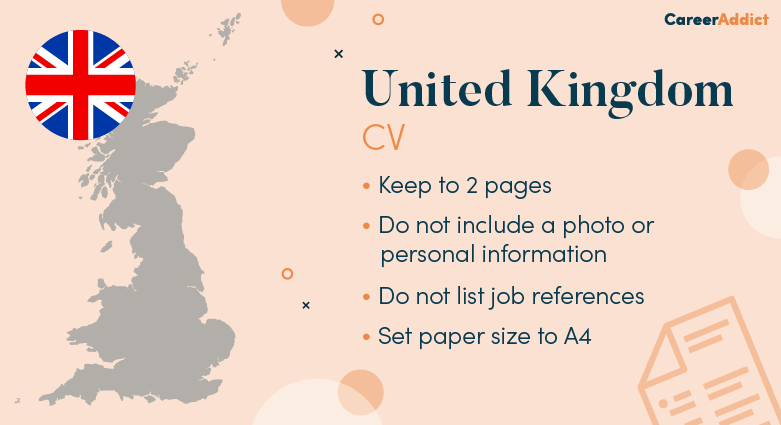 Across the Atlantic, in the UK, résumés are known as CVs — both for industry and for academic and more technical positions. Here, CVs follow the same basic rules as their American counterparts: don't include personal information, photos or references, and focus on showcasing your top skills and achievements.
That said, there are a few minor differences. For starters, although one-page résumés are preferred in America, two pages are the standard for CVs in the UK — unless you're a student or recent graduate with limited or no work experience. Likewise, if (and only if) you have a lot of relevant experience, then you can go over the two-page mark.
The other main difference is the paper size: CVs use A4 and résumés use Letter-size paper. And finally, UK jobseekers sometimes use a personal statement instead of a summary (although we recommend preferring the latter).
Europe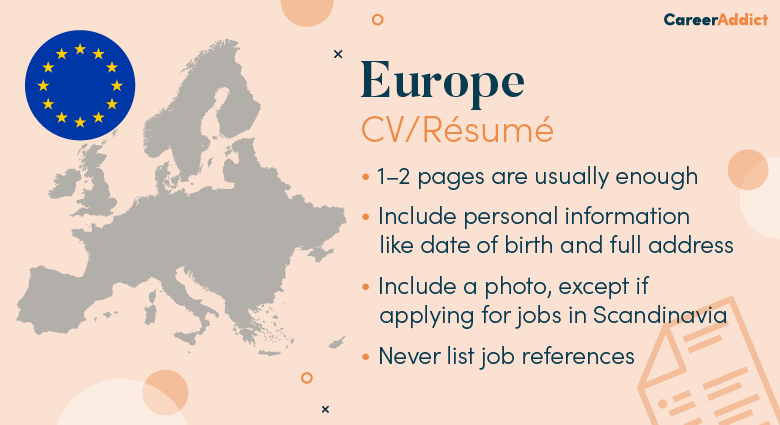 Like in the UK, résumés are generally known as CVs in Europe, apart from a few select (mostly francophone) countries like France — after all, "résumé" comes from the French word résumer meaning "to summarize".
European countries don't follow any uniform CV standards. What is standard practice in one country is not necessarily the accepted way in another. For example, countries like Belgium, Denmark, Hungary and the Netherlands generally prefer 1–2-page CVs, but 5-page CVs aren't uncommon in countries like Cyprus, Greece, Portugal and Spain. Likewise, a CV in Germany (where it's known as a Lebenslauf) will typically list education first, but this generally comes after your work experience in Swedish and Norwegian CVs.
In most European countries, you're generally expected to include your photo, personal interests, date of birth and full address. In Scandinavia, though, you won't typically have to include personal details like your age and exact location, but you'll still need a photo.
One thing that countries, at least those that are part of the European Union, all seem to agree on is that your CV should never include references (due to data protection and privacy regulations).
The EU tried to standardize CV practices across the continent with the Europass CV format (which you can create for free through the Europass website), but it never really took off, largely due to its structural and design limitations. Indeed, jobseekers tend to prefer using a more unique design that helps them better showcase their personality and highlight their achievements.
Russia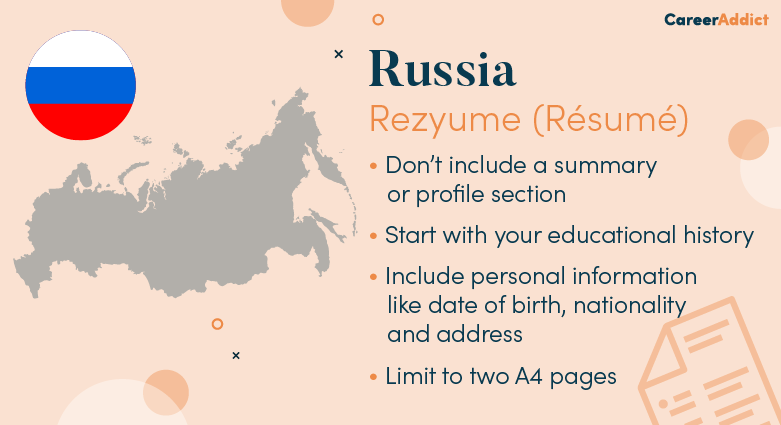 The Russian résumé, or rezyume, is a lot like a European CV — in that it contains personal details that you wouldn't normally find in its British and American counterparts (such as your date and place of birth, nationality, and marital status).
Structurally, however, there are some key differences. Firstly, you won't typically find a summary section in a Russian résumé — a staple element of CVs and résumés virtually everywhere else. You'll also find that the education history section traditionally comes first, before an applicant's employment history.
When it comes to length, you should aim to keep your CV to a maximum of two pages — any more will be seen as excessive. As for photos, these are optional but not always recommended.
Australia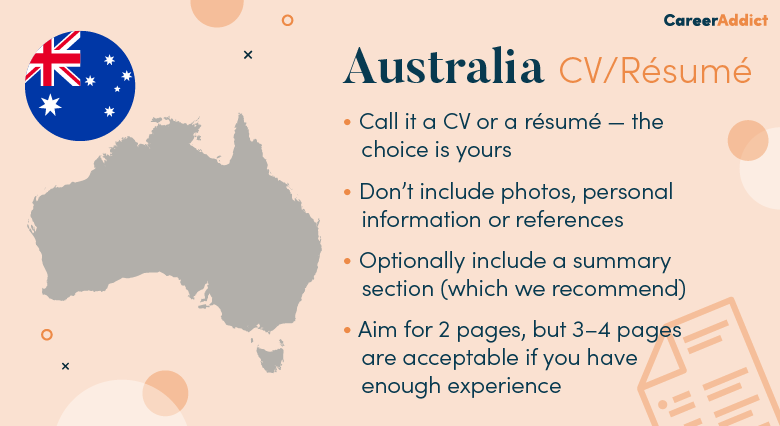 In today's society, the terms "CV" and "résumé" are used synonymously in Australia and in neighboring New Zealand.
Like in most other anglophone countries, including the UK, you would never attach a photo in your Australian CV. The same goes for personal information like your age and full address (instead, you should just stick to your contact details like email address and phone number), as well as job references.
The only real difference between Australian and British or American CVs is that you're not strictly required to include a summary or career objective section. That being said, we do highly recommend that you include one, anyway — after all, it helps you get noticed.
Regarding length, the same rules apply for Australian CVs as they do for their UK counterparts: aim for two pages, but feel free to expand to three or four pages as your relevant skills and experience increase.
China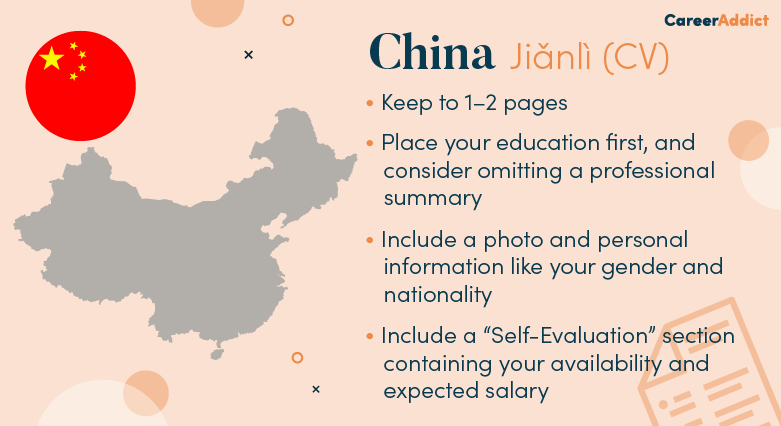 In China, the CV (or Jiǎnlì) tends to be quite different from the Western résumé in terms of formatting, tone and content. (Although it does follow the limit-to-two-pages rule.)
For one, you're not strictly required to include a summary section (but it is recommended). Like Russian résumés, the first main section of your Chinese CV should typically be your educational background — including dates, degrees, university names, major courses and research achievements. This is then generally followed by the usual: work experience, skills, languages and even references.
Meanwhile, like in many other countries, you'll need to include a lot of personal information in your Chinese CV, including your date of birth, marital status, gender, nationality, address, and sometimes even your ID number and any health conditions. A photo is also expected.
The final section of a Jiǎnlì, though, is perhaps the most interesting of all: "Self-Evaluation". Here, you're expected to list information that you normally wouldn't in résumés across the world, including your availability, reasons for applying/reasons for leaving your current job, and even expected salary.
India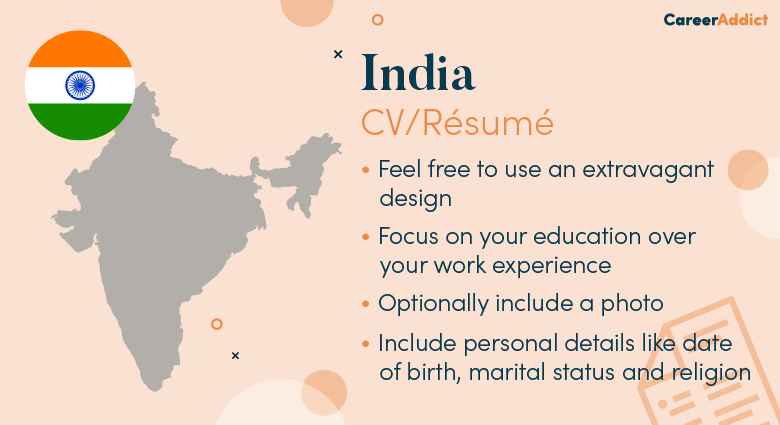 While the Indian résumé (or CV) in many aspects mirrors its Western counterparts, there are some significant differences. For one, it often extends to two or more pages. And unlike résumés in countries like the USA and Canada, which generally have a more minimalistic and clean design, Indian résumés tend to be a little extravagant. Indeed, creatively designed résumés with borders and other decorative elements aren't uncommon.
Indian résumés also tend to place a stronger emphasis on educational qualifications with detailed information about grades, ranks and distinctions — in other countries, these generally take a backseat, and the focus is instead placed on work experience and skills. Moreover, Indian résumés typically include an objective statement instead of the favored professional summary.
Although not exactly required, it's common to include a professional headshot. What is required, however, is a variety of personal information including your date of birth, gender, marital status, religion and sometimes even your parents' names.
Japan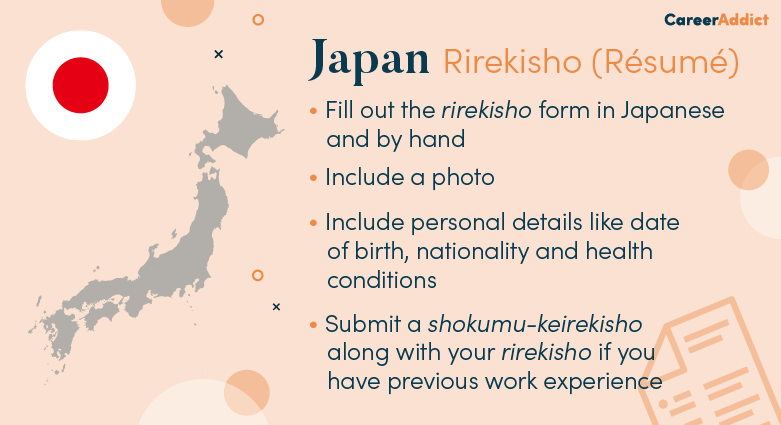 If you're applying for jobs in Japan, you'll need to submit at the very least a rirekisho, a standardized A3-size two-page form that you can buy from convenience stores and that you fill out in Japanese and traditionally by hand. (You can it fill out electronically, but it's better to do so by hand, especially if you're applying to a more conservative company — after all, Japan is a country that appreciates tradition.)
You must attach a professional photo of yourself in the top right corner of your rirekisho (3 x 4 cm is the standard) — just make sure that no tattoos are visible and that jewelry and accessories are kept to a minimum. You'll also need to include a lot of personal information, including your date of birth, gender, nationality, marital status, health conditions and even commute time.
If you have previous work experience, you'll also need to submit a second form, the shokumu-keirekisho, which provides a more detailed overview of your practical skills and career history in one to three pages.
United Arab Emirates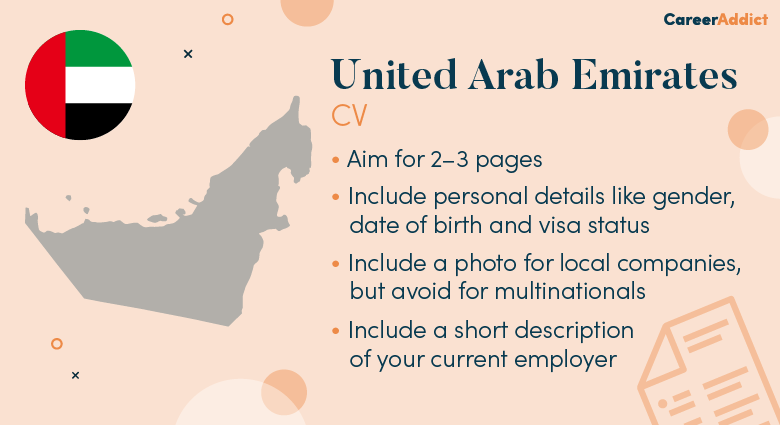 A job search in the United Arab Emirates requires a CV, which, in many ways, is very similar to Western résumés: it follows the same layout and content requirements.
That said, UAE CVs tend to be longer (usually three pages) than their Western counterparts, and they include information beyond general contact details, including nationality, marital status, date of birth, gender and visa status.
They also typically feature a professional headshot, especially if you're applying for a job with a local company. If you're applying for a multinational company in the UAE, though, you can choose to leave this off.
Finally, it's standard practice to include a short description of your current employer when listing your experience, as well as a list of references or at least the line "References available upon request".
South Africa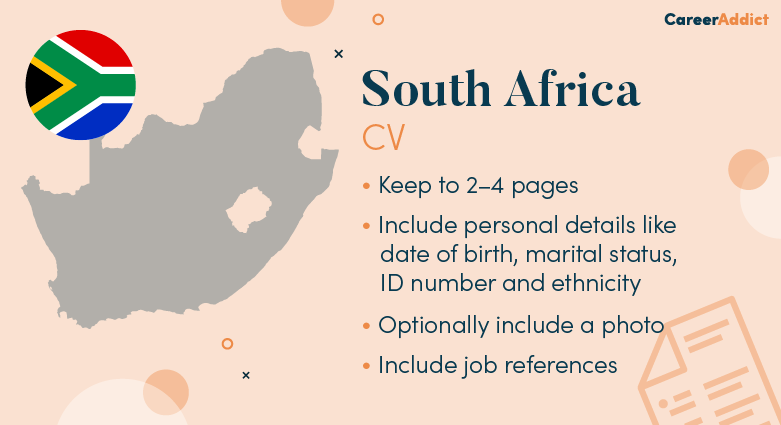 If you're taking your job search to South Africa, you'll need to be prepared to include a lot of personal information in your CV (or, if you prefer, résumé) that would be deemed controversial in many other countries.
For starters, you'll need to include your date and country of birth, gender, marital status, address, and driver's license number. You're also required to include your ID number and ethnicity — this is so that potential employers can verify your BEE/affirmative action status.
Meanwhile, South African CVs (which are usually 2–4 pages long) typically begin with a career objective, followed by a detailed overview of your educational history (including degrees, subjects and grades) before your work history. On the last page, you're also expected to list at least 2–3 references that can vouch for your performance, skills, experience and work ethic.
How to write a country-specific résumé
No matter where you are applying for jobs, the same five golden rules for résumé writing will always apply:
Tailor your résumé to each job. Incorporate keywords from the job ad, and align your experience to the company's goals, needs and mission.
Focus on achievements, not duties. Use the PAR method to describe a Problem you faced, the Action you took and the Result you achieved.
Write for impact. Start bullet points with powerful action words, use active voice, and use metrics to quantify your achievements.
Don't lie. Never embellish or fabricate achievements or qualifications.
Proofread. Make sure your résumé is free of grammar and spelling mistakes, formatting inconsistencies, and factual inaccuracies.
Still, always make it a point to research local conventions before you set out to write your résumé. This will help you determine what to include and what not to, which in turn will avoid any potential embarrassment from omitting something important or including the wrong thing.
If you don't live in the country you're applying for jobs in, it's a good idea to ask any friends, relatives or contacts that do live and work there for their input. Alternatively, you could hire a professional résumé writer who is familiar with the local job market.
Key takeaways
Before you go, here's a quick summary of what we learned in this article:
Résumés and CVs are basically the same thing. What some countries outside the USA know as a curriculum vitae (or CV) is still a résumé.
Personal information and photos aren't always a bad thing. In fact, they're expected on your résumé in countries like South Africa, India, France and Greece.
Size does matter. Although A4 résumés are the global standard, countries like the USA, Canada and the Philippines use Letter-size résumés.
It's all in the research. Wherever you're applying for jobs, make sure to research local conventions and standards before you start drafting your résumé.
The main goal is the same. Focus your content on achievements and value-added duties you have performed, and you're good to go.
Got a question about writing a résumé for a specific country? Let us know in the comments section below.