Whether you're looking for a summer job, a part-time gig or even a work placement, you'll need to highlight your skills and educational achievements in a professional document.
If you are currently in the process of searching for your first job, then you probably haven't had to write a résumé before and are wondering where to start.
Your résumé is essential when filling in job applications and writing it doesn't have to be difficult. Lucky for you, we've created this handy guide to help you build the perfect résumé as a teenager that will ensure you secure that position!
What to include
Résumés generally have the same key sections across the board, but there is room to tailor them if you have something you want to showcase specifically or if you don't have anything to add in a section.
As a rule of thumb, you'll want to include the following sections:
How to organise your résumé
The way your CV or résumé is organised is important; it needs to make a good impression so it should be clearly presented, with defined sections, making it easy to read through quickly. At a glance, the reader needs to be able to grasp enough about you to decide whether it is worth reading in more detail.
So, a professional layout goes a long way. To achieve this, you must ensure there is plenty of white space and that the document is not too text heavy. Each section title should be labelled in bold or capitalised so that it stands out and consider using bullet points to organise the content under each section as they are more effective than paragraphs. Meanwhile, ensure the main text is black or grey to ensure readability, and stick to one font.
As someone who is taking their first career steps, your education is likely to be the most relevant and extensive section. You should always start with a professional summary, but you can follow this with your education, before adding the skills and experience sections.
That said, if you haven't finished school or college, and your skills or experience are more relevant to the job, you can move education further down. Generally, your most recent and relevant offering should be prioritised and showcased first.   
Finally, you can include your references at the end, or include 'References are available on request' at the bottom of your résumé.
Tips for writing your résumé as a teenager
So, now that you know what to include and what structure you should use, it's time to start putting together your CV. The following 10 tips will help you write a CV that will get you noticed:
1. Tailor your résumé to the role
It's tempting to put everything you have ever done in your résumé but it's better to include just relevant information. Consider everything you've achieved or currently do and think about how its relevance to the role you're applying for.
For example, if you are applying for a customer service role, you'll want to highlight your communication skills, so make sure this is highlighted in your summary and under each section where you can demonstrate this skill.
2. Focus on what you can offer
Rather than thinking about what you hope to get out of the role, think about what you can offer and highlight this throughout your CV or résumé. This will be far more effective as, essentially, an employer wants someone who can do the job well and who can contribute to the role. Use your summary to clearly outline what it is you're looking to do and make sure everything you write leads back to this point.
3. Pick a professional design
There are numerous templates on offer but make sure you pick one that is clear, easy to follow and well-designed. For someone with no experience, that is just starting out in their career, your first résumé should stick to a design and format that complements your experience and makes your skills and education the focal point of the document.
4. Use a clear font
There are lots of fonts to choose from but it's best to pick a one that is professional looking such as Calibri, Arial or Times New Roman. Of course, if you are applying for more creative roles, you can utilise a font style that might be more creative, but the priority here is for the text of your résumé to be intelligible to the reader, AKA your potential employer. With that said, the font size for the main body should be 11 or 12,  while the headings and subheadings should be in a larger size, in bold or caps.
5. Include unpaid work
For someone who may have little to no paid experience, it's very important that you include any kind of roles you've held. You can include volunteer work, placements, internships, or anything that shows you have worked within the field you're applying in such as helping out with a family business.
As a teen, this is very valuable work and will make you stand out from other applicants. Don't shy away from including something just because you didn't get paid for it and focus on your skills and the contributions you made within these opportunities.
6. Include sports and hobbies
If you have been part of a varsity team or have a sport or a hobby that you are committed to, these are great to include in your résumé. They show valuable transferable skills such as teamwork, dedication and goal setting and are highly valued by employers.
7. Mention courses and qualifications
In addition to your formal education, if you have learned a skill online or taken classes in-person, such as a first aid course, for example, you can add this to your résumé too, either in an additional section like 'Courses and Qualifications' or 'Professional Development' , or as part of your 'Education' section. Learning independently shows initiative and that you are committed to personal development, which is a great thing to highlight.
8. Include languages
If you are multilingual, this is something you should add in a section titled 'Languages'. Having something extra like this will help you stand out, especially if you are targeting high-paying positions or a front-facing role where you will need to assist customers.
9. Write an accompanying cover letter
You may be asked to provide a cover letter as part of your application, but even if you're not, it's a good idea to include one within your application, as this will give you the opportunity to introduce yourself and highlight your suitability for the job.
You can use the cover letter to explain your reason for applying and to summarise your most relevant skills, education and experience before the employer gauges your résumé document, which could help you make a lasting impression.
10. Include references
Adding references allows the recruiter to validate your experience and professionalism. You can include teachers, placement supervisors, sports team coaches or anyone else who has worked with you in a professional capacity. Just make sure to speak with your potential references first, and give them a heads up before you add their contact information to your document.
Résumé example
Here is a great résumé example of a clear and professional teen résumé that you can use as a guide when creating your own.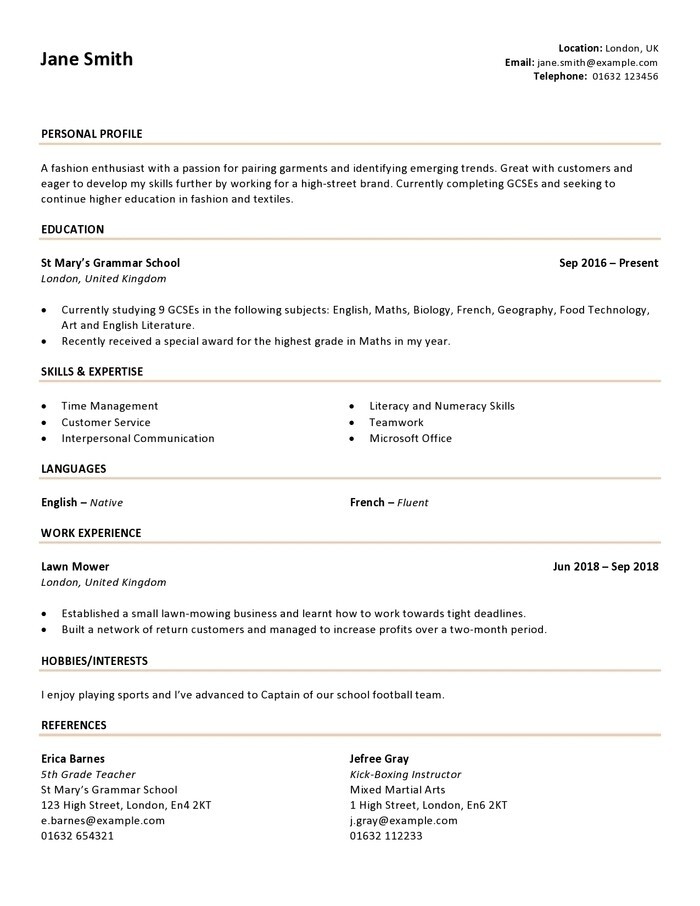 A great résumé can be your ticket to landing your first job. It needs to clearly demonstrate your professionalism, as well as your skills, education and experience in a way that is tailored to the position you're applying for.
Once you're ready,  go out job hunting and wow the hiring managers with your professional skills. And don't forget to keep a few spare copies on you to hand out when you're out and about; you just never know when you'll run into a perfect hiring opportunity!
Have you got any questions about your résumé? Share them with us in the comments section below!
This article is an updated version of an earlier article originally publicised on 30 November 2018.