Putting together a new résumé or updating your existing CV can be a complicated task, but once you decided to become an accountant, it was clear that complex, analytical tasks don't scare you. The organisational and problem-solving skills that help you succeed in your career will easily transfer to writing a successful CV.
While all accountant jobs have common elements, you'll want to take a slightly different approach depending on your speciality and where you are in your career. To assist you, we've broken down our accountant CV guide into several sections to address a variety of job titles in the accounting field.
We've also collected 10 of the best accounting résumé examples as inspiration for your own creation. Read on for advice on what to include and what to highlight, and for samples of different CV formats and styles.
1. Entry-Level/Junior Accountant
When you're fresh out of university and don't have a ton of experience in the accounting field, putting together a substantial CV is not an easy assignment. One of the first things you learn about writing your CV, however, is to highlight your relevant skills. Include any internships, volunteer work and other unpaid gigs that relate to accounting or finance.
As you can see from the first junior accountant CV sample below, it's okay to also include work experience in an unrelated field. When you don't have a long job history, it's important to show prospective employers that you can handle responsibility. Listing any promotions or increase in hours illustrates that you were a valued worker.
Focusing your CV on your education and transferrable skills also works well when you're changing careers. As shown in both samples below, it's essential to include any software you have knowledge of; financial and spreadsheet programs are particularly valuable, but adding a variety of software illustrates your ability to learn new technology.

Template.net
The second junior accountant CV sample below is a good model for those who do have some experience in the position. This example gives plenty of space to highlight the jobseeker's relevant work tasks and accomplishments, while the sidebar adds visual interest and draws attention to specific language and technology skills.
Whether you're a recent graduate, advancing from an accounting clerk position or shifting careers, the references section shown here is also advisable. Having former employers, instructors or prestigious community members who can offer praise of your knowledge, work ethic, punctuality and other desirable traits can help make up for a thin work history.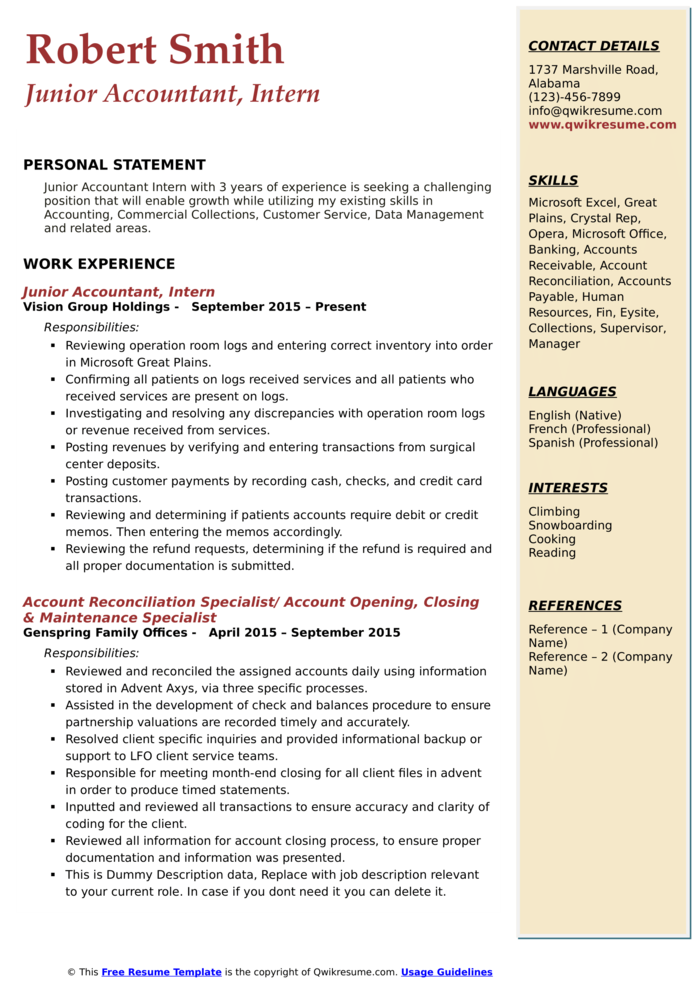 QwikResume
2. Staff Accountant
Firms with a large number of accounting positions typically use a range of job titles to easily distinguish each employee's duties and responsibilities. Staff accountants fill the void between specialists, juniors and management, taking on a broad range of financial, recording and supervisory duties.
Your CV should include as much variety as possible, specifying several different skillsets and job types. The accounting CV examples below offer two distinct approaches for a staff accountant position. The first CV stresses accounting skills and work style, then lists tasks and accomplishments for their two most recent and relevant jobs.

Monster
The jobseeker in the second CV template has a more extensive work history that they've chosen to consolidate. Rather than listing similar job duties for each employer, this staff accountant CV combines those tasks into one set of bullet points. The timeline of work history that follows is compact but impressive.

Resume-Resource.com
3. Senior Accountant
Most major companies use an applicant tracking system (or ATS, for short) to scan and filter CVs before a hiring manager ever looks at them. You've worked hard to accumulate the experience and skills necessary to take on a senior accountant role, so your CV should be written in a way that those skills don't get lost in the digital shuffle.
One way to beat the ATS is to make sure you keyword your CV. Carefully read the job description and make sure you address all the requirements in the same terminology. The system will be scanning for a match.
Note that the senior accountant résumé sample below includes specific accounting terms like 'SOX controls' and 'segregation of duties'. It also covers various forms of desirable work experience keywords, as with the references to 'supervision', 'management' and 'oversee'.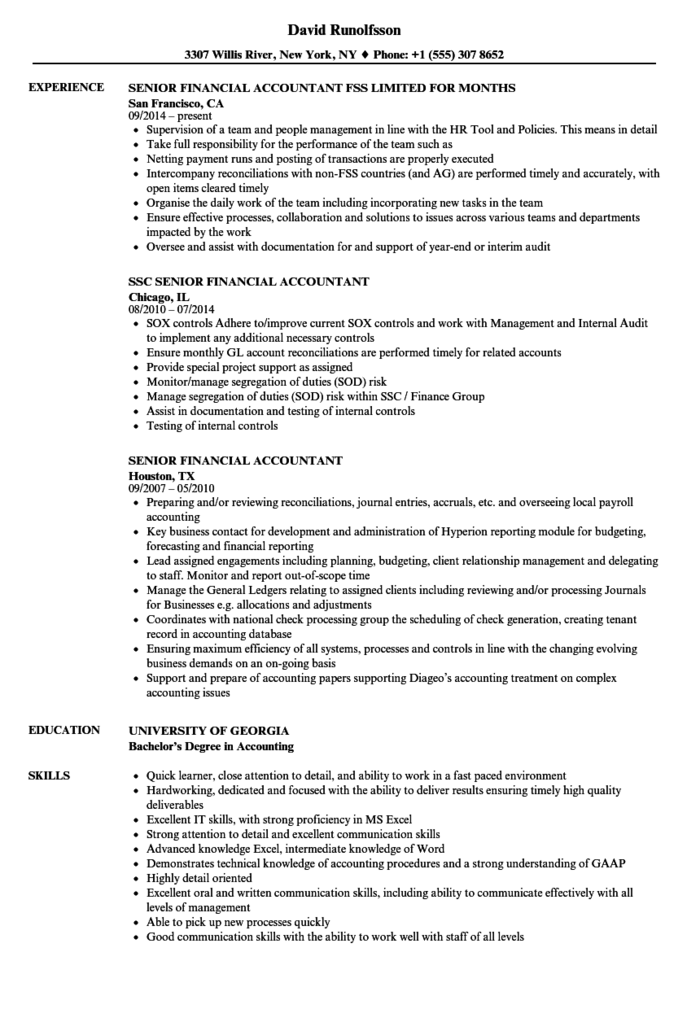 Velvet Jobs
4. Cost Accountant
Modern businesses are always looking for ways to cut costs, streamline their business and increase profits. That job falls to cost accountants, who analyse every aspect of the business, including labour, materials, shipping and administration.
One of the tips for creating a perfect CV for any job is to stress your achievements. That is extremely important on a cost accountant CV because you need to include any instances where you saved your previous employer money. The sample below includes that information as one of the duties of their current position.
This accounting résumé template also includes an introductory skills section that very clearly and succinctly bullet points their financial, budgeting and analysis expertise in industry terms.

Resume-Resource.com
5. Certified Public Accountant (CPA)
CPAs are often associated with tax preparation, but they are certified experts who bring their accounting skills to several different fields. The top accounting firms around the world typically employ CPAs, and it can be a lucrative career.
CPAs must have a bachelor's degree in accounting, so that information should be clearly represented in your CV. The two CPA CV examples that follow illustrate ways to present two very different skillsets. Note once again the keywording, skills lists and achievements.

Resume Genius
Another essential aspect of a tax accountant's CV, as you can see in the second example, is stressing knowledge of applicable tax laws. This CV sample also wisely notes that the jobseeker keeps up with any new legislation that can affect the business.

Kickresume
6. Management Accountant
This position requires an impressive mix of accounting and business management skills, and your CV should be substantial. The management accountant CV example below packs in a lot of information with a combination of the best CV formats available. The more traditional bullet points and text are punched up with several graphics, most notably the charted skills section.
Like a CPA role, your education and certification credentials are essential and should be easy to locate on your CV.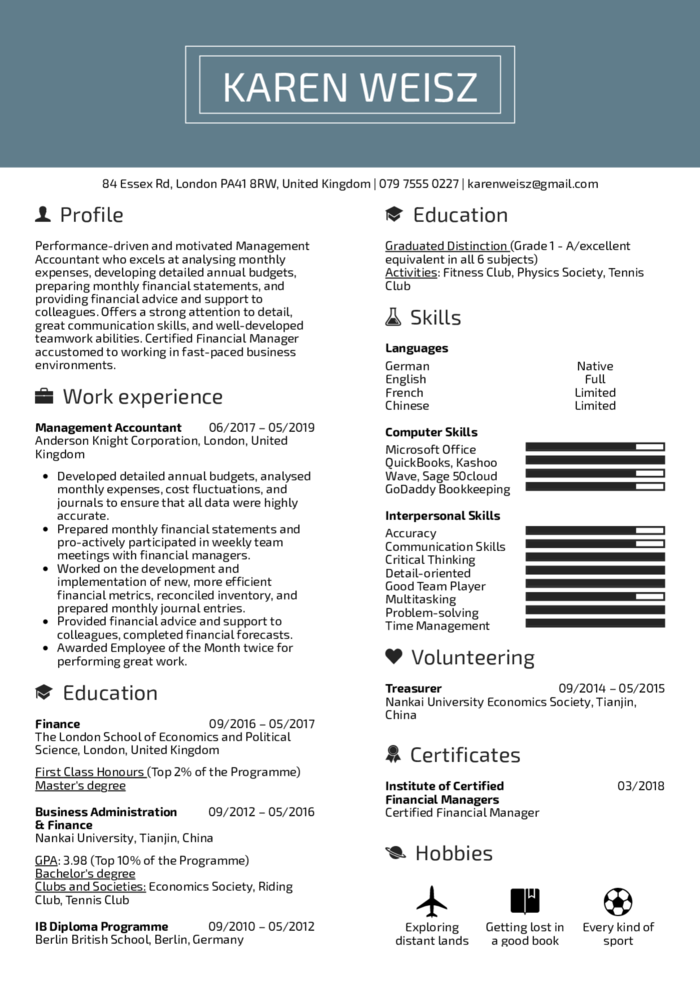 Kickresume
7. Auditor
While some jobs benefit from flashier or unique CV formats, employers looking to hire an auditor are most interested in your credentials. A simple, clean résumé style that lists your qualifications and highlights your particular skills is the best route to landing a new position.
Auditors check all financial records for accuracy and often come in as an outside specialist to check for errors, potential fraud and compliance with financial laws. The CV example below very succinctly lists the job candidate's skills and achievements while stressing accuracy, compliance and diligent documentation.
Another important element of this sample is its focus on doing what is best for the business. Note the references to 'team player', 'solution-orientated' and 'achieve business objectives'. While an auditor's job is to look for mistakes, it's important to stress the positive aspects of your skills and how they benefit your employer.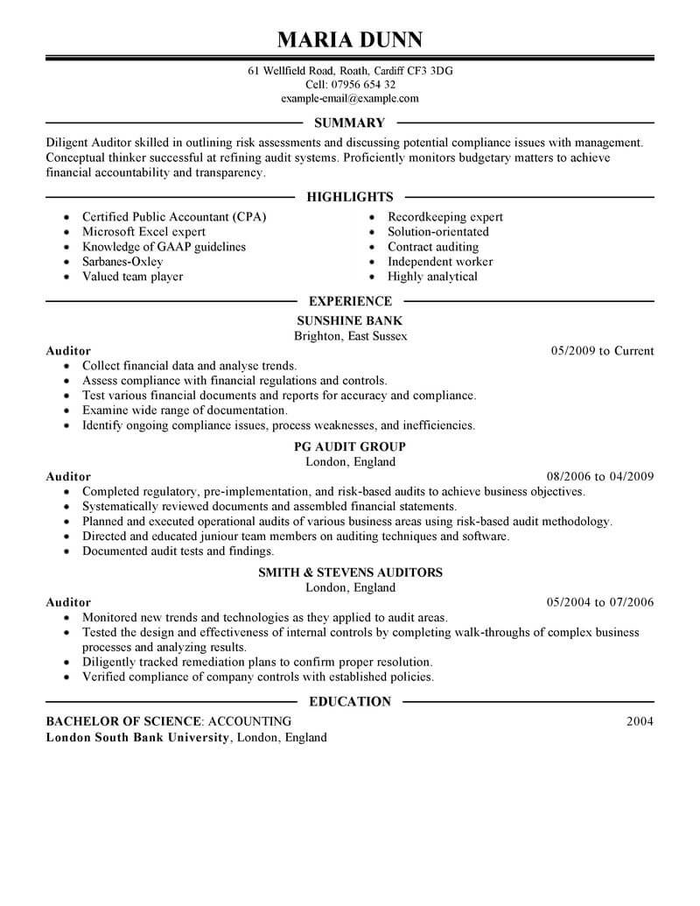 LiveCareer
Hopefully, these accounting résumé samples and templates can help guide you in choosing the perfect format and content to highlight your skills. If you want that extra edge in landing your dream job, check out our own professional CV writing service.
What CV elements have brought you the most success in your job search? Let us know in the comments section below!