Working as a bartender is a popular career choice for many; whether it's a side-gig during your studies or a long-term profession, you will need to know what it takes to become a bartender.
From mixing drinks to having the knack of charming customers, there's a lot more than initially meets the eye with this popular career. So, if you're intrigued, continue reading to find out how much you can really earn as a bartender, what your working conditions will be like and what will be expected of you on the job.
So, without further ado, here is all you need to know to become a bartender.
What bartenders do
Bartenders typically work in a bar setting mixing cocktails and serving alcoholic and non-alcoholic beverages to their customers. While it might sound easy to throw a few ingredients in a glass, you will need to have a great memory to remember the exact measurements and ingredients for each drink that the bar serves. Besides having a good memory, you will need exceptional customer service skills when dealing with varied personalities during your working day.
Although day-to-day activities can vary, general responsibilities and duties will typically include:
Mixing, garnishing and serving beverages according to the company's specifications
Assisting guests with choosing items on the menu based on their taste buds or preferences  
Keeping the bar stocked and clean
Providing friendly and attentive service to anyone who steps into the bar
Adhering to company standards for serving alcoholic beverages
Processing payments and clearing tabs
Verifying the age of customers
Managing the inventory of the bar and listing items that need replenishing
Creating signature cocktails that can be added to the menu
Preparing all mixtures and juices before a busy night
What the job is like
Where do bartenders typically work? What hazards do they face? And is the night in a life of a bartender as entertaining as it seems? Here, we uncover all.
Work environment
Bartenders typically work indoors, but some work outdoors at open bars, pool and beach bars or catered events. The pressure can be intense when working during peak hours; bartenders will be pressed to serve customers quickly and efficiently. This involves taking orders, making the beverages and arranging the payment.
Besides these pressures, it can also be difficult working among customers who may have had too much to drink and are causing a scene. The job is also physically demanding, as you will spend the majority of your shift on your feet, moving from one section of the bar to the other to gather items and serve clients. So, you will need plenty of stamina to perform well on the job.
Work hours
The working hours of a bartender can vary from day-to-day since they are normally on rotating shifts. Depending on the establishment, you may be required to work very late into the night, or even early hours of the morning. Weekends and holidays are normally peak working hours for bars, so you will be required to work during these times.
Some bartenders also choose to work split-shifts, where they work for a few hours, take a break, and return later. While others work on a part-time basis. Depending on the restaurant or bar's requirements, you will be able to select the number of hours that you're available to work.
Job satisfaction
Depending on your lifestyle, working as a bartender can be great fun. If you're someone who would normally go out on an evening, then you can do it while also getting paid for it. That said, according to a survey on CareerExplorer, bartenders rate their career happiness 3.0 out of 5 stars which puts them in the bottom 35% of careers. This is due to the physical demands of the job and the changing and long hours.
Job market
While the demand for bartenders decreased during the COVID-19 pandemic, they have been on the rise again in recent years. With bars and restaurants booming in business again, the need for skilled staff is a must.
According to the US Department of Labor, bartenders will experience growth of 32 percent between 2020 and 2030, a rate that is much faster than the average for all occupations.
Salary
The average salary for a bartender in the US is $26,350, with experienced bartenders earning as high as $47,710, while bartenders with no experience earn an average of $17,870. This salary is far from favorable for the average working adult, so it's important to evaluate whether it's a high enough salary for you.  
The highest paying states for bartenders are District of Columbia with an annual average salary of $42,790, New York with an annual salary of $43,780, Washington with $44,120, Hawaii with $44,680, and Arizona with $45,150.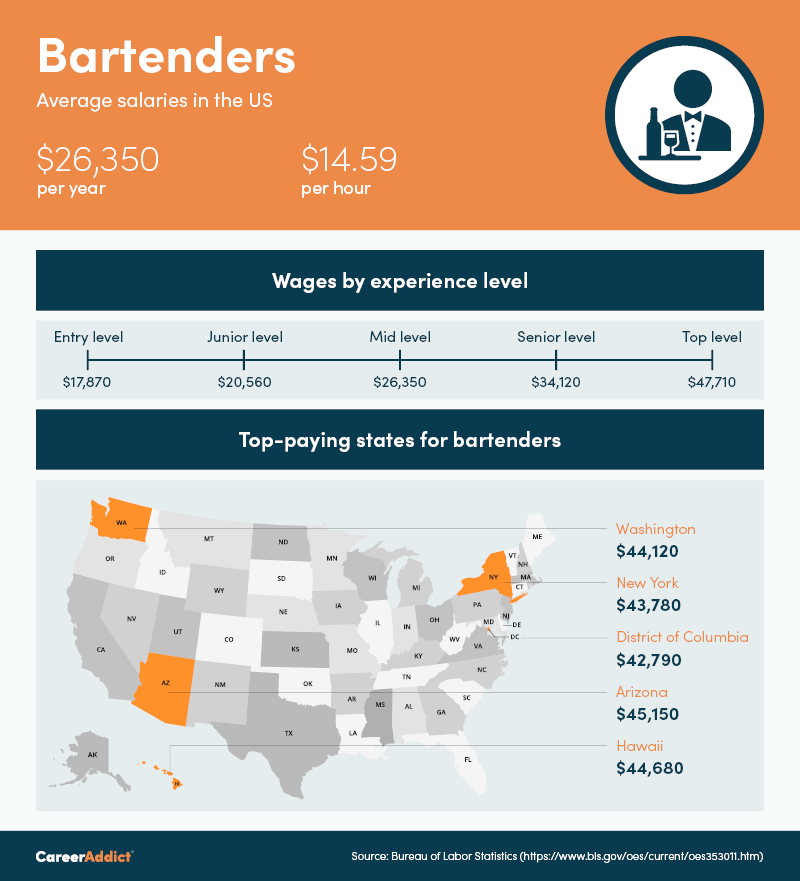 Essential skills and qualities
A bartender is a customer-facing role that requires a handful of interpersonal and transferable skills to perform well on the job.
Let's take a closer look at the skills you need to succeed as a bartender:
Customer service and hospitality awareness
Beverage-making knowledge
Ability to remain calm in stressful situations
Empathy and emotional intelligence
Assertiveness and confidence to deal with difficult people and situations
Computer literacy
Good organization skills
Steps to become a bartender
If you're convinced that becoming a bartender is right for you, then here are the next steps that you need to follow to secure the position!
Step 1: Determine if it's the right job for you
One of the most important aspects of any career path is determining if the role is right for you. Your personality, soft and hard skills as well as your values are all important elements to consider. As a rule of thumb, those who are outgoing, love working with people, and enjoy being on their feet all day among a busy environment would be a good fit for the job.
If you are still not sure, then consider taking a personality test to understand which careers fit you best. Our own scientifically-backed testing platform, CareerHunter, consists of six assessments and, after completing all of them, you will receive a complete report with careers tailored for you as well as course recommendations to help you get started.
Step 2: Identify the advantages and disadvantages of working at a bar
If you're considering becoming a bartender there are some advantages and disadvantages. We've listed them below so you can easily compare:
Pros:
No two days are the same
You get to meet different people from different walks of life
You can make new connections
You get to test different recipes
It's a suitable role if you like nightlife
You have decent job security
No formal education is required
You won't have a student loan to pay off
Cons:
Low salary
You may have to handle difficult situations
It's a difficult role if you have children
It involves weekend work
It's physically demanding
It may ruin your natural sleeping pattern
It's not often a long-term career plan
It can be difficult to maintain relationships outside of work
Step 3: Work as an intern in a bar
If you're still in lower education, you can work as an intern in a bar to gain some experience. While you won't be able to handle alcoholic beverages, you will gain the understanding of how a restaurant or bar operates. It will put you in a better position to gain a full-time role with a higher salary.
Step 4: Get a part-time job over the weekends
To test the waters and see if it's a long-term role, get a job in a bar over the weekends. You will gain enough experience to see if it's a job that you want to commit to. If you enjoy it, you can go on to take a bartender course and work in fancier bars or restaurant that also offer a higher salary.
Step 5: Make a good impression
Being a bartender may seem straightforward, but you need the personality to match. If you're great at your job, you're likely to get repeat customers that will come to the bar to have a conversation with you. Bartenders often become agony aunts to regulars, so it's important to always put on a good front and make a good impression, regardless of your mood that day.
Step 6: Move to a managerial position
Once you have enough experience under your belt, you can move to a managerial role. Within this position, you will have to oversee profits (and loss), stock levels, create rotas and deal with any other issues that arise. As a manager, you will also have more control over your own working hours and can tend to stick to a weekday schedule, unless any emergencies arise over the weekend.
Step 7: Open your own bar
If you have a good understanding of the hospitality business and the funds to back your passion, you can open your own bar and make a mark within this field. If you don't have the savings, consider obtaining a business loan to open your bar and invest in marketing.
Step 8: Build an online audience
In today's social media-driven world, it's easy to make an influence with an impressive online profile. Take images and videos of yourself at work, making cocktails and on the job. If your posts go viral, you will be able to drive traffic to your bar.
Final thoughts
Working as a bartender is not often considered as a long-term career goal, but there's nothing to say that it couldn't be. With plenty of experience beneath your belt, you can move into other areas in the hospitality industry — whether it's managing a bar or restaurant, or even a chain of them, you can make a lucrative career out of it.
Are you considering becoming a bartender? Let us know your pros and cons by leaving a comment in the section below.