Being in front of the camera presenting an entire show is a dream job for many people — who wouldn't want to be glammed up and on prime-time TV?
But with the fame and fortune come many other responsibilities and downsides — you're no longer able to live a private life and you're constantly criticized for everything that you do. That said, the pros often outweigh the cons.
So, if you want to learn what a TV presenter actually does, what it takes to become one and how you can maintain a successful career, stick around! We've put together an in-depth guide covering all aspects of becoming a TV presenter so you can decide whether this really is the right career for you.
What TV presenters do
TV presenters act as the public face of a television program. They're responsible for introducing guests, welcoming the audience and holding the entire show together. A good TV presenter can make a show far more exciting to watch, while bad presentation skills can often ruin the entertainment on a show.
Although the day-to-day duties of a TV presenter vary according to the particular show (including it's a live or prerecorded broadcast), here's what to expect:
Meet with the production team to discuss the order of the show, and organize schedules, meetings and interviews
Run through scripts and prepare interview questions for guests
Rehearse shows and presenting (which may involve reading from scripts or teleprompters)
Interview guests with tact and make them feel welcome
Fact-check the details of a story that you'll be reporting on
Liaise with the technical and production team while on the air
What the job is like
Being a TV presenter offers a very exciting lifestyle, especially if you work for a popular television show or network — plus, you have the opportunity to touch and influence thousands of people.
You can spend your days among celebrities or other influential people in the public eye. That said, it's not an easy career, and it demands long hours, lots of dedication and plenty of attention to detail.
If you want to really make your name for yourself in television, you'll need to keep grafting until you reach the level that you want to be at. This also means that you need to maintain a likeable presence, both online and offline.
Within this section, we'll discuss the typical work environment, hours and job satisfaction of TV presenters.
Work environment
TV presenters typically work in a television studio where their show is being recorded. Most of the working day is spent backstage preparing for the show. This could be in meeting rooms with the production team, as well as in the dressing room getting ready for the show.
Once you're on air, you'll be working on stage or wherever the show is being hosted. That said, your workday could be outside of a studio, in the outdoors, depending on the project you're working on. Meanwhile, you may also be expected to travel frequently depending on where you live and where the show is located.
In addition to having a flexible schedule, you need to be good at networking and socializing. You must build connections with everyone that you meet and ensure you're always pleasant; otherwise, you could end up on the front page of a tabloid for negative reasons, which can affect your career and job prospects.
Work hours
TV presenters typically work 45 hours a week. However, these hours won't be a typical 9–5 job; depending on the type of show that you're working on, you may be expected to work early in the morning or late at night.
For example, TV presenters working on a morning program could be expected to arrive to work around 5am. In addition, they may spend a significant amount of time traveling to and from work or other shooting locations.
Occupational hazards
Depending on where you work, you could be faced with a number of occupational hazards. For example, TV presenters sometimes present shows from dangerous locations that can put their life at risk.
While many shows have health and safety risks and checks, things can still go wrong on air. For example, if you're presenting a talent show with dangerous acts, you may also be placed in danger. That said, there will normally be a team on standby that will be able to act swiftly in the case of an emergency.
Job satisfaction
For many TV presenters, succeeding in such a role is a dream come true — especially if they land a gig on a well-known television show. They get to work with famous piers, interview celebrities and become an inspiration to the nation.
That said, there are some drawbacks that come with the role, including the working hours and the constant need to maintain public appearances. Like celebrities, you don't have much of a private life when you make it in the industry; fans and followers want to know many details on your life, which can often make some TV presenters depressed.
However, TV presenters generally rate their job satisfaction highly.
Job market
Announcer and disc jockey jobs (which include TV presenters) are projected to decline by 11.4% between 2021 to 2031, according to the Bureau of Labor Statistics. That said, an estimated 3,500 openings are expected each year over the decade.
Since there are already plenty of well-established TV presenters on daytime television, it can be hard to secure one of these gigs, but it's not impossible. With the right determination, skills and work ethic, you can break into the scene — especially if you have a good social media presence where channels can see that you're popular and liked by the general public.
Salary
The wage scale for a TV presenter can be extremely broad depending, with a median annual wage of $56,110 (about $26.97 an hour), according to the BLS.
Salaries vary depending on a wide variety of factors, including employer and level of experience. For example, TV presenters generally start on $22,860 a year, while top-earners make an average $103,090.
Location also matters, with TV presenters in the state of New York generally being the highest-paid across the US, earning a yearly average salary of $108,420. They are followed by presenters in the District of Columbia ($102,460), Rhode Island ($96,470), Utah ($79,450) and Colorado ($78,710).
Here's a quick rundown of TV presenter salaries across the UK: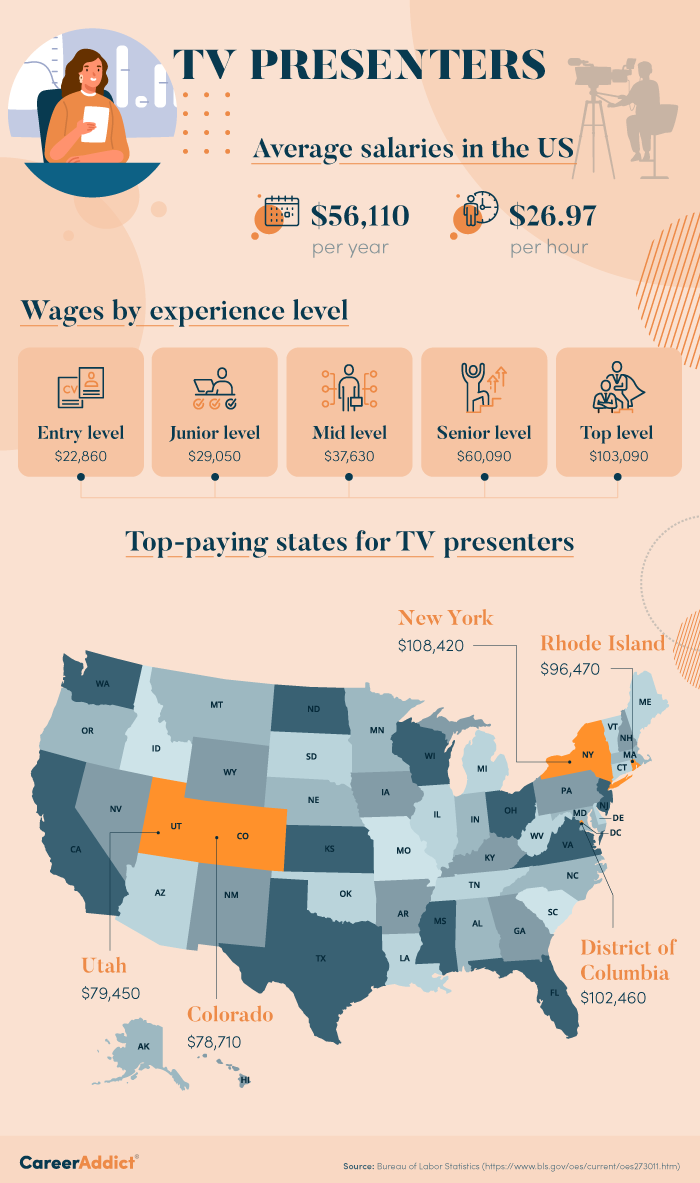 Essential skills and qualities
Being a TV presenter requires a unique set of professional skills and personal attributes. Besides a confident personality, you need a handful of transferable skills to ensure that you succeed in the industry, including:
Presentation and interviewing skills
An ability to work well under pressure
Steps to become a TV presenter
If you've come this far and have the skills and determination to become a TV presenter, then keep reading to discover the steps you'll need to take to successfully enter the field.
Step 1: Determine if it's the right job for you
One of the most important aspects of following any career is determining if it's the right one for you. Along with an unwavering passion and interest, you must have the personality and skills required for the position. Generally speaking, those who are confident, have a likeable personality and are extroverted make for good candidates.
That said, if you're still unsure whether you're a good match, then consider taking a career test to understand which careers best match your personality, interests, motivations and aptitudes. Our own science-backed testing platform, CareerHunter, consists of six assessments and, after completing all of them, you'll receive a detailed report of your results, along with accurate career matches, plus course recommendations to help you get started.
Step 2: Get the qualifications
If you want to become an established TV presenter, you're going to need the right training. You can obtain this from a bachelor's degree in media production, broadcast journalism or communications. A good education will give you the knowledge and skills you need for a job in the entertainment industry. Besides learning the basics, you'll usually be required to gain hands-on experience during your course via an internship, which will give you practical skills and great contacts for the future.
Step 3: Gain experience
Besides working an internship, your university will normally have a local station that you can work in. This will allow you to create and produce your own show, which you can later add to your portfolio. Working on a university project like this is a great way to familiarize yourself with the production process, gain on-camera experience and network with other people in your field.
Step 4: Produce your own showreel
Once you've finished your studies, produce a showreel that displays your on-air skills, experience and personality. Think of this as your video résumé which displays all the different projects that you've worked on. Use this along with a written résumé when you're applying for new roles.
Step 5: Create an online presence
Having a good online presence is essential when it comes to working in the entertainment industry. Besides having an active Instagram profile, it's a good idea to also have a YouTube channel where you produce and post regular series. This will show your creative side, as well as your camera and presentation skills. Furthermore, it's another type of portfolio that shows what you can offer when applying for roles.
If your channel grows in popularity, you'll also start to make a living off your hard work in ad money, sponsorships and other deals.
Step 6: Focus on a specific niche
When embarking on your broadcasting journey, it's important to focus on a specific niche, whether it's a certain industry or subject. If you look at Oprah Winfrey, she was so successful as a chat show host as she honed in her interviewing technique and was relatable to her guests and audience. So, think of a subject that you're passionate about and that you'd like to focus on, and grow your skills and knowledge within this field.
Step 7: Network
While you can look for roles the traditional way (through job boards, LinkedIn and other online methods), it's important to network to discover other roles. Oftentimes, a lot of roles aren't advertised in publishing and are rather filled via word of mouth. So, network with your industry contacts and inquire about potential openings to increase your chances of securing a job.
That said, you could also use your university alumni, and contacts that you made during internships and work experience programs to hear of new positions also. Maintain your relationships and be willing to help others, as you never know when you will also need help.
Final thoughts
Being a TV presenter sounds like a glamorous career, but it's one that entails plenty of hard work and dedication. You'll also need to sacrifice your personal life to achieve success — something that not many people are willing to do as they start out in their career. So, if you're sure that it's the path that you want to take, then follow this guide and focus becoming the next Oprah Winfrey!
Do you want to become a TV presenter? Let us know if you have any questions by leaving a comment in the section below.