Year by year, the world becomes more educated than before. This is fantastic news, as education offers a range of benefits to individuals and societies alike, including reduced crime rate and improved life expectancy.
However, as more and more students enroll in higher education, competition levels among applicants have been propelled to new heights. For some universities in particular, acceptance rates are so low that entrance requirements are stricter than ever before — as if applying to university wasn't stressful enough already!
In this article, we have listed the world's top 10 hardest universities to get into. If you're a goal-oriented, ambitious student, what follows might sound like an exciting challenge to you!
10. National Autonomous University of Mexico

Adobe Stock
Location: Mexico City, Mexico
Acceptance rate: 8%
First established in 1551 and reopened in 1910, the National Autonomous University of Mexico is a public research university that consistently ranks among the best in South America. It's also the largest university on the continent, with the number of enrolled students nearing 258,000 in 2021.
Part of its campus, completed in the '50s and known as Ciudad Universitaria, is considered a true icon of modernity in Latin America. Thus, it was declared a UNESCO World Heritage Site!
The university offers an extensive range of courses, from natural sciences and mathematics to architecture and linguistics. If applying here sounds of interest, you better brush up on your vocabulario, as the courses are taught primarily in Spanish.
9. HEC Paris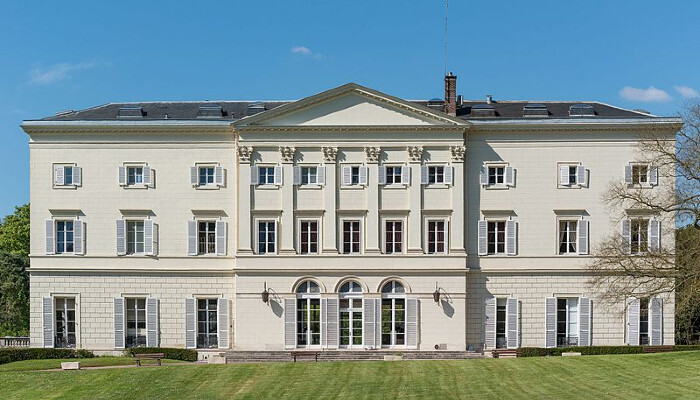 DXR via Wikimedia Commons
Location: Paris, France
Acceptance rate: 8%
Founded by the Paris Chamber of Commerce and Industry in 1881, HEC Paris is a highly selective and prestigious grande école on the outskirts of Versailles. How prestigious, you may ask? Let's say it ranked first in the Financial Times' European Business School Rankings in 2019.
It's common for high school students who wish to attend grandes écoles, which compare to Ivy League schools in the US, to enroll in intensive, two- to three-year preparatory courses to prepare for the stringent entrance exams.
Once candidates successfully complete the five-week application process, which includes not one interview, but two, HEC Paris offers a range of graduate programs, such as master's degrees in economics, finance, and management.
8. Hyogo College of Medicine
Location: Nishinomiya, Japan
Acceptance rate: 7%
Hyogo College of Medicine is a private university located in the city of Nishinomiya, between Osaka and Kobe, which is referred to as "the city for living, culture, and education."
Hyogo is committed not only to education, but to medical research and advancement. Its founder, Shigeki Morimura, characterized by a deep love for humans, was an advocate for social welfare and motivated to achieve a wide scientific understanding of human beings.
In April 2022, fifty years after its establishment, the school added three new faculties additional to its medicine school, namely the pharmaceutical sciences, nursing, and rehabilitation faculties.
7. Columbia University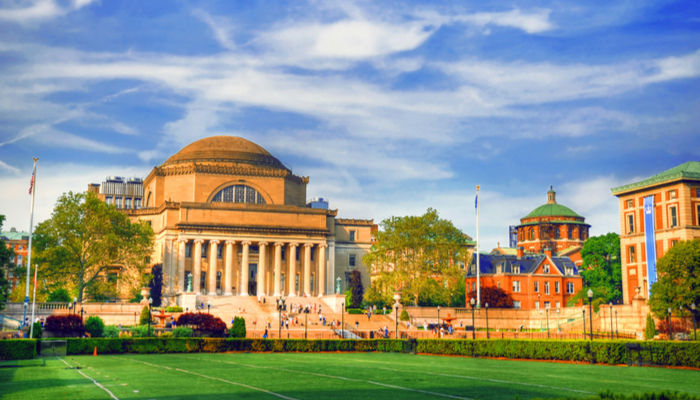 Shutterstock
Location: New York City, NY, United States
Acceptance rate: 7%
A private Ivy League university with a winding history, Columbia is the fifth oldest higher learning institution in the US. Established on the grounds of Trinity Church in 1754 under George II of Great Britain, it is one of the nine colonial universities of the US.
Columbia gives students a choice of over 100 majors and concentrations and boasts one of the most diverse undergraduate communities in the country.
If this sounds like your dream university, you're up for some competition. The school received a jaw-dropping 60,551 applications for its Class of 2026 alone.
6. University College London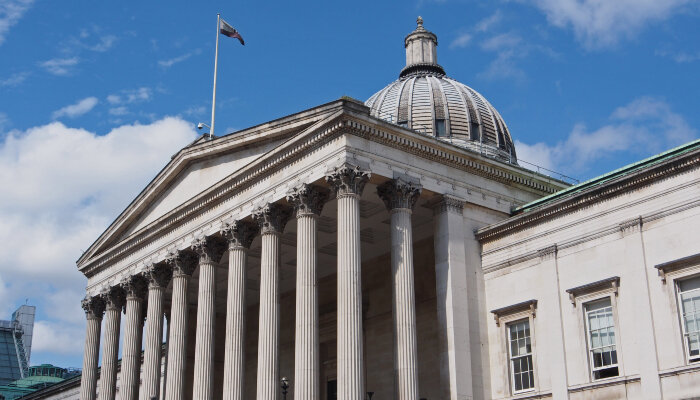 Adobe Stock
Location: London, England
Acceptance rate: 7%
Founded in 1826, UCL was the first university in England to welcome women to university education. It was also the first to admit students of any religion. Almost 200 years from its establishment, this multidisciplinary university now has 11 faculties and over 13,000 staff members, while student numbers exceed 42,000.
Ranked eighth in the world for the second year in a row, it's no wonder that students from every corner of the globe compete for a place at UCL. To sift through the tens of thousands of applications, the university can require a score of 5 in four distinctive AP subjects in some cases, plus a combined score of 1440 in the SAT Reasoning test.
5. Princeton University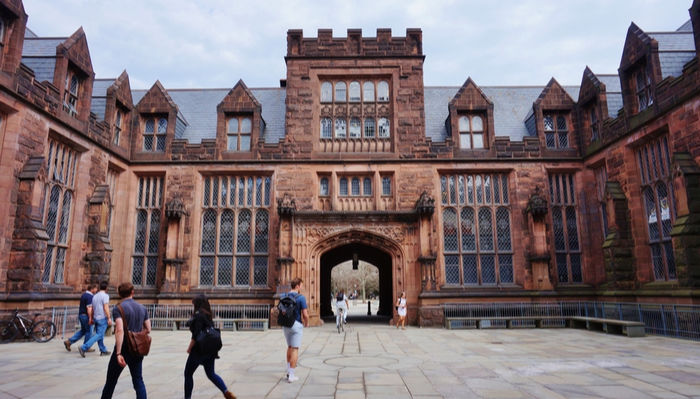 Shutterstock
Location: Princeton, NJ, United States
Acceptance rate: 7%
This world-renowned Ivy League university has its origins in Colonial America. Founded in 1746 in New Jersey, Princeton sits on 500 acres of land and has a fairly small student body, consisting of under 10,000 students. The campus is considered one of the prettiest in the country, with Collegiate Gothic buildings, woodlands, and a beautiful 100-hectare lake.
Notable alumni include Amazon CEO Jeff Bezos, former first lady Michelle Obama, and former presidents James Madison and Woodrow Wilson. If you want in, you must aim for a 3.9 GPA and a 1510 or above SAT score. Good luck!
4. Stanford University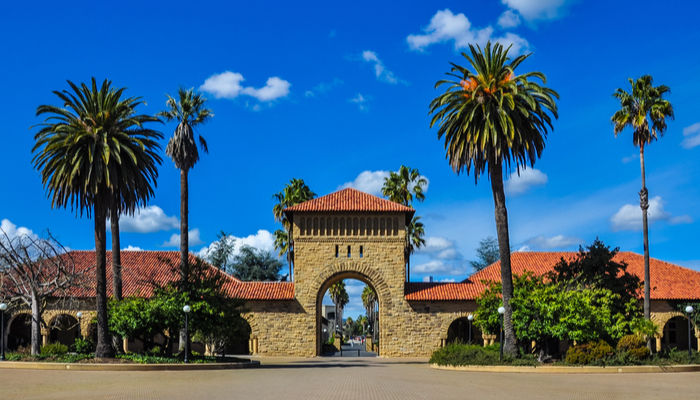 Shutterstock
Location: Stanford, CA, United States
Acceptance rate: 5%
One of the country's greatest institutions of higher education, Stanford was founded in 1885 by Leland and Jane Stanford, in memory of their only child, Leland Jr.
This private research university has one of the biggest campuses in the US, occupying nearly 8,200 acres. Its current body of 17,000 students is made up of students from all 50 states and 70 countries.
Widely considered one of the top universities in the world, it's no surprise that Stanford's acceptance rate is low, at only 5%. With up to 50,000 applicants a year, admissions officers need to be particularly picky.
3. Harvard University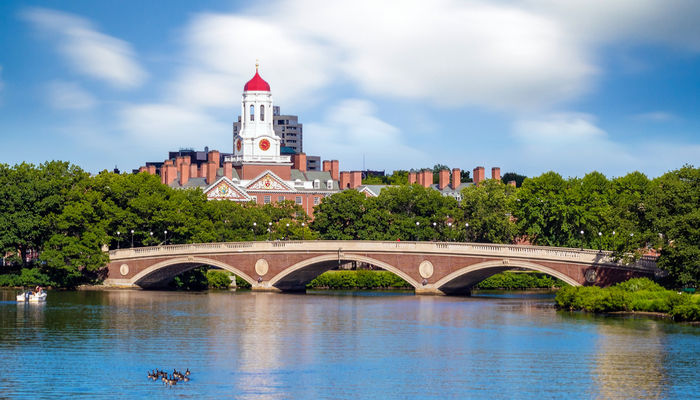 Shutterstock
Location: Cambridge, MA, United States
Acceptance rate: 5%
We've all heard of Harvard, but how many of us know its history? To see how and when it began, let's step back in time to 1636. With thousands of English Puritans migrating to New England, Harvard College was founded to cover the need for training clergy.
A few centuries later, Harvard University is widely considered the best of the best among higher education institutions around the world. In 2022, applicant numbers skyrocketed to over 61,000. This has meant that successful candidates need to be at their most competitive, as they will now need a GPA of at least 4.18 and a SAT score of 1580 or more to earn a seat in one of Harvard's halls.
2. UNICAMP/State University of Campinas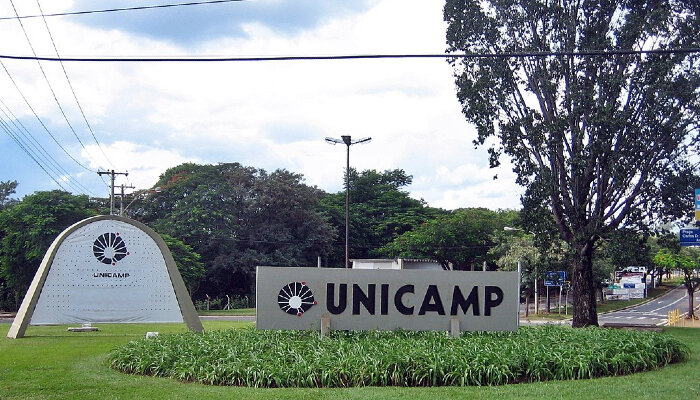 Priscila Micaroni Lalli via Wikimedia Commons
Location: Campinas, Brazil
Acceptance rate: 4%
Commonly referred to as UNICAMP, the State University of Campinas is a public research university in cosmopolitan São Paulo. Founded in 1964, it is now one of the top three universities in Latin America, plus the largest patent producer in Brazil.
UNICAMP offers 66 undergraduate courses and a staggering 153 graduate programs across its four campuses. Its student body is vast, with the estimated student population somewhere between 30,000 and 40,000.
You must look no further than its green campus, high-quality education, and close proximity to gorgeous Brazilian beaches to understand why thousands of students flock here every year.
1. Hanyang University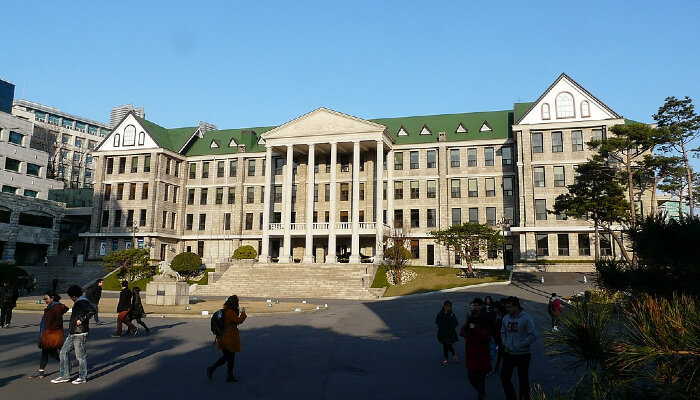 Piotrus via Wikimedia Commons
Location: Seoul, South Korea
Acceptance rate: 3%
Established in 1939, Hanyang was the first university in South Korea to offer courses in engineering and architecture. Today, it maintains high research productivity in a variety of fields, including medicine, the natural sciences, and environmental resources.
Over the years, Hanyang alumni have consistently gone on to become top executives for Korea's largest companies, including Samsung, Hyundai, and LG. It's no wonder, then, that Hanyang has been named among the world's most innovative universities by Reuters, nor that its acceptance rate sits at a strict 3%.
Final thoughts
If you're considering your options for university, we hope this article has been eye-opening for you. For the more anxious students out there, it was possibly eye-watering, too!
Of course, when choosing the right university, you will be looking at a lot more than acceptance rates. The location, number of students, cost of living in the area, and extracurriculars are all important factors to consider. Think about your preferences and priorities carefully and take as much time as you need in making this big decision.
Are you thinking about attending any of these universities? Let us know in the comments section below.
Originally published May 14, 2017.