Applying for university is a nerve-wracking process. From the initial pressures of studying and meeting exam grades to the potential minefield that is choosing the right school, it can be a truly daunting experience. Spare a thought, then, for those who are applying to one of these prestigious educational institutions!
Based on the acceptance rates figures and class profiles of the universities themselves, we've compiled a list of the 10 hardest schools to get into across the globe. So, if you're planning to submit an undergraduate application to one of these universities, prepare yourself – things may be about to get tricky!
8. Brown University (tie)

Shutterstock
2019/20 acceptance rate: 6.6%
2018/19 acceptance rate: 7.2%
As a private Ivy League institution, Brown is always going to be a tough cookie for prospective undergraduates to crack and, as of 2019, things don't look like getting any easier. In fact, the bar has been set even higher, with the Rhode Island-based school reporting record numbers of applications for the 2019/20 academic year.
Your grades had better be good, too; of the 2,500 students who were offered a place, a staggering 94% were in the top 10% of their high school cohorts, giving you a very clear idea of the kind of competition you'll be up against.
8. Massachusetts Institute of Technology (tie)

Songquan Deng / Shutterstock.com
2019/20 acceptance rate: 6.6%
2018/19 acceptance rate: 6.7%
Regularly ranked as one of the most innovative universities in the world, it's little surprise that MIT is so difficult to get into. It's also no shock that, at an institution renowned for its contributions to STEM, successful applicants require a high score on their mathematics SAT.
It's not just about grades, though; according to its official website, MIT wants undergraduates who are creative, willing to take risks and are driven to make positive changes in the world.
8. California Institute of Technology (tie)

Shutterstock
2019/20 acceptance rate: Unreleased
2018/19 acceptance rate: 6.6%
Not to be outdone by its great cross-country rival, CalTech (as it is more commonly known) is also notoriously difficult to get into, even if the Pasadena-based college has not released its admission statistics for 2019/20.
Judging by the acceptance rates for the classes of 2022 and 2021 (6.6% and 8% respectively), though, you'll still have a fight on your hands; the average SAT score of accepted students last year was 1545, with just over 200 students making the highly exclusive cut.
7. Vanderbilt University

Shutterstock
2019/20 acceptance rate: 6.3%
2018/19 acceptance rate: 7.3%
A private research university located in Nashville, Tennessee, Vanderbilt is perhaps best known for its libraries, research institutions and athletic programmes, contributing numerous notable draft picks to the NFL, NBA and MLB in recent decades.
It is also one of the most difficult schools to get into, with 95% of this year's successful candidates having finished high school in the top 10% of their class.
5. Yale University (tie)

Albert Pego / Shutterstock.com
2019/20 acceptance rate: 5.9%
2018/19 acceptance rate: 6.3%
If you've got any aspirations of a serious career in politics, then Yale is the place for you; among its alumni are five US presidents, numerous diplomats and hundreds of congressmen and women, while the school's secretive Skull & Bones society has long been associated with access to the corridors of power.
Simply getting into Yale is an achievement, with over 36,000 applicants fighting for around 1,500 places this year, although the opening of two new residential colleges – Pauli Murray and Benjamin Franklin – has helped to widen the net.
5. University of Chicago (tie)

Shutterstock
2019/20 acceptance rate: 5.9%
2018/19 acceptance rate: 7.2%
A private research university with a strong profile in medicine, business and law, Chicago accepted around 2,065 of its circa 35,000 applicants in 2019, a record low for the university. Extra-curricular activities were a big draw for the selection board, with community service, varsity athletics and music the most popular activities for successful candidates.
98 Nobel Prize winners have been associated with Chicago, as well as numerous Rhodes and Marshall Scholars, while 34 faculty members and 18 alumni have been awarded the MacArthur "Genius Grant", meaning that you'll be among impressive company if you are good enough to get in.
4. Princeton University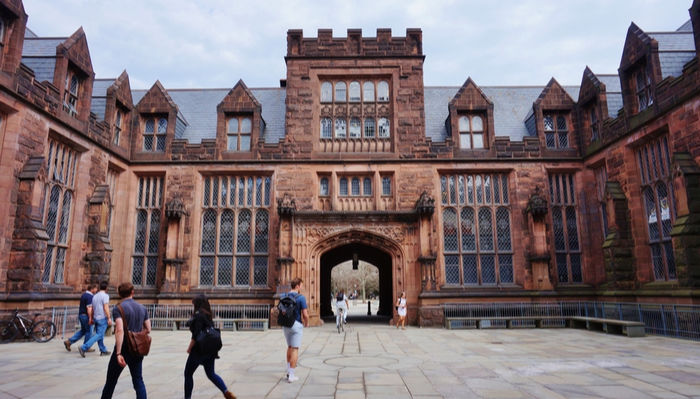 Shutterstock
2019/20 acceptance rate: 5.8%
2018/19 acceptance rate: 5.5%
Despite its lofty position on this list, Princeton has actually increased its admission rate this year, although this is mainly down to a reduction in applications; it received 32,800 this year, compared to over 35,000 in 2018.
Nevertheless, receiving an offer from Princeton is still an achievement, given the school's standing as an elite private Ivy League college. A new residential facility, Perelman College, is being planned for 2022, meanwhile, meaning that the school may open its doors even wider.
3. Columbia University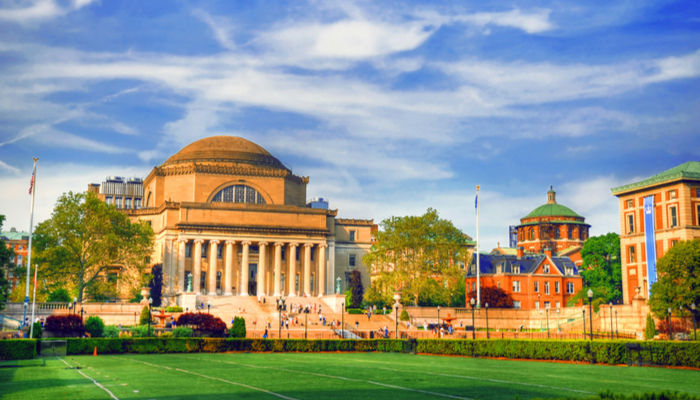 Shutterstock
2019/20 acceptance rate: 5.1%
2018/19 acceptance rate: 5.5%
Given its prime location at the heart of New York City, it's not surprising that Columbia is such a sought-after destination for students; 42,500 prospective undergrads gave it a shot this year, with just 2,200 making the cut.
There is criticism, too, that Columbia – an Ivy League school – is still too elite; according to the Columbia Spectator, the average family income of students there is over $150,000, suggesting that your postcode and your background is just as much an admission barrier as academic and personal ability.
2. Harvard University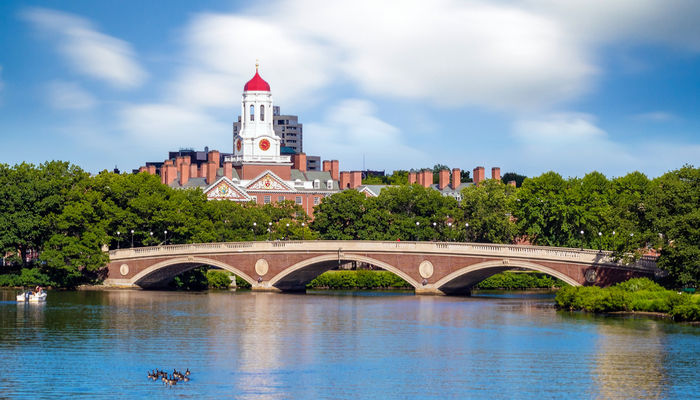 Shutterstock
2019/20 acceptance rate: 4.5%
2018/19 acceptance rate: 4.7%
As one of the most prestigious institutions in the world, and the oldest university in the US, Harvard is in many ways one of the ultimate pinnacles of higher education; to get accepted there, applicants have to pull something truly special out of the bag.
Chosen from a pool of over 43,000, nearly 2,000 students did just that this year, joining a university that has produced some of the most influential and important people in history, although flunking out isn't the end of the world, either; Bill Gates, Mark Zuckerberg and Ruth Bader Ginsburg are all Harvard dropouts.
1. Stanford University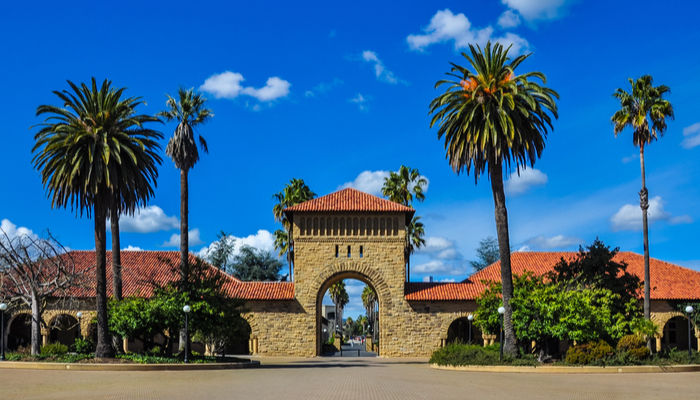 Shutterstock
2019/20 acceptance rate: Unreleased
2018/19 acceptance rate: 4.4%
Top of the pile for the second year running, however, is Stanford; as well as being regularly ranked as the best university in the world, the Palo Alto-based school is also the most exclusive.
Not that it wants to be seen that way. Stanford Provost Persis S. Drell announced last year that the school would no longer be releasing any admissions data, due in large part to its fear that it would dissuade people from applying.
'By focusing on the admit rate,' she wrote in a recent press release, 'talented students who would thrive at Stanford may opt not to apply because they think Stanford seems out of reach. And that would be a shame'.
Despite this sentiment, it's still undeniable that admission rates at Stanford are notoriously low, with acceptance figures of 4.7% and 5.3% in 2017 and 2018 respectively. Given the school's standing, it's unlikely that these figures are set to rise any time soon, either, making it the toughest school to get into in the world – whether they want you to know it or not.
Are you currently trying to get into one of these universities? Let us know your experiences in the comments below!