As any student will tell you, one of the most frustrating aspects of university life is turning up on your first day of the course only to receive a lengthy — and very expensive — list of 'required' textbooks that you need to purchase. Yet many students are unaware that, actually, you don't necessarily have to go for the most expensive option; in fact, not only are there many ways to get your hands on alternative textbooks, but they are totally free, too.
Many non-profits have been created to provide students with open educational resources (known as OERs); their goal is simply to expand affordable learning materials to as many people as possible throughout the world.
To point you in their direction, we've compiled a list of organizations who offer good-quality higher education textbooks at no cost, saving you hundreds — and potentially even thousands — of dollars in the process.
So, if you're ready to save some money on your education and start studying smarter, then here are some top websites that offer free college textbooks.
1. Bookboon

Bookboon
Bookboon provides a wide selection of free textbooks for college students, with many different subjects on offer. In particular, it is a great source for college students pursuing STEM fields, as well as business. What really sets this organization apart from its counterparts, though, is that it also offers a wide range of textbooks related to career development, including interview skills, internship advice, writing skills and even how to manage stress at work. They also provide entrepreneurial resources tailored to achieving business success.
It's easy to use, as well, with users only having to fill out a short form to download any textbook — one of the many reasons why Bookboon has thrived since its inception in 2005.
2. OpenStax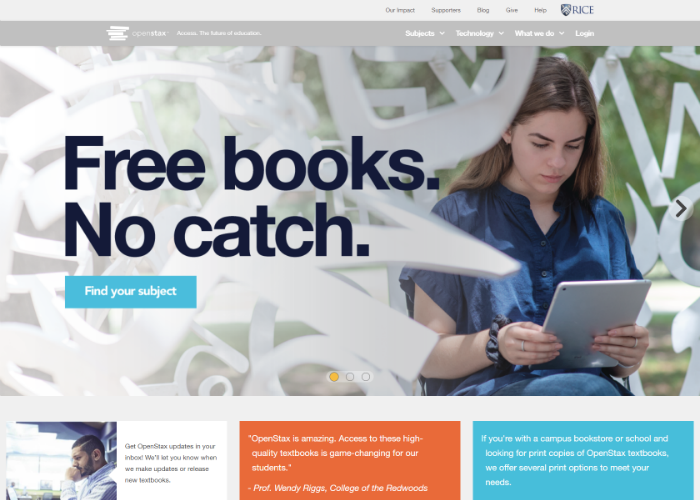 OpenStax
If you've heard of OpenStax before, it may be because it is the platform through which Bill Gates has donated textbooks; it is also the go-to place for college students who are just starting on their educational journey. The organization was founded by Rice University in 2011 and receives support through partnerships with numerous philanthropic organizations such as the Bill & Melinda Gates Foundation. In terms of relevance, OpenStax's textbooks are peer-reviewed by actual educators, ensuring alignment with most general course curriculums.
The textbook collection includes subjects such as physics, biology, sociology, pre-calculus, history and more, and is available in multiple formats (including PDF and EPUB).
3. Open Textbook Library

Open Textbook Library
The Open Textbook Library is keenly aware of the financial impact buying textbooks can have, even going so far as to suggest that it can contribute to students flunking courses and deciding to drop out. Luckily, its vast and ever-growing catalogue of free, open-sourced, peer-reviewed textbooks might be able to help.
Based in Minnesota, US, the Open Textbook Library caters to all major subjects and even has a section of self-help and study success texts designed specifically for students. Each of the books also has a handy rating system, as provided by other users, allowing you to narrow down which textbook is best for you.
4. Saylor Academy

Saylor Academy
Having officially begun its open education journey in 2008, Saylor Academy boasts an awesome repository of free and easily accessible textbooks. It covers a large variety of subjects, so you are bound to find something to assist you in your studies, while there are also supplemental categories for less traditional fields, such as online marketing, social media and public speaking.
Saylor Academy encourages users to pay it forward and share its collection of textbooks with others, while if you want to give feedback on the textbooks on offer, you can take a short survey and offer your suggestions. Most textbooks, meanwhile, are available in PDF, EPUB and Microsoft Word formats.
5. IntechOpen

IntechOpen
Not to be confused with the doomed Initech corporation of Office Space fame, IntechOpen is actually one of the world's largest publishers of free textbooks, and has been operating since 2004. As the name suggests, there is a wealth of textbook options and journals for computer science, robotics and other STEM subjects, with a collection of over 2,000 published textbooks. They even have an assortment of peer-reviewed journals to choose from.
According to the site itself, IntechOpen has provided over 60 million downloads to users from across the globe, proving that it is one of the most credible and well-used providers on the market.
6. Lyryx

Lyryx
Aligning itself with UNSECO's global educational development and social responsibility framework, Lyryx offers accessible educational material, such as open textbooks and supplements. Primarily, they focus on subjects such as business, economics, mathematics and statistics.
Along with their open textbooks, Lyryx has also created an educational software which offers formative online homework and summative examinations that will allow you to practice your skills and sharpen your knowledge on each subject.
7. Online Mathematics Textbooks

Online Mathematics Textbooks
As the name suggests, this site might not be of any use if you're a history major, but if you're studying mathematics — or, indeed, any STEM field such as engineering, chemistry or computer science — then you might find Online Mathematics Textbooks very helpful.
With a very basic HTML design, it might not look like much, but the proof is in the pudding. There are 77 publications listed on the site, ranging from introductory pre-calculus texts to abstract and complex works. If your course involves numbers, or if you want to get to grips with certain concepts in your own time, then Online Mathematics Textbooks should have you covered.
8. Project Gutenberg

Project Gutenberg
To the potential dismay of Police Academy fans, Project Gutenberg isn't, as the name may suggest, a shrine to Hollywood actor Steve Gutenberg, but rather a wide-ranging and comprehensive library of free, readily downloadable educational texts.
The site doesn't just specifically list textbooks, either. There are numerous original publications (dating back, in some cases, thousands of years), making it the perfect resource for humanities and arts students. Texts are available in a number of languages, too, while there are also audiobooks, data compilations and even sheet music. The layout might be a little unfriendly, but in terms of content, Project Gutenberg is one of the best textbook providers out there.
9. Wikibooks

Wikibooks
Like its sister site Wikipedia, Wikibooks is a hugely useful application, taking knowledge and experience from around the globe and repurposing it into one easy-to-swallow repository. Like Wikipedia, however, this open source approach is also its academic kryptonite: as anyone can edit the text, it doesn't carry any scholarly authority.
That said, Wikibooks is a great starting point for getting your head around certain concepts or topics, particularly within the STEM fields and social sciences, while the language learning resources are extremely useful. All in all, this is a great tool for developing your own understanding of certain academic fields, although you might want to head to your school library if you're planning on citing anything.
10. The Assayer

The Assayer
First established in 2000, The Assayer has a vast catalog of free books that were made available by their authors. While you might not find the most recent subject material on this database, you will be able to access a variety of relevant titles.
You also have the option to become a member on this site, which will allow you to post your own reviews on available material and engage in discussions with other members on the platform.
11. Internet Archive Open Library

Open Library
As part of The Internet Archive site, Open Library has millions of selected digitalized books and texts on offer which you can borrow for your studies. Essentially, how this works is that a book can be checked out one patron at a time from anywhere in the world. You may check out 10 books at a time, which they will be available either for one hour of browsing or 14 days if the books are fully borrowable. You can also choose between three different formats to access your book: BookReader, PDF and ePub. However, audio form may also be available.
You can also create your own reading log for books you are interested in reading, have already read or are currently borrowing, as well as personalized lists based on topics, subjects, authors, genres, and so on.
12. Freeditorial

Freeditorial
As an online publishing house, Freeditorial makes it possible to download books for free in a mission to promote literature and make texts accessible to all readers. Here, you will be able to find anything from classical literature to history and biography to academic essays.
Freeditorial also makes it possible for writers to upload and self-publish their own work, which other members of the community can access for free.
13. ManyBooks.net

Manybooks.net
ManyBooks.net has an extensive collection of free textbooks that can be downloaded as PDFs and eBooks in a wide array of languages. You can search available material by author, genre or keywords, and can download texts with ease. It's also worth mentioning that you can engage with other readers and authors through the ManyBooks Discuss section on the site.
14. ScholarWorks

ScholarWorks
Operated by the Grand Valley State University Libraries, ScholarWorks offers access to thousands of research papers, journals, open textbooks and other scholarly output selected and deposited by the university's departments and centers on campus. You can explore, access and download work from over 600 disciplines, such as behavioral sciences, history, legal studies, psychology, criminology and administration. Undoubtedly, this is a valuable resource for every college student, but it also serves as a tool for scholars and academics who would like to make their work more accessible worldwide.
15. OpenEd

OpenEd
Administered by BC Campus, OpenEd is an open textbook project that aims to make higher education more accessible for students by offering a catalog of openly licensed textbooks. Since then, OpenEd has curated material for the top 40 highest-enrolled subject areas in British Columbia, including accounting, biology, business, sociology, visual arts and media. The platform has also accumulated resources in the area of trades, technology and skills training. To browse the open textbook collection, you can search the site through specific keywords or select your subject of interest.
Final thoughts
At the time of writing, the websites on this list are all active and, in most cases, regularly updated; other providers exist as well, though, so it's worth exploring further if you can't find what you're looking for.
In an era where students have to monitor their budgets carefully, programmes such as these can make a real and viable financial difference, as well as provide wider general access to educational materials for non-college students. Hopefully, these resources will help you to complete your studies and, in the longer term, get you to where you want to be in your career.
What free college textbook providers would you recommend? Let us know in the comments section below!
This article is an updated version of an earlier article originally published on 27 March 2019 and contains contributions by Melina Theodorou.