Passenger Service Agents (PSAs) are a vital part of the aviation industry. They fulfill a variety of roles aimed at simplifying the travel experience for passengers, such as checking guests in, managing airport gates, handling luggage, or conducting security checks. The role requires a mix of deft customer service ability and assertiveness to ensure passengers are looked after while all airport protocols are met. The passenger service agent role is exciting and offers a varied working day and would be a great career option for those who love aviation or the travel industry.
If you are interested in becoming a public service agent, then read on to discover more about it, as well as how to get started in the role.
What passenger service agents do
PSAs have many different responsibilities, and while it's possible that some will be asked to cover many different areas and tasks, it's more common for them to be assigned a set area or location, and specific duties.
Passenger service agents work for airlines, airports, or ground handling companies. Airline PSAs will help passengers get checked in, and control movement passengers at the gate. Some airline PSAs might fulfill specific duties relating to the receiving and processing of business- or first-class passengers, such as hosting them in lounges or personally escorting them onto the airplane.
Ground handling and airport PSAs will provide other generic support in airports. This might be supporting trolleys or wheelchairs, directing passengers who are lost, manning information counters, supporting security teams, and driving passengers with mobility issues. Some might also be based in baggage reclaim, handling questions or concerns on behalf of the airlines.
Here are the six main responsibilities most PSAs need to undertake as part of their role:
Listening to and responding to passenger complaints and concerns, as well as routing these to the person(s) best-placed to help.
Coordinating with other airline staff, such as security, gate staff, flight crew, and emergency services.
Checking in passengers and supporting them with their luggage.
Managing gate movements, such as calling passengers who are late, organizing the boarding of the plane, calling gates, and scanning boarding passes or passports.
Assisting passengers who are lost or have a connecting flight to make and need to find another gate or terminal.
Keeping on top of any flight schedules, delays, and changes, and communicating these to passengers proactively.
What the job is like
It's common to think about PSAs being similar to many other customer service roles, and while there is some common ground, public service agents have a very different work environment, and this presents some unique challenges. This section takes you through what working as a PSA is like.
Work environment
PSAs work primarily at airports, but airline PSAs might also spend a lot of time at company training centers, which are usually located nearby airports. On-site, PSAs will work either in arrivals and departures ("landside") or on the apron, gates, and terminals ("airside"). Airside PSAs must have full security clearance.
The role will require some desk work but also plenty of time on foot, walking the spaces in the airport, assisting passengers, and moving between work locations. You will always be on show and will be expected to support passengers regardless of where you are usually based. Some PSAs will also need to board aircraft to meet passengers but will usually not be accompanying the aircraft in flight.
Work hours
PSAs can work very long hours. Although the job will be contracted as 40 hours per week, paid overtime opportunities are common, due to flight delays and busy periods. The role is entirely shift based and PSAs will be required to cover early shifts, late finishes, and weekends. There might also be overnight shift work required as well, although some companies will employ specific PSAs who only work nights. The working week might therefore be made up of longer working days and more days off to reach at least 40 hours a week, but expect a lot of variation in working patterns.
Occupational hazards
Working in airports is generally very safe, and PSAs are exposed to only a few risks and hazards at work. The main risk is stress and burnout. With PSAs needing to work long hours and be exposed to challenging and high-pressure situations, the potential to feel overworked is very real. Aside from this, PSAs need to move heavy suitcases and spend time airside, with exposure to loud airplane noises and moving machinery. Full training and personal protective equipment would be provided at all times.
Job satisfaction
There's no denying that being a PSA is a demanding role, but those who work in the job are generally very satisfied people. Workers report that the best elements of the job are around how fun and exciting it can be, with no two days being the same. Others really enjoy the team and socialization aspect of the role. Frustrations with the PSA job include long hours, below-average salary and benefits, and stressors, such as handling tough complaints and short-staffed teams. 
Job market
PSAs enjoy a stable but growing job market. The role was impacted severely during the COVID-19 pandemic as airlines began to scale back operations and make redundancies, however, since late 2021 the industry has experienced sustained growth, and this has accelerated the need for PSAs. Despite this growth, its speed has been tempered through the increased automation of airline-passenger interactions, such as virtual check-in and bag drops, as well as the rise of budget airlines reducing customer interactions. Overall, the US Bureau of Labor Statistics (BLS) expects the PSA job market to grow by 4%, (an extra 17,300 jobs from now until 2031) which is roughly the same as the average growth across all job roles in the country.
Salary
The BLS groups PSA salaries with other forms of customer service agents, such as counter clerks. The average salary for this role is $36,170 per year ($17.39 per hour), which is lower than the United States' national average salary of $58,260 ($28.01 per hour).
Annual wages for PSAs at the 10th percentile sit at $22,880 per year ($11.00 per hour), $28,660 ($13.78 per hour) at the 25th percentile, $31,330 ($15.06 per hour) at the median, $39,040 ($18.77 per hour) at the 75th percentile, and $50,830 ($24.44 per hour) at the 90th percentile.
The top-paying state for PSAs is Hawaii ($46,100 per year), followed by Arizona ($43,490), Colorado ($41,840), New Hampshire ($41,780) and Massachusetts ($41,770).
Here's a breakdown of the salary details for a passenger service agent: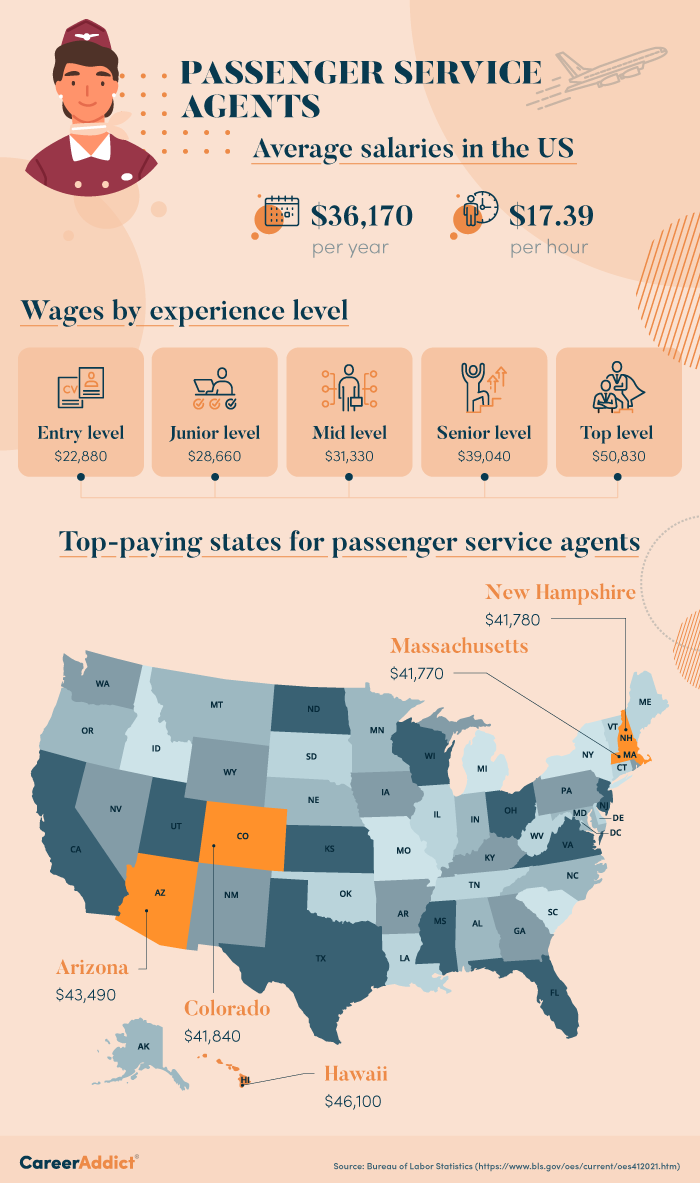 Essential skills and qualities
Like many roles in aviation, being a PSA is a challenging role due to its stressful and fast-paced environment and whereas this can be exciting and fun, it also requires you draw upon many different skills and attributes. Here are the top six skills you'll need to perform well as a PSA:
Customer service skills: PSAs need to be customer service experts! They have to remain calm and controlled when passengers become angry and irate. PSAs must also search for any way to disentangle situations and find ways of helping passengers while remaining compliant with airport or airline standards. This can be a tricky balancing act.
Communication skills: PSAs need to have exceptional verbal communication when speaking with passengers, either one-on-one or when communicating flight information using public address systems.
Organizational skills: PSAs operate in very busy and fast-paced environments, and therefore need to coordinate lots of information, deadlines, and requests. Keeping all of this under control and responding to things in a timely manner is critical.
Problem-solving skills: Given the complex nature of airport complaints, PSAs must be able to find creative ways to support and assist passengers. This is framed out against non-negotiable legislation and standards that airports need to adhere to.
Ability to handle pressure and pace: Airports can be very stressful places for passengers and employees alike. The very nature of what airports do (processing passengers and aircraft) is time critical. PSAs are at the eye of this storm and must have the ability to work with high-pressure workloads and challenging deadlines.
Attention to detail: PSAs are responsible for ensuring passengers end up in the right place at the right time, as well as ensuring their documents and tickets are in order. Simple administrative errors which are easier to fix in other industries have larger consequences in an airport, such as security risks or people boarding aircraft without the right paperwork. PSAs are instrumental in keeping on top of these issues.
Steps to become a passenger service agent
So, if you have read this far and feel that becoming a passenger service agent is the perfect role for you, then read on to discover how to get started in this profession and what you need to do to succeed!
Step 1: Determine if it's the right career for you
A good place to start in determining if any career is a good one for you is whether the role is aligned to what you are interested in. Being a PSA would be a great job for those who are interested in traveling or the aviation industry, as well as those who are energized by helping people, or enjoy social and busy environments. You also want to think about whether the skills listed above are aligned to the ones you have, or the skills you enjoy using. If you have a good fit in all these areas, then being a PSA could be a great career choice!
If you are struggling to find that elusive career "fit", then don't worry, as you are not alone. It might, however, be a good idea to take a career test. Our six-stage assessment on CareerHunter maps out your interests and skills to various jobs and provides guidance on how to get started in them.
Step 2: Complete the educational requirements
Becoming a PSA doesn't necessarily require higher education, such as a bachelor's degree, although having one might help by making you more attractive to employers. Having a high school diploma is important, and subjects such as English, mathematics, sciences, and business studies will be good options to focus on, as would languages. College or bachelor's degrees in travel and tourism, business administration, or foreign languages will be very useful and add to your employability. If you don't have these qualifications, you will still be able to apply for entry-level PSA roles and gain on-the-job training in order to progress.
Step 3: Understand the job requirements
Becoming a PSA is a little different to other customer service jobs because of the fast-paced and stressful environment you will be working in. Airports will have stringent entry requirements for people working "airside" (i.e., behind security gates). PSA roles will typically require comprehensive background checks and a clean criminal record. PSAs often need to operate different types of transportation, such as buggies or vans, and therefore might also be expected to hold a valid driving license.
Step 4: Develop advanced customer service skills       
Passenger service agents will need to be experts in customer service! The role can be hugely stressful, and you will need to deal with people who will not just be frustrated and upset, but possibly angry and abusive. Whereas no employer will ask you to tolerate such behavior, it is important that you undertake customer service training to aid your response to these situations.
Many PSA employers will enroll you on advanced customer service training, but you might also consider gaining experience in other fast-paced and challenging client-facing environments, such as hotels, restaurants, bars, and even call centers. All of this experience and training will help you in your preparation to apply for PSA roles.
Step 5: Apply for Passenger Service Agent jobs
When you have gained the right experience and training, you will be in a perfect position to apply for PSA roles. These roles can be posted by airports as part of a centralized PSA provision, or by airlines, who have ground crew in their hubs to support elements of the check in and boarding process.
It's important to read the responsibilities of these roles carefully, as individual PSA jobs can be very different. For example, airport PSAs might have generic job duties in an arrival or departures hall, whereas airline PSAs might be based at check-in, gates, or in first class lounges. Understanding the nuances of the role you applied for, as well as what it entails, will give you the best chance of success in the application process.
Final thoughts
PSAs are a critical part of how an airport and airline function. Their role might seem small and one of simple support, but they play an important role in keeping passengers happy, airlines on time, and airports flowing freely. As such, being a passenger service agent requires plenty of training before you move into this role.
You need to be a calm person and an expert communicator and use every customer service technique in the book to keep passengers happy. If you can excel in these areas and have a passion for people and a true interest in aviation, then becoming a PSA could be your dream job. Good luck!
Are you interested in becoming a passenger service agent? What is it about the role that appeals to you? Let us know in the comments!
Originally posted 1 July 2014.