Have you always dreamed of working with fabrics and textiles from a young age? Designing unique, haute couture pieces that you'll find one of the Hadid sisters wearing on the front cover of Vogue magazine? If so, becoming a fashion designer might be the ideal career path for you.
To help you out, we've put together this in-depth guide covering all aspects of becoming a fashion designer so you can decide whether this really is the right profession for you.
What fashion designers do
Fashion designers create exclusive clothing, accessories and footwear. They typically work in a specific field, including haute couture (runway), ready-to-wear fashion (high fashion pieces that have been made for instant buy) or high-street fashion (mass production). Designers will choose to specialize in a specific niche, such as men's footwear, jeans and women's accessories.
Although the job may vary on your chosen field and niche, day-to-day tasks will usually involve the following:
Reviewing and researching current fashion trends
Creating designs that will appeal to your target audience
Deciding on a trend/theme for your collection
Using computer-aided design (CAD) programs to construct designs
Visiting fabric makers or trade shows to get samples
Selecting fabrics, trimmings, colors and style for each garment or accessory
Working with other designers or team members to create a model design
Marketing designs to clothing retailers or directly to consumers
Overseeing the final production of design
Producing mood and concept boards in line with current trends in the market
Locating and liaising with textile suppliers
Making in-house presentations and pitches
Showcasing your new designs in a fashion show or at a trade show.
What the job is like
Being a fashion designer offers a very exciting lifestyle, especially if you happen to work for a popular fashion house. You can spend your days styling famous celebrities, working on new season attire or even for a catwalk. With that in mind, it's a demanding career that requires plenty of after hours and attention to detail. If you want to make it in the fashion world, you're going to need to go above and beyond to get noticed.
Within this section, we will discuss work environment, hours and job satisfaction.
Work environment
Fashion designers work in manufacturing or wholesale environments, fashion houses, retail establishments and creative art establishments like theater or film. Most of the working day is typically spent in an office or studio with plenty of space to spread out fabrics, and to work on patterns and designs. That said, you can also be found working as a costume designer on set or backstage for catwalk shows.
As a designer, you may be expected to frequently travel abroad to meet clients or suppliers, meaning that if you want to be a successful designer, you must have a flexible lifestyle that allows you to travel for work.
In addition, networking is also a large part of the fashion world, so as a designer you must spend your free time connecting with peers and attending industry events — therefore, your work never really stops.
Work hours
Fashion designers are employed on a salary basis and typically work between 8 to 10 hours a day, 5 days a week. However, working overtime is expected during peak season or when leading up to product launch deadlines. In addition, they may spend a significant amount of time traveling across the country or jetting off to different places to meet clients and suppliers or to attend trade shows.
Job satisfaction
For many designers, succeeding in such a role is a dream come true — especially if they manage to work for a well-known fashion brand. They get to create the latest trends and be a real inspiration within the industry, which makes the job extremely satisfying.
That said, there are some drawbacks that come with the role, including the working hours and the amount of work that is needed during peak seasons. However, according to a survey from Business of Fashion, "Fashion professionals in the United States have the most polarized working experience, with 51% satisfied and 30% unsatisfied in their roles."
Job market
The fashion design job market is expected to grow relatively slowly from 2021 to 2031, with a projected annual growth of 3%, according to the Bureau of Labor Statistics — a slower rate than the wider US employment market, which is forecast to grow by 5% over the same period.
Since there are already plenty of well-established designers, positions are only opening for those who have retired from the industry, causing the slower growth rate in an already crowded market. With large fashion houses mass-producing garments, it's also much harder for unestablished designers to make a go of it on their own.
Salary
The wage scale for a fashion designer can be extremely broad depending on the industry that you're working in. According to the BLS, the median annual wage for fashion designers was $77,450 in May 2021. The entry-level designers earned less than $37,480, and the highest 10 percent earned more than $130,870.
That said, designers in motion pictures typically earn $116,930, while those working in management of companies and enterprises make $80,600. Designers for apparel, piece goods, and notions merchant wholesalers earn an average of $78,800 and apparel manufacturing designers make an average of $63,320, So, as you can see, your salary will depend on your level of experience and depend on your niche.
The highest paying states for fashion designers are Oregon with an annual mean wage of $87,890, New Hampshire with $91,440, New York with $92,180, California with $92,360, with the highest paying state being Washington at $92,400.
Check out our infographic for a rundown of fashion designer salaries in the US: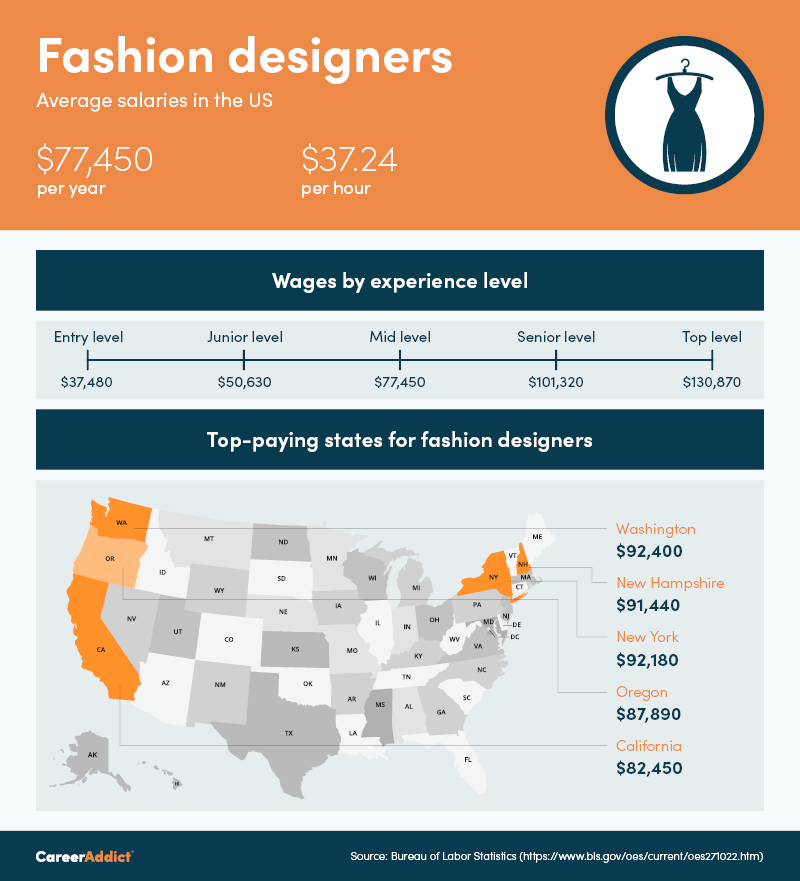 Essential skills and qualities
Being a fashion designer requires plenty of professional skills and attributes. Besides a creative flair, you need a handful of transferable skills to ensure that you succeed in the industry. Fashion design requires plenty of discipline and attention to detail, among plenty of other skills.
In order to succeed, you'll generally need to:
Have a passion for designing and creating unique pieces
Have excellent sewing skills
Have an understanding of various sewing techniques
Have an understanding of how different fabrics work, how they flow on the body and how to use them
Have excellent design and sketching skills
Be business savvy and understand how the business and marketing side of fashion works
Have a good eye for detail
Have excellent communication and interpersonal skills
Have physical stamina
Have a thick skin against bad attitudes and negative comments
Be determined to succeed in a cutthroat industry
Steps to become a fashion designer
If you've come this far and are still convinced that becoming a fashion designer is the job for you, then here are the steps that you need to take to secure the position.
Step 1: Determine if it's the right job for you
One of the most important aspects of any career path is determining if the role is right for you. Along with a passion for the role, you must have the personality and skills that are required for the position. Generally speaking, those who are driven, have unique ideas, and have a creative flair are a perfect candidate for the role.
That said, if you are still unsure of whether you're a good match or not, then consider taking a personality test to understand which careers fit you best. Our own scientifically backed testing platform, CareerHunter, consists of six assessments and, after completing all of them, you will receive a complete report with careers tailored for you as well as course recommendations to help you get started.
Step 2: Get the qualifications
You can become a fashion designer without any formal training, but in such a highly competitive market, a foundation or bachelor's degree is preferable. There are many prestigious schools around the world that will give you the finest training in fashion and textile design, including:
Parsons School of Design (New York City, US)
Fashion Institute of Technology (New York City, US)
London College of Fashion (London, England)
Some students also choose to pursue an MBA in fashion design and business management so that they have a full understanding of the industry and acquire the skills to start and run their own business.
Step 3: Focus on a specific niche
When embarking on your fashion design journey, it's important to focus on a specific niche, whether it's a certain industry or specific garment. You should master your art in one field to really have a chance at succeeding, otherwise you can get lost in a large pool of mediocre designers.
After some practice, make note of what really stands out and start honing in on that skill. For example, you may be good at making costume sets, handbags or shoes.
Step 4: Network
It's important to start making the right connections as soon as possible — even while you're studying. Attend industry events, make use of your university alumni, and connect with every single person that you meet to start building up your pool of contacts. You might not think it's beneficial while you're still studying, but it's an important step to take if you want to make it in the fashion industry.
Attend any event that you can go to, do unpaid internships, and connect with the right people on LinkedIn. All of these things will help you secure a role in the future and give you the knowledge and experience that you need to succeed.
Step 5: Promote yourself
Social media sites like Facebook, Twitter and Instagram are huge outlets for aspiring and practising designers, as it's easy to reach thousands of people at just a click of a button. Spend some time developing your own personal brand and keep marketing yourself and your designs. Who knows? You might even become an overnight internet sensation!
Final thoughts
Being a fashion designer sounds like a glamorous career, but it's one that entails plenty of hard work and dedication. So, if you're sure that it's the path that you want to take, then be prepared to put in the work to reap the rewards.
Do you want to become a fashion designer? Let us know if you have any questions by leaving a comment in the section below.
Originally published May 21, 2018.