Personal assistants, otherwise known as PAs, are the glue that sticks everything together for busy professionals like C-level executives and celebrities. They arrange their schedules, take care of all admin work and take on any other duties that their boss requires. But it's definitely not a walk in the park.
Being a personal assistant often involves long hours, managing busy schedules and being available at the drop of the hat. You will essentially need to dedicate the best part of your day to someone else.
So, if you think you have what it takes to work as a personal assistant or want to find more about the role, continue reading to discover the ins and outs of this career path.
What personal assistants do
Personal assistants provide administrative support to senior managers, celebrities or influencers. They work closely with their manager and conduct any administrative tasks that need doing. Besides this, they may also be involved in event planning or other general duties that are required in an office environment.
Although the job may vary depending on who you're working for, day-to-day tasks will usually involve the following:
Screening telephone calls, replying to emails, answering queries and running general errands
Managing and organizing the employer's calendar and arranging meetings, as well as taking minutes
Organizing and maintaining office systems
Making travel arrangements and attending industry events
Being hospitable to visitors
Dealing with accounts, filing and performing other office duties, and putting together presentations and reports
What the job is like
Being a personal assistant can offer a very exciting lifestyle, especially if you work for someone in the public eye whose day-to-day differs. You could spend your days planning events, organizing travel schedules and conducting administrative tasks. With that in mind, it's a demanding career that requires plenty of long days, multitasking and attention to detail. You will need to dedicate a lot of your time to your work if you want to succeed.
Within this section, we will discuss the work environment, the working hours and the job satisfaction of PAs.
Work environment
Personal assistants typically work in an office environment, although they may travel with their employer overseas or to business events. That said, most of the working day is normally spent in the office. If you happen to work for a celebrity, your working environment will be more sporadic — you could end up traveling with your boss all day and working from various locations.
As a personal assistant, you may also be asked to run errands, make coffee and complete other tasks that don't typically fall under your job description. So, for this reason, you must have a resilient attitude toward work.
In addition, networking is also an essential part of your job. As a personal assistant, you should always be mindful of how you present yourself when you're outside the office environment.
Work hours
Personal assistants are employed on a salary basis and typically work between 8 to 10 hours a day, 5 days a week. However, working overtime is often expected, especially during events or busy industry periods. In addition, a lot of time can be spent traveling to and from locations with your employer. You may also be expected to be on call and respond to emails over the weekend, so the work really never stops.
Job satisfaction
Depending on who you work for, being a personal assistant could be a dream come true. For example, if you love fashion and end up working for one of the world's best designers, a pathway of opportunities may arise for you. That said, if you happen to work for a bad boss, like Miranda Priestly from The Devil Wears Prada, you may end up despising your job.
According to CareerExplorer, the career happiness of an executive assistant was rated 2.8 out of 5 stars, which puts them in the bottom 16% of careers. This could be down to the fact that the role often involves long working hours for not a high enough salary.
Job market
The office administrative market is expected to grow relatively slowly from 2021 to 2031, with a projected annual growth of 0.9%, according to the Bureau of Labor Statistics — a much slower rate than the wider US employment market, which is forecast to grow by 5% over the same period.
Since there are already plenty of well-experienced personal assistants, it could be a competitive market to get into. That said, it's not impossible — so if you have the dedication to work hard, don't let it dishearten you.
Salary
The wage scale for a personal assistant can vary slightly depending on the industry that you're working in. According to the BLS, the median annual wage for personal assistants was $37,880 in May 2021. The entry-level assistants earned less than $28,200, and the highest 10 percent earned more than $59,500.
That said, personal assistants in elementary and secondary schools typically earn $39,790, while those working in colleges and universities make $42,750. Personal assistants for government services earn an average of $45,810 and those in real estate make an average of $38,050. So, as you can see, your salary will depend on your level of experience and depend on your niche.
The highest paying states for personal assistants are the District of Columbia with an annual mean wage of $51,690, Massachusetts with $49,820, Connecticut with $49,230, Washington with $48,170, and California with $47,930.
Here's a salary recap for personal assistants: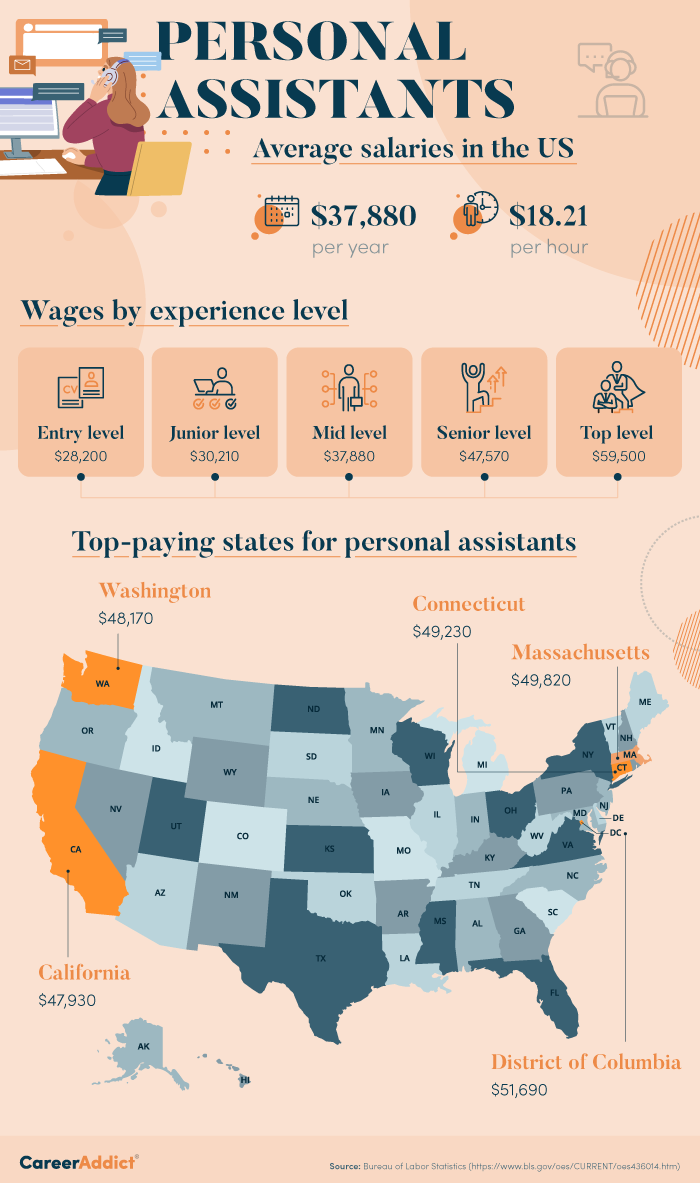 Essential skills and qualities  
Being a personal assistant requires plenty of attention to detail and multitasking skills; you'll be required to handle a number of different tasks at the same time. In addition, the role takes a lot of stamina and a strong personality as you'll be required to work under pressure and to tight deadlines, all the while managing other tasks.
The main skills and qualities you'll need to possess are outlined below.
Organization skills: The most important skill you'll need as a personal assistant; not only will you need to complete your own tasks, but you'll also need to arrange those of your manager.
Interpersonal and communication skills: Since you'll be dealing with a number of different people and personalities, you should possess the skills to hold a conversation. Both written and verbal communication skills are key in being able to articulate the right words and mannerisms.
Time management: As an executive secretary, you won't only be managing your own schedule, but also your employer's. Therefore, time management skills are essential when it comes to juggling a heavy workload.
Trustworthiness: As a personal assistant, you'll be expected to have a high level of secrecy. You'll be told highly confidential information and will need to show discreetness within the workplace.
Calm nature: You'll need to have a lot of patience, especially if you're dealing with a fiery character or a demanding celebrity. You'll also need to have the skills to defuse situations and calm your boss when they are feeling panicked.
Flexibility and adaptability: Although you may have your own way of getting things done, in this line of work, it's good to be able to adapt to your boss's style of working.
Steps to become a personal assistant
If you're sold that becoming a personal assistant is the right career path for you, then here are the steps that you'll need to take to bag yourself a job.
Step 1: Determine if it's the right job for you
One of the most important decisions when it comes to your is determining if the role is right for you. Along with an interest in the role, you must have the personality and skills that are required for the position. Generally speaking, those who are approachable and have great organization skills are good candidates for the role.
That said, if you are still unsure of whether you're a good match or not, then consider taking a personality test to understand which careers fit you best. Our own scientifically backed testing platform, CareerHunter, consists of six assessments and, after completing all of them, you will receive a complete report with careers tailored for you, as well as course recommendations to help you get started.
Step 2: Get the qualifications
You can become a personal assistant without any formal training, however previous experience in an administrative role or a bachelor's degree in business is advantageous. That said, don't worry if you don't have either — you can take a HND course or work various internships to gain the skills that you need on the job.
Step 3: Hone in on your skills
Being a personal assistant requires a handful of skills, including trustworthiness, organization, communication skills, interpersonal skills, time management skills and flexibility. Therefore, it's important to start practicing these skills from now to ensure that you have what it takes to perform well on the job.
Besides this, you'll also need soft skills, like attention to detail, problem-solving and planning to really shine. You could start off with helping at your local charity or theater when they have seasonal events coming up to practice and develop these skills.
Step 4: Gain experience
Before you can be trusted with confidential information, you'll need to show that you have administrative experience. So, after volunteering, consider getting an entry-level administrative or personal assistant job where you can obtain hands-on experience. Once you have that knowledge, you'll be able to convince C-level executives that you have what it takes to assist them on a daily basis.
Step 5: Identify your niche  
Once you have the relevant experience, you can be a bit pickier when it comes to the industry that you want to work in. For example, if it's celebrities that you want to work for, you're going to have to work harder to establish yourself in this field. Besides good experience, you'll need a track record of being loyal and will need to have a personality that shines. Celebrities are far choosier when it comes to selecting a personal assistant, as these people will be involved in their daily lives and will need to hold plenty of confidential information.
Step 6: Develop your career
Once you're an established personal assistant, you'll be able to receive a higher salary, added responsibilities and more important projects. You could end up working as an executive assistant (taking care of personal matters, too) or climb up within the ranks and become a manager yourself.
If you are looking to progress within this field, you should pay close attention to industry trends and keep developing your skills by taking courses and striving to take on projects that are outside of your normal comfort zone.
You'll also build a great contact list through the numerous networking events that you'll attend. It's vital that you keep these relationships going and stay in touch with the people that you meet — you never know when you'll need a helping hand!
Final thoughts
Being a personal assistant can be a very exciting and rewarding career, but it's one that requires plenty of hard work and dedication. You'll be expected to go above and beyond to ensure that your employer is happy. So, if you're following this career path, you need to be prepared to put in the work to reap the rewards.
Do you want to become a personal assistant? Let us know if you have any questions by leaving a comment in the section below.
Originally published 13 September 2018.