Being a physical therapist is an incredibly versatile job in terms of what you're contributing to. Not only does the role combine scientific knowledge with people skills, and a passion for keeping fit and healthy and helping others accomplish the same, it's also extremely rewarding, as you'll be making a very real and lasting difference to people's lives.
It is, therefore, important to clearly understand what being a physical therapist entails. Whether you're in school thinking about your future career path or you're considering a career change, this article will guide you through how to become a physical therapist, including duties, the essential skills needed and salary prospects.
What physical therapists do
Physical therapists are trained professionals who, through prescribed exercise, hands-on care and education, help patients improve their sense of movement, ease their pain and regain their independence after a sports injury or medical procedure, or simply because of aging or disability. The aim of a physical therapist is to improve a person's quality of life and prevent further injuries or the patient's physical situation worsening more than it needs to.
Physical therapists don't just attend to immediate injuries. They also help take care of patients in an ongoing, rehabilitative way, supporting them from initial diagnosis all the way through to prevention and recovery. Physical therapy can be separate from or support other treatments.
Typical responsibilities of physical therapists include:
Regularly collaborating with patients who will have a variety of conditions, such as cardiovascular, muscular or respiratory
Conducting physical examinations and evaluations of a person's movement, flexibility, muscles, performance and joint motion, diagnosing issues where appropriate.
Interviewing patients about their health history and using this information to prescribe and conduct treatments.
Setting short- and long-term goals regarding treatment plans and what patients hope to achieve in a set period.
Performing physical therapy treatment and intervention according to established standards.
Giving self-management recommendations and treatment plans, including exercise at home.
Writing patient notes and keeping record of treatments and sessions.
Keeping up to date with all physical therapy trends and emerging treatments.
Aligning with medical standards, such as understanding patient confidentiality, carrying legal responsibility and practicing with integrity.
Helping patients use supportive devices such as exercise equipment, prosthetic limbs, canes or crutches.
What the job is like
Because physical therapists work with a variety of patients (all of whom will have various different needs), and the nature of the role being based in various industries, the work environment will also be especially varied. Physical therapists must juggle an atypical working environment — one which might be very demanding — with carefully and empathically prioritizing the needs of their patients.
Work environment
Like many areas of healthcare, physical therapy is demanding and can be stressful. You'll be working with a variety of clients, some of whom will be angry or frustrated (especially if their treatment is causing stress or frustration), and other clients who will be demanding.
You're ultimately responsible for their health and wellbeing, and will need to ensure they get the highest level of care, as well as be able to calmly adapt to new information, as no two situations will be the same.
Physical therapists largely work out of an office but may spend a lot of their time in surgeries, hospitals and clinics. You might even be expected to travel to your patients' homes and, in some cases, even overseas to give your patients the best possible care.
The nature of a physical therapist's work means that you could be based in a wide variety of work settings, such as:
Outpatient offices
Corporate environments
Private practices
Hospitals
Rehabilitation centers
Nursing homes
Sports and fitness centers
Schools
Hospices
Government agencies
Work hours
Physical therapists will have to undertake some flexible working to accommodate the needs of their patients, but the role is a lot less demanding when compared to other healthcare professionals such as doctors, nurses or surgeons.
They typically work a 40-hour week with 2 days off as standard. Nevertheless, the work might likely be shift-based, meaning you might be required to work early, late or on weekends, in whatever sector you're based in. The reason for this is you might need to be available for patients who, for various reasons, are only free in the daytime or at weekends.
Job satisfaction
The role of physical therapists might be demanding but, generally speaking, people working in this profession are very happy, with one Japanese survey illustrating that physical therapists experience high levels of job satisfaction due to the rewarding nature of the role and the ability to put extensive training to good use. Other reasons for this satisfaction are high levels of autonomy, being able to make decisions, and tangibly seeing their own skill improving over time.
Some detracting factors from the role are cited as the high levels of paperwork or administration, and the workload. Nevertheless, a positive side effect to the physical therapist role is that because it's so physically demanding, therapists tend to be very fit and healthy people.
Job market
Physical therapy offers a secure job for the future with excellent prospects, with the Bureau of Labor Statistics reporting annual job growth of 15,600 new roles per year, or a 21% increase each year from 2020 until 2030.
This high growth — higher than the national average for all roles — is predominantly driven by aging populations who are wanting to keep active and fit much later in their lives. This is tempered with the increased risk of these age groups to suffer from injuries and other ailments. such as heart attacks or strokes. The heightened frequency of chronic conditions such as diabetes also translates to an increased need for physical therapists.
Due to the slightly more attractive work–life balance and the propensity to earn a good salary, physical therapist roles are a particularly attractive subsector of the medical industry to work in.
Salary
Physical therapists earn, on average, $92,920 per year, or $44.67 per hour. This compares significantly favorably to the national average of $58,260 per year, or $28.01 per hour.
Salaries vary depending on level of experience, ranging from $61,930 for entry-level physical therapists to $101,920 for top-level professionals. Where you work also tends to affect compensation, with physical therapists earning, on average, $104,210 in the state of Nevada.
Below is an infographic summarizing the average salaries for physical therapists in the US: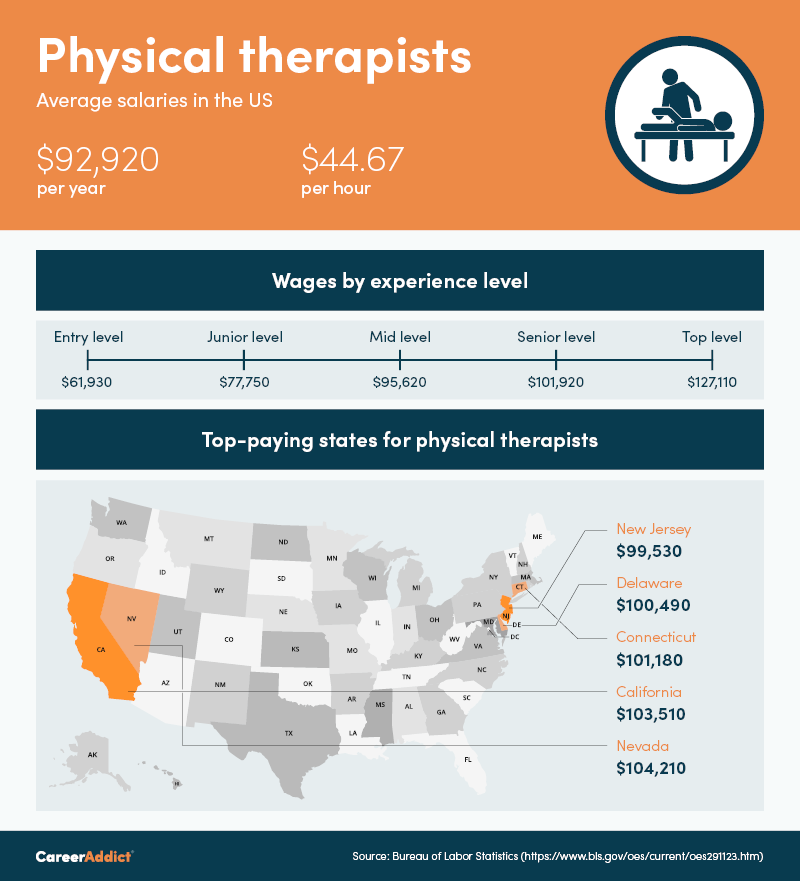 Essential skills and qualities
Physical therapists need to draw on a broad suite of skills and abilities to successfully perform their role. They have a lot of responsibility and must be able to fully execute their role, as well as being passionate about patients and their wellbeing.
Physical therapists generally must possess the following skills and attributes:
Steps to become a physical therapist
Despite its complexities, becoming a physical therapist is equally attainable, whether you're looking for your first job or changing careers. Due to the technical nature of the role, formal education is required, but this can be attained at any stage of your life.
So, what do you need to pursue this exciting career? How long does it take to become a physical therapist?
Step 1: Determine if it's the right job for you
Although the above skills and attributes needed to become physical therapists are trainable and can be developed, there are inherent personality traits that it helps to naturally embrace if you really want to succeed in the role. These will include a good bedside manner and the ability to communicate with and understand patients. You must also have an interest in physical therapy and a passion to see people recover and go from strength to strength.
Career assessments are great way to understand if a certain profession or job is the right fit for you. These tests are often backed up scientifically, ensuring you get a high-value indication of how well a job fits who you are. Our very own test over at CareerHunter offers six psychometric tests, which assess your career interests, personality, motivations and aptitudes to match you to suitable careers. 
Step 2: Focus on the right subjects at school
For many people, the road to a career in physical therapy begins with focusing on the right subjects at school, as this will lead to attaining an undergraduate degree in physical therapy. The best subjects to pursue as physics, chemistry and biology, as well as academic subjects like math and English.
Looking into work experience in physical therapy can also be an option if you're at school, but don't expect any hands-one experience: you will generally only help qualified physical therapists with administrative duties.
Step 3: Complete higher education
Higher education will begin with a four-year bachelor's degree in a field related to physical therapy, such as healthcare or medical fields, or even recreation and fitness. Given that you will need to move on to gain a doctorate degree at a later stage, it will help to check what the bachelor's degree prerequisites are for your preferred postgraduate school.
When you have graduated, you will need to apply for your Doctor of Physical Therapy degree. Applications for these degrees run through the Physical Therapist Centralized Application Service, and will need to be accredited by the Commission on Accreditation in Physical Therapy Education.
Step 4: Pursue further training
After attaining your DPT, you can undertake a clinical residency that typically lasts 12 months.
These residencies will expose you to further training and possibly physical therapy specialisms, allowing you to become a subject matter expert in a particular field of physical therapy. Often, specialisms can increase your earning power as you're seen to be part of a much smaller pool of professionals operating in a certain area.
You can cement your reputation as a specialist by becoming board-certified via the American Board of Physical Therapy Specialties. After your residency, you might choose to gain further credibility and experience by taking part in a fellowship.
Step 5: Get licensed
Physical therapists need to be licensed, which requires passing the National Physical Therapy Examination administered by the Federation of State Boards of Physical Therapy.
Every state will have its own requirements on what is needed to practice physical therapy, which might include further examinations or background checks. You must check these requirements well in advance of you being ready to practice in case they require lengthy preparation.
Final thoughts
Physical therapy is a widely recognized and respected medical profession, one which offers a high level of personal satisfaction as well as a decent living. You'll be responsible for helping people who are not physically able to do what they like to, and giving back some quality into their lives. You will be able to help people of all ages and backgrounds, making no day the same. Herein lies the real reward to this amazing role.
As well as creating invaluable changes and improvements to someone's quality of life, you'll also constantly be learning and growing in your practice. After your initial education, there are so many ways to learn and hone your skills as a physical therapist. These will bring benefits to both you and your patients. Ultimately, if you're caring and eager to continue to learn and develop, then physical therapy is the career for you. Good luck!
Got a question about becoming a physical therapist? Let us know in the comments section below.
Originally published on November 3, 2017.