If you have ever had to sell or lease a house or apartment, then the chances are that you have engaged the services of real estate agents. This popular profession has become ever-more prevalent in our lives as national property markets thrive.
Becoming a real estate agent can offer lots of benefits, such as a flexible lifestyle, good pay and, of course, the chance to see some pretty amazing residences! This article takes you over everything you need to know about this job, including the work environment, the pay, and what you need to know in terms of how to become a real estate agent.
What real estate agents do
There is much more to being a real estate professional than just selling or letting houses. For starters, there are many different types of real estate agents. You might specialize in sales, where you negotiate the complete purchase of properties (or in some countries, freeholds or leaseholds), or lettings/leases, where you are simply negotiating priorities to rent.
You might also specialize in residential properties where people live, or commercial properties where offices and other businesses are based. There can be other more specialized sectors as well, such as estate (large tracts of land like farms or rural areas) or even just focusing on selling or leasing car park spaces.
The role involves a fair amount of pre- and post-work, such as liaising with lawyers, marketing teams and surveyors, as well as plenty of relationship management and hard work to keep prospective (and repeat) clients on your side.
Below is a list of the main responsibilities a real estate agent covers:
Talk to sellers and landlords about their property and their expectations and build relationships with clients about what they are looking for
Cold-calling homeowners and landlords to see if you can help sell/let their property
Visiting properties and collecting information about them, such as nearby services, as well as taking photographs
Estimate the value of properties using market knowledge and input from surveyors where needed
Preparing marketing materials
Marketing properties in an attractive way and advertising them via social media to generate interest
Negotiating the sale or agreed rent of a property with interested parties
Seeing through the sale, such as supporting buyers/sellers with lawyers, chasing up contracts and other paperwork, and expediting the completion of purchases
For rental properties, you will need to draft up contracts and support with vetting/reference checks
Facilitate payments between tenants and landlords, for example, deposits and monthly rent
Completing processes by meeting and greeting buyers/tenants on their move-in date or supporting them with key handover and inventory checks
What the job is like
Being a real estate agent can be a demanding job owing to the importance and time-sensitivities of brokering property, and proactive agents must be aware of what is involved in performing this job to the highest level. This section takes you over the work environment, work hours, and job satisfaction of a real estate agent.
Work environment
Real estate agents are usually office-based, although you can usually opt to work from home or adhere to a hybrid-working model if you prefer. This said, a large part of the role involves traveling to visit properties and spending long periods of time on the road and away from family to close deals and visit clients. The role is largely risk free, but you might be called upon to visit building sites and so will be asked to wear protective equipment and follow any site safety rules.
You will rarely be the only real estate agent working for a particular firm. Work is target-driven, and you will probably be in direct competition with your colleagues for who can close the most sales each month. Work can therefore be stressful, and you might be susceptible to office politics and overt competitiveness. This pressurized environment will not be for everyone.
Work hours
Real estate agents are usually contracted to forty hours a week, Monday to Friday, although many operate on a freelance basis and work what they need to in order to meet targets. Even if you have a standard forty-hour contract, the expectation will be that you work what is needed to get the job done. This might involve working overtime or staying late to meet clients after standard working hours. There might also be weekend work, too. The role does command a lot of your time and many real estate agents will work very long hours if it means selling or renting an especially valuable or challenging piece of real estate.
Job satisfaction
Real estate agents can enjoy very high job satisfaction, with US News putting the role in their top five sales and marketing jobs. One of the main reasons real estate agent job satisfaction is so good is because of the flexibility of the role. Being able to work what you need to in order to close deals means that, in theory, if you have a good month and sell a few homes in a couple of weeks, that's your month's work done and dusted. Many real estate agents can choose their own hours, and this can fit around family commitments or hobbies. One downside to the role is limited career growth, with only very narrow promotion pathways on offer.
There is also the chance to earn a high commission. With house and rental prices increasing with every passing year, real estate agent commissions can be very high. This offers high earnings alongside the flexible scheduling. In fact, as real estate agent job satisfaction is so high, many people are quitting their current jobs to retrain to become one.
Job market
Despite high job satisfaction, the real estate agent job market is projected to see below-average growth in the 2020–2030 period, averaging around 4% each year against the US national average of 8%. Real estate markets are seeing growth, but the manner of how this is coming about is volatile, with unpredictable peaks and troughs caused by factors like the COVID-19 pandemic and cost-of-living concerns, putting people off taking out mortgages.
Salary
As of May 2021, the average salary for real estate agents is $48,770. Entry-level real estate agents earn, on average, around $28,270, with junior level earning around $35,880, mid-level around $48,340, senior level around $75,940, and top earners can make in the region of $102,170 per year.
The five US states offering the highest real estate agent salaries are California with $76,440, District of Columbia with $77,710, Wyoming with $80,580, New York with $81,020 and, coming in the top spot, Massachusetts, with an average annual salary of $90,390.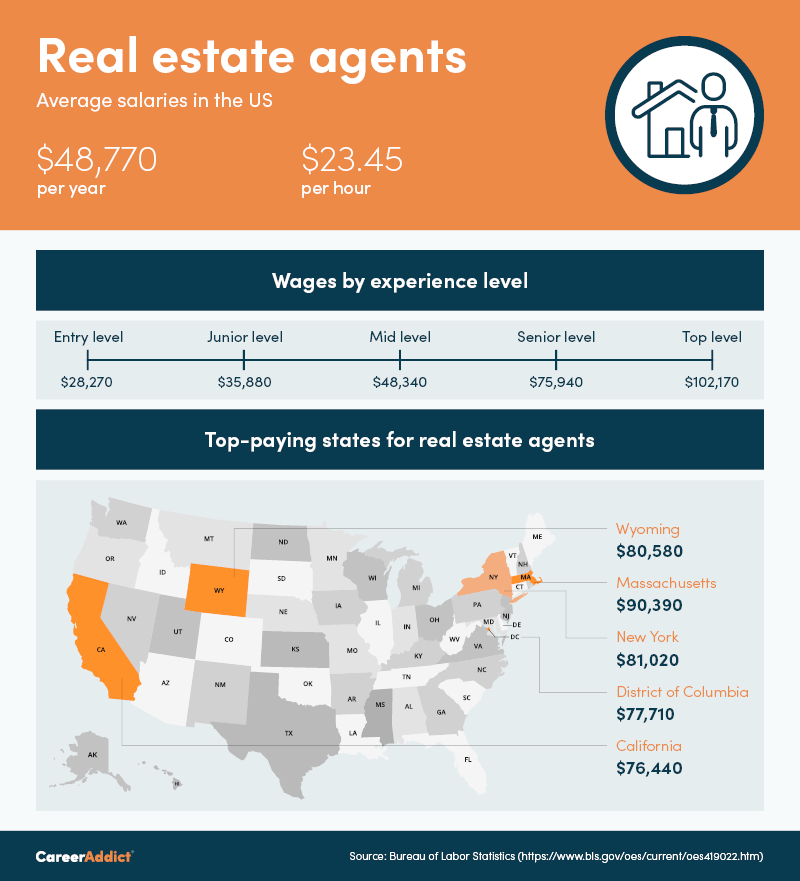 Essential skills and qualities
The extensive and varied job description of a real estate agent means that many different skills, qualities, and attributes are needed to perform the role effectively. Here is a list of the top ten skills and qualities needed to perform the role.
Relationship building and networking skills
Business integrity and an ethical mindset
Patience
Resilience and problem-solving skills
Industry and local market knowledge
Assertiveness and confidence
Steps to become a real estate agent
So, if you have read this far and are still sure that becoming a real estate agent is the perfect job for you, then the next step is to begin thinking about how to enter the industry. The role is a good one for those looking to change careers, as it doesn't necessarily require many formal educational requirements (though some degrees, like a finance-related one might help), but there are still plenty of steps you need to take to begin in the industry.
Step 1: Determine if it's the right job for you
The first thing you must do is carefully determine that the real estate agent role is a good fit with who you are as a person, as well as the skills you have. Take some time to read about the skills and attributes above, and if these align to the skills you have and are ones you enjoy using.
If you are at a crossroads with your career choices and aspirations, then it might be good to take a career assessment to aid your understanding of what this 'best fit' role might look like. One example of a career assessment is CareerHunter's six-stage assessment. These tests, developed by psychologists, will give you a clear idea of what roles are good for you based on your interests, values, and your personality. The results will also give you recommended training paths to these careers.
Step 2: Research state requirements
Every state has different requirements to become a licensed real estate agent. It is therefore essential to research these requirements before you make any concrete plans to become one. The best resource to use is the Association of Real Estate License Law Officials (ARELLO)'s regulatory agency directory, which lists the various commissions in North America that handle state-wide real estate licensing.
State requirements might vary, but there are some common areas of focus that each one might be looking for. These can include a minimum age (usually between eighteen and twenty-one years old), be a US citizen (or a Canadian citizen for Canadian provinces), have a clean criminal record (or to have declared any convictions or demonstrate a certain number of years of being felony-free), a certain number of years of education, and approval or work experience from a licensed real estate brokerage. Again, this list isn't exhaustive and will vary from state to state, so do have a thorough check.
Step 3: Complete a pre-licensing course
The next step to becoming a licensed real estate agent is to complete your pre-licensing course. This will probably be undertaken through a real estate school and course, with support from the real estate agent you are undertaking work experience with. A large part of the accreditation process is through work experience and continuous on-the-job training. Passing the pre-licensing course might be part of your employment contract as well.
Completing the pre-licensing course must be done through an accredited provider. A list of the schools, including some recommended ones, will help you massively when it comes to choosing the best one for you. There are plenty of online or distance learning options as well.
Step 4: Take the licensing exam
Real estate licensing exams are mostly conducted remotely and administered by testing providers in individual states. The exam typically covers two main sections: a section looking at national laws and regulations, and a local section focused on your own province or state. If you fail one part of the exam, you will only need to retake the section you failed — so, don't forget the exam prep! When you pass, you will be sent your certificate and become eligible to be a certified real estate agent.
Step 5: Activate your license
Once you pass your real estate exam, you will have six months to file your salesperson license application. To do this, you might have to be working for a real estate company, but check what your state requires. You will activate your license via the real estate commission office for your state (see step two, above, for details of these), and will be asked to pay a fee and include a copy of your exam results. There might be other steps to the application, such as undergoing a background check or proving your citizenship.
Step 6: Become a realtor
Post licensing, when you have your real estate license, that's it! You can get on and begin selling or renting properties. An important further step is to consider becoming a realtor. Realtors are a little different from real estate agents in that the term is exclusively linked to being a member of the National Association of Realtors (NAR).
With over 1.5 million members, the NAR offers plenty of membership benefits, not least of which is access to a powerful network of fellow realtors. The organization also offers courses and promotions on marketing listings, insurance benefits, transaction management program discounts, travel discount (such as for rental cars) and further training and development opportunities.
Final thoughts
A career in real estate can be tough, but it's one that offers plenty of flexibility and the chance to earn a decent salary. You will work in a competitive environment but can take a lot of personal pride in helping people find (and sell) their dream home. As with many careers, the key to becoming a real estate agent is to get your house in order (no pun intended) by looking after state-specific qualification requirements and concentrating on your exams. Becoming a member of the NAR will also help you succeed in the role.
Are you considering becoming a real estate agent? What is your next step in the process? Let us know in the comments below.
This is an updated version of an article originally published on 7 September 2018.