Servers are an important part of the food service and hospitality industry, waiting on tables and looking after the dining experience of guests in restaurants, bars or cafés. It's estimated that there are almost 2 million people employed as waiters and waitresses in the US alone.
Being a server is a rewarding and social job, and a popular career choice for many people because of the flexibility it offers, as well as the chance to make good tips. This article tells you all about servers, including what the role entails, what the working environment is like, and the steps you can take to make a start in this industry.
Here's how to become a server.
What servers do
Sometimes known as being a waitress or waiter, the role of server is complex. There's a lot more to it than just taking customer orders and serving food and drinks. The role is an important part of the food and beverage industry and offers a great deal of responsibility. Plus, as a server, you'll always be on the frontline of delivering memorable meal experiences to guests.
Although duties and responsibilities will vary depending on the type of restaurant they work in, as well as their specific position, servers are typically tasked with:
Setting up restaurants and bars ready for service
Reviewing menus, and remembering and tasting the various food and drink on offer
Assisting with hosting duties, such as managing reservations, meeting and greeting guests, and showing them to their tables
Taking food and drink orders and processing them through a point-of-sale system for the bar or kitchen team
Upselling food and drink and doing all they can to increase revenue per guest
Engaging with guests and making them feel welcome and at home in the restaurant or bar
Serving food and drinks and clearing tables when needed
Processing payments and closing tabs and checks
Dealing with customer complaints and difficult guests, escalating to management when needed
Making great relationships and communicating with other food and beverage teams, such as bar staff, chefs and porters
What the job is like
Being a restaurant server is a tough role. Although the working environment can be fun, the food and beverage industry is known for its long hours and physically demanding environment. This section covers this working environment and the working hours that a server might expect, as well as job satisfaction information.
Work environment
Servers work in different types of restaurants and establishments involved in the production of food and beverage, and such buildings can be noisy and dangerous places to work in.
Industrial kitchens are hot and full of hazards, such as slipping risks and hot surfaces, and — although you're working "front of house" taking guests' orders — you'll need to be in the kitchen frequently. Front-of-house operations can be fast-paced and quite stressful. If you work as a bar or nightclub server, then they can be loud as well.
Being a server is a very physical role and you will be on your feet for long hours — it's a great way to keep fit! It's also a very social role, as you'll get to meet many different interesting people, although you'll also be expected to deal with rude or unpleasant guests. Server teams are often close-knit, and seeing as you'll all be a people person, you'll likely make many friends.
Work hours
Servers are often contracted to 40 hours a week, but the realities are that working hours (including all paid overtime) can be very long, and it's not uncommon for servers to work in excess of 60 or even 70 hours a week. Working patterns are atypical, with servers expected to cover weekends, early shifts (for breakfast) and dinner service, sometimes not getting home until the early hours of the morning.
Some restaurants operate split shifts, where you might come in for lunch, go back home, and come in to serve dinner — these are very challenging shifts to work. Nevertheless, some people prefer these working patterns, as they might fit around childcare responsibilities or educational commitments.
Job satisfaction
The server job presents a mixed bag in terms of job satisfaction.
The role is generally regarded to offer many opportunities, such as a flexible work pattern, strong job security, plenty of upward mobility and opportunities for career development, and (perhaps most importantly of all) lots of socialization opportunities. (Max Halley, a server for Salt Yard Group in the UK, also mentions "free booze after work" in his op-ed for the Guardian.)
Nevertheless, this socialization aspect to the role makes or breaks how satisfied employees are. Servers who form bonds with coworkers and guests rate their satisfaction very highly, whereas others express low levels of satisfaction due to the low basic pay, long hours and challenging environment.
Job market
There are few jobs as secure as that of a server. The restaurant and bar industry is performing very strongly, as people will be always looking for places to eat, drink and have a good time. Fueling this growth is the fact that, unlike many jobs, the role of server is unlikely to become fully automated, as a key part of the meal experience is having this human touch.
The Bureau of Labor Statistics puts the growth of server jobs at 10% from 2021 to 2031 — double the national average. This means that just under half a million server jobs will be opening each year.
Salary
The average annual wage for servers in the US is $29,010 (or $13.95 per hour), according to the BLS. This equates to half of the national average of all occupations: $58,260.
In many countries, servers' wages are supplemented through tips or gratuities which, in some cases, can be quite lucrative. Therefore, some servers in high-end restaurants can earn very high overall salaries.
The reasonably wide variation in percentile wage estimates for servers reflects this. Annual wages for servers sit at $17,840 at the 10th percentile, $20,020 at the 25th percentile, $26,000 at the 50th percentile, $30,850 at the 75th percentile, and $45,910 at the 90th percentile.
Salaries also vary depending on location, with servers working in the District of Columbia commanding the highest annual wage at $48,240. They are followed by servers in the states of Washington ($44,490), Arizona ($40,400), New York ($39,710), and Hawaii ($39,370).
Check out our infographic for a quick rundown of server salaries in the US: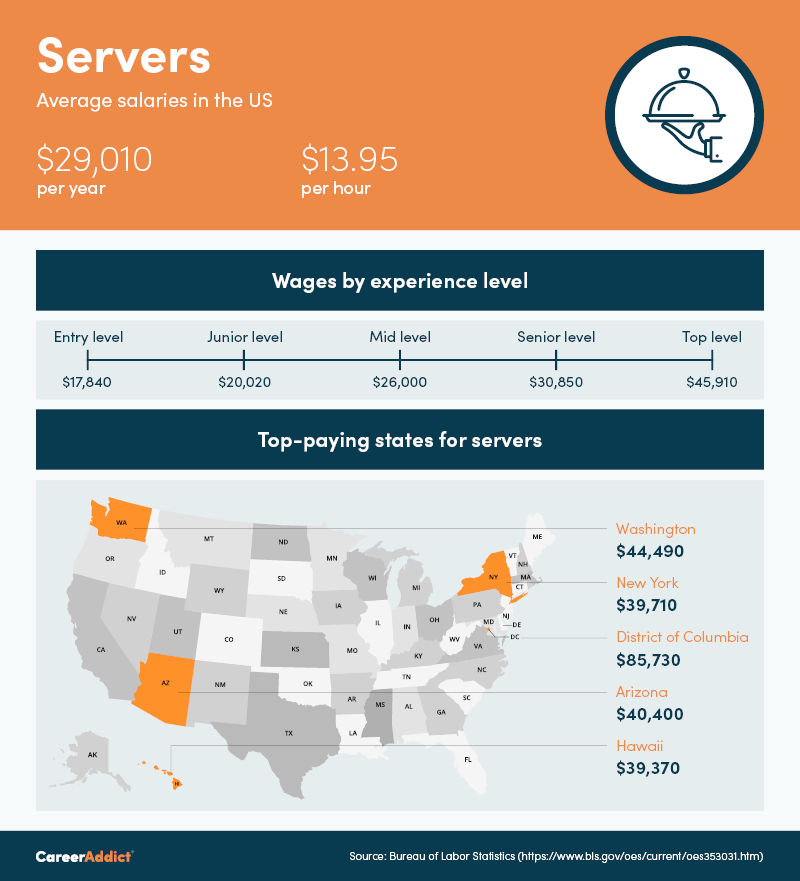 Essential skills and qualities
There are plenty of hidden complexities to being a server. As such, you'll need to draw upon many different skills, attributes and qualities to succeed in the role.
Some of the most sought-after skills, characteristics and knowledge in servers include:
Upselling
Conflict management
Financial skills such as numeracy and basic accounting
A good memory
Empathy and a genuine desire to help people
Food safety and alcohol awareness
Steps to become a server
If you've read this far and feel that becoming a server is the role for you, then here are the steps to become one. Higher education is not necessarily a requirement, but you will need to complete plenty of training, and there are optional qualifications to consider if you want to take your food and beverage career to the next level.
Step 1: Determine if it's the right job for you
The first thing to consider when thinking about becoming a server is whether the job is for you.
You can do this by weighing up your own skills against the ones needed to become a server, as outlined above. If these are skills that you're good at and enjoy using, then the role might be a good fit. Also, think about your interests and hobbies. If you love interacting with people and are a bit of a "foodie" or have a lot of inherent knowledge about food, then the role is likely to be brilliantly aligned to you.
If you're not sure what a "best fit" career might look like, then it might be a good idea to take a career assessment, such as the one over at CareerHunter. This six-stage assessment analyzes your skills and interests against various careers, recommending ones that you might especially enjoy.
Step 2: Get a high school diploma
Focusing on subjects at school such as English and math can help you finetune the basic skills needed to become a server. Although educational qualifications are not mandatory in order to be a server, a high school diploma can be very helpful, as at the very least it will make your résumé stand out to potential employers.
Many employers in the US require a high school diploma. These employers will mostly be higher-end establishments, as well as those offering traineeships or management development programs. As you progress your career from server to supervisor through to restaurant manager, a high school diploma will become increasingly important and useful for you to have.
Step 3: Complete on-the-job training
We've discussed that one of the biggest benefits to being a server is the amount of training you will receive.
Being a server doesn't necessarily require prior knowledge of the food and beverage industry, as you'll be thoroughly trained on this when you join. Initial training you can expect to receive will be basic food and beverage knowledge (such as learning about meats or fruits and vegetables), service techniques (such as how to clear tables or pour wine), and health and safety training (including manual handling, fire safety, and the safe handling of chemicals).
The on-the-job training doesn't stop there. As you progress your career as a server, you'll be trained on more advanced service techniques, like handling complaints, cashing up at the end of the night, silver service, and possibly tableside service (flambéing crêpe while diners watch is pretty nerve-wracking!).
You'll also get to taste all the amazing food the chefs cook so that you can recommend the dishes to guests, so you'll, therefore, be invited to attend "taste panels" in the kitchen, visit suppliers, and also get to try the cocktails and wines that are served (and paired) alongside the food. What more could you want?
Step 4: Get qualified
If you want to get a head-start in a fine dining restaurant or other environments that offer a more sophisticated level of service, previous experience as a server is essential. There are, however, a few qualifications that you can obtain in order to give your résumé a boost, as well as learn new skills or improve existing ones.
A very useful qualification to have is alcohol licensing. Every state has their own laws about what constitutes a personal license qualification, but having this demonstrates that you're aware of the laws and standards regarding the serving and consumption of alcohol in the workplace.
There are plenty of customer service and server courses available as well. These will take you through many fundamentals of being a server, such as advanced service standards or how to operate various POS systems. A qualification as a server will demonstrate to larger employers or ones involved in luxury service operations that you take this career seriously and can offer a lot in terms of your skills.
Final thoughts
Being a server is an exciting job that can offer a better salary than you might think, as well as plenty of socialization opportunities and even free food. The role offers plenty of career progression opportunities and can lead to you to become a master restaurateur or a manager in charge of Michelin-star establishments.
Getting started as a server only requires you to be good with people and have a passion for food and drink. All the training you need is provided to you, and you'll be supported and cared for as you grow your career. There are qualifications and other training you can participate in to further your career as a server, but what it really comes down to is accumulating experience and a professional network, learning how to handle all types of guests, and knowing how to keep your clients happy. Good luck!
Got a question, or want to share your experiences working as a server? Let us know in the comments section below.