.If you love wine and have an encyclopedic knowledge of all things related to the vine, then being a sommelier could be a great job for you. Sommeliers are considered unrivaled experts in the wine industry, fulfilling many major roles in the wider food and drink sector, such as working in vineyards or restaurants. If you think this tasty-sounding job is the right role for you, then read on.
This article will discuss the route to become a sommelier, as well as covering practical information regarding the role.
What sommeliers do
Sommeliers oversee the wine service in restaurants and hotels. The role might also extend into server duties, but nevertheless will require an in-depth knowledge of wine and wine tastes, as well as food and wine pairings.
The role will also include responsibility for a restaurant's wine cellar, which, in some cases, can be worth millions of dollars. As a result, this is a very responsible position that also has a significant impact on the meal experience. Here is a list of the main duties a sommelier is expected to cover:
Sourcing new wines by visiting suppliers and verifying their quality and fit to the menu
Creating wine lists and pricing them accordingly
Working with chefs to identify the best wines to be paired with food
Maintaining the restaurant's wine cellar
Chatting with guests and sharing stories and experiences to do with wines
Upselling wines and advising guests on the best options for their meal
Opening, decanting, and serving wine to guests
Conducting wine tasting and cellar tours
Assisting with other food and drink services, such as clearing plates or serving non-wine beverages
Creating wine budgets and costings for restaurants and bars
What the job is like
Sommeliers have a very demanding workload. They are expected to work the same unsociable hours as in other restaurant and hospitality jobs. That said, for many sommeliers, the job is a labor of love and provides a lifelong career of enjoyment and learning. Here is a run-through of the work hours, environment, and job satisfaction of a sommelier.
Work environment
Sommeliers will most often work in restaurants. These are noisy and loud places, and you will be expected to look after all guests that visit, regardless of who they are and their levels of pleasantness or rudeness. If you are working in a high-end restaurant, patrons can be very demanding and the pressures of guaranteeing great service to secure ratings and, in some cases, Michelin stars, can be intense.
Restaurants can also be dangerous places with chemicals being used in the kitchen, hot surfaces and plates, and slippery floors. Additionally, there will be some office work needed in order to create menus and produce budgets.
Work hours
The hours a sommelier works will be very unsociable. Sommeliers will need to cover lunch and dinner services, which might involve coming into work very early and leaving well after midnight. You will need to work weekends, as well as late. There might also be travel involved if you need to visit vineyards to source new bottles.
Being a sommelier requires an incredible dedication to learning about wine, and there might be frequent training and courses you will need to attend to remain effective in the role.
Job satisfaction
Being a sommelier is often regarded as one of the greatest jobs in the world: after all, you are being paid to work with wine in some of the best fine dining restaurants in the world! Behind this glitz and glamor, though, are plenty of harsh realities. As discussed, the role suffers from long hours and is often poorly paid.
Despite this, most sommeliers love what they do and see it as a job for life, rarely leaving once they start in the industry. The job offers plenty of scope for learning, and, if you love wine, then you will get the chance to work with (and try) some of the best bottles on earth and help other people enhance their enjoyment of them as well.
Job market
In a hospitality industry characterized by staffing challenges, sommelier roles are very much in demand, with the unemployment rate for the job down to under 6.5% by 2019. The wider hospitality job market is seeing record vacancies and growth, with food and beverage service one of the heaviest-affected sub-sectors. This means that your skills as a sommelier will be very much sought after as more and more people venture out to dine in restaurants as economies reopen following the COVID-19 pandemic.
Salary
As of May 2021, the average salary for sommeliers is $31,121, around 47% lower than the US' overall average salary of $58,260. Percentile wage estimates for a sommelier start at around $18,000 for the 10th percentile, going up to $26,750 for the 30th percentile, $35,500 for the 50th percentile, $44,250 for the 70th percentile and a whopping $53,000 for the 90th percentile.
The five US states offering the highest sommelier salaries are Massachusetts with $57,907, Oregon with $58,188, Washington with $59,203, Alaska with $64,942, and New York comes in first place with $71,835.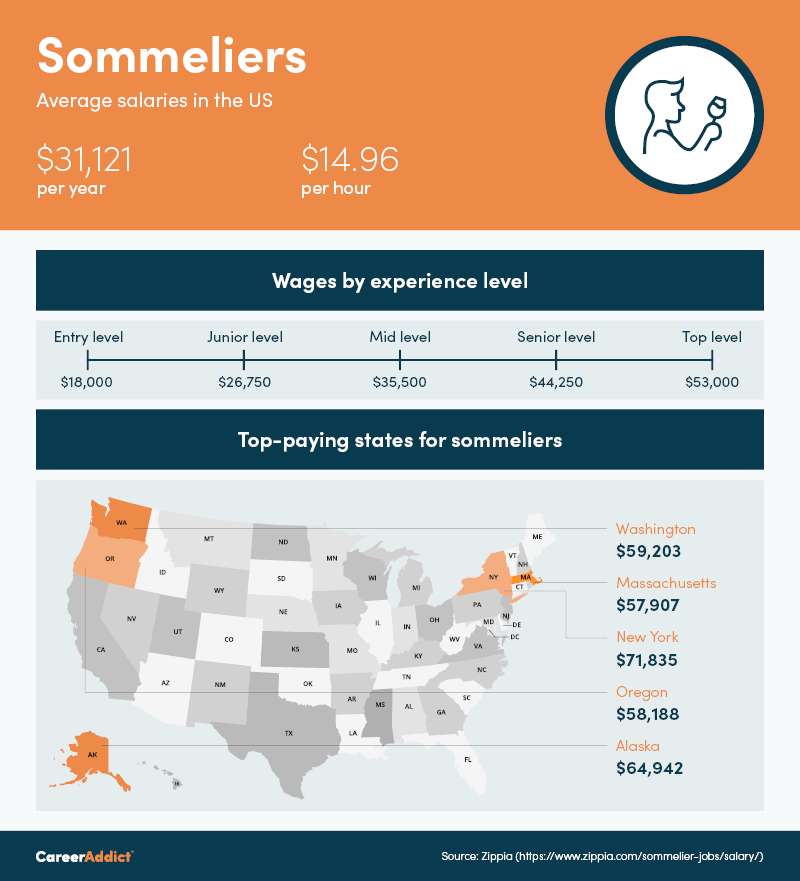 Essential skills and qualities
Being a sommelier requires the use of various skills and attributes in order to excel in the role. It is a step above other food and beverage jobs in its complexity and need for specialist knowledge. Here are the top ten skills and attributes you need to become a leading sommelier:
A deep interest in wine and broad knowledge of it
Food and beverage service skills, such as wine opening and decanting
Accounting skills and budget knowledge
A good palate and food knowledge
Upselling and negotiation skills
Storytelling skills
Interpersonal skills and relationship management
Curiosity and a desire to learn
Patience and understanding
Steps to become a sommelier
If you feel that becoming a sommelier is the perfect job for you, then read on for a list of the steps you need to take to break into this career.
Step 1: Determine if it's the right job for you
The first thing to do is to consider whether your skills and attributes match the ones needed to become a sommelier. If you possess the same suite of attributes, and enjoy using them as well, then being a sommelier will be brilliantly aligned with what you are good at.
Secondly, consider if your hobbies and passions are aligned as well. You will certainly need to have a strong interest in wine to do well as a sommelier. You must enjoy drinking wine and be passionate about explaining the different types of wine to others in such a way as to enhance their understanding.
If you are not sure what kind of job is right for you in terms of skills and interests, then consider taking a career test, such as CareerHunter's six stage assessment. These psychologist-created assessments will analyze your skills and interests and select careers based upon what could be a good fit for you, as well as suggesting training pathways into well-aligned roles.
Step 2: Expand your knowledge
The most important place to start with becoming a sommelier is to learn all you can about wine. This will probably start with ad hoc, self-taught knowledge. Joining wine clubs or paying for a wine subscription is a great way to meet like-minded people and network with others over wine — you could even join virtual wine discussions. Joining clubs doesn't just bring you together with people who love wine as much as you, it's also a great way to share the cost with what can be a very expensive hobby if you are buying bottles of wine to taste.
Take time to learn about various wine regions, not just one (you will need to have a far-reaching understanding of wine varieties and styles). Visiting vineyards, watching YouTube videos, and subscribing to blogs are easy and immersive ways to do this. You will also need to be able to keep up to date with new wine trends, such as bio-dynamic and orange wines.
Step 3: Get industry experience
Another necessity is to gain industry experience. Be prepared to work from the ground-up in this regard, as very few restaurants will be able to hire an unqualified or inexperienced sommelier, given the value of their wine stock. You might begin as a waiter, bartender, or a wine waiter, and go from there.
A good place to start would be in lesser known but popular restaurants; ones that have a good wine list or have a renowned sommelier in place. You can learn under the wing of a fully-fledged wine educator, and travel around different restaurants, working your way up to larger ones or those with Michelin stars or degustation menus (where wines are paired with food in a tasting menu).
As much as you can, consider moving and traveling to different cities or countries to try your hand at wine service in different environments. A popular thing to do is to spend time working in a Michelin-star restaurant in France, before moving back home.
Step 4: Register for a sommelier course
There are many different sommelier courses, including free ones via websites like LinkedIn. Nevertheless, it is best to become accredited through a nationally recognized organization. In the UK and Europe, there is the Court of Master Sommeliers and in the US, the US Sommelier Association. There are many schools that offer sommelier courses, and it is best to choose one that is well known for a high standard of education, so make sure to check out the best sommelier schools before committing to a course and completing your sommelier exam.
Step 5: Earn your sommelier certificate
Sommelier certificates can take many years to complete. On top of this, there are different levels of certified sommelier, and these might vary depending on the accreditation organization. In general, however, there are five sommelier levels. Level one covers basic wine knowledge and will probably be insufficient for a career as a sommelier. Level two covers wine varieties and exposes you to blind tastings. Level three covers winemaking styles, terroir (French for 'land', meaning the types of ground and soil that give wine its complexity) and a deeper knowledge of wine regions, as well as restaurant service basics.
Level four is the 'Advanced' certificate and takes at least two years to complete. This covers more advanced blind tastings and expert knowledge of wine varieties. Level four is the level that most professional sommeliers need. Level five will follow, and this is what you will complete to become a verified wine expert. It is considered very challenging to acquire as you will need an almost perfect knowledge of wine and an incredibly discerning palate in blind tastings.
Step 6: Find job opportunities
Once you are qualified, you can begin to start work as a sommelier, usually as a trainee for a short while until you can demonstrate your knowledge to the leaders at the company you work for. Finding sommelier roles can be quite easy as they will be advertised on sites like Glassdoor and LinkedIn. Nevertheless, industry experience is important as this will provide you with the network needed to hear about new roles on the grapevine, so to speak. The hospitality industry is like a family, so colleagues and acquaintances will always recommend roles to one another.
Step 7: Travel to wine regions
As you become more renowned in your skills as a sommelier, your employers will likely send you on trips to study wines and connect with suppliers. This is a great way to build your network and experience firsthand the detail that goes into producing great quality wine. Even if these trips are not provided to you, try to go as much as you can while on vacation. The trips to experience wine regions provide invaluable experience and will only make you even better as a sommelier.
Final thoughts
Being a sommelier is a true job of passion and a dream job for many. If you enjoy wine, then there will be few easier roles, and it's no wonder that many sommeliers stay in this job for all their working lives, even if it does pay below average and has long work hours.
To work with wine and help other peoples' understanding of it is one of the best feelings out there for a sommelier. It's the result of long periods of education and retraining, so expect to always learn and continuously develop if you choose to go into this role. Good luck!
Are you a wine connoisseur? Have you ever considered becoming a wine professional? Let us know what your plans are in the comments below!
This is an updated version of an article originally published on 8 October 2018.