If we've learned anything from watching Law & Order over the past 20 years, it's that people who choose to follow a career in law or criminal justice don't just do it for the six-figure salary, but also because they truly believe that justice needs to be served.
Criminal justice majors have the unique ability to fight crime one step at a time. Whether it's in a courtroom of law or out on the streets, any position in this field is bound to be rewarding.
If you know you want to fight crime but don't know which route to take, our roundup of the 20 best criminal justice jobs will help you find your true calling.
20. Court clerk
What they do: If you're looking for an entry-level position after graduation, becoming a court clerk could be a step in the right direction. Clerks of the court are, essentially, in charge of maintaining court records and performing other administrative duties, including managing financial records and fiscal accounts.
How to become: Though no specific degree is needed, you could benefit from having an associate degree in administration or criminal justice. If you're selected for the position, you'll need to have a criminal background check done and pass a drug test before receiving your training.
What they earn: $42,030 a year
19. Correctional officer
What they do: Correctional officers, like the ones we often see on TV, are based in jails and prisons and are tasked with supervising and ensuring the security of those convicted of a crime.
How to become: Though requirements and training tend to vary from agency to agency, a high school diploma and a clean criminal record will usually suffice. You'll receive all necessary training while on the job.
What they earn: $53,420 a year
18. Fish and game warden
What they do: If you think only humans require justice, think again. Fish and game wardens, also known as wildlife officers, are responsible for protecting the rights of animals and making sure that hunters follow proper conservational guidelines. They also investigate crimes involving wildlife, aid in boat operations and help organize water rescues.
How to become: Education requirements can vary from agency to agency, from high school diplomas to a bachelor's degree in the legal field.
What they earn: $58,190 a year
17. Paralegal
What they do: If you're fresh out of law school but haven't managed to secure a training contract yet, working as a paralegal can help you get one step closer to your dream. You'll work closely with lawyers on the daily, maintaining and organizing supporting documents, conducting research, and drafting legal documents and contracts.
How to become: As there are no federal regulations, it's up to the employer to decide on hiring requirements. These can range from an associate degree all the way to a master's degree in legal or paralegal studies.
What they earn: $58,330 a year
16. Private investigator
What they do: As a private investigator, you're hired on a job-by-job basis to investigate specific scenarios, including performing background checks, finding missing people, and solving crimes by gathering information on requested cases.
How to become: Most private investigators don't need a bachelor's degree, but they must have a license and a decent amount of experience in the criminal justice system.
What they earn: $60,100 a year
15. Probation officer
What they do: Probation officers are tasked with rehabilitating offenders that have been convicted of a crime and are on probation awaiting sentencing. They also ensure former inmates are adjusting to life outside of bars again.
How to become: A bachelor's degree in social work or the criminal justice field is typically required. A drug test and criminal background check will also be carried out.
What they earn: $63,290 a year
14. Forensic science technician 
What they do: Forensic science technicians are crucial to helping detectives solve their investigations. While their work involves collecting evidence from crime scenes, they spend most of their time performing analyses in consultation with other specialists, like forensic psychologists, to find links in criminal activities.
How to become: Forensic science technicians often hold a bachelor's degree in forensic science, biology, or even law. They then gain experience through internships or go on to do a specialized master's degree.
What they earn: $66,850 a year
13. Fire investigator
What they do: As a fire investigator, you'll work directly with your local fire department to investigate the cause of suspicious fires. You will report to the scene of the fire, prepare warrants, conduct reports, and make arrests based on your findings.
How to become: A lot of the time, people arrive at this career after previous experience in firefighting. Though requirements can vary, it's common for employers to ask for a fire investigator certification, as a bachelor's degree is not typically needed.
What they earn: $69,680 a year
12. Police officer
What they do: Police officers are often known as the peace-makers on the streets, patrolling and responding to incidents as needed. This job isn't easy, though; you need to have stamina, mental and physical strength, as well as great initiative to act quickly in highly intense situations. It's definitely a career where no two days are the same.
How to become: A high school diploma and a clean criminal record are often all you need to attend police academy — after you pass your law enforcement entrance exam, that is.
What they earn: $70,750 a year
11. Federal marshal
What they do: Federal marshals are tasked with capturing fugitives, serving arrest warrants and transporting prisoners. They're not hired to solve crimes or responsible for telling whether a convict is guilty or not; their only duty is to capture them and transport them to jail. They're evidently among the highest-paid criminal justice professionals on the list, as their jobs put them in constant high danger.
How to become: Interested candidates must hold either a bachelor's degree (such as in criminal justice or law enforcement) or have at least three years of police department experience. They must then pass medical and physical fitness examinations.
What they earn: $70,750 a year
10. Criminologist
What they do: If you're intrigued by what drives people to commit a crime, criminology could be the ideal field for you. While criminologists are mainly tasked with identifying offending patterns, they also use this information to prevent any law-breaking by helping officials create law enforcement policies to reduce crime rates.
How to become: You'll need an undergraduate or graduate degree in criminology, criminal justice, psychology or a relevant field. To succeed in this position, a strong character and outstanding mathematical skills will also come in handy.
What they earn: $90,370 a year
9. Crime scene investigator
What they do: Crime scene investigators are the first to see criminal evidence, including murder scenes, burglaries, and domestic violence. They're often faced with gruesome surroundings that they need to analyze to find proof that supports a case or solves a crime.
How to become: To get to this level in your career, you'll usually need prior experience in the police force. However, CSIs often come from other backgrounds, too, like science or criminology.
What they earn: $90,370 a year
8. Fraud investigator
What they do: Fraud investigators are hired to determine whether a claim is true or not after an insurance company has made the payment. They do so by conducting research (alone or with the help of forensic accountants), analyzing evidence and interviewing all parties involved.
How to become: A degree in criminal justice or previous experience in law enforcement is usually needed, as it helps in recognizing the motives behind fraudulent activity.
What they earn: $90,370 a year
7. Police detective
What they do: Police detectives work with police officers and other law enforcers to help solve more serious crimes. They're usually officers that have been promoted within the force and have a lot of experience under their belt. Moreover, they can be called to work at any hour of the day or night, and need to always be on call and ready for action.
How to become: It usually takes police officers a minimum of three years to be promoted to detectives, a period in which they should seek to gain on-the-job investigative experience.
What they earn: $90,370 a year
6. Criminal profiler
What they do: Also known as behavioral analysts, a criminal profiler's main job is to guide law enforcement on the specific traits they should be looking for in a criminal. They do so by analyzing the offenders' behavioral and thought patterns and then creating profiles which are used in investigations.
How to become: Criminal profilers start their career journey by getting a bachelor's degree in forensics, psychology or criminal justice. Then they must attend law enforcement academy, join the police force, and gain the necessary investigative experience.
What they earn: $90,370 a year
5. Homicide detective
What they do: Homicide detectives work on specific cases related to murder. They must identify how a homicide was committed, when it was committed, what the motive was, and who committed the crime. It must be said that it's not an easy job, and it's one that requires a lot of patience as it could take years to solve a single case.
How to become: After graduating from high school, you'll need to attend police academy. While earning a degree in criminal justice first isn't required, it can give you an advantage over your colleagues.
What they earn: $90,370 a year
4. CIA agent
What they do: Unlike FBI agents, CIA agents work mostly abroad, collecting valuable intelligence for the United States' decision-makers. They collaborate with other law enforcement agencies from across the world, bringing a more extensive skillset to the table when needed.
How to become: The first step in working for the CIA is earning a bachelor's degree in criminal justice or a related field. Though a master's degree or relevant work experience aren't usually a requirement, they'll help your application stand out — and so will fluency in foreign languages.
What they earn: $90,370 a year
3. Security analyst
What they do: Due to the rise of terrorist attacks and data breaches across the world, the need for technical-savvy law enforcement has also increased. As a security analyst, you'll be dedicated to scouring the internet and tracking data for any potential threats.
How to become: If you're interested in a career in this field, you'll typically need a bachelor's degree in cybersecurity or a similar subject.
What they earn: $113,270 a year
2. Judge
What they do: Judges are the moral force behind any justice system and have the difficult task of handing out life-changing decisions. To do that, they must assess the evidence presented to them and hand out impartial judgements by following the rules of the law.
How to become: Becoming a judge takes a minimum of 10 years after graduating from high school: 4 years for your undergraduate education, 3 years for law school, plus a few years of practicing law. Local and state judges are either elected or appointed, in accordance with state guidelines.
What they earn: $142,520 a year
1. Criminal defense lawyer
What they do: At the heart of every criminal justice system are lawyers, the skilled professionals that defend and prove their clients' innocence. While it isn't as dangerous as some other criminal justice careers on this list, it's one of the most important in the field, especially if a client has been accused of a crime that they're not guilty of.
How to become: Majoring in criminal justice is a good place to start prior to attending law school. Once you get your lawyer's license, you can gain experience through a legal internship or working as a clerk to a criminal defense attorney.
What they earn: $148,030 a year
Here's a quick rundown of the five highest-paying criminal justice jobs: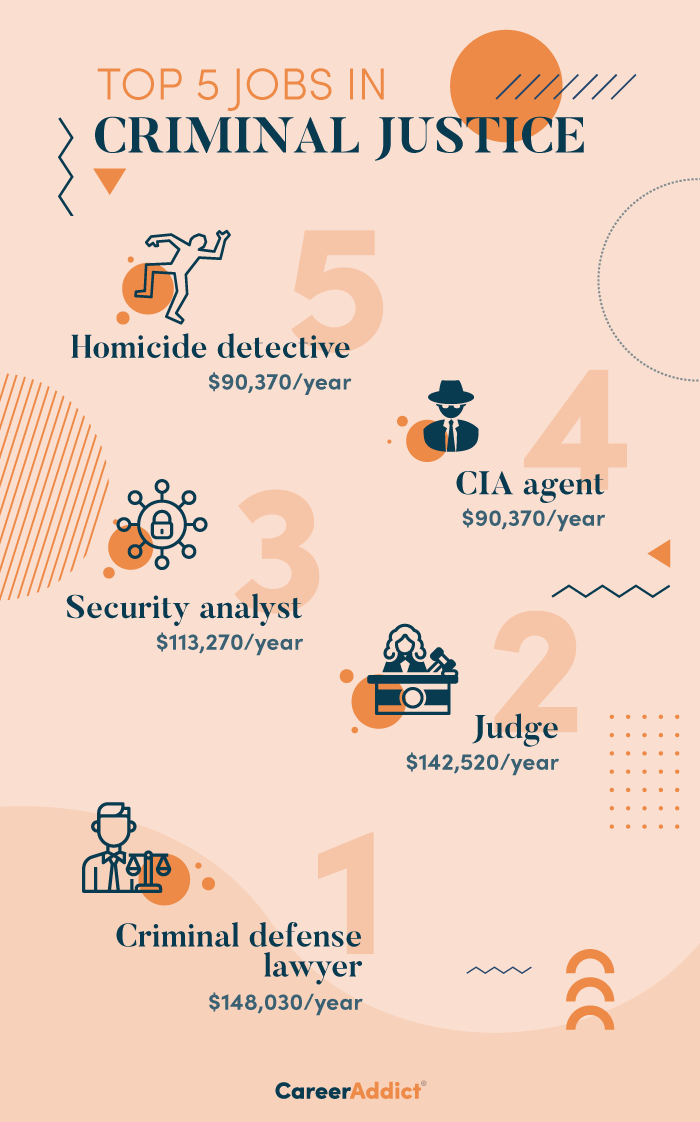 Final thoughts
Indeed, working for the criminal justice system is difficult and dangerous. It's a calling that only a brave few will choose to answer, but it's also a calling that comes with an immeasurable sense of purpose and fulfilment.
Do you want to pursue a criminal justice job and help enhance public safety? Let us know which career fits you best in the comments section below.
Originally published on October 26, 2018. Contains contributions by Joanna Zambas.