One of the best things about becoming a nurse is that, in the majority of locations, your skills and services are always going to be in demand.
That doesn't mean you can just pick up your degree and walk into a job, though. You still have to go through the application process, which means that you're going to need a nursing CV; a professional document used to sell your achievements, your personality and everything else that is relevant to you landing a role.
If that sounds slightly daunting, then don't worry – we're here to help! We've scoured the web for the best résumé templates and samples, regardless of whether you've just started college or the charge nurse of an entire department.
So, if you're looking to land that dream position – at home or abroad – take inspiration from the best nursing CV examples around.
1. Student nurse
If you're currently midway through your studies and you're looking to secure an internship or a permanent role after graduation, then it's a good idea to keep things simple.
As a student nurse, the most important thing on your résumé will be your clinical placements or, more specifically, where they were and what you did. In terms of the latter, you will (or should) already be keeping a portfolio of your clinical competencies and achievements that you can show to potential employers, but it's still a good idea to give an overview, as in the example below.
Also, it's a good idea to highlight your soft skills. If you play netball for your university team, then mention it – it demonstrates that you are a committed team player. If you're the president of a society, it shows that you have leadership qualities. Being involved in extra-curricular activities shows employers that you can multitask, as well as balance your study with your personal development, which are both key attributes for a nurse.

Monster
2. Graduate / Entry-level nurse
Once you have a bit more experience under your belt, maybe as an auxiliary nurse or nursing assistant, then you can pad out your résumé a little with broader roles and responsibilities. For example, on a student CV you might mention that you are being entrusted to draw up drugs and cannulate patients, but now, you just say that you are responsible for administering medications and treatments.
You might also, at this point, be developing knowledge and expertise in a particular field of nursing, depending on where you have been working, so if it's relevant to the role you're applying for, then put extra emphasis on it. Don't forget to list your qualifications and registrations, either (with dates).

Day Job
3. Registered nurse
After around 5-10 years of working as a nurse, it's likely that you will have settled on a career path; you will likely have acquired more qualifications, built up an impressive clinical portfolio and may even have obtained a postgraduate qualification such as a Master's degree.
All of this should be listed on your CV, especially if you are looking to break into the next level of your chosen stream. At this point in your career, you might also want to be highlighting your management potential. Focus less on what it is that you do day-to-day and more on how you have guided and helped others, how you are responsible for X amount of patients, or how your work impacts the objectives and goals of your employer.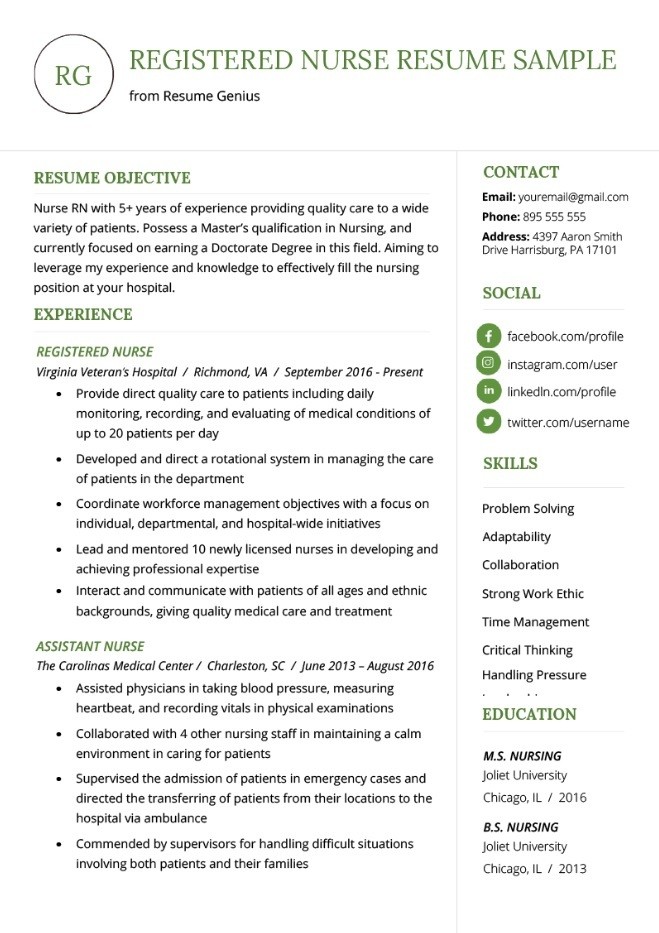 Resume Genius

Monster
4. Senior Registered Nurse
At this point in your career, your CV is going to look very different; for senior nurses in management roles, the emphasis is all about how you lead others and how you bridge the gap between the clinical expertise of the nurses in your charge and the framework policies of the wider healthcare organisation. Therefore, you should focus less on your own clinical background and experience, and more on your responsibilities and achievements as an overseer.
As with any senior/executive CV, your personal summary and your areas of expertise are hugely important, too. They let employers know immediately if you're the kind of candidate they are looking for, so spend as much time as it takes perfecting this section and saying what exactly it is that you want employers to know about you.
You will also likely have acquired various management qualifications, so it's important to include any additional certification within the relevant section on your CV.

Great Resumes Fast
5. Specialist
If you work within a particular specialism, such as emergency medicine, midwifery or ITU, then, of course, you'll need to focus on your expertise, qualifications and experience in that particular field.
As in the example below, you need to show that you have progressed within your specialism, too, and that you are looking to move upwards rather than sideways.

Kick Resume
6. Nurse Practitioner
As a nurse practitioner, you don't have to spend too much time focusing on the earlier parts of your career; instead, you need to emphasise your clinical independence and your achievements within a practitioner role.
For instance, in the example below, the candidate has emphasised their authority in a particular area (i.e. women's health) and has demonstrated their experience of managing the full patient cycle within this area; they have also highlighted their commitment to training and educating other health professionals in the field.
In a practitioner role, it's essential to highlight your qualifications and certifications, too, as this is likely one of the first things a recruiter will check.

TopResume
Hopefully, these samples and templates will inspire you to write your own nursing resume, but if you're simply too busy, or you need some expert guidance, then don't hesitate to check out our own professional CV writing service.
Are you a nurse? What CV tips would you give? Let us know in the comments below!