This article contains affiliate links. If you make a purchase, we may earn a commission.
---
Knowing what to wear to the virtual or actual office can be confusing when warmer temperatures creep in. You want to look presentable, but also feel comfortable throughout the day. So, what summer work outfits should you wear that give off a cool yet professional vibe?
We've listed a range of options, from casual to smart workplace settings, so that you've always got some inspiration on what work attire to wear during the warmer months.
Let's take a deeper look at what to wear to your workplace this summer.
The ultra-casual workplace
Many workplaces have a super casual or even non-existent dress-code. But trying to determine what to wear in these instances can be confusing. You still want to appear professional. After all, we are pre-determined by what wear.
According to a book [paid link] by Dr. Jennifer Baumgartner, a clinical psychologist, what we wear can reveal our earning power, how smart we are, the amount of influence we wield and how powerful we are. So, if you want others to take you seriously, we recommend keeping sweatpants and revealing clothing for out-of-office hours.
While there aren't many written rules for a really casual workplace, you can think of jeans, a t-shirt and a clean pair of trainers. For women, the options are vast — while your go-to leggings are acceptable, be sure to wear ones that aren't see-through and pair them with an appropriate top, or even consider layering with longer cardigans and garments.
To help you still appear professional in a start-up or millennial-run business, we've listed things that are a hard "no" for a casual working environment — for both men and women: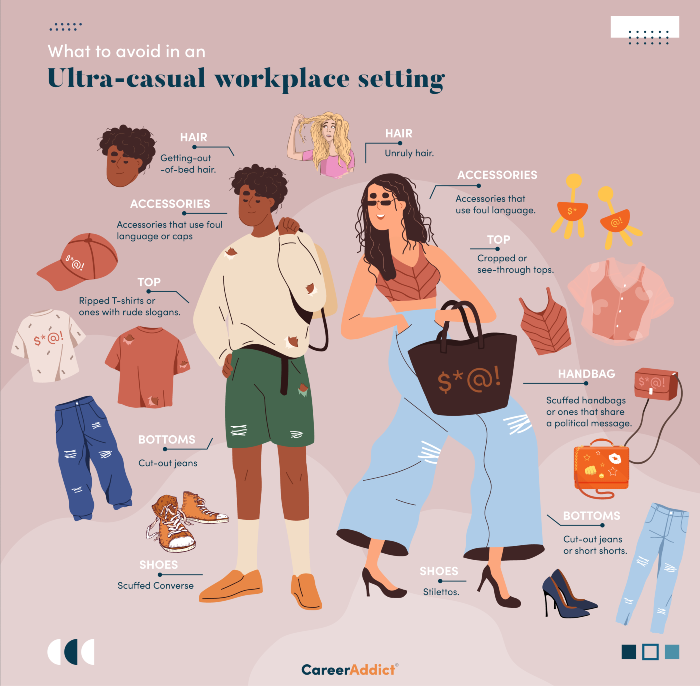 The casual workplace
Casual workplace settings are vastly growing, especially with remote positions cropping up across the world. So, again, it can be hard to navigate what's appropriate to wear — think of entry-level positions, customer services roles or offices where there are no face-to-face interactions with clients. Within these business settings, employees usually have free rein on what they can and can't wear — with some offices just placing a ban on denim.
Alternatively, even corporate offices may have dress-down Fridays, so if you're used to getting suited and booted, it can be hard to navigate to a more casual wardrobe for one day of the week. If this is the case, think of something that you would wear for a day date — a plain thick strapped top with high-waisted culottes.
To give you a visual representation, see the outfit idea image below:

A casual dress code can be just as confusing for men, with limited options. Even in a casual setting, say "no" to denim shorts and opt for something in a smarter material like chino shorts, and if you're going to wear them, dress the look up with a polo top so you don't look like you've just arrived from the beach.
When it comes to footwear, something closed is far better than sandals, which will make you look like you don't take yourself very seriously. Due to electricity hazards, some workplaces even have a no open-shoe policy.
To help you put together the perfect casual outfit, check out the image below: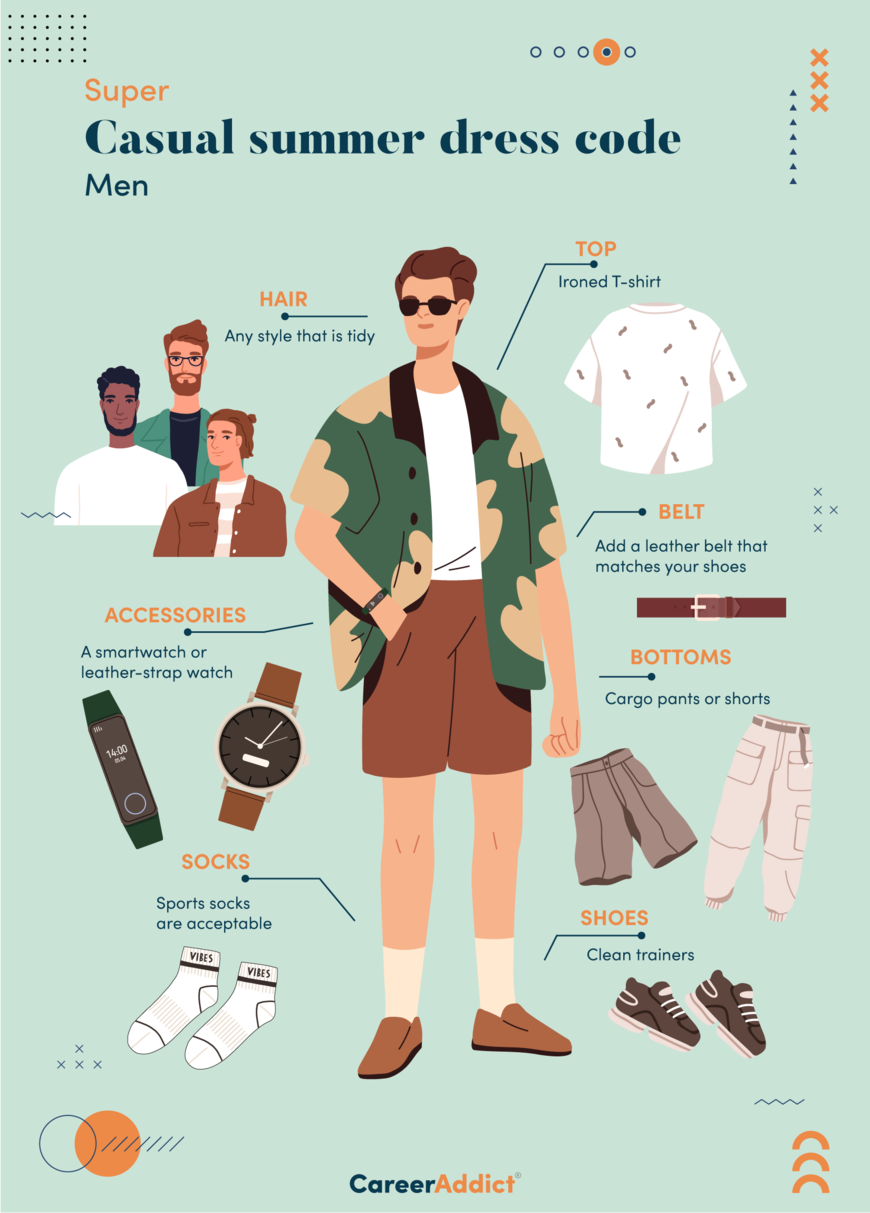 The business casual workplace
A creative yet professional environment can spark some challenges when it comes to dressing for work in a warmer climate. You want a look that is quite smart, but not overly formal. A full suit may indicate that you're "snooty" in such a workplace setting, and you may get some funny looks from your colleagues.
So, to ensure that you fit into the general workplace dress code, wear something that is in the middle of boardroom formal and casual attire. Think knee-length skirts with a more casual top, or linen trousers with a smart blouse, paired with some cute low heels or pumps.
For further inspiration, check out the image below: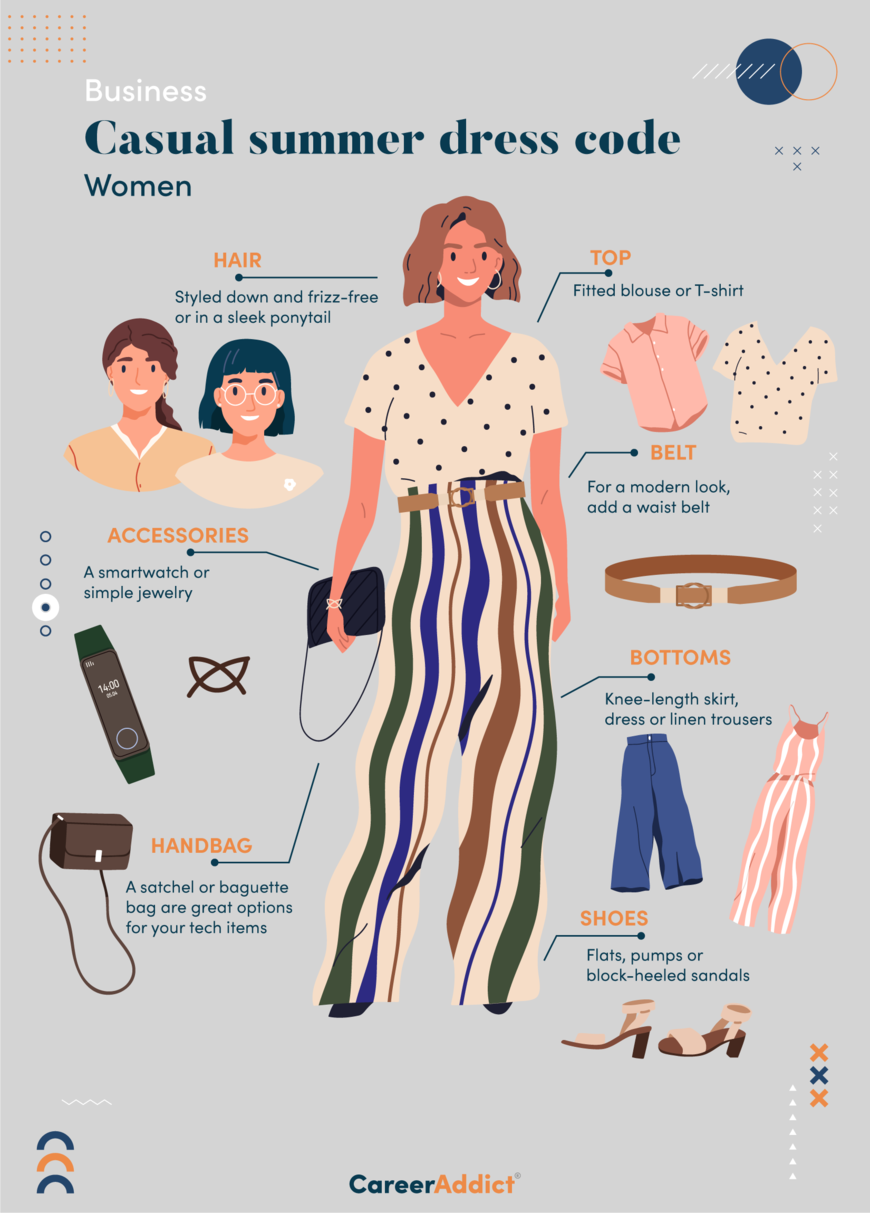 A business casual look is often easier to pull off for men; smart trousers and a smart polo top or shorts can be paired with some smart leather shoes. Compared to a formal setting, you can play with colors to make your look more personalized. According to Chartcons, "…black makes people feel powerful and authoritative. Blue connotes peace and creativity, while yellow often represents cheer."
To help you get some ideas on your business casual dress code, view the image below: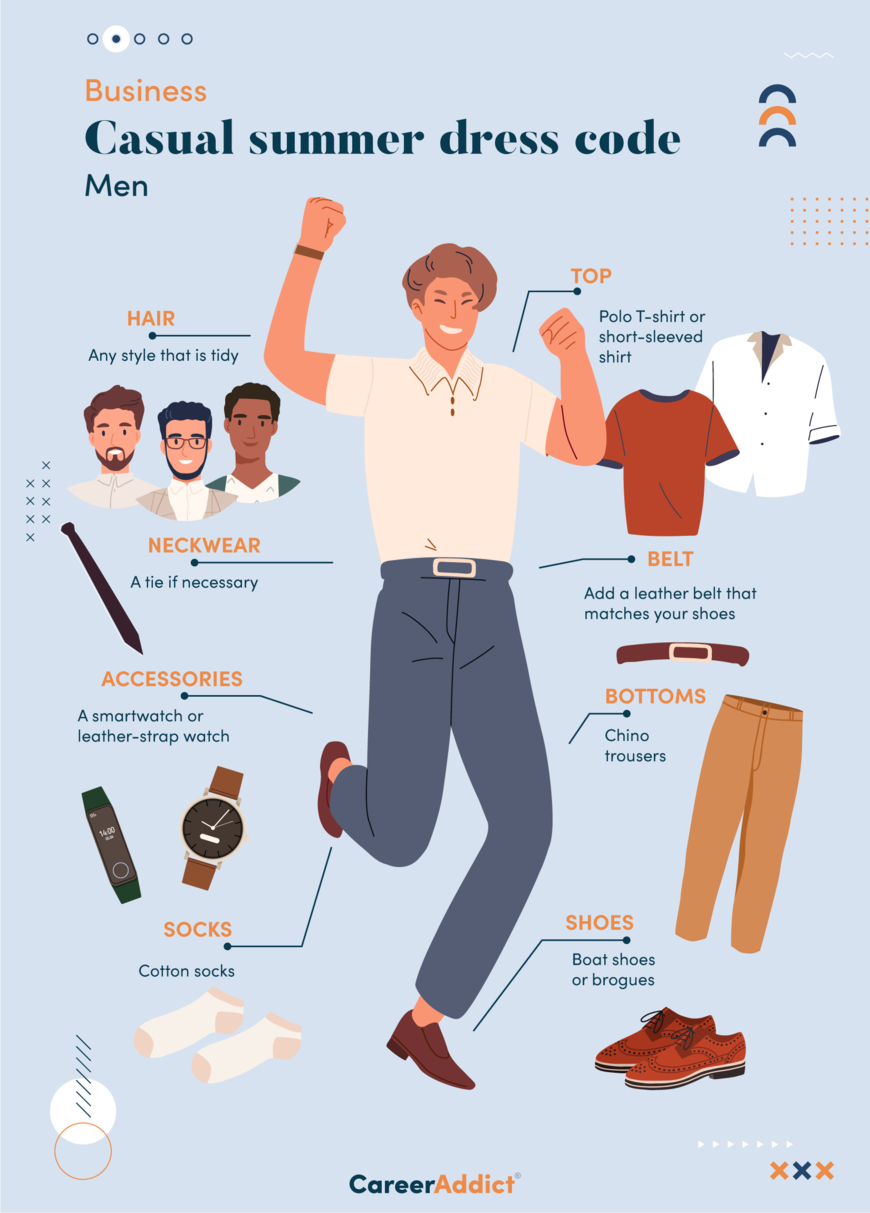 The business formal workplace
Business formal, also known as "boardroom attire", is the smartest of dress codes listed in any employee handbook. You can be expected to wear formal clothing if you work in a corporate setting, such as law or accounting, and also if you have a customer-facing role (think banking, etc.)
That said, plenty of business suits can be uncomfortable, making your workplace outfits hard to select. You don't necessarily need to wear a two or three-piece suit on a daily basis (you can save them for business meetings instead, where you want to make a good impression).
For women, consider a fitted blouse with professional bottoms. Katya Wildman, a fashion designer and founder of BombshellHQ says, "There's an almost implicit understanding in the business world that professional wear should be prim and 'proper'. Often, this would mean wearing subdued hues that are widely viewed as 'professional'. However, I disagree that this should be the case. I'm all for people, especially women, expressing themselves more freely in the way they dress, even in a business setting."
She continues, "What's wrong with 'loud' colors? Or 'immodest' designs? I think these are just arbitrary impositions that stem from our unconscious biases against women. We are implicitly told to stay on our side of the line by these dictations on how a 'professional' should look like. It's time to change these views, and dressing in what you want in a business meeting is a small step to achieve it."
So, if you agree with Katya, you can play with the colors of your business formal attire with the key items mentioned below: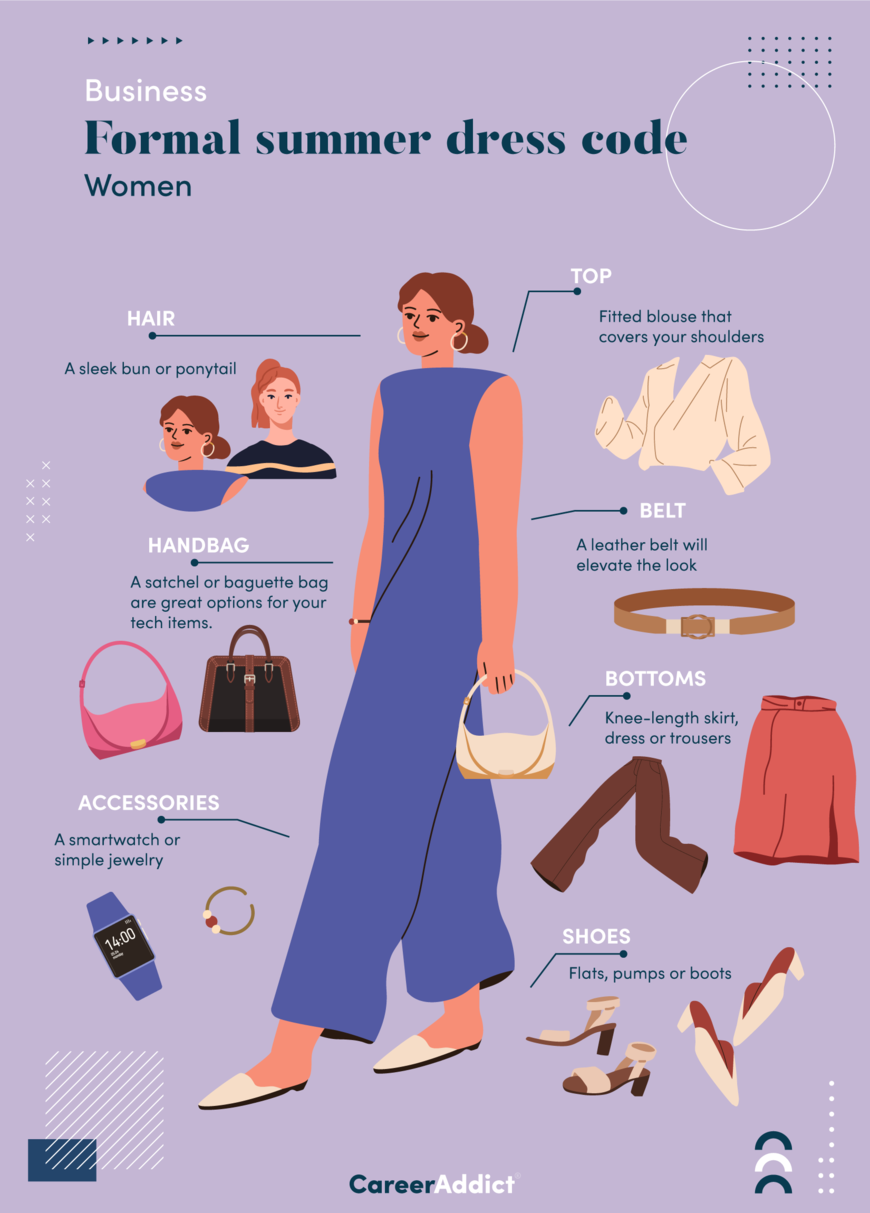 As mentioned above, it's easier for men to dress in a business setting — a simple breathable suit, paired with some smart accessories and you're ready to go. If you're not much of a suit person, however, consider a pair of trousers with a shirt and tie. As long as you are comfortable in what you wear, you will feel more confident in a workplace setting.
For some inspiration, check out the following tips in the image below: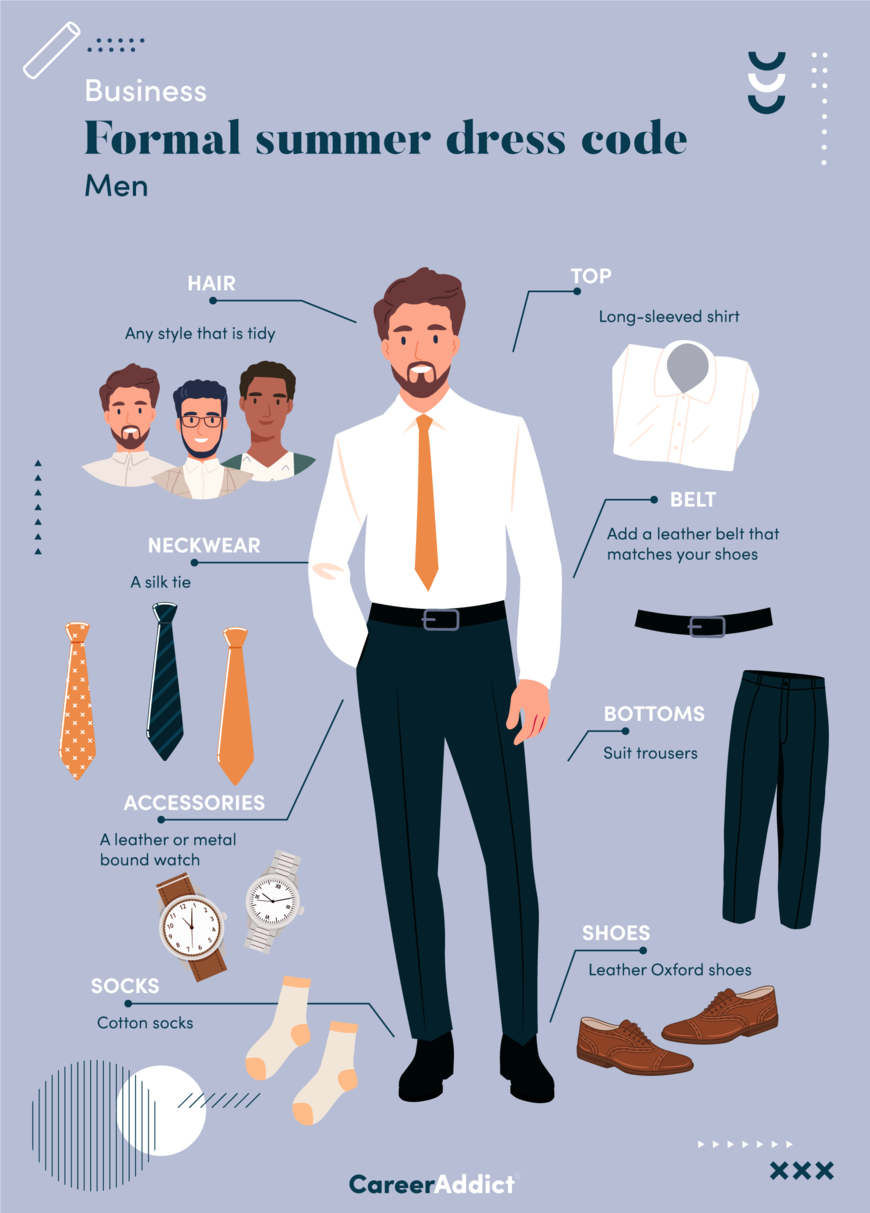 Top tips
Regardless of the required dress code, there are some common tips that you can follow in any workplace setting. To leave a lasting impression, follow the recommendations below:
Choose the right fit: Wearing something that is too tight can make you feel uncomfortable and distracted, whereas something too loose can make you seem unprofessional. Therefore, choosing well-fitted clothing is a must.
Complete your look with the right hairstyle: Your hairstyle is just as important as the clothes that you are wearing. Men's hair should be well-trimmed and tidy, while women's hairstyles should be neat and tidy and keep their hair out of their face.
Go for a subtle fragrance: You don't want to make your colleagues feel ill with an overpowering scent, so even if you like a strong perfume, keep it for your after-work outings. Instead, wear a low-key scent or body spray that won't offend passers-by.
Makeup should be natural: Opt for a natural look with a skin-like base, blush and mascara. Leave your stick-on lashes and bold lip colors at home!
Accessories should be kept to a minimum: Simple and minimalist jewelry is a good choice. Stick to classics like stud earrings, smart watches and delicate bracelets, as well as any simple rings.
Be comfortable and confident: Despite your suggested dress code, it's essential that you're comfortable in what you wear. Make each outfit work for you by wearing something that fits your normal style and personality. For example, if you don't like wearing dark colors, opt for something that's a bit bolder.
Final thoughts
Deciding what to wear to work is a job in itself; you want to wear something comfortable, professional and not splash out on items that you wouldn't normally wear outside of the office. So, hopefully these suggestions have helped you choose items that you will reuse outside of working hours, too.
What do you normally wear to work in the summer? Let us know by leaving a comment below!