While many aspiring musicians hope to achieve fame and fortune, there's no guarantee of success in such a competitive and unpredictable industry. There are some things that the highest-paid musicians have in common, however. The first is that they've put in years of hard work. The second is that the big money comes in when you apply yourself to multiple jobs in the music industry, including songwriter, producer, and music executive.
The 2021–2022 Forbes list of highest-paid entertainers teaches us that the constantly evolving industry has yet another way for artists to make bank. You may be surprised that the average age of the musicians on the list is around 63 years old. That's because many of these prolific artists found another way to capitalize on their hugely successful careers to set up an incredible retirement plan.
Want to know more? Read through our list of the highest-paid musicians to see just how rich the most successful performers can be!
10. Lindsey Buckingham

Raphael Pour-Hashemi, CC BY 2.0 via Wikimedia Commons
2021-2022 earnings: $73 million
Forbes ranking: #21
If you're going to become a singer, it can substantially improve your income if you're also an incredible songwriter. Lindsey Buckingham, a guitarist and vocalist who penned multiple hits for band Fleetwood Mac as well as his solo ventures, capitalized in 2021 on his entire catalogue of music. Investment firm Hipgnosis Songs Fund nabbed 100% of Buckingham's 161 writing and publishing credits, including four tracks he contributed to Fleetwood Mac's iconic album Rumours.
Like most artists, touring has always been one of the most lucrative avenues for Buckingham. Fleetwood Mac tours have repeatedly earned hundreds of millions of dollars, and though he's currently not with the band, Buckingham is working his way through a financially rewarding 2022 solo tour of Europe.
9. Neil Young

Gorupdebesanez, CC BY-SA 3.0 via Wikimedia Commons
2021-2022 earnings: $80 million
Forbes ranking: #19
A singer, musician and activist, Neil Young has been a part of the music scene in seven different decades, beginning in 1963. A prime rags to riches story, Young started out playing community centers in rural Manitoba, Canada, and became a Grammy-winning artist who collaborated with everyone from Rick James to Chrissie Hynde to Pearl Jam.
A part-time member of the famed Crosby, Stills, Nash & Young, he was also inducted into the Rock and Roll Hall of Fame as both a solo artist and with the band Crazy Horse. The band joined Young again in late 2021, releasing two singles from a new album Barn. Like Lindsey Buckingham, Young also sold a chunk of his music catalogue to Hipgnosis for a sum that landed him in the Top 20 on this year's Forbes list.
8. Sean "Diddy" Combs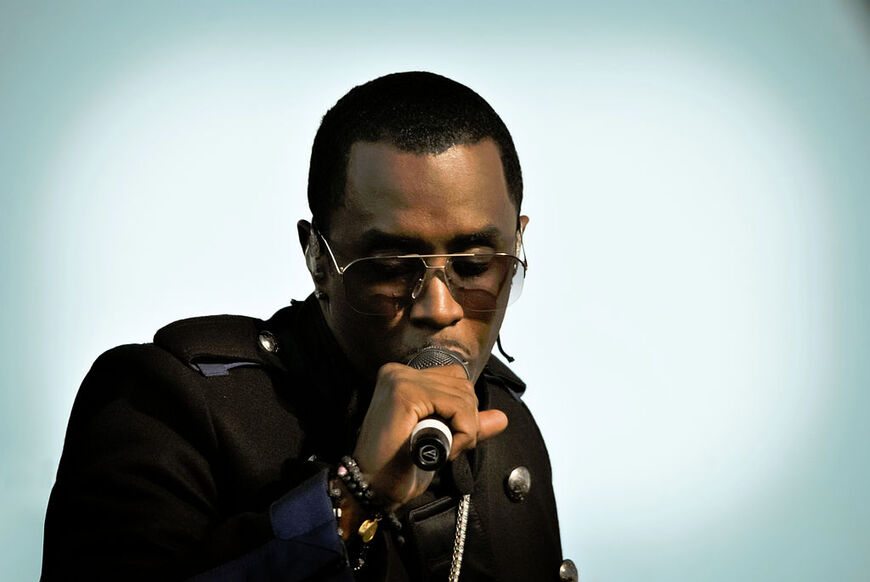 Shamsuddin Muhammad from Fort Hood, TX, USA, CC BY 2.0 via Wikimedia Commons
2021-2022 earnings: $90 million
Forbes ranking: #14
The man of many names, Combs took a slightly more unusual path through the music industry. Starting as an intern at Uptown records in 1990, by 1993 he had formed his own record label, Bad Boy Entertainment. He signed and/or produced for a laundry list of successful artists including The Notorious B.I.G., Faith Evans, Usher, TLC, Mariah Carey and Aretha Franklin.
In 1997, Combs launched his own Grammy-winning career as a rapper. It helped him develop an iconic persona as the ultimate music mogul, which allowed him to branch out to other ventures that add to his fortune. Along with Bad Boy and his clothing line Sean Jean, Forbes reports that his biggest earnings this year are from his 50% stake in the Cîroc vodka brand he helped develop.
7. Red Hot Chili Peppers

Raph_PH, CC BY 2.0 via Wikimedia Commons
2021-2022 earnings: $116 million
Forbes ranking: #11
Capitalizing on their unique blend of musical styles, including punk, funk, rap and rock, the Red Hot Chili Peppers have to date recorded 13 albums and earned eight multi-platinum singles, six Grammy Awards, and a Hall of Fame induction. The personification of the sex, drugs and rock 'n' roll lifestyle, the band's tumultuous history includes a rotation of 14 different members.
The current line-up of John Frusciante, Chad Smith and band founders Anthony Kiedis and Flea, recorded two new albums for 2022. The money is also rolling in from a stadium world tour that kicked off in June. The rest of their current fortune? You guessed it, a sale of its songs to Hipgnosis, including hits "Under the Bridge" and "Give It Away".
6. Bob Dylan

GPA Photo Archive, CC BY-NC 2.0 via Flickr
2021-2022 earnings: $130 million
Forbes ranking: #10
Over eighty years old and in the Top 10 of Forbes isn't a future the singer-songwriter probably envisioned for himself when he released his first folk album in 1962. After becoming an iconic figure in the '60s for his lyrical songs with strong civil rights and anti-war messaging, Dylan went on to explore several genres of music and experiment with his style over 39 albums.
The prolific artist has had 12 platinum-selling albums, 10 Grammy Awards, a Golden Globe, Academy Award, a Pulitzer and a Nobel Prize in Literature. Along with embarking on yet another leg of his decades-long "Never Ending Tour", Dylan raked in the millions in 2021 by signing a deal with Sony for past and future recorded songs.
5. Ryan Tedder

Gabricorrente, CC BY-SA 3.0 via Wikimedia Commons
2021-2022 earnings: $160 million
Forbes ranking: #9
Most casual music fans recognize Tedder as the lead singer of pop rock band OneRepublic, known for hits like the Grammy-nominated "Apologize" and "Counting Stars". The group has sold over 16 million albums worldwide, releasing their fifth last year with a supporting tour in 2022.
If Tedder were interviewing for a conventional job, "strong work ethic" and "excellent writing skills" would be the theme of his answers. The 43-year-old vocalist/writer/producer has so far penned 184 songs, including those for mega popular artists like Taylor Swift, Adele, Ed Sheeran, the Jonas Brothers, Backstreet Boys, Ariana Grande, Demi Lovato and Paul McCartney. Beyonce's "Halo" and Leona Lewis' "Bleeding Love" are two of his most successful tracks. That hard work paid off exponentially in January 2022, when he sold a substantial portion of his catalogue to the investment firm KKR.
4. Paul Simon

Miho, CC BY 3.0 via Wikimedia Commons
2021-2022 earnings: $200 million
Forbes ranking: #7
Paul Simon has long been known for his momentous collaboration with Art Garfunkel in the 1960s. The duo collected 7 Grammys, including Album of the Year for Bridge Over Troubled Water and Record of the Year for its titular single. The two collaborated on songs and reunion tours, even after their breakup, and were inducted into the Hall of Fame in 1990.
Simon has spent the bulk of his career as a solo artist, with 14 albums, 16 Grammys from 35 nominations, and his own induction into the Hall of Fame. The celebrated songwriter reportedly has over 400 credits to his name, and sold the entire collection to Sony in 2022 for $250 million.
3. Kanye West

Jason Persse, CC BY-SA 2.0 via Wikimedia Commons
2021-2022 earnings: $235 million
Forbes ranking: #5
The rapper and producer is often in the news for his non-musical endeavors, including his unsuccessful presidential bid in 2020 and his tumultuous seven-year marriage to reality star Kim Kardashian. His consistently sold-out fashion design collaborations with Adidas and The Gap provide the bulk of his multimillion-dollar income these days.
The fashion empire was built on the strength of his career as one of the most successful rappers of all time, however. With 24 wins out of 75 nominations, Kanye is tied for the most hip-hop Grammy wins with the next artist on our list, Jay-Z. He earned two more in 2022, for songs "Hurricane" and "Jail" from certified platinum album Donda.
2. Jay-Z

chickswithguns, CC BY-SA 2.0 via Wikimedia Commons
2021-2022 earnings: $340 million
Forbes ranking: #3
Like many on this list, Jay-Z capitalizes on the financial theory of multiple streams of income. Consistently one of the highest-paid male vocalists in the industry, he has also written 52 songs, frequently in collaboration with other top artists. This includes wife Beyoncé, an iconic star in her own right, who is one of the highest-paid female singers in the business.
Jay-Z was CEO of Def Jam Recordings and founded his own record label Roc-A-Fella Records in 1995. He followed with a clothing line and sports bar that added to his millions. Even his less successful ventures make him money. His Forbes ranking comes largely from a story that began in 2015, when he acquired tech company Aspiro and its music streaming service Tidal for $56 million. Though now only valued at half its 2017 peak, Jay-Z sold a majority stake to former Twitter CEO Jack Dorsey in 2021 for $297 million, after cashing out a partial stake in Sprint for $200 million a few years prior.
1. Bruce Springsteen

Takahiro Kyono from Tokyo, Japan, CC BY 2.0 via Wikimedia Commons
2021-2022 earnings: $435 million
Forbes ranking: #2
If you don't already have wealth and music industry connections, but want to become a musician, Bruce 'The Boss' Springsteen is an iconic example of putting in the hard work to find success. The New Jersey native bought a guitar at age 15, joined a band, and started playing gigs around town. That led to more gigs over the years, more bands, and eventually greater exposure to influential music critics, musicians and producers that helped him further his career.
A prolific songwriter, Springsteen's meaningful songs about the lives and hardships of working-class people earned him both diehard fans and critical acclaim. He's had 12 number one albums, and in 2020 became the first artist to have a Top 5 album in six different decades. In 2021, he sold his entire catalogue to Sony Music Group for an estimated half-billion dollars, which should help him travel in luxury on his 2023 world tour.
Final thoughts
The music industry is filled with tales of commercially successful artists who made little to no money for substantial portions of their careers because they had, knowingly or unknowingly, signed away the rights to their own music. As many of the artists on this list illustrate, retaining or even buying back the rights at your career's peak can create an incredible retirement plan later on.  
Other artists on Forbes' highest-paid entertainers list who capitalized on their collections include 80s metal band Mötley Crüe at #22, who sold to BMG, and the Beach Boys at #23, who sold to music executive Irving Azoff. Blake Shelton comes in at #24 of the list with $55 million, who also made bank on his past work, supplemented with a lucrative U.S. tour and his continuing work on reality music show The Voice.
It's hard not to notice that the highest-paid musicians this year were almost exclusively male. Taylor Swift sneaks in at #25 of the Forbes list, ironically with the help of re-recording material from her first six albums after her entire catalogue was acquired and then sold off by Scooter Braun without her consent.
Were you surprised by this year's list of highest-paid musicians? Which artists did you expect to grab the top spots? Join the discussion below in the comments and let us know!